This post may contain affiliate links. As an Amazon Associate, I earn from qualifying purchases. For more information, please visit my Privacy Policy.
There is something just incredibly comforting about a fresh baked challah. This is not just any challah recipe. It is for a sweet challah. An eggy challah. So good!!!
What is Challah?
Challah is a traditional Jewish bread, usually braided and made with eggs and no dairy, made for the Sabbath and holidays. Everyone and their mother's uncle (where did that saying come from?) has a different recipe for what they claim to be the best challah.
Well, all those people are wrong.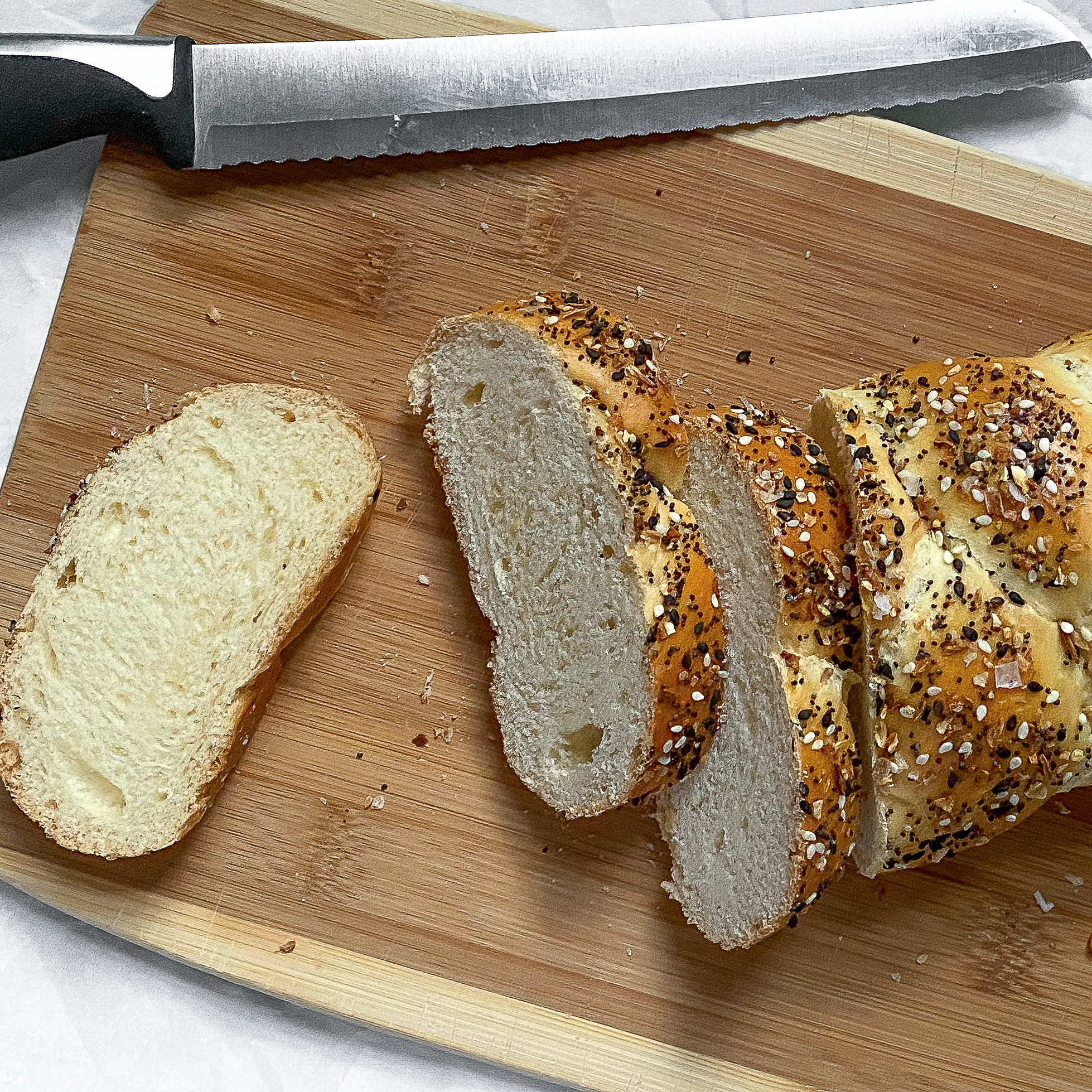 Family Challah Recipe
This. Is. The. BEST. Challah recipe.I cannot take credit for it, however. My sister-in-law has been making this challah for more than 20 years. I don't know why, but I never asked her for the recipe until a few years ago. I'm glad I did!
I recently asked her where she got the recipe. She believes it was initially a recipe included with her bread machine and, over the years, she doctored it up by, among other things, adding an additional egg yolk and increasing the amount of honey. Brilliant work, Jenn!
This recipe is super easy and renders the perfect challah – bready, doughy, eggy, and sweet. And be sure to save the egg whites for other uses, like my Chocolate Egg White Cake.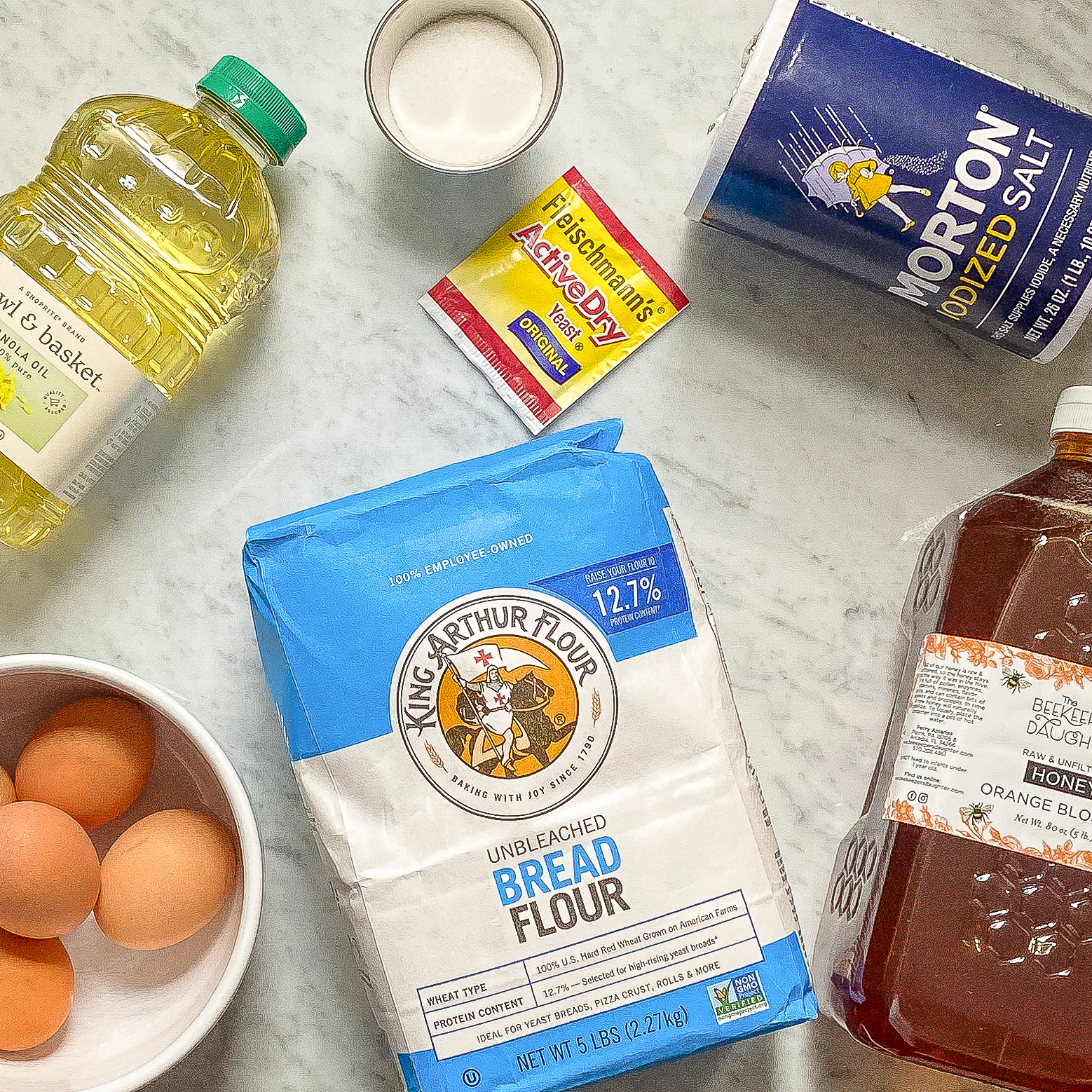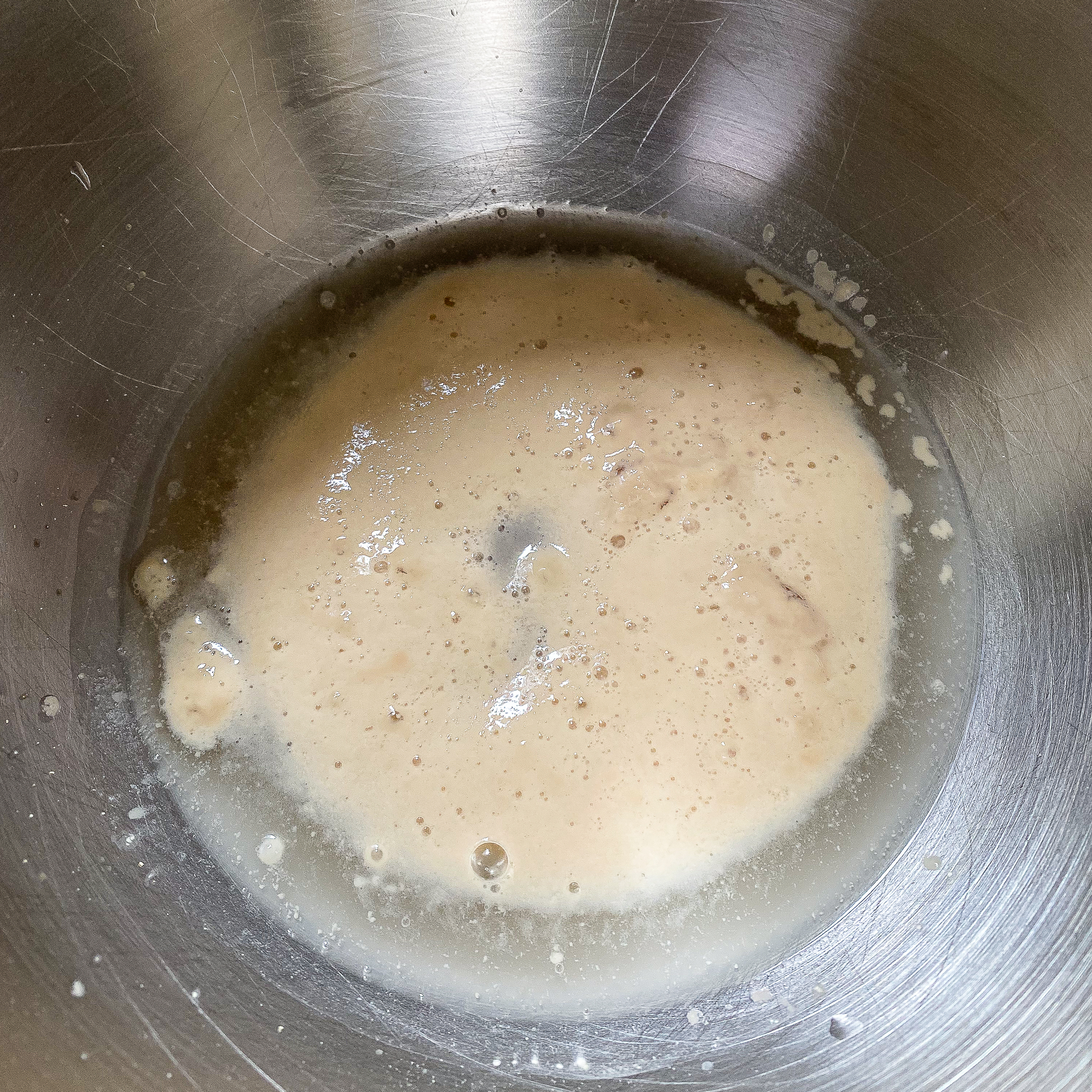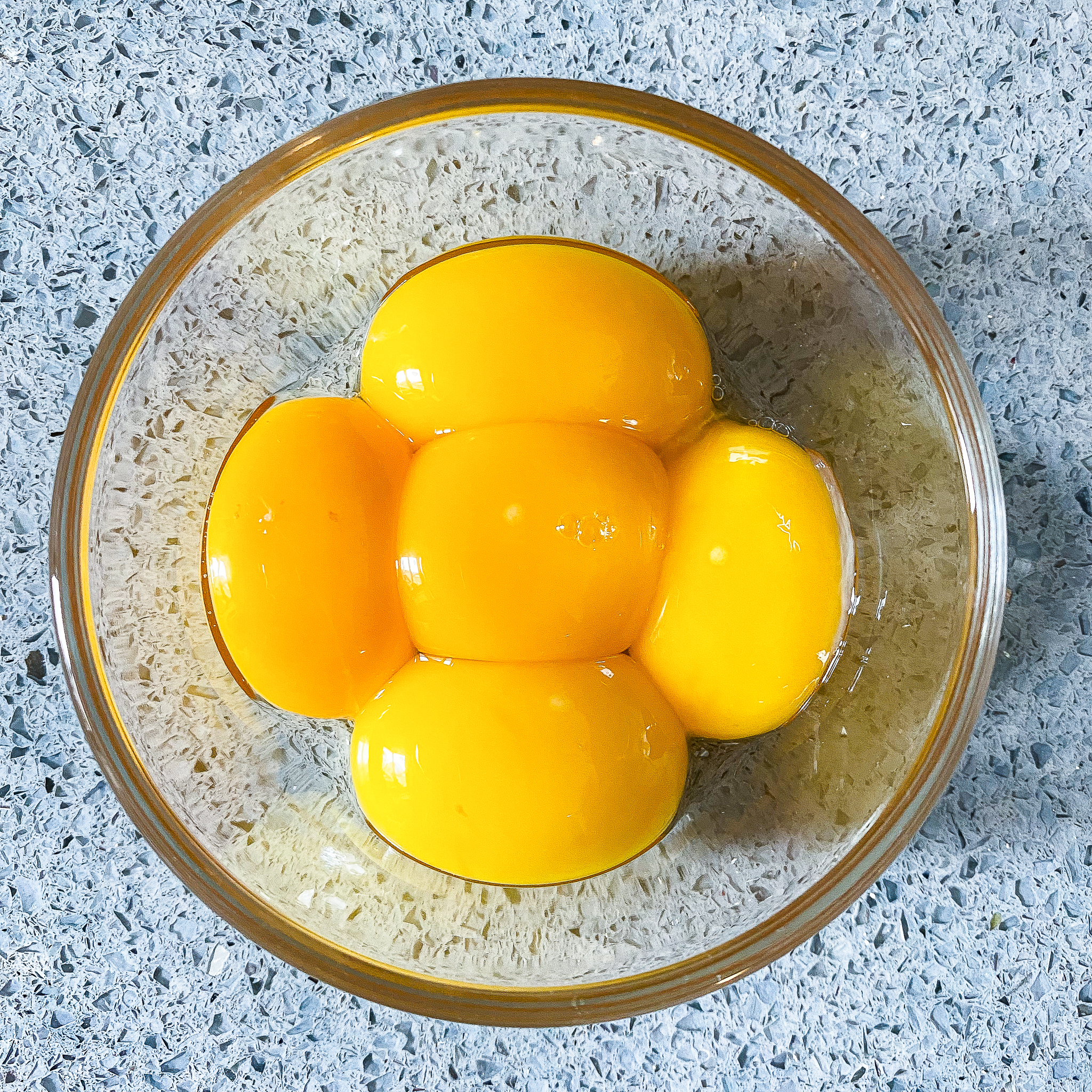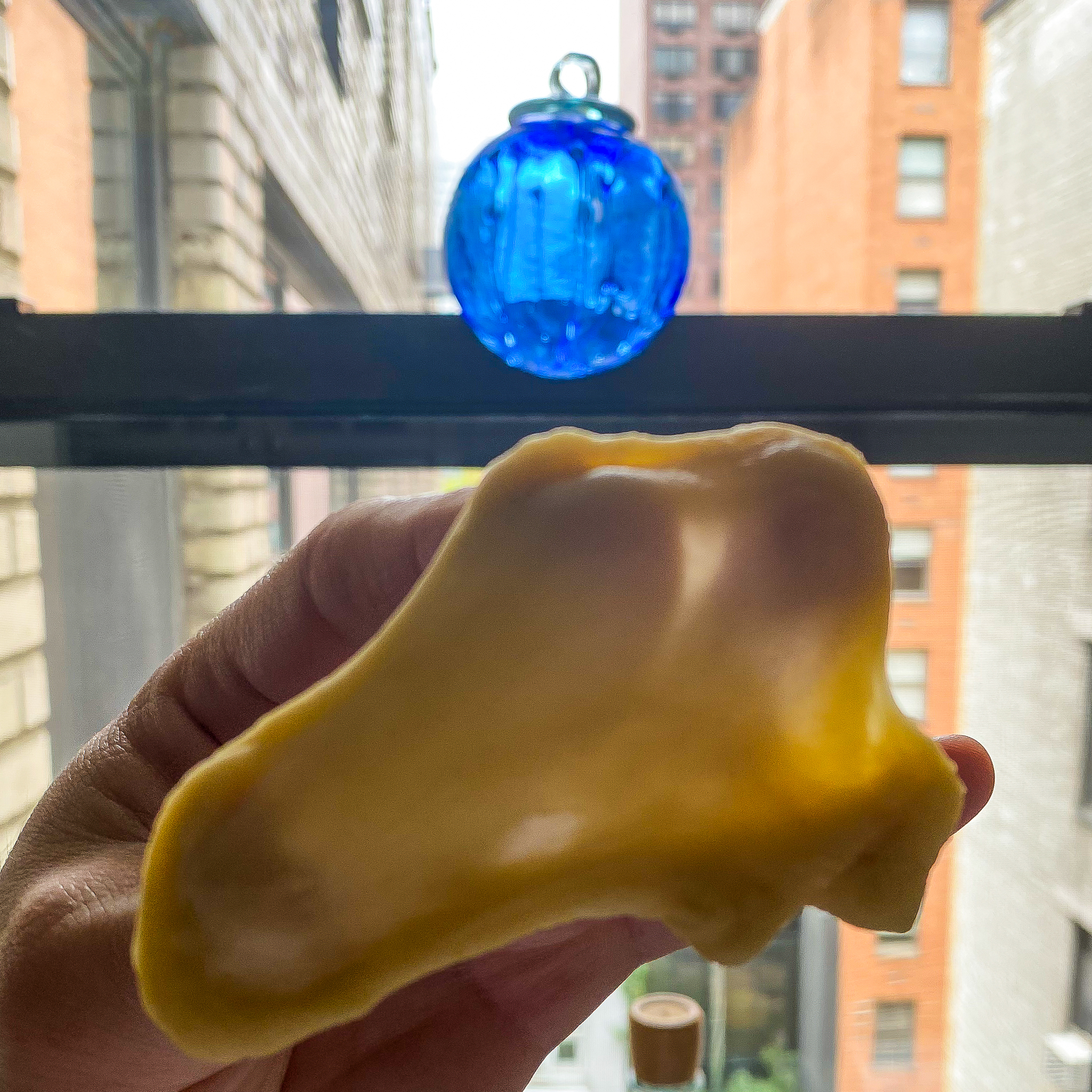 Uses for Challah Dough
Challah dough is also very versatile. Sprinkle it with any sort of seed. Knead in raisins, or craisins, or dried blueberries. Roll out the dough and spread with cinnamon sugar for a Cinnamon Babka or cinnamon rolls. Or, if going the savory route, use pesto. Better yet, use it for Onion Rolls!
Challah is great for all sorts of sandwiches, dunking into soup, French toast, or just good, old fashioned munching. I love it with a shmear of cream cheese.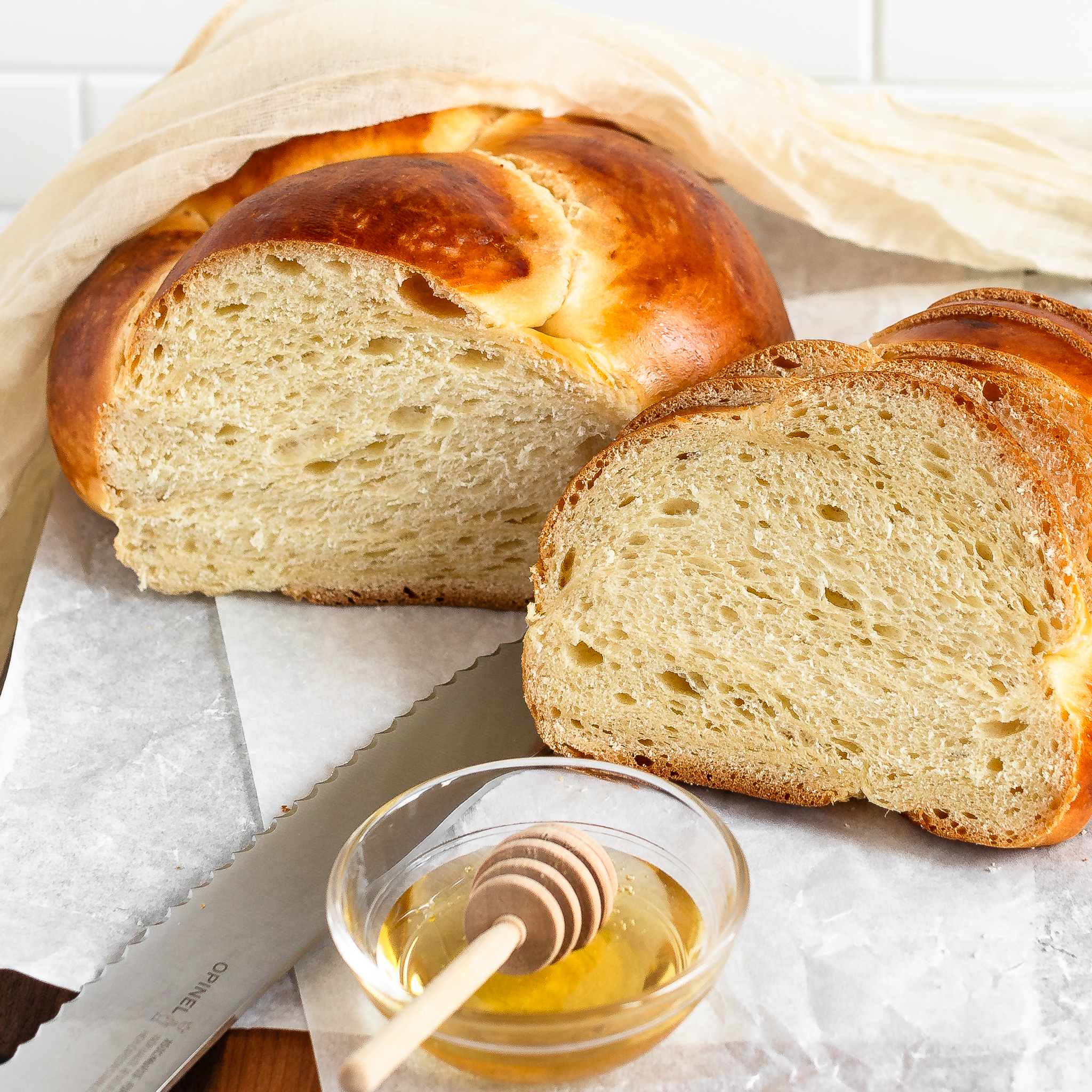 Looking for a round Challah or just an ornate challah? Check out my Festive Challah or my 4-Strand Round Challah.
Want a whole grain version? Check out my Whole Wheat Challah or my Spelt Challah.
For an even softer, doughier version, check out my Tangzhong Challah.
Sourdough fans, check out my Sourdough Challah.
For an egg-free or vegan version, check out my Vegan Challah.
Looking to use up the leftover egg whites? Check out my Chocolate Egg White Cake, which is an easy and wonderful parve (dairy free) dessert ideal for any Shabbat or Yom Tov.
Frequently Asked Questions About Making Challah
Should I use the full amount of flour in the challah recipe?
I like to hold back about 1/4 cup of the flour (30 grams) on drier days and only add it if the dough is very sticky after kneading.
Can I made the dough a day in advance?
Yes. You can make the dough and allow it to rise for an hour before covering it with plastic wrap and putting it in the freezer. In the morning, shape and allow to rise until double in size. Alternatively, you can go through the shaping step and refrigerate the challah overnight. In the morning, allow it to come fully to room temperature before baking, which should take 1-2 hours.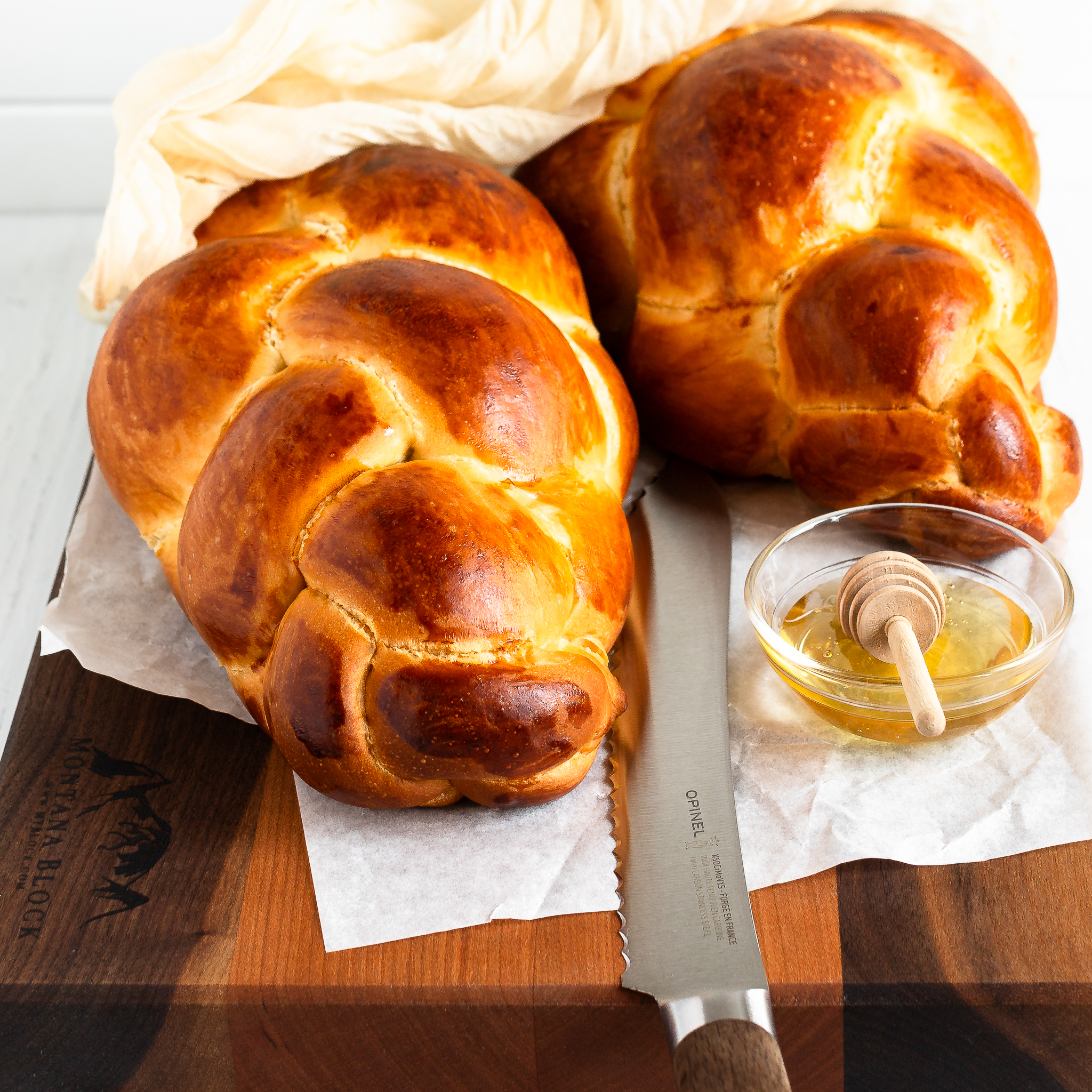 Challah
The fluffiest, pillowiest challah is perfect for snacking, sandwiches and French toast. This recipe makes two loaves.
Ingredients
235

grams

warm water

(1 cup)

7

grams

active dry yeast

(2¼ teaspoons or 1 envelope)

50

grams

sugar, divided

(¼ cup)

660

grams

bread flour

(5½ cups, see not below)

5

large egg yolks

(room temperature)

72

grams

oil (vegetable, canola, or any seed oil)

(⅓ cup)

113

grams

honey

(⅓ cup)

8

grams

salt

(1¼ teaspoons)

1

egg combined with 1 teaspoon water

(for a slightly darker look, skip the water; for an even darker look, use just the yolk)

raisins

(optional, see below for amounts)

sesame seeds, poppy seeds, flax seeds, quinoa, everything spice mixture, etc. for topping

(optional)
Instructions 
Pour water (should be generally between 105°F and 110°F) into mixing bowl of electric mixer. Sprinkle with yeast and about 1 teaspoon of the sugar. Stir gently to hydrate the yeast. Let it sit for 5-10 minutes to get foamy. (If using instant yeast, skip to the next step and add yeast with the flour and other ingredients.)

Add the flour, rest of the sugar, yolks, oil, and honey. With the dough hook attachment, knead the mixture for about 3-5 minutes.

With the mixer on low, slowly add the salt. Knead for an additional 2-3 minutes until the salt is fully absorbed and the dough passes the windowpane test. (If making an entire batch with raisins, once the dough passes the windowpane test, add 219 grams (1½ cups) raisins and knead until fully incorporated. If using part of the dough for raisins, knead the raisins into the portion of dough as described in step 6.)

Place dough in ungreased bowl, cover with plastic wrap, and let rise in warm area for about 3 hours.

Gently deflate the dough by pulling a piece from the bottom and folding it over itself, turning the bowl so you can do four similar folds.

Weigh the dough and divide into two or three equal portions, depending on how many challahs you are making. If dividing into two and you want to make one of them with raisins, knead in 110 grams (¾ cup) of raisins. If dividing into three and you want to make one of them with raisins, knead in 73 grams (½ cup) raisins.

Further divide each portion into the number of strands you be making for each braid. Tip: If you plan to make a traditional 3 strand braid, you can divide the total amount of dough into either two or three portions for two or three challahs. If you plan on making a four, five or six braided challah, I recommend dividing the total dough into two portions.)

Shape each portion into a ball, covering with plastic wrap as you continue to shape the portions of dough.

Press down each ball into an oval. Fold the top third of the oval over itself towards you. Fold the top part again over the rest of the dough. Using the palms of both hands, roll the dough against the countertop to create your strands. If the dough starts pulling back, cover it with plastic wrap and allow it to rest for 10 minutes. Braid and shape as desired.

Cover loosely with plastic wrap and let rise 1 to 1½ hours.

Towards the end of the rising time, preheat oven to 350° F.

Apply egg wash. Sprinkle challah with any toppings, if using. Bake 25-35 minutes until golden brown on top and sides. The internal temperature should be over 190℉.
Notes
You can substitute instant yeast for active dry. Use the same amount and mix it with all the ingredients in Step 2. Continue from there.
Either take your eggs out of the refrigerator an hour before you plan to make the dough or place them in a bowl of warm water for approximately ten minutes. Once you crack and separate the eggs, store the whites in an airproof container in the refrigerator. They will be good for up to one week to use in recipes that call for egg whites or for an egg white omelet.
Alternatively, because it can be easier to separate eggs while they are cold, you can do so, but cover the bowl of the yolks with plastic wrap while they sit on the counter to get to room temperature.
A note about flour. The amount of flour necessary for any bread recipe can vary depending on the weather. On humid days, I use the full 660 grams of flour. On drier days, I decrease it to 630 grams (1/4 cup less). 
If the dough is too sticky after kneading in the mixer for more than 5 minutes, add 1 Tablespoon of flour. After fully kneading, the dough should be slightly sticky and clean the bowl as it is being kneaded.
Do not grease the bowl you place the dough into for the 3 hour bulk rise. Non-stick spray or oil will make it more difficult to work with the dough. In the unlikely event that the dough sticks to your bowl when you go to remove it at the end of the 3 hours, use a bowl scraper, which is basically a plastic bench scraper that can bend easily as you scrape the side of your bowl. It's a brilliant tool! I use these bowl scrapers.
I strongly advise weighing ingredients rather than measuring them. For more information, see my post Weighing vs. Measuring.
You can make the dough a day ahead. Allow it to rise at room temperature for an hour to an hour and a half. Cover tightly with plastic wrap and refrigerate overnight. In the morning, remove the challah from the refrigerator and shape dough as desired. Allow to rise until doubled in size, which will take at least one and a half hours.
Once you shape the dough, you can refrigerate it (covered with plastic wrap) overnight. Allow to come to room temperature at least one hour before baking the next morning.
Once baked, store challah in plastic at room temperature. It also freezes beautifully. I like freezing an entire loaf. When I want some, I pull it out of the freezer, cut off a slice or two with a serrated knife, and return the rest to the freezer. Because the challah is rich with egg yolks, it still easy to cut when frozen.
Nutrition
Calories:
159
kcal
|
Carbohydrates:
25
g
|
Protein:
4
g
|
Fat:
5
g
|
Saturated Fat:
3
g
|
Trans Fat:
1
g
|
Cholesterol:
48
mg
|
Sodium:
135
mg
|
Potassium:
38
mg
|
Fiber:
1
g
|
Sugar:
6
g
|
Vitamin A:
64
IU
|
Vitamin C:
1
mg
|
Calcium:
11
mg
|
Iron:
1
mg