This post may contain affiliate links. As an Amazon Associate, I earn from qualifying purchases. For more information, please visit my Privacy Policy.
Is it a blueberry challah? Or is it a blueberry babka?
Challah…Babka…Challah…Babka…Babkallah!
A what?
A Babkallah.
This Challah/Babka is a cross between the two. It has the twisted filling of a babka, but the braid of a challah. Make sense?
Well, even if it doesn't, all you need to know is that it is outrageously delish. And, in the end, isn't that all that really matters?
Blueberry is an ideal filling for a Babkallah!
I have been making a cinnamon babkallah for years, and there are various recipes for it out there. (I will post mine eventually.) But, recently, a dear friend of mine (Hi Gabe!!!!) who knows of my love and lust for all things blueberry, asked me if I had done a Babkallah with a blueberry filling. Surprisingly, I had never really considered it. (The audience gasps in disbelief!)
Well, now I have more than considered it. And I'm so glad I did.
This recipe is based on my standard Challah dough which is pareve (dairy-free). Unlike most modern babka recipes (including my own), that makes this Babkallah pareve. WHOOHOO!
Challah is Easy to Make
The Challah dough is super easy to make. Seriously, once you get your eggs to room temperature, it takes about 10 minutes to combine the ingredients and knead the Challah dough. (If you are kneading by hand, it will take maybe 5 minutes more. No big whoop.) Then it rests for three hours to rise, which gives you time to make the blueberry filling, clean up, do some work, and catch up on your telenovela.
Now the real fun starts.
How to Make a Blueberry Babkallah
Divide the Challah dough
If you are making two Babkallahs, you will need six strands. For one Babkallah, you will need 3 strands. (If you are going to attempt a Babkallah with more strands, just divide the dough to the number of strands you need.) A scale is perfect for this dividing situation.
Roll the dough out
Then roll each portion of the Challah dough out to a rectangle. This, by no means, needs to be perfect. The only important thing is to make the strands consistent. (Actually, that's a good life lesson: Consistency.) If you make the first strand 11 inches long by 5 inches wide, shoot for the same dimensions with the other strands.
Divide the blueberry filling
Next, weigh your blueberry filling. Divide that amount by the number of strands you will have. (I know, math. Ugh. That's what calculators are for — or the Internet, Siri or Alexa.) Spread the blueberry filling on each rectangle. Less is more here. You will have a few globs of berries here and there, but it should mostly look like a thin, translucent layer of jam. Here's the magical key to success: As you spread the filling, maintain a ½ inch border along one long side of each rectangle of challah dough and the two short sides of the rectangle. In other words, do not spread the filling to the edge of those three sides. (This will make it easier to enclose each strand.)
Roll up the strands of filled Challah dough
From the long side with filling spread to the edge, roll the challah dough up as if it were a cinnamon roll, jelly roll, or a babka. (Imagine whichever one gives you the strongest craving.) You want to try to roll it somewhat tightly. Pinch the seams on the long part and on the ends to ensure that the filling is enclosed. You may want to gently squeeze the strands in the palm of your hand to force out any excess air, but do not get too rough with it. Then you can gently roll each log against the counter to even them out and to lengthen them slightly.
Braid
Finally, you will braid your Challah — I mean Babka — I mean Babkallah. Cover it/them loosely with plastic wrap and allow to rise for 1 to 1½ hours. With a pastry brush, shmear a beaten egg on top to give them a nice, shiny coat. Be sure to get the very bottoms where they hit the baking sheet so you do not end up with a "baker's tan". (That means that the bottom part did not get any egg wash on it.) Then, pop those puppies in the oven for about 35 minutes. Due to the filling, it could take slightly longer to bake then a traditional challah, so err on the side of over-baking by a few minutes to ensure the middle is fully baked. The tops, sides and bottom should be deeply browned.
French toast
Yeah, you read that right. Make yourself some French toast. And, because I like you so much, I'm going to share with you my French toast mixture: For each egg, whisk in 1 Tablespoon of milk (I prefer whole milk or even cream), ¼ teaspoon of cinnamon, ¼ teaspoon vanilla, and a small pinch of salt.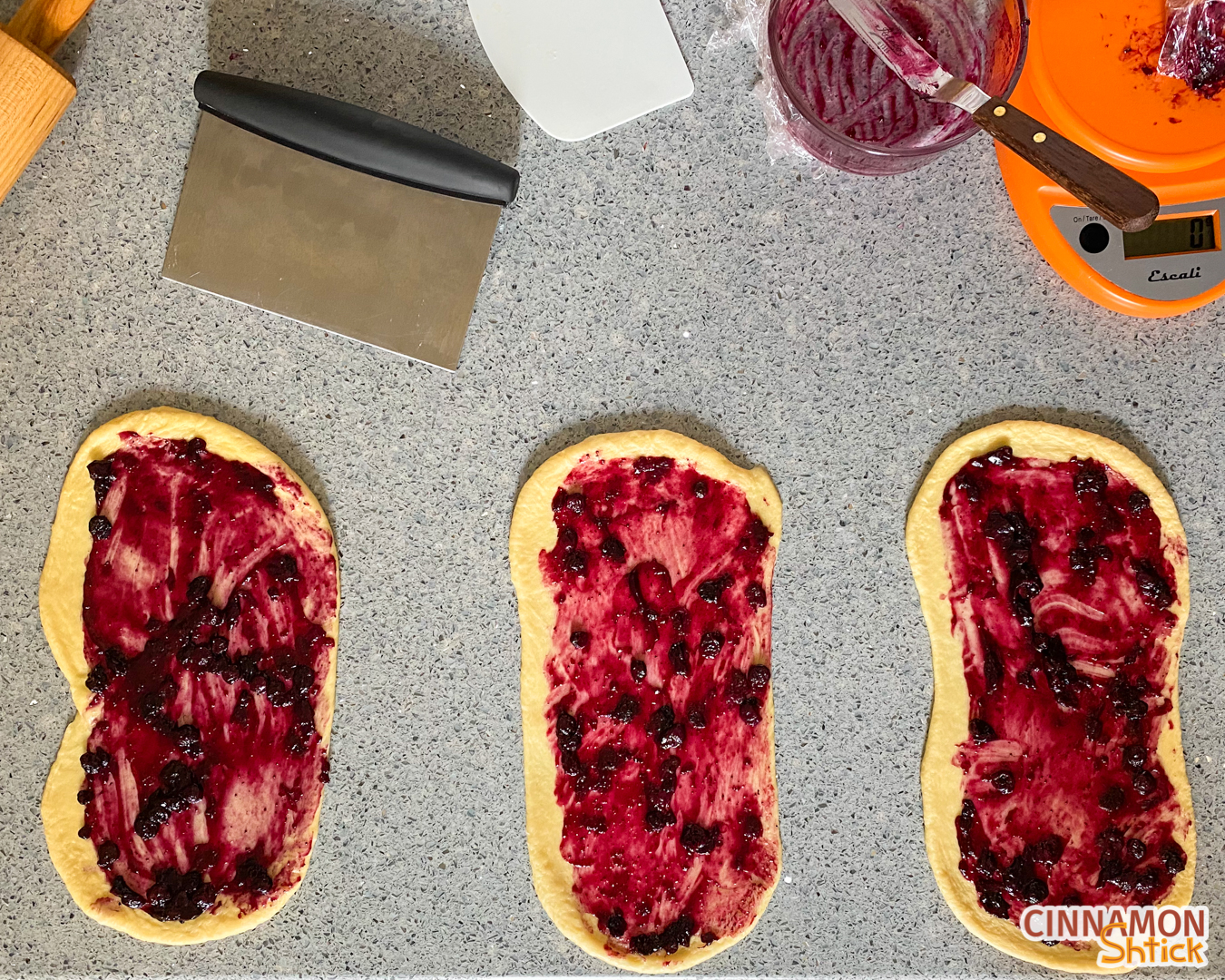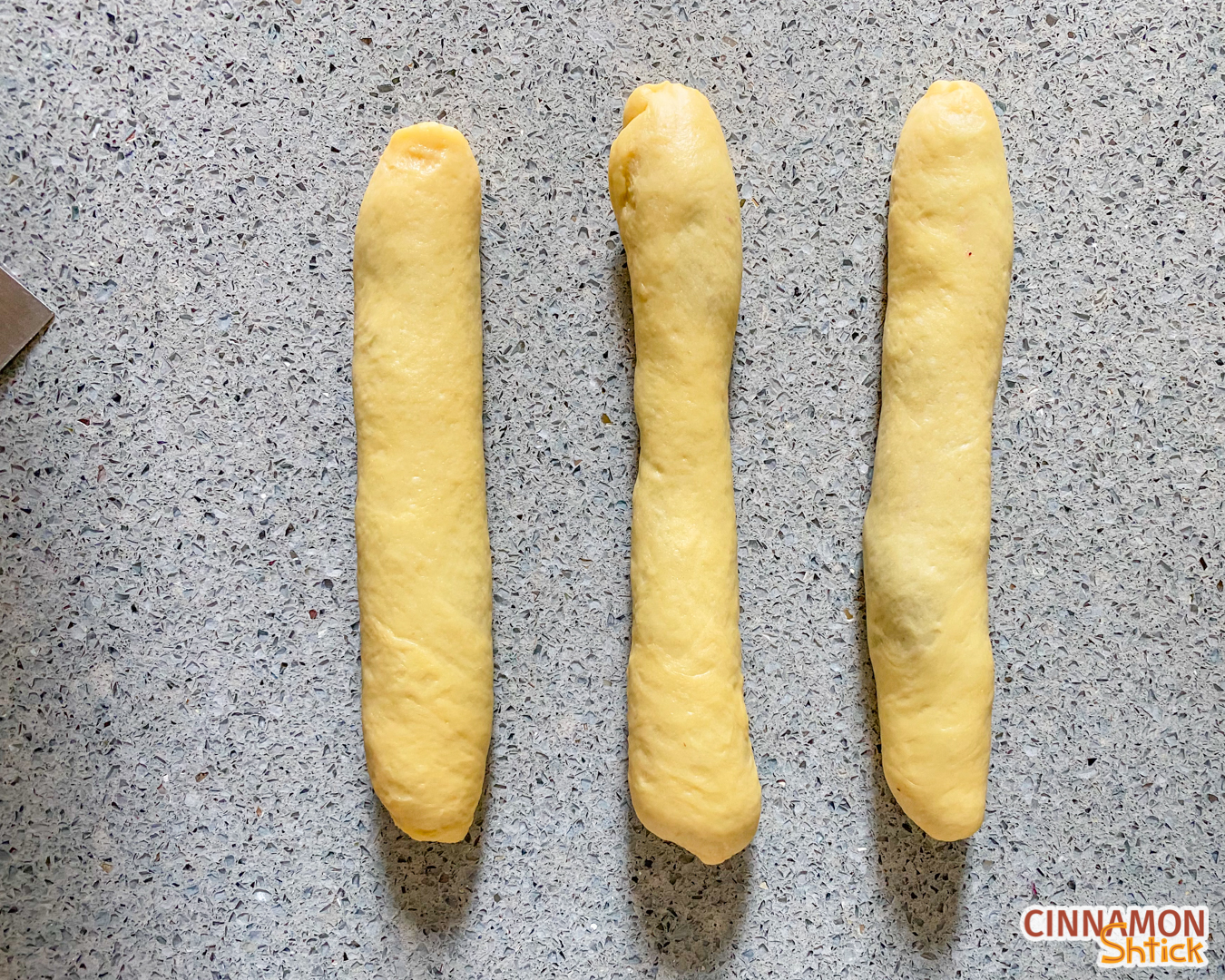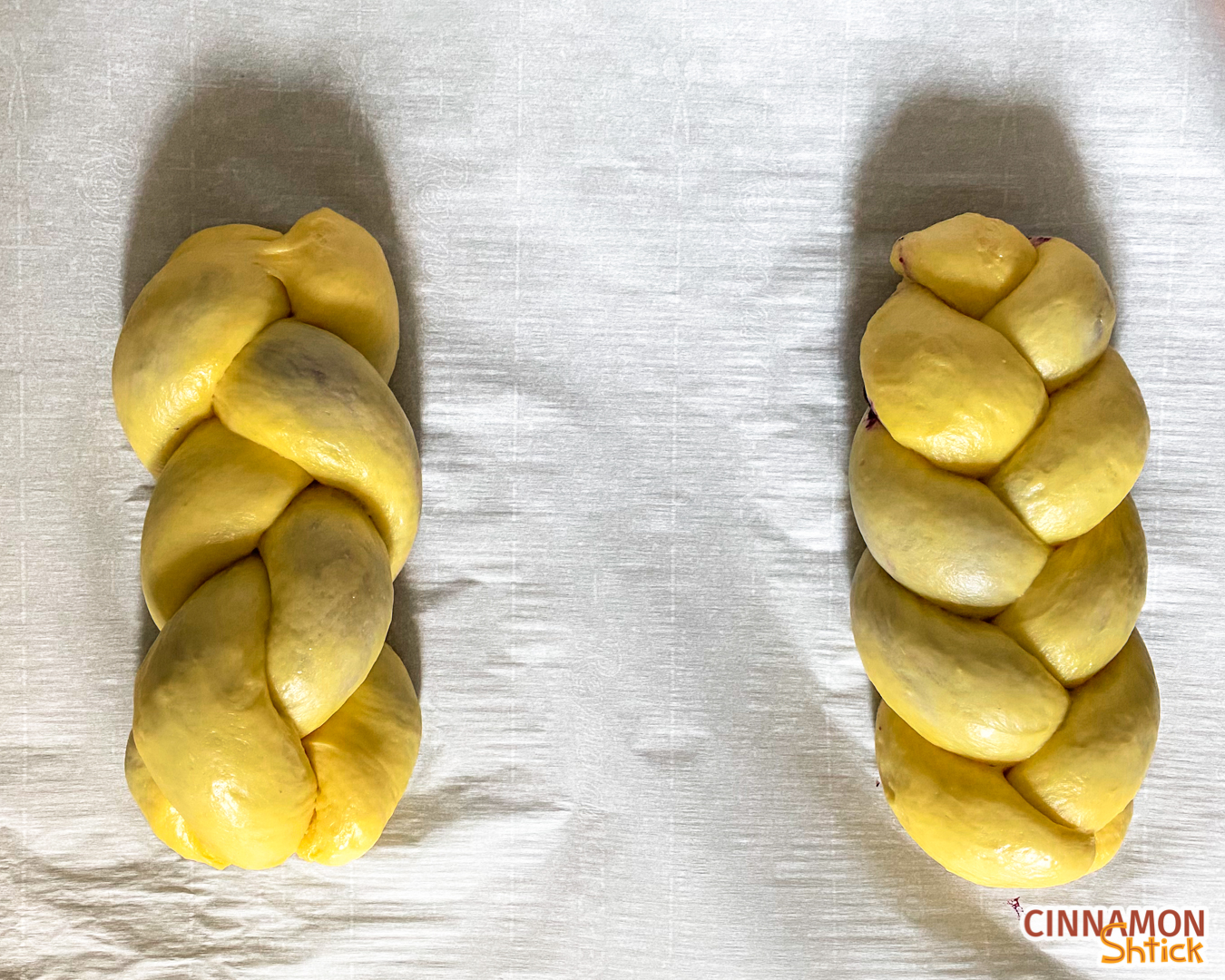 Frequently Asked Questions About Making Blueberry Babkallah
Does blueberry babkallah have to be made in one day?
No. You can make the blueberry filling and store it in an airtight container in the refrigerator for up to one week. Just give it a good stir when you are ready to use it. You can also make the dough, allow it rise for 1-1½ hours, then place it in the refrigerator overnight. In the morning, continue with Step 6.
Can I double the blueberry filling for the blueberry babkallah?
While some fillings work well being increased, that is not the case with the blueberry filling here. Increasing the blueberry filling for this amount of dough will be too heavy for the challah, not allowing it to rise properly as it bakes.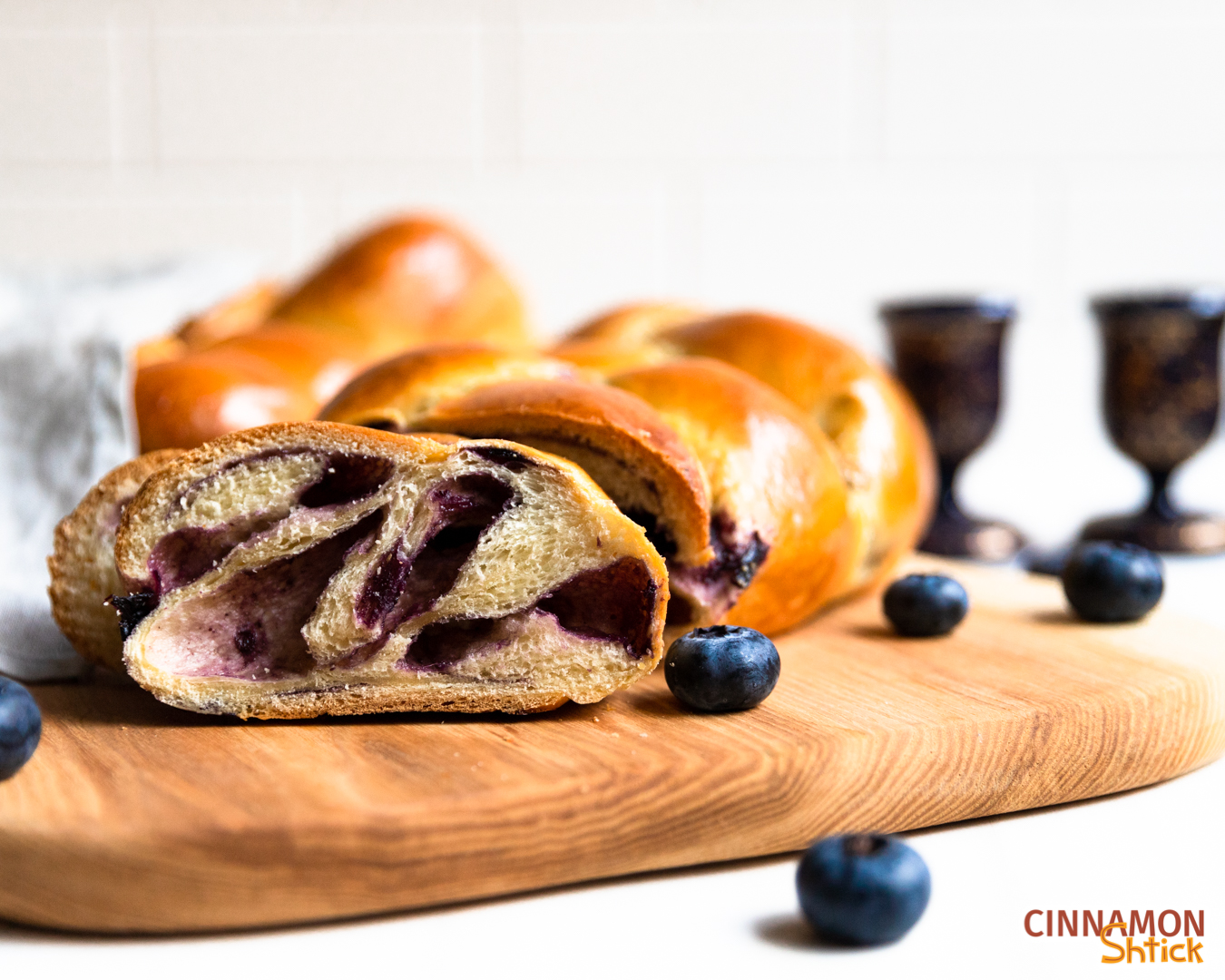 Blueberry Babkallah
A cross between a Challah and a Babka, this dairy free bread impresses and makes great French toast. This recipe makes 2 loaves.
Ingredients
Dough:
141

grams

warm water

(½ cup plus 1 Tablespoon plus 1 teaspoon)

4

grams

active dry yeast or instant yeast

(1½ teaspoon)

378

grams

bread flour

(2⅔ cups )

3

egg yolks, at room temperature

43

grams

oil

(3 Tablespoon. plus 1 teaspoon)

68

grams

honey

(3 Tablespoon plus 1 teaspoon)

30

grams

sugar

(2 Tablespoon plus 1 teaspoon)

4

grams

salt

(¾ teaspoon)

1

egg, lightly beaten

(for egg wash)
Blueberry Filling:
½

pint

blueberries, fresh or frozen

(1 cup)

7

grams

cornstarch

(1 Tablespoon or 5 grams (½ Tablespoon) Instant Clear Jel)

34

grams

sugar

(3 Tablespoons)

½

teaspoon

cinnamon

Small pinch

ground cloves

Pinch

salt
Instructions 
Pour water into mixing bowl of electric mixer. Cover with yeast and about ½ tsp. of the sugar. Stir gently to hydrate the yeast. Let it sit for 5-10 minutes to get foamy. (If using instant yeast, skip this step and mix your yeast and water in with everything else in the next step.)

Add the yolks, oil, honey, sugar, and flour. With the dough hook attachment, knead the mixture for about 4-5 minutes.

With the mixer on low, slowly add the salt. Knead for an additional 2-3 minutes until the salt is fully absorbed and the dough passes the windowpane test.

Place dough in an ungreased bowl, cover with plastic wrap, and let rise in a warm area for about 3 hours.

In the meantime, make the blueberry filling. Pour the berries into a small or medium size saucepan. Pour the sugar, cornstarch (or Clear Jel), cinnamon, cloves and salt over the blueberries. Over medium heat, stir the mixture and cook until the juices on the bottom start to simmer. Reduce the heat to medium-low and continue stirring just until the mixture thickens. Remove from heat (pour into a heat proof bowl to stop it from cooking further in the pot) and allow to cool to room temperature before using. (You can make the filling in advance and work with it directly from the refrigerator. Just give it a good stir before you spread it on the dough.)

Gently deflate the dough by pulling a piece from the bottom and folding it over itself, turning the bowl so you can do four similar folds.

Weigh the dough and divide into equal portions. If making two loaves, divide into six equal portions. If making one large loaf, divide into three equal portions.

Roll out each portion into a rectangle (like you do for a cinnamon roll or a babka). Any dimensions will work, but make sure you use the same dimensions on all three strands of each loaf. (For example, I made two loaves -- which meant six strands -- and rolled each strand to approximately 11 inches long by 5 inches wide.) Portion out the blueberry filling to the number of total strands you will have. It is best to weigh the amount of filling and divide it by the number of strands. (For example, I had approximately 144 grams of filling. I therefore spread approximately 24 grams on each rectangle.) The filling should be spread thin (less is more here). On each rectangle, you can spread the filling to the edge of one of the long sides, but be sure to leave ½ an inch border on the other three sides. Starting from the long side with filling that reaches the edge, roll up each rectangle like you are rolling up a cinnamon roll. Firmly pinch the long edge and the sides so that each roll is fully enclosed. You can gently roll it against the counter to even it out and lengthen each strand slightly.

Braid your loaves (or loaf) and place on a parchment lined baking sheet. Cover loosely with plastic wrap and let rise 1 to 1½ hours until the dough has doubled in size.

Towards the end of the rising time, preheat oven to 350° F.

Apply egg wash. Bake 30-40 minutes until golden brown on top and sides. Err on the side of over-baking a few minutes, as you do not want to risk the middle being unbaked.
Notes
If you prefer a lemon-blueberry combination rather than a cinnamon-blueberry combination (blasphemy!), make the blueberry filling in my Blueberry Lemon Crumb Babka.
Either take your eggs out of the refrigerator an hour before you plan to make the dough or place them in a bowl of warm water for approximately ten minutes. Once you separate the eggs, store the whites in an airproof container in the refrigerator. They will be good for up to one week to use in recipes that call for egg whites or for an egg white omelet.
I strongly advise weighing ingredients rather than measuring them. For more information, see my post Weighing vs. Measuring.
Do not grease the bowl you place the dough into for the 3 hour bulk rise. Non-stick spray or oil will make it more difficult to work with the dough. In the unlikely event that the dough sticks to your bowl when you go to remove it at the end of the 3 hours, just use a bowl scraper or a rubber spatula to get it out of the bowl.
The baked loaves will last at least several days wrapped in plastic wrap. They also freeze beautifully and can be defrosted at room temperature in about 15 minutes, or wrap in foil, place in oven, and turn oven on to 350° F. Within a few minutes of the oven getting to temperature, the loaves will be warm.
Smart Hack: If freezing a whole loaf, cut it into halves or quarters, wrap each separately in plastic wrap, and freeze in a Ziplock freezer bag. You can then just take out smaller portions if you do not intend on eating the whole loaf.
Nutrition
Calories:
109
kcal
|
Carbohydrates:
18
g
|
Protein:
3
g
|
Fat:
3
g
|
Saturated Fat:
1
g
|
Trans Fat:
1
g
|
Cholesterol:
31
mg
|
Sodium:
69
mg
|
Potassium:
32
mg
|
Fiber:
1
g
|
Sugar:
6
g
|
Vitamin A:
48
IU
|
Vitamin C:
1
mg
|
Calcium:
8
mg
|
Iron:
1
mg