This post may contain affiliate links. As an Amazon Associate, I earn from qualifying purchases. For more information, please visit my Privacy Policy.
Until recently, whole wheat flour was a bit of a mystery to me. I don't know why. I just rarely baked with it and never really looked into it or how it works. Of course, I knew that it has more nutrients than all purpose or bread flour, but I have never been one to long for the taste of whole wheat. I also never found a great Whole Wheat Challah recipe.
Can't Find a Good Challah Recipe? Then Create It!
I started to really bake with whole wheat when I hopped on the sourdough bandwagon several months ago. Mixed with all purpose or bread flour, it was very enjoyable! That's how and why I developed a Honey Whole Wheat Sourdough Bagel.
That lead me to a whole wheat challah. I have enjoyed so many challah recipes over the years, but I never really came across a whole wheat one – at least not that resulted in a delish challah. So, I embarked on converting my Challah recipe into a whole wheat one.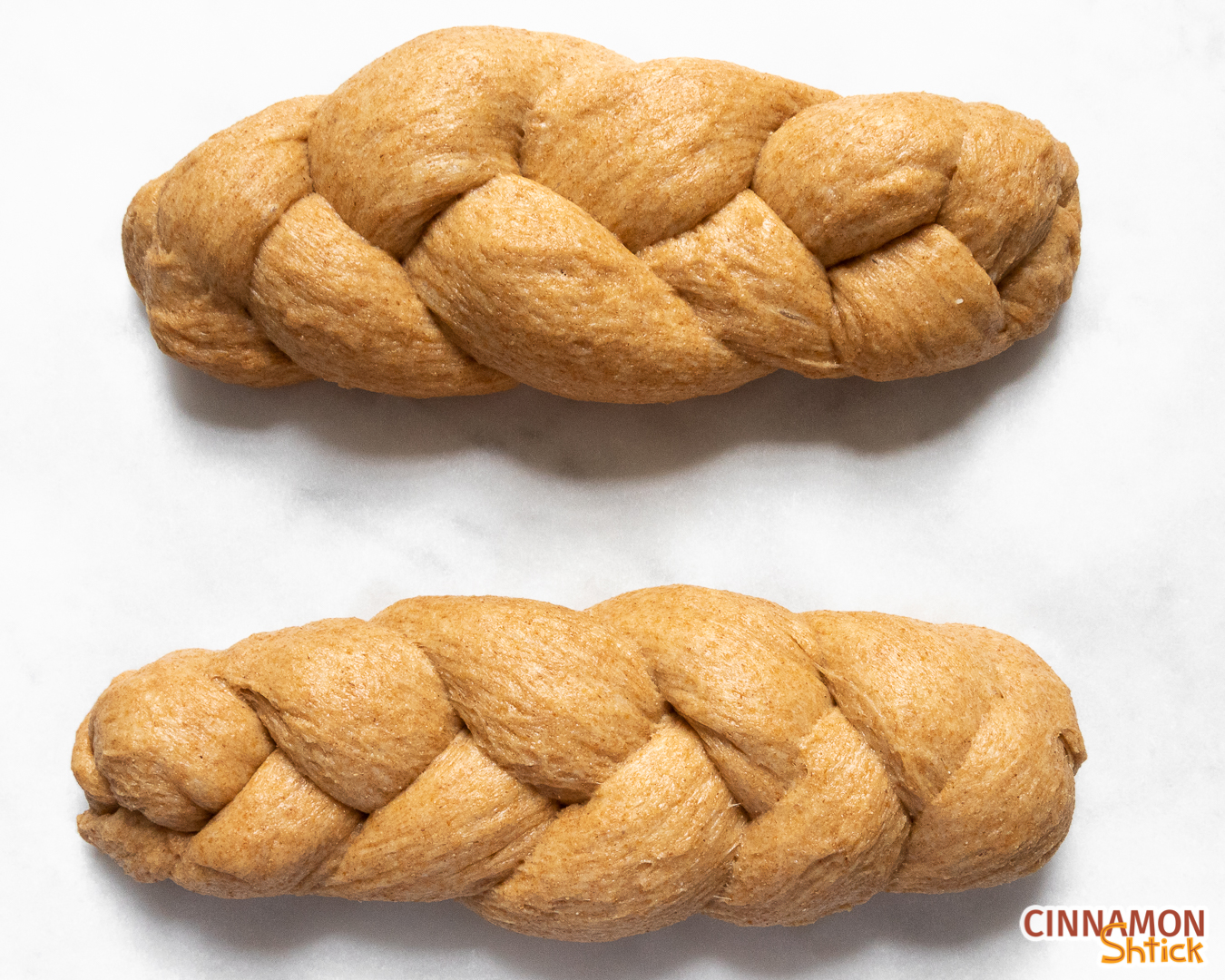 Problems With Using Whole Wheat
Making the same mistake as so many do, without doing any research, I subbed out the bread flour in my Challah recipe for whole wheat flour. Boy, was I disappointed! But, at least that forced me to research. In a nutshell, here is what I learned:
Wheat kernels contain three basic parts: the germ, the bran and the endosperm. Most of the nutrients are found in the germ and the bran. All purpose and bread flour are made from the endosperm, which is the largest part of the kernel. Unlike those flours, whole wheat contains the germ, the bran and the endosperm. You're probably thinking that you did not sign up for this nerd class. Settle down. This is important stuff!
So, why does it matter that whole wheat flour contains the entire kernel, including the germ and the bran? Drum roll please…
Well, there are three key reasons why this nerd stuff is important:
First, the germ and the bran make the flour heavier than all purpose or bread flour. Without making changes to a recipe to accommodate for that extra weight, the bread could not rise and/or be very dense.
Second, the bran is actually sharp in texture. Put your hand in a bag of whole wheat to see for yourself. When you knead a whole wheat bread to develop and stretch the gluten, you are also pushing those sharp bran pieces into the dough, causing the gluten to be cut. For this reason, it is important not to over-knead whole wheat breads.
Third, the germ and the bran are super water absorbers. To accommodate for this, we need to add much more water than we use for a recipe with all purpose or bread flour.
Solutions for Baking with Whole Wheat
To correct these problems, I added much more water to my challah recipe. Also, instead of kneading, I let the dough sit just after it is mixed with all the other ingredients (except the salt) so that all the flour gets hydrated. (Further Nerd Alert: We hold off on adding the salt because when first introduced to yeast, it could kill or slow down the yeast from developing. It also absorbs water, and we do not want the salt to compete with the flour getting hydrated.) Then, instead of kneading and risking the bran from cutting the gluten, I did a couple sets of folds.
I know, I know. You're asking, "What's a fold?"
Fold Whole Wheat Dough
A fold is when you grab the dough from the bottom of the bowl and pull it up and over to the center of the top of the dough. Generally, you do 4 folds at a time, rotating your bowl 90° after each fold. This helps stretch the gluten without actually kneading.
Add Gluten
There was one last change I had to make from my regular Challah recipe. Even though whole wheat flour contains approximately the same amount of protein as bread flour, as I mentioned earlier, it is difficult to develop the gluten in whole wheat flour. To assist with this issue, I added vital wheat gluten. Say what?!?!
Vital wheat gluten is basically gluten taken from the wheat. By adding just a bit of gluten to the recipe, together with more water, we get the same bready feel and texture as with bread flour, resulting in a soft, traditional challah. You can find vital wheat gluten at any grocery store in the baking aisle. There are a number of different brands. The one I most often see and always buy is Bob's Red Mill Vital Wheat Gluten.*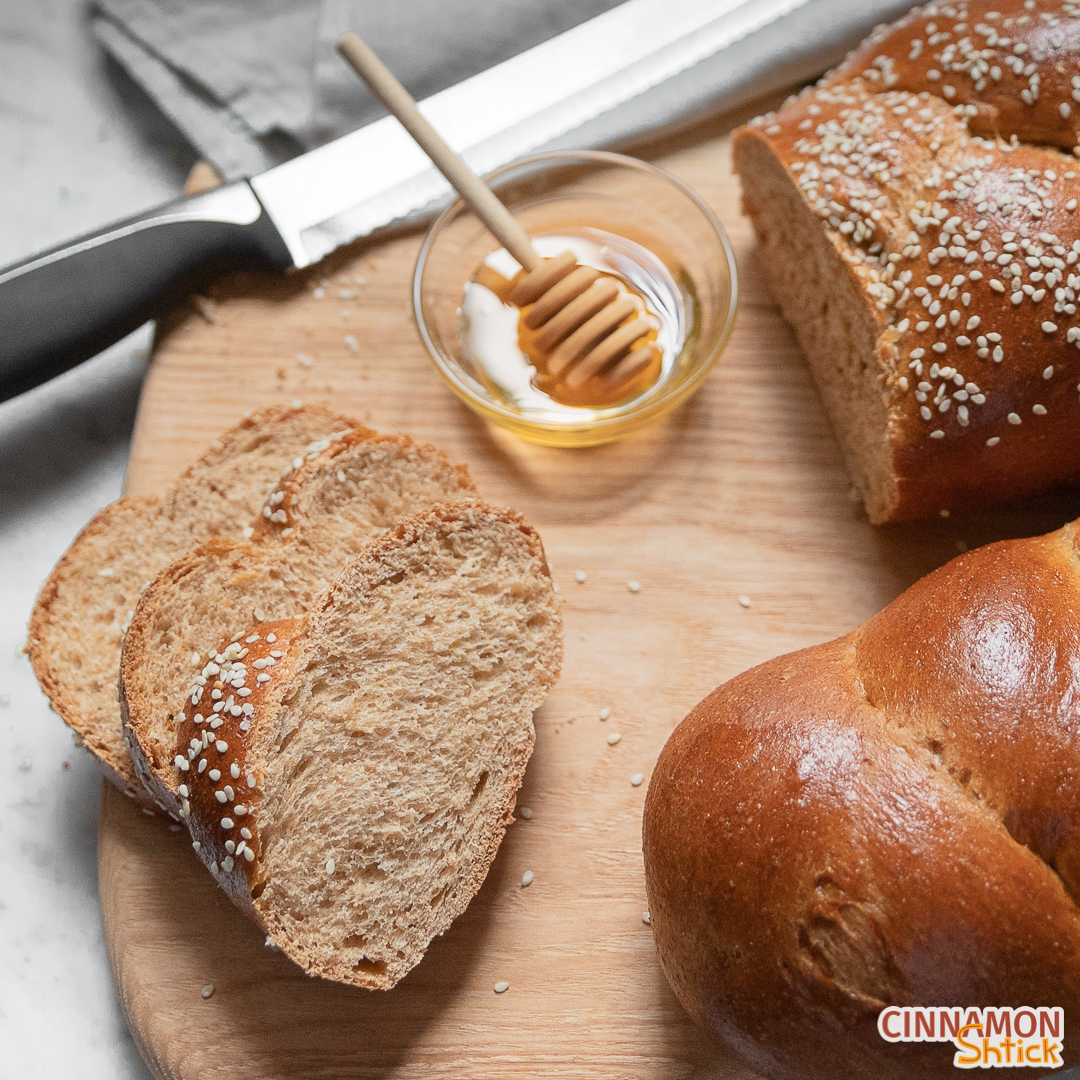 *As an Amazon Associate, I earn from qualifying purchases.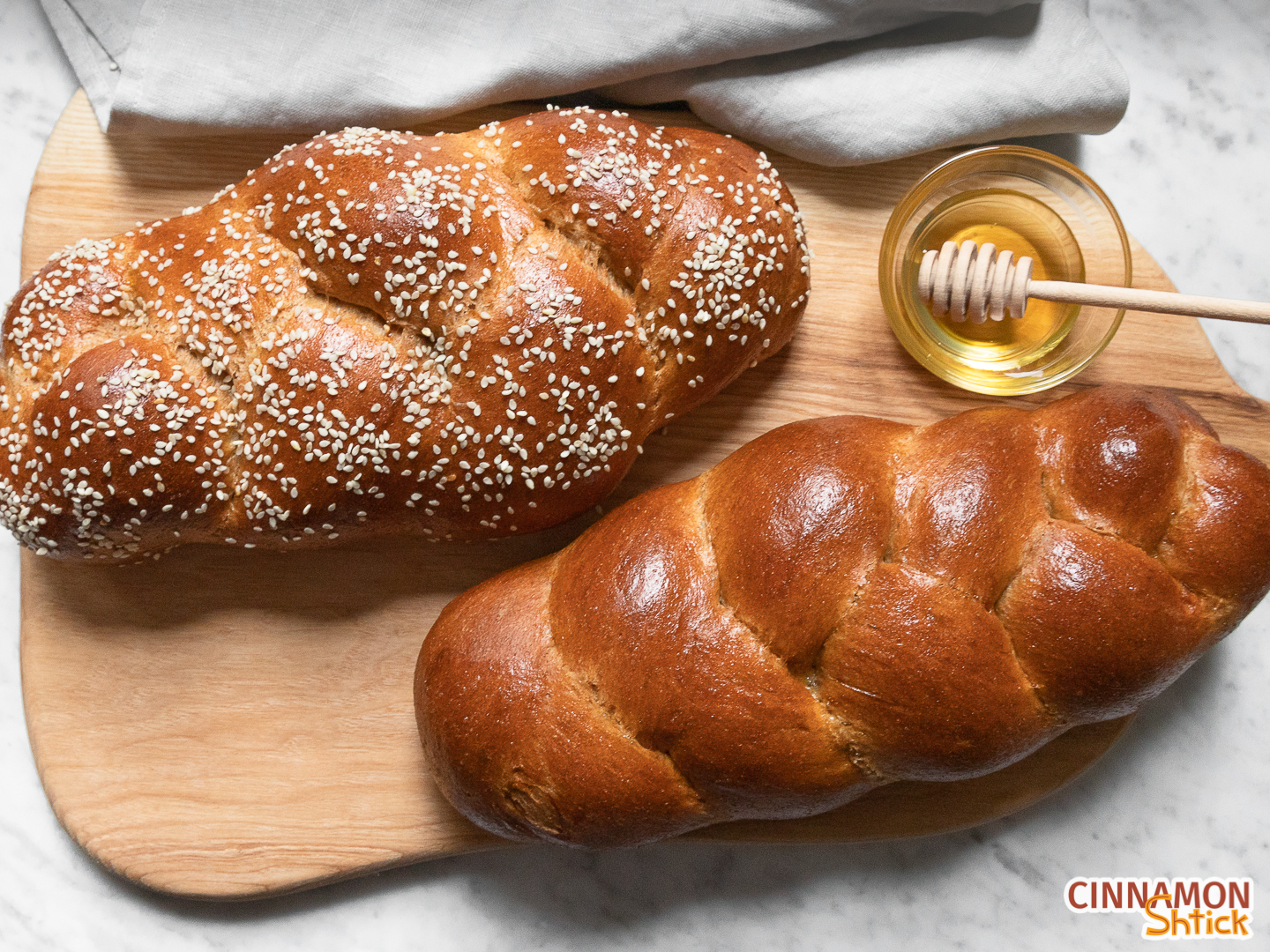 Whole Wheat Challah
This Whole Wheat Challah is soft, pillowy, slightly sweet and filled with nutrients. This recipe makes two medium loaves or one large loaf.
Ingredients
185

g.

warm water

(¾ cup)

4

g.

active dry yeast or instant yeast

(1½ tsp.)

3

egg yolks, at room temperature

43

g.

oil (neutral, such as canola, vegetable, sunflower)

(3 tbsp. plus 1 tsp.)

30

g.

sugar

(2 tbsp. plus 1 tsp.)

68

g.

honey

(¼ cup plus 1 tbsp.)

378

g.

whole wheat

(2¾ cups)

12

g.

vital wheat gluten

(1½ tbsps.)

4

g.

salt

(¾ tsp.)

1

egg combined with 1 tsp. water

(egg wash)
Instructions 
Pour water into mixing bowl of electric mixer. Cover with yeast and about ½ tsp. of the sugar. Stir gently to hydrate the yeast. Let it sit for 5-10 minutes to get foamy. (If using instant yeast, skip this step and mix your yeast and water in with everything else in the next step.)

Add the yolks, oil, honey, sugar, flour and vital wheat gluten. With the paddle or dough hook attachment, knead the mixture for about 1-2 minutes, just until all the ingredients are combined. Cover with plastic wrap and allow to rest for 30 minutes.

With the mixer on low (with either the paddle or dough hook attachment), slowly add the salt. Knead for an additional 1-2 minutes until the salt is fully absorbed. Cover with plastic wrap and allow to rest 15 minutes.

Make four folds: Using a bowl scraper, reach under the dough from the bottom center and pull it over itself to the top center. Rotate the bowl 90° and do a second fold. Rotate the bowl 90° and do a third fold. Rotate the bowl 90° and do a final fold. Cover with plastic wrap and allow to rest 15 minutes.

Perform another set of four folds. Cover with plastic wrap and allow to rest for 1 to 1½ hours, until the dough has doubled in size.

Preheat oven to 350° F.

Fold the dough over itself to gently deflate it. If making one challah, divide into three equal portions for braiding. If making two challahs, divide into 6 equal portions. Shape each portion into a ball.

One ball at a time, pat down the ball into a flat oval. Fold the top third of the oval over itself to the center and then again to the bottom. Using the palms of your hands, roll the dough out to a rope approximately 8-10 inches long. Repeat with remaining balls. Braid challah as desired.

Cover loosely with plastic wrap and let rise 30-45 minutes, until the challah is puffy and the dough holds an indentation when you press your finger into the dough.

Apply egg wash. Bake 30-35 minutes.
Notes
This recipe has more water in it than my regular challah recipe because the whole wheat flour needs to absorb more water, which is the reason for so much resting and less active kneading. By the time you shape the challah, the dough will still be slightly sticky, but should be capable of being shaped. Be sure to lightly flour the countertop and your hands when shaping and use a bowl scraper or bench cutter to lift the dough from the countertop.
Nutrition
Calories:
96
kcal
|
Carbohydrates:
16
g
|
Protein:
3
g
|
Fat:
3
g
|
Saturated Fat:
2
g
|
Trans Fat:
1
g
|
Cholesterol:
31
mg
|
Sodium:
70
mg
|
Potassium:
42
mg
|
Fiber:
1
g
|
Sugar:
4
g
|
Vitamin A:
42
IU
|
Vitamin C:
1
mg
|
Calcium:
11
mg
|
Iron:
1
mg