This post may contain affiliate links. As an Amazon Associate, I earn from qualifying purchases. For more information, please visit my Privacy Policy.
Spelt Challah is a wonderful alternative to Whole Wheat Challah. Don't get me wrong: I am obsessed with my Whole Wheat Challah. However, spelt is a fabulous alternative for its nutty, earthy flavor. Plus, many people with wheat allergies are able to tolerate spelt, making Spelt Challah ideal for them. (Don't confuse wheat allergies with gluten allergies. Spelt still contains gluten and anyone with gluten allergies or issues should avoid spelt.)
I sought out to develop this Spelt Challah based on my standard Challah recipe. In other words, even though I was going for 100% whole grain with spelt, I still wanted an eggy, sweet bread. While I believe that any challah makes a wonderful French toast, I am here to tell you that, in my opinion, nothing beats this Spelt Challah for French toast!
How to Make Spelt Challah
1. Mix Dough
If using active dry yeast, dissolve it in your mixer's mixing bowl with the warm water until it foams, 5-10 minutes. (Mix in a drop of the honey as well to help activate the yeast.) Add the rest of the ingredients, except the salt. If using instant yeast (which is my preference), put all the ingredients, except for the salt, into your mixer's mixing bowl.
Then just knead. You will likely have to stop the mixer several times to scrape the sides of the bowl and move the dough around so that the hook picks the dough up and kneads it.
Knead for 3-4 minutes so that the dough forms and the yeast is fully incorporated. Then, with the mixer on low, slowly add in the salt. Increase the mixer speed and knead for another 4-5 minutes. The dough should pass the windowpane test, meaning that, when you take a small piece of dough and stretch it between. your fingers, it should stretch and be translucent without ripping. (See the video where I demonstrate the windowpane test.)
2. Let the Spelt Challah Dough Rise
Three hours may seem like a long time for the dough to rise, but remember that this delicious challah is loaded with egg yolks and honey which slows down the fermentation process. The nice thing about a 3 hour rise is that you can go about other things since this is literally hands-off time.
3. Shape and Rise
Deflate the dough and divide it into as many portions as you want. I like to make two medium sized challahs from this recipe and tend to do a 4-strand braid for each. So, I weigh dough, divide that amount by 8, and portion out 8 mounds in equal weight.
Then roll each mound into a strand. I like to keep the strands a little fat in the middle and tapered at the ends. If the strands are pulling back, just let them sit on the counter for 10 minutes to rest the gluten. (If it is dry in your kitchen, cover them loosely with plastic wrap or a tea towel so they do not dry out.) On the other hand, if the dough is too sticky, lightly sprinkle the outsides of the strands with more spelt. Braid as desired and cover loosely with plastic wrap or a tea towel, leaving them to rise another 1¼ – 1½ hours. The challah should appear puffy.
I learned how to do a 4-strand braided challah by watching  this video from Jamie Geller.
4. Egg Wash and Bake
For egg wash, I like to use 1 beaten egg. If you prefer a darker exterior, use just the yolk, or the yolk mixed with 1 teaspoon of water. For a lighter exterior, add 1-2 teaspoons of water to the whole egg. Be sure to coat the entire challah, including the parts on the bottom that just hit the baking sheet (or parchment paper). Bake for 25-30 minutes, but be careful not to overbake. Once the internal temperature reaches 190° F, your Spelt Challah is done. Allow to cool before serving.
Looking for a round Challah or just an ornate challah? Check out my Festive Challah or my 4-Strand Round Challah.
Want an alternative whole grain version? Check out my Whole Wheat Challah.
For my traditional recipe, check out my Challah.
For an even softer, doughier version, check out my Tangzhong Challah.
Sourdough fans, check out my Sourdough Challah.
For an egg-free or vegan version, check out my Vegan Challah.
Looking to use up the leftover egg whites? Check out my Chocolate Egg White Cake, which is an easy and wonderful parve (dairy free) dessert ideal for any Shabbat or Yom Tov.
Frequently Asked Questions About Making Spelt Challah
Can I knead Spelt Challah by hand?
Absolutely. It is definitely much easier and cleaner to use a mixer, but you can certainly knead by hand. Be careful not to add much, if any, flour as you knead though. The dough will be slightly sticky, which you want to maintain so that it is moist after it bakes.
Should I add xanthum gum to Spelt Challah?
Some spelt flour bread recipes include xanthm gum in the dough ingredients because some people believe that it helps avoid having a bread that is too crumbly. (They add xanthum gum because the gluten structure of spelt flour is different from the gluten structure of wheat flour, and they think that adding xanthum gum will compensate for that difference, as it sometimes does in gluten free recipes.) I will tell you that I tested this recipe with a little xanthum gum and the result was, well, horrible. I do not recommend adding it to this recipe.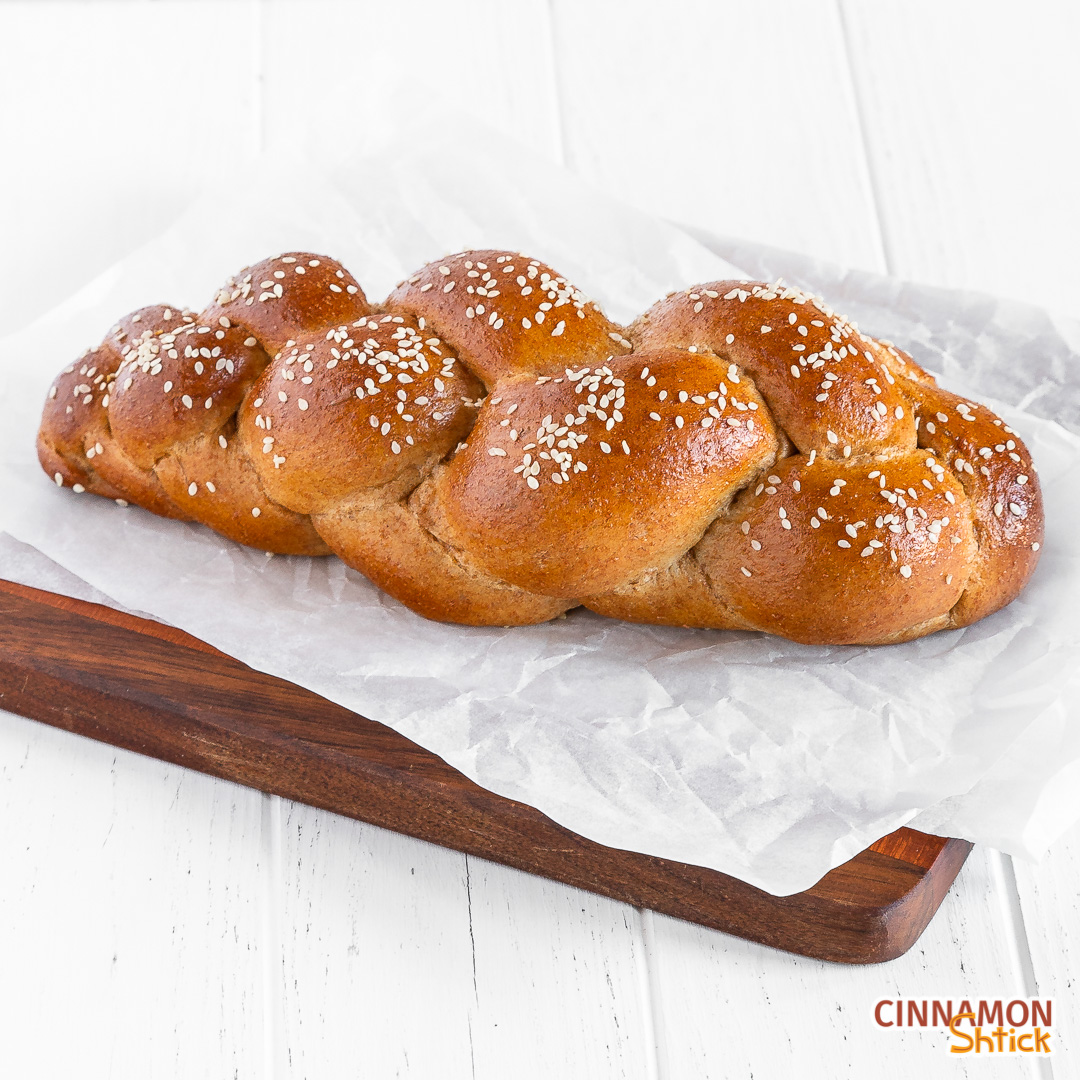 Spelt Challah
Easy to make, this 100% whole grain challah is sweetened only with honey. A delicious challah that also makes an outstanding French toast!
Ingredients
156

grams

warm water

(⅔ cup)

6

grams

active dry yeast or instant yeast

(2 teaspoons)

3

egg yolks

(at room temperature)

43

grams

oil

(neutral, such as canola, vegetable, sunflower (3 Tablespoons plus 1 teaspoon))

85

grams

honey

(¼ cup)

378

grams

whole grain spelt flour

(2¾ cups)

7

grams

salt

(1¼ teaspoons)

1

egg

(beaten (egg wash))
Instructions 
Pour water into mixing bowl of electric mixer. Cover with yeast and about ½ teaspoon of the honey. Stir gently to hydrate the yeast. Let it sit for 5-10 minutes to get foamy. (If using instant yeast, skip this step and mix your yeast and water in with everything else in the next step.)

Add the yolks, oil, honey, and spelt flour. With the dough hook attachment, knead the mixture for about 3-4 minutes until the dough is formed. You may need to turn the mixer off and scrape down the sides of the bowl a few times. Decrease the mixer speed to low and slowly add the salt a little at a time, allowing each portion to knead into the dough a bit before adding more. Increase the speed and continue kneading for 3-5 minutes. The dough, which will be slightly sticky, should pass the windowpane test, meaning if you take a small piece of it and stretch it between your fingers, it should be translucent without ripping.

Cover with plastic wrap and allow to rest for 3 hours, until the dough has doubled in size.

Fold the dough over itself to gently deflate it. Divide dough into as many portions for the type of braid you are making. If making two smaller challahs, divide the dough in half and then divide each half into the number of portions needed for braiding. If the dough is too sticky, sprinkle it with a little more spelt flour.

Shape challah as desired. Cover loosely with plastic wrap and allow to rise for 1¼ - 1½ hours. The challah should be puffy.

Preheat oven to 350° F.

Apply egg wash. Bake 25-30 minutes. The internal temperature should be between 190° F – 200° F.
Notes
For a darker exterior, just use an egg yolk for the egg wash. To lighten that up a drop, add 1-2 teaspoons of water to the yolk.
For a lighter exterior, beat a whole egg with 1-2 teaspoons of water.
Nutrition
Calories:
100
kcal
|
Carbohydrates:
15
g
|
Protein:
3
g
|
Fat:
3
g
|
Saturated Fat:
1
g
|
Polyunsaturated Fat:
1
g
|
Monounsaturated Fat:
1
g
|
Trans Fat:
1
g
|
Cholesterol:
31
mg
|
Sodium:
118
mg
|
Potassium:
9
mg
|
Fiber:
2
g
|
Sugar:
3
g
|
Vitamin A:
42
IU
|
Vitamin C:
1
mg
|
Calcium:
4
mg
|
Iron:
1
mg