This post may contain affiliate links. As an Amazon Associate, I earn from qualifying purchases. For more information, please visit my Privacy Policy.
This recipe is an adaptation of one of my favorite sourdough discard recipes — Anela Malik's Sourdough Discard Everything Pretzels. Anela (whom I have not met but hope we could be friends, so I'll call her by her first name) has a fabulous blog. I first learned about her delish pretzel recipe from The Feed Feed when they shared it on Instagram. While I like to try new sourdough discard recipes, Anela's pretzel recipe, King Arthur Baking Company's Cinnamon Raisin Sourdough Bread, and Scotch and Scone's Jerusalem Bagels are where my sourdough discard usually gets used. Until now. Now, I have added these Sourdough Discard Garlic Knots into the rotation.
I love Anela's pretzel recipe because it is really easy to make and is a great use of discard. Lately though, when I bite into them, I started to think that the consistency of the dough is how I like my garlic knots. I find that garlic knot dough can run the gamut because they are usually made from pizza dough, which can run the gamut. For me, I like my garlic knots to be less puffy. Something about Anela's pretzel dough just made me think the dough would make delish garlic knots. So, I went for it!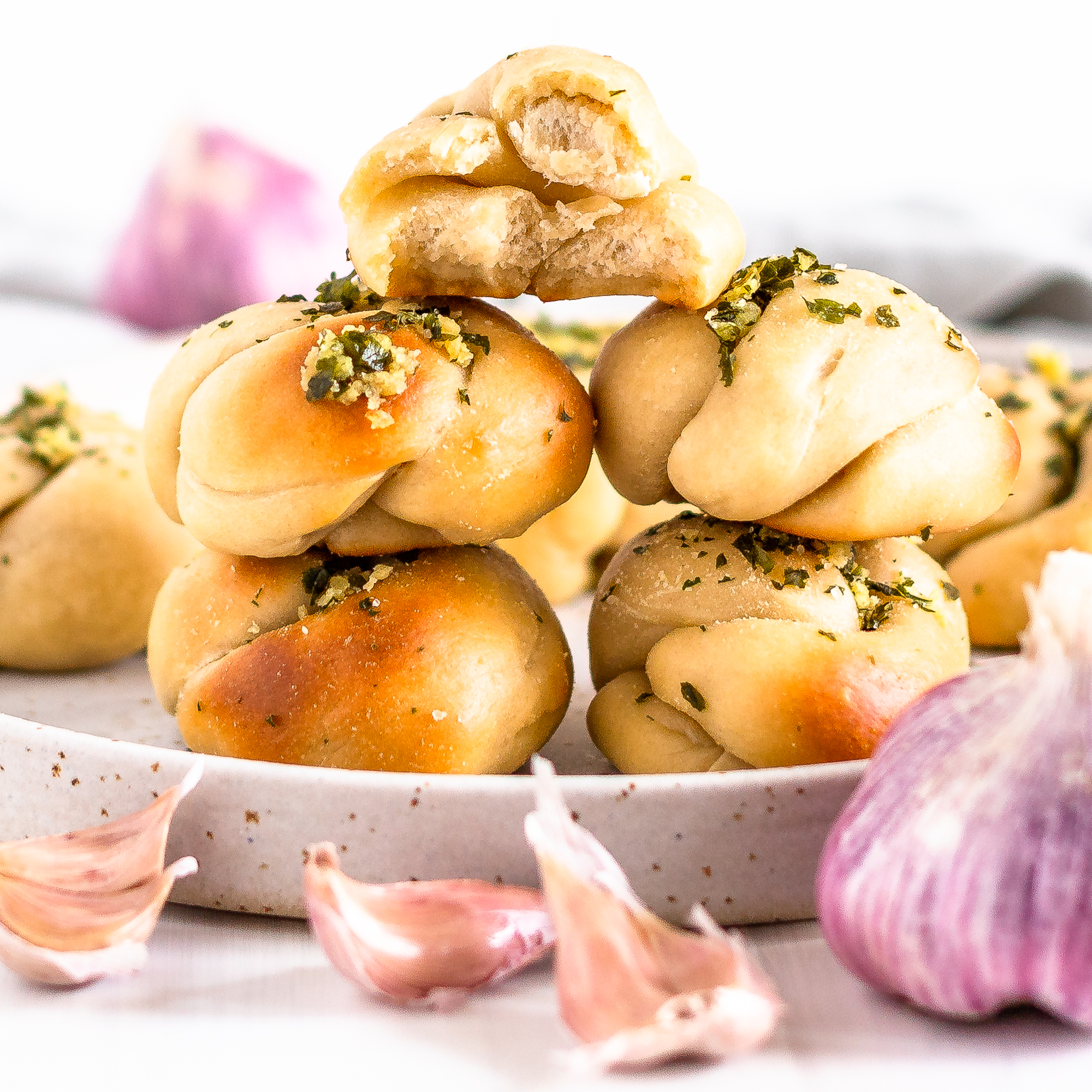 How to Make Sourdough Discard Garlic Knots
Seriously, these are super easy to make. Of course, you need to have sourdough discard. If you have not gotten on the sourdough train, I highly urge you to hop on board! Working with sourdough is so amazingly fun. The best part: you get delish breads as good (if not better) than from artisanal bakeries. If you have kids, sourdough is pure science, so it's a great education too! If you want to create your own starter, you can check out my Sourdough Starter Guide.
OK, let's get down to business.
1. Gather the ingredients for the Sourdough Discard Garlic Knots
It is probably best practice to have all your ingredients at room temperature. I (probably like most people) keep my sourdough discard in the refrigerator. If you have the forethought, it is a good idea to weigh out the discard into a mixing bowl, cover with plastic wrap, and let it sit for 30-60 minutes at room temperature. That said, I have made these with discard directly from the refrigerator and they turned out just as good.
To get your milk to room temperature, you can measure out what you need and let it sit at room temperature for about an hour. Alternatively, pop it in the microwave for 20 seconds, give it a stir, and if it needs a little more, pop it back in for 10 seconds. You don't want the milk to be hot. Rather, you want to take the chill out of it. You could certainly use a lower fat milk, milk alternative, or probably even water. I like using whole milk here though because that little bit of fat adds a softness to the dough.
Anela's pretzel recipe uses bread flour, which renders a fabulous, chewy pretzel. For these Sourdough Discard Garlic Knots, I wanted a slightly less chew to them, so I opted for all purpose flour. (It has a lower protein content than bread flour.) You can use either all purpose or bread flour here, or even try a combination of both.
You'll also need honey (which I prefer over sugar for these knots), olive oil, garlic powder, and salt. I like the addition of a little garlic powder to the dough just to "up" the heavenly garlic flavor here.
2. Mix and knead
This recipe requires minimal kneading. It's not like kneading bagels for 20 minutes by hand. Just a 2-3 minute knead to get the dough to really come together and appear smooth and feel just slightly sticky.
3. Rest and divide
Allow the dough to rest 1½ – 2 hours, covered at room temperature. Remember, there's no yeast or active sourdough starter in this recipe, so the dough will not rise. The purpose of the rest is to let the flour really absorb the liquid and allow the gluten to relax. The rest also allows the dough to come to room temperature if your discard came directly from the refrigerator.
After the rest, divide the dough into 8 equal portions. Roll each one into a rope approximately 12-15 inches long. Tie each one into a knot, tucking the ends under the knot. Place them on a parchment lined baking sheet and rub just a little olive oil on top of each one. Cover with plastic wrap and allow to rest another 30 minutes.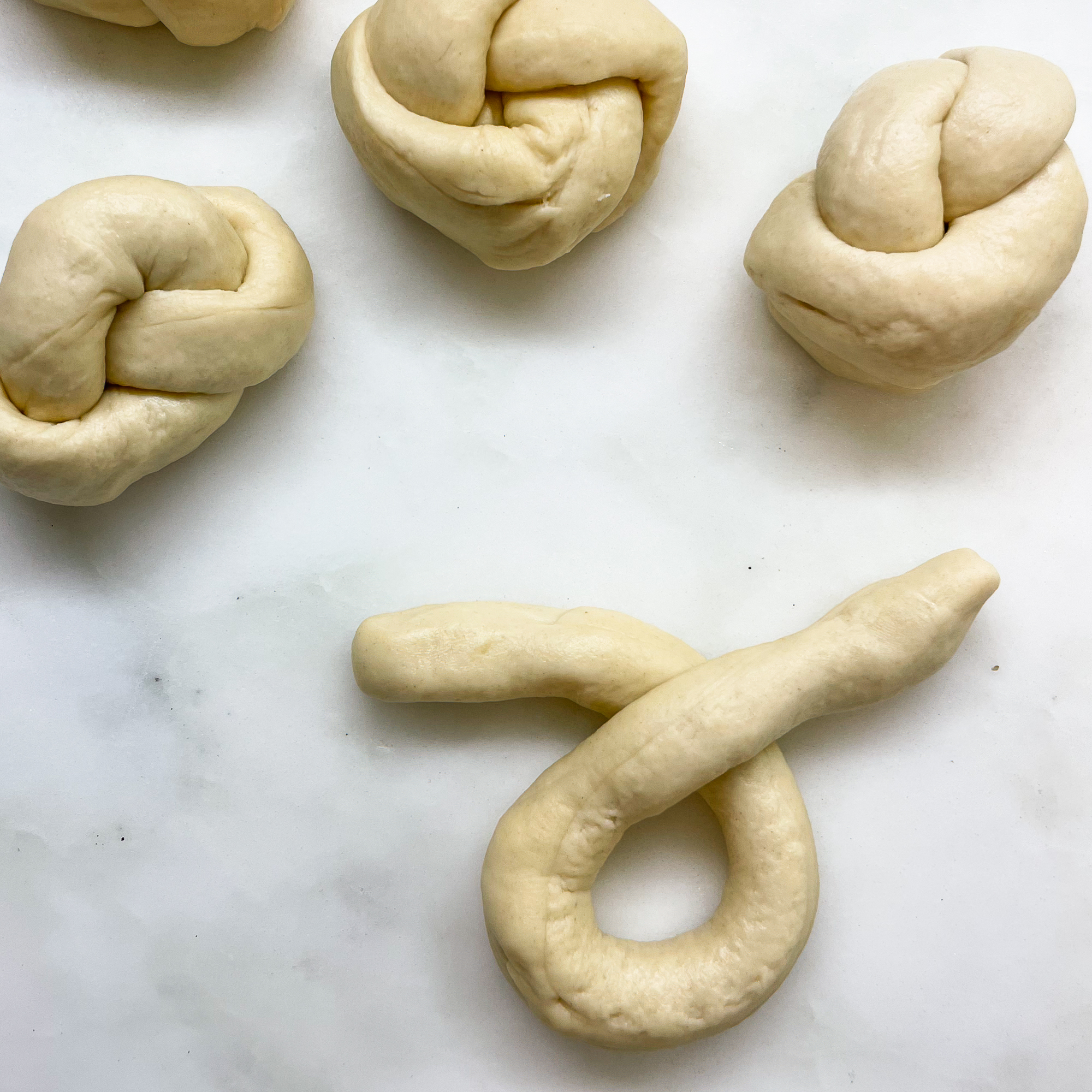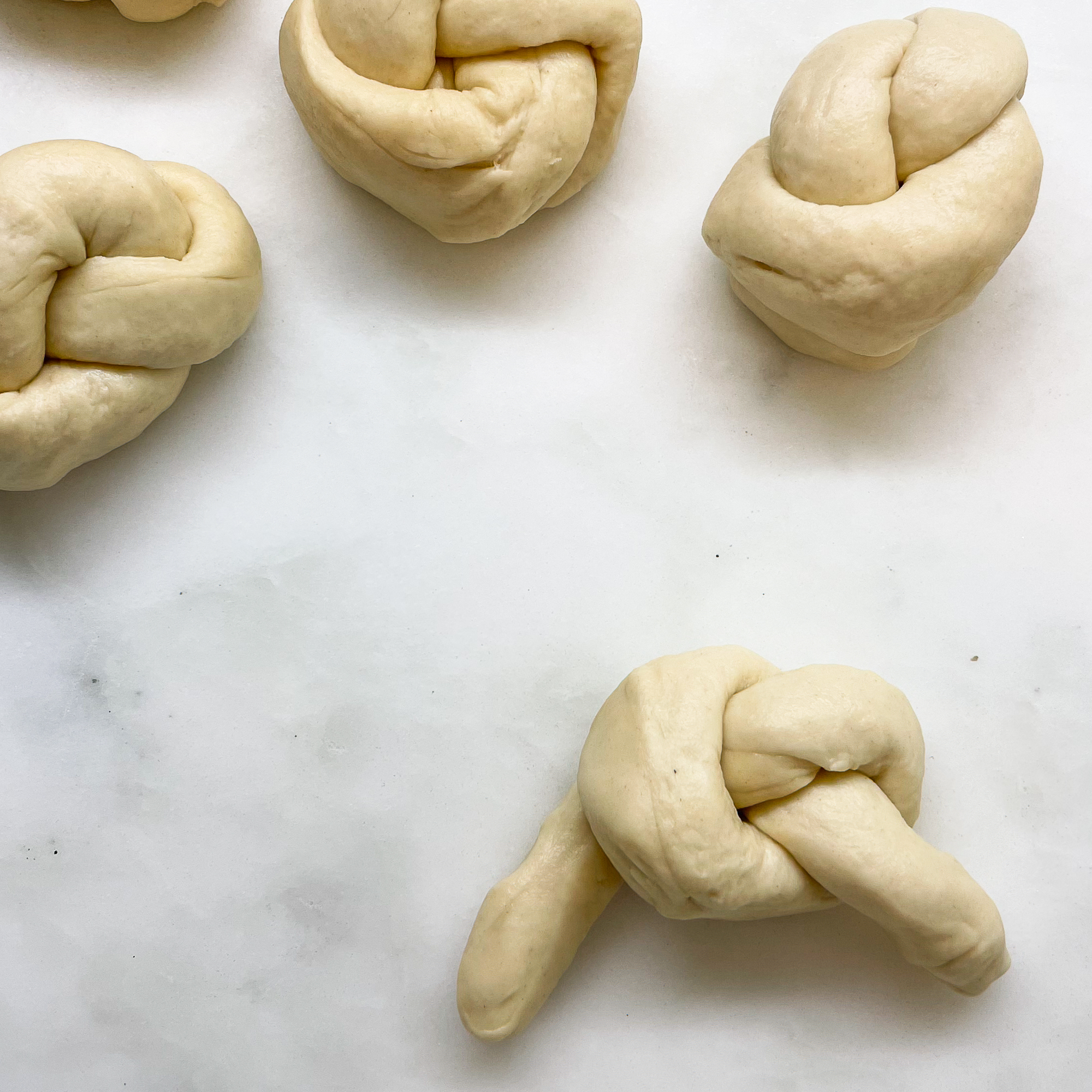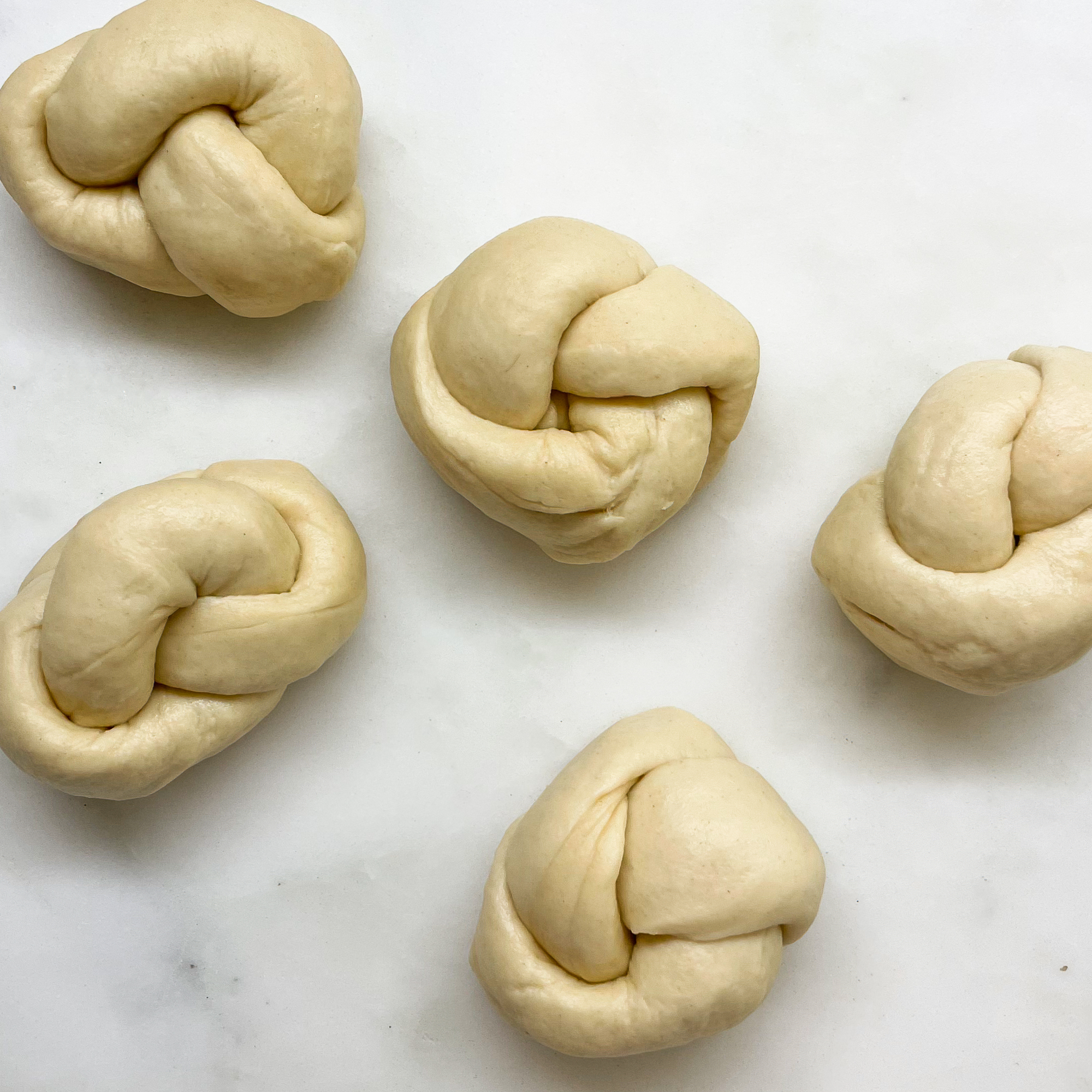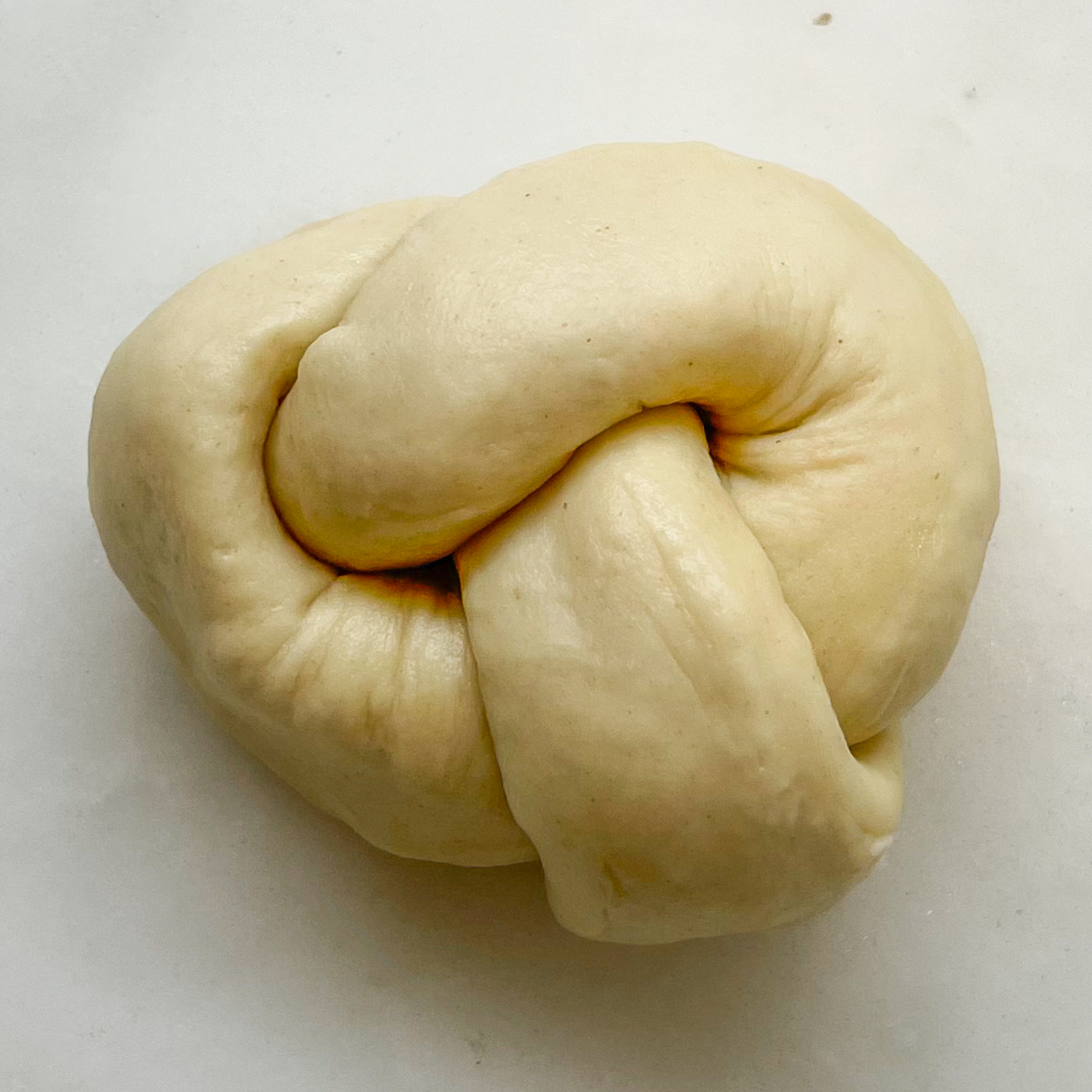 4. Bake and shmear
These bake up in about 12 minutes. While they are in the oven, you will melt down some butter in a small saucepan. Once it gets heated up, add minced garlic and let it cook, stirring constantly, for approximately 2 minutes. Remove the pan from the flame, and add the salt and parsley. Immediately after the knots come out of the oven, use a pastry brush to shmear the garlic butter yumminess all over the knots. You'll have plenty of melty garlic butter to shmear the knots a couple of times. Don't skimp on the shmear!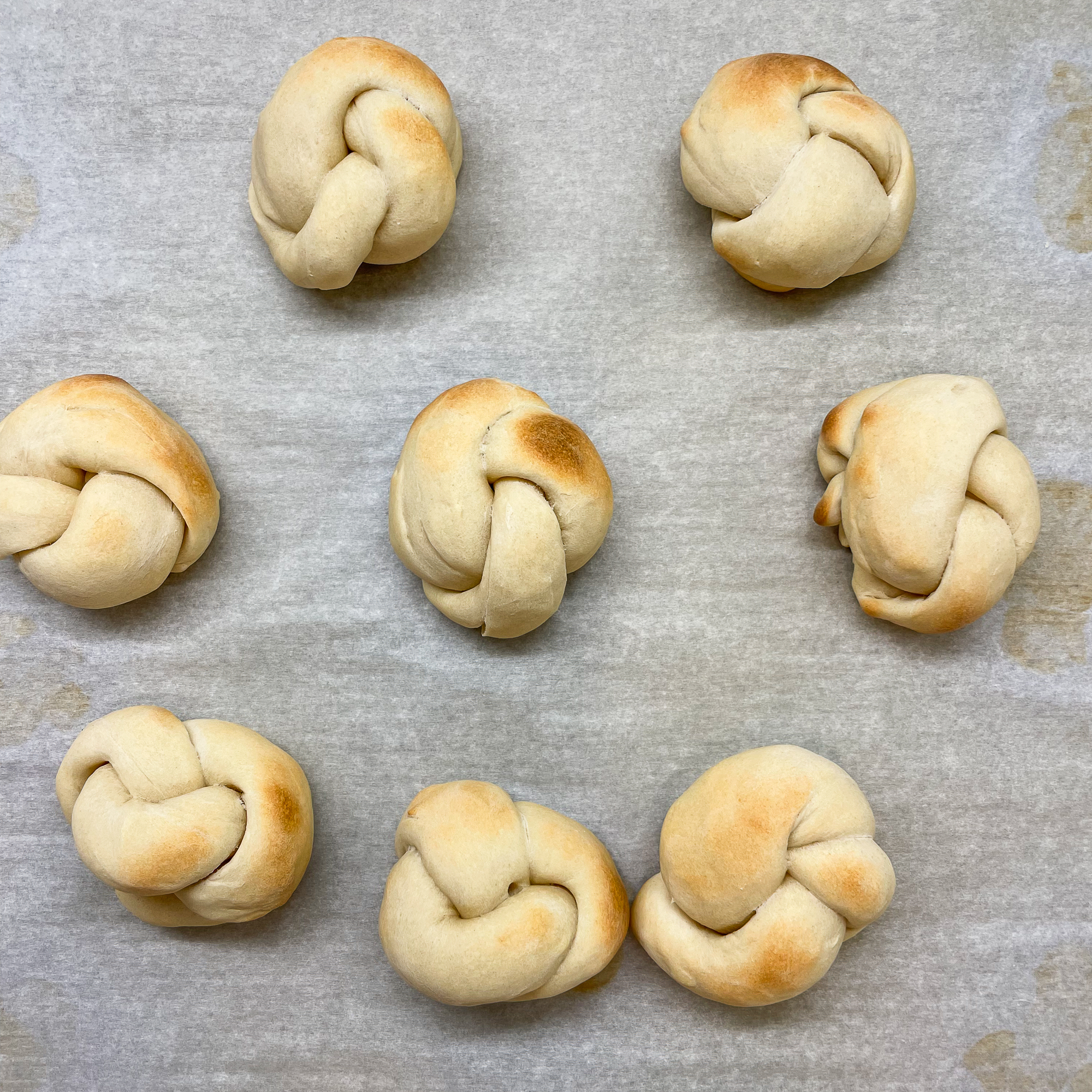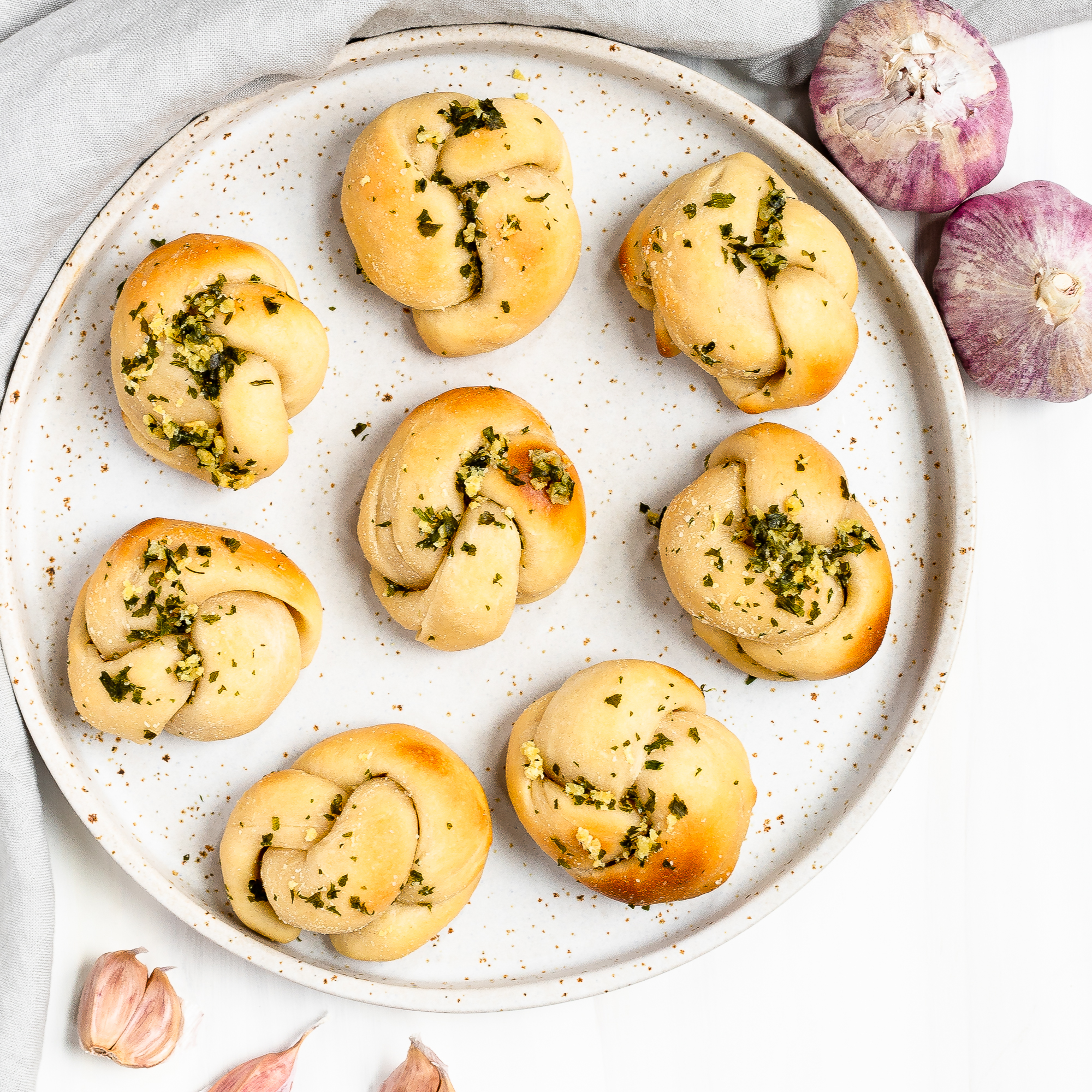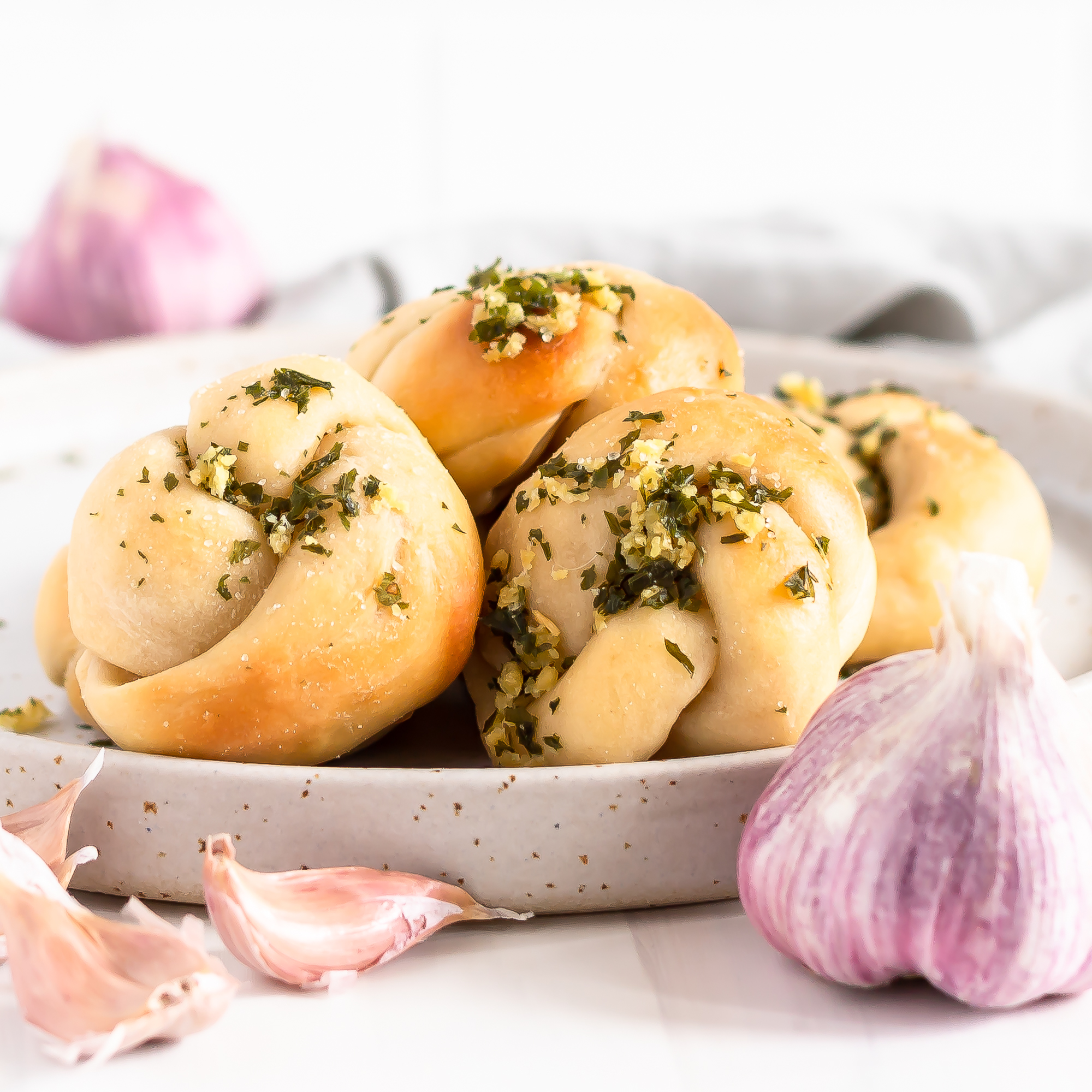 Sourdough Discard Garlic Knots
Put your soudough discard to use with these easy to make and downright delicious garlic knots.
Ingredients
Dough:
115

grams

unfed sourdough discard

80

grams

whole milk, at room temperature

12

grams

honey

(1¾ teaspoons)

13

grams

olive oil

(1 Tablespoon)

200

grams

all purpose flour

(bread flour also works well)

¼

teaspoon

garlic powder

1

teaspoon

fine sea salt

1

Tablespoon

olive oil

(divided)
Garlic Butter:
4

Tablespoon

unsalted butter

3-4

garlic cloves

(minced)

¼

teaspoon

fine sea salt

1

teaspoon

dried parsley flakes

(or 1 Tablespoon fresh parsley)
Instructions 
In a mixing bowl, whisk together the discard, milk, honey and olive oil. Add the flour, garlic powder and salt and mix until combined. Knead for approximately 3 minutes. The dough should be slightly sticky and smooth.

Shape dough into a ball. Lightly oil the same bowl with approximately ½ Tbsp. of olive oil. Place the dough in the bowl to coat one side of the ball and rotate the ball so now the coated side is on top. Cover with plastic wrap and rest on counter in a warm area for 2 hours.

Line a baking sheet with parchment paper. Cut the dough into 8 equal pieces. (Each should be approximately 53 g.) Roll each piece into a rope approximately 12-15 inches long. Tie each rope into a knot, tucking the ends on the bottom. Place each knot onto the prepared baking sheet and use a pastry brush to brush each with the remaining olive oil. Cover loosely with plastic wrap and allow to rest 30 minutes.

Bake 12-14 minutes until very lightly browned on top. The internal temperature should be at least 190°F.

While the knots are baking, in a small saucepan over medium-low heat, melt the butter. Add the garlic and cook 1-2 minutes. Remove from heat and stir in the salt and parsley.

Use the same pastry brush to coat the knots with the warm garlic butter.
Notes
For slightly breadier garlic knots, use bread flour instead of all purpose flour.
If you keep your discard in the refrigerator, weigh it out and let it come to room temperature for about a half hour to an hour before mixing the dough.
Sourdough Discard Garlic Knots are best served warm. If making them to serve later, cover them with foil and reheat in a 350° F oven for 5-8 minutes.
These freeze well after they are baked. Remove from freezer and wrap in foil. Place in 350° F oven for 10 minutes.
Nutrition
Calories:
202
kcal
|
Carbohydrates:
24
g
|
Protein:
4
g
|
Fat:
10
g
|
Saturated Fat:
5
g
|
Trans Fat:
1
g
|
Cholesterol:
17
mg
|
Sodium:
308
mg
|
Potassium:
65
mg
|
Fiber:
1
g
|
Sugar:
2
g
|
Vitamin A:
213
IU
|
Vitamin C:
1
mg
|
Calcium:
26
mg
|
Iron:
1
mg