This post may contain affiliate links. As an Amazon Associate, I earn from qualifying purchases. For more information, please visit my Privacy Policy.
These are no ordinary sourdough discard pretzels. They are really more like an everything bagel turned pretzel. (An everything pretzel?) And they are super easy to make and beyond delicious. I would even venture to say that they are better than an actual pretzel or even a sourdough pretzel. (Them some fightin' words, huh?)
I adapted this recipe from Anela Malik. I also adapted that recipe to make my Sourdough Discard Garlic Knots, which is another of my faves. Anela's recipe was great, but I simplified a couple steps and changed some ingredients to enhance the Everything Seasoning profile.
Ingredients for Sourdough Discard Pretzels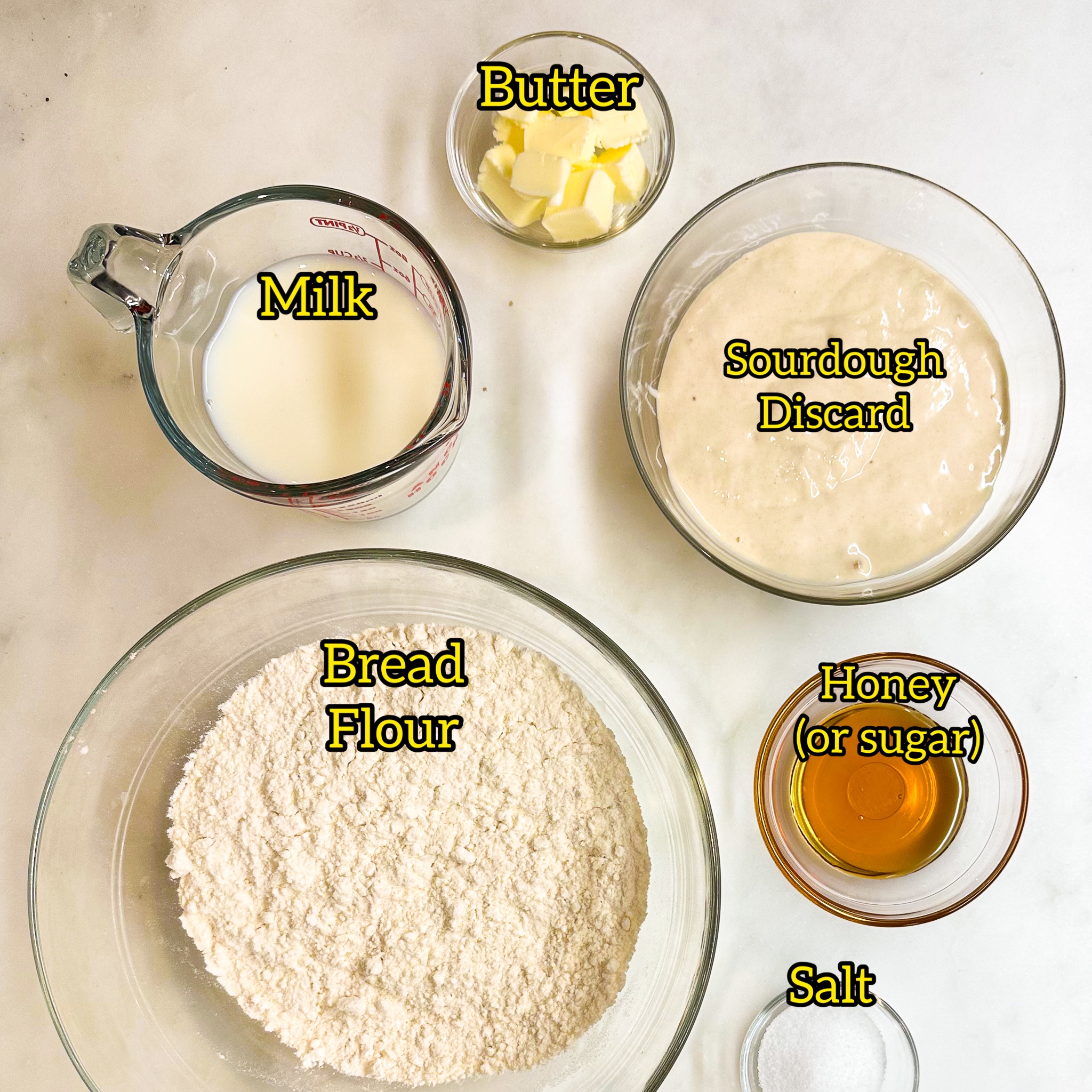 Butter

. Just a little butter here to slightly enrich the dough. Best to measure out what you need first so it can come to room temperature as you gather the rest of the ingredients.

Unfed sourdough discard. Room temperature is probably ideal.

If you have the forethought, it is a good idea to weigh out the discard into a mixing bowl, cover with plastic wrap, and let it sit for 30-60 minutes at room temperature. That said, I rarely do that these days and usually make these discard pretzels with discard directly from the refrigerator and they turn out just as good.

Sugar. 

Just a little sugar here to help reactivate the non-active discard. You can use the same amount of honey in its place.

Bread flour. 

Either bread flour or all purpose flour, or even a combination of the two. I prefer using all bread flour though, as it renders a slightly chewier dough.

Milk. 

If you are working with room temperature discard, it's probably a good idea to use room temperature milk. Measure out what you need and let it sit at room temperature for about an hour. Alternatively, pop it in the microwave for 20 seconds, give it a stir, and if it needs a little more, pop it back in for 10 seconds. You don't want the milk to be hot. Rather, you want to take the chill out of it. You could certainly use a lower fat milk, dairy free milk, or even water. I like using whole milk here though because that little bit of fat adds a softness to the dough. All that said, in my recent batches, I used 1% straight from the refrigerator and my pretzels were just as divine.

Salt. 

Both for flavor and to work with the discard. Fine sea salt is best here.

Barley malt syrup. This is totally optional, but it adds such wonderful flavor to the crust of these pretzels, makes the outside sticky for the Everything Seasoning to stick to, and makes it less necessary to apply an egg wash..
Egg. Also completely optional, you can give the pretzels an egg wash after boiling and before baking for a more golden look to them. If you use the barley malt syrup, you can skip the egg wash, but your pretzels will be lighter in color as pictured in this post.
Everything Seasoning. Use your favorite blend or make your own! My Everything Seasoning blend takes about two minutes to make!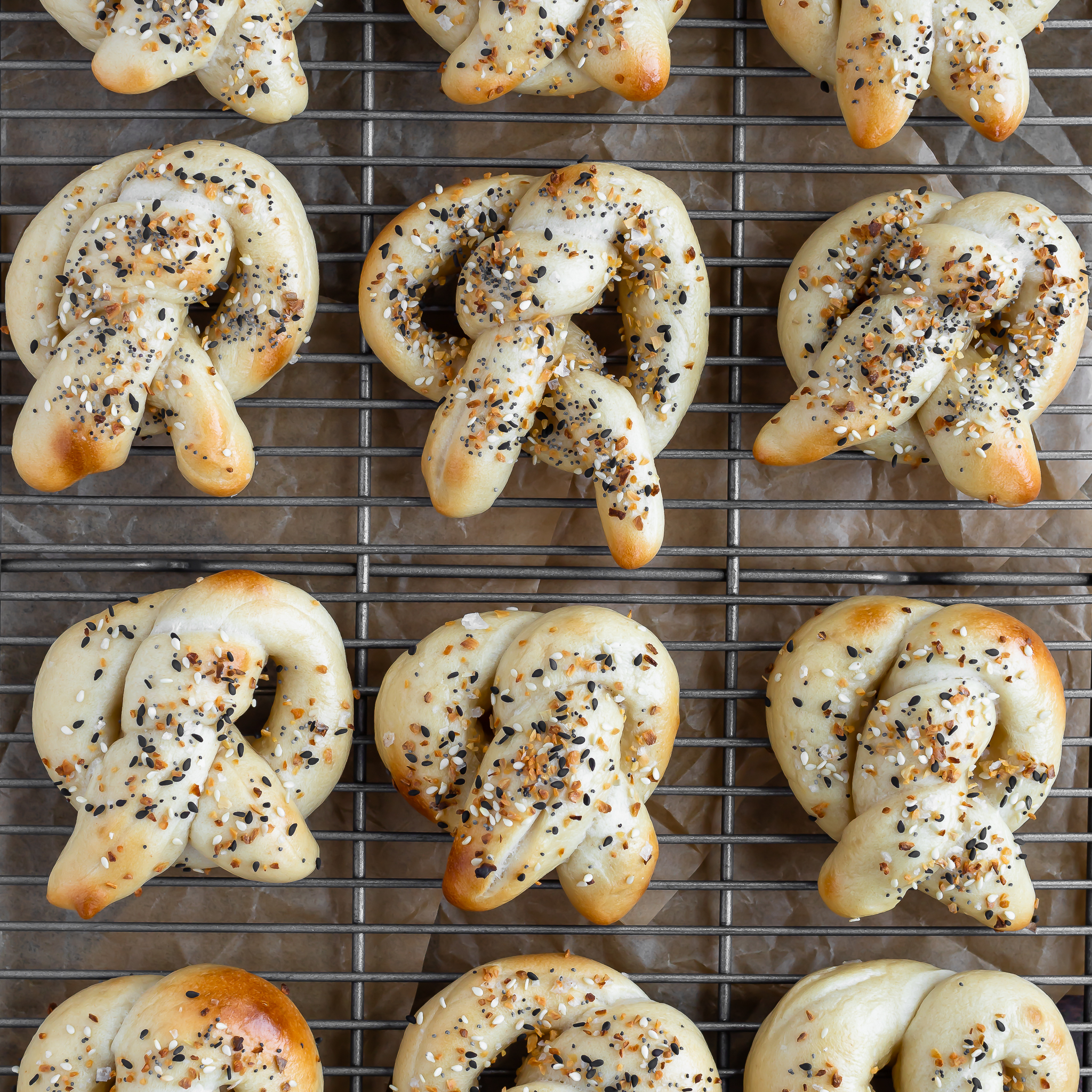 How to Make Sourdough Discard Pretzels
1. Mix and knead
Literally dump all of the ingredients, except for the salt, into a mixing bowl. You can absolutely mix and knead this dough by hand. I have gotten lazy and use my electric mixer for it, and I love it! Once the ingredients are fully incorporated and it looks like a shaggy dough, slowly add the salt and knead until it passes the windowpane test. Generally, this takes about 10 minutes.
2. Rest and divide
Allow the dough to rest for at least 2 hours, covered at room temperature. If your discard and milk were cold, let it rest at least an additional 30 minutes. Remember, there's no yeast or active sourdough starter in this recipe, so the dough will not rise tremendously. But the liquid and the sugar will revive it slightly, so the rest is important.
After the rest, divide the dough into 6 equal portions. Roll each one into a rope approximately 20 inches long. Tie each one into a pretzel. Place them on a piece of parchment paper and cover with plastic wrap. Allow to rest another 45-60 minutes.
4. Boil, bake and coat
Bring a large pot (4 quarts or so is great) of water to a boil with 1 Tablespoon of barley malt syrup. I love the flavor that malt barley syrup adds here. Some people boil in baking soda, but I refrain from doing also, as it renders a metallic flavor. If you don't have barley malt syrup, substitute in honey or just don't add anything. Carefully add the pretzels to the pot. You may want to to use tongs or a skimmer to make sure the pretzels do not stick to the bottom of the pot. Boil them for about 30 seconds, just until they start floating. Boiling the pretzels before baking helps prevent them from puffing up too much in the oven while giving them a bagel-like exterior.
Strain and place the boiled pretzels onto a parchment lined baking sheet. If you used barley malt syrup or honey, you can skip the egg wash, as the Everything Seasoning will stick to the dough. If you just used plain boiling water or if you want to give them a darker appearance, give them a good egg wash, sprinkle them with Everything Seasoning, and bake them for 10-12 minutes. You should probably let them cool before eating, but mine never last that long!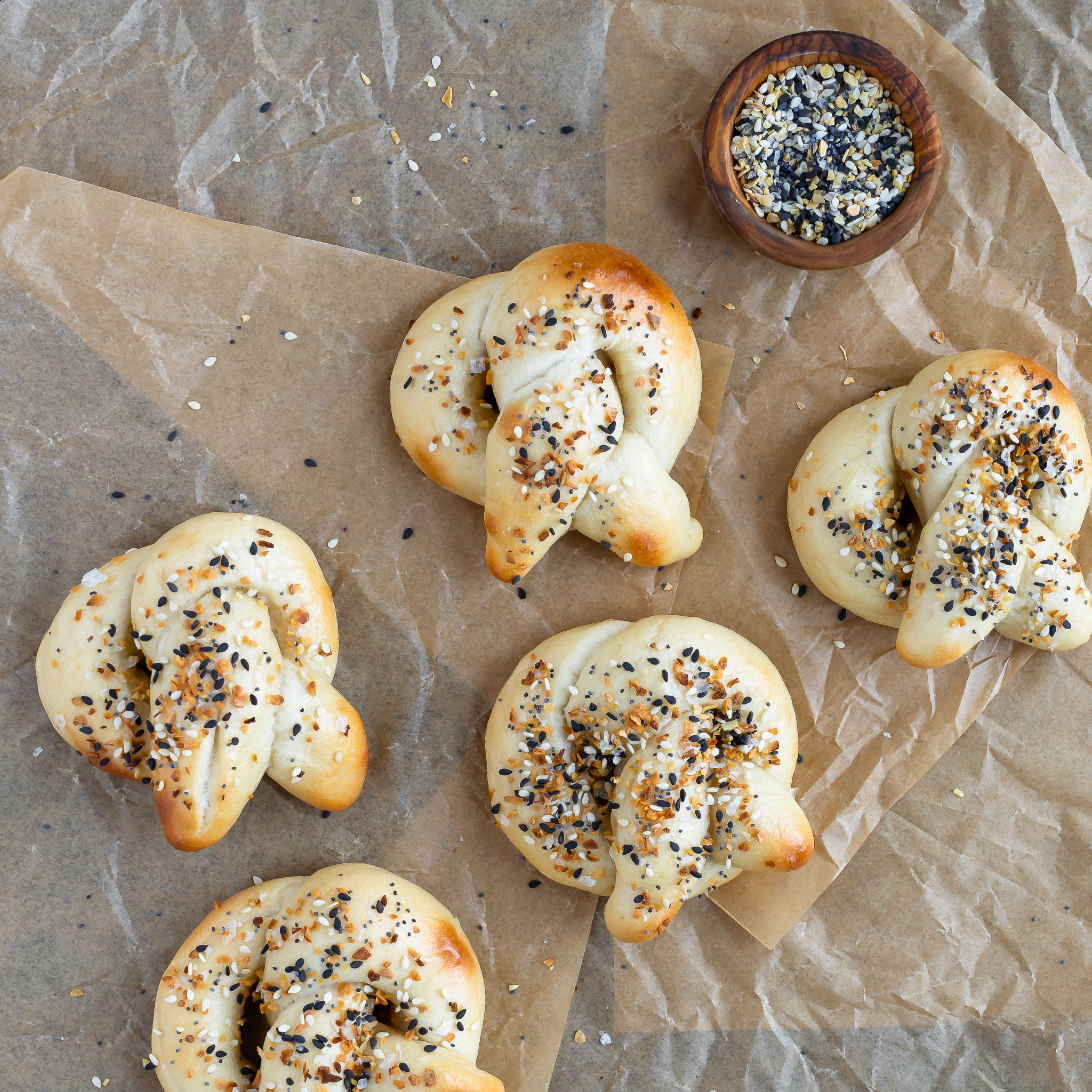 Frequently Asked Questions About Making Sourdough Discard Pretzels
Does the sourdough discard need to be at room temperature before mixing the dough?
For this recipe, it does not matter if your discard is right from the refrigerator. The dough will likely just need a little more time to rest/rise after it is fully kneaded.
What is a good substitute for barley malt syrup?
You can easily purchase barley malt syrup from Amazon. If you can't get your hands on it, just honey in its place. Alternatively, just plain boiling water. I would refrain from using baking soda, as it renders a metallic flavor to the pretzels.
Can I double this recipe for sourdough discard pretzels?
Absolutely. You can double, triple, quadruple, etc. It is a very easy recipe to work with. However, I suggest boiling only 6 pretzels at a time to avoid overcrowding in the pot.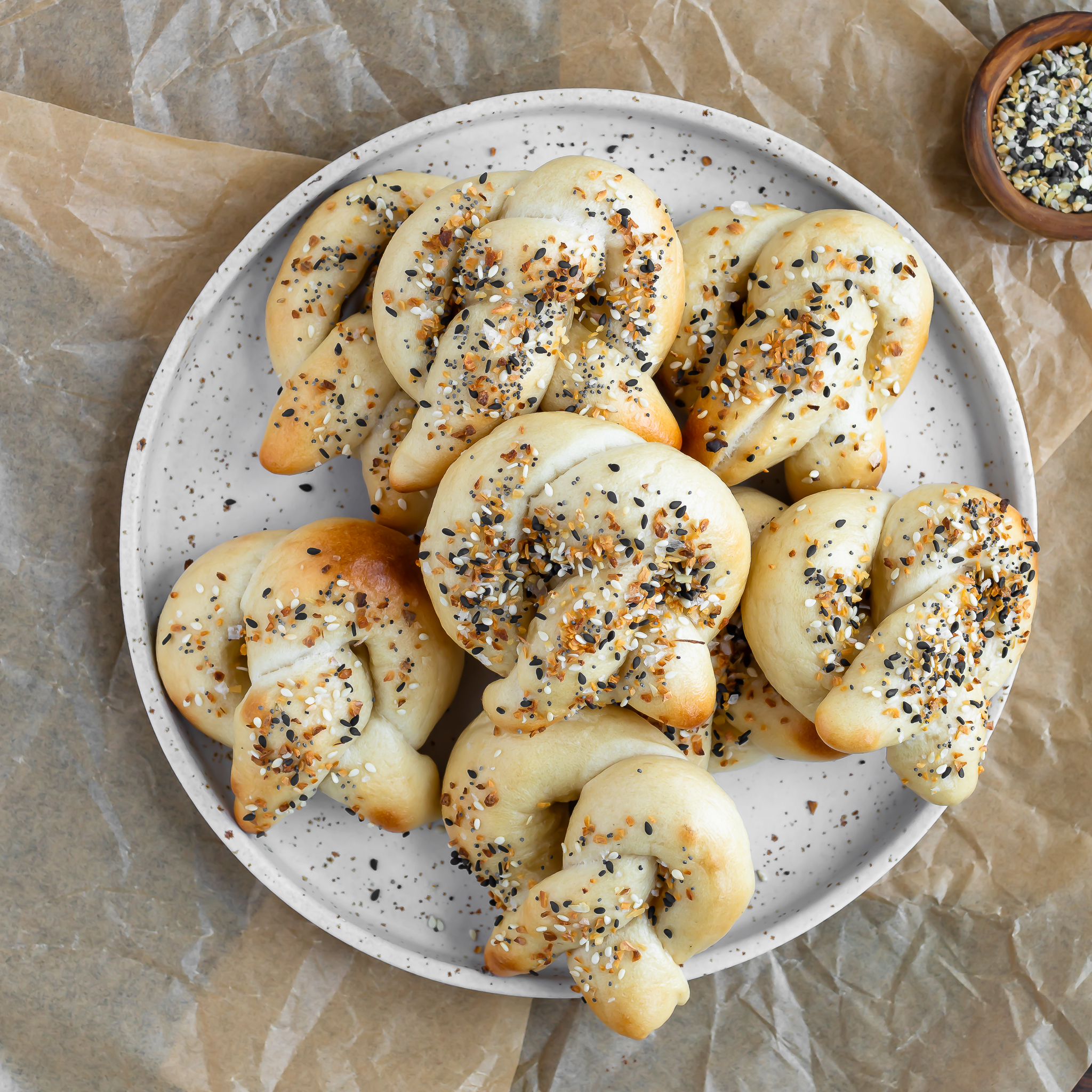 Sourdough Discard Pretzels
Use up your sourdough discard in these delicious, fun everything pretzels!
Ingredients
113

grams

unfed sourdough discard

(room temperature or cold from the refrigerator)

80

grams

whole milk

(1%, 2% or non-dairy milk also work)

12

grams

sugar

(or honey)

13

grams

butter

(at room temperature)

200

grams

bread flour

7

grams

fine sea salt

(1 teaspoon)

1

Tablespoon

barley malt syrup

1

egg

(optional, for egg wash)
Instructions 
Combine the unfed starter, milk, sugar (or honey), butter and bread flour in the bowl of an electric mixer. Knead on a low-medium speed. After a couple of minutes, the dough should start to become cohesive. Slowly add in the salt. Knead for 5-10 minutes until the dough is smooth and passes the windowpane test.

Shape the dough into a ball and place into an ungreased greased bowl. Cover with plastic wrap and allow to rest at least 2 hours.

Portion the dough into six equal sizes. Roll each portion out to about 20 inches long. Shape into pretzels. Cover loosely with plastic wrap or a tea towel and allow to rest at room temperature for 45-60 minutes.

Preheat oven to 450° F.

Bring a large pot of water with the barley malt syrup to a boil. Carefully add the pretzels to the boiling water. Use tongs or a skimmer to nudge them from the bottom of the pot if they stick to the bottom. Boil the pretzels for 1-2 minutes, just until they float.

Use a skimmer or a perforated spoon to drain and transfer each pretzel to a parchment lined baking sheet. Egg wash if desired and top with everything seasoning.

Bake for 10-12 minutes. The internal temperature should be at least 190° F.
Notes
You can adapt the size of this recipe easily by doubling, tripling, quadrupling, etc. all of the ingredients.
If working with butter direct from the refrigerator, weigh it out and cut it into smaller pieces before gathering the rest of the ingredients. It should be at room temperature by the time you are ready to mix the dough.
Nutrition
Calories:
165
kcal
|
Carbohydrates:
31
g
|
Protein:
6
g
|
Fat:
2
g
|
Saturated Fat:
1
g
|
Polyunsaturated Fat:
0.4
g
|
Monounsaturated Fat:
0.4
g
|
Trans Fat:
0.003
g
|
Cholesterol:
29
mg
|
Sodium:
471
mg
|
Potassium:
67
mg
|
Fiber:
1
g
|
Sugar:
3
g
|
Vitamin A:
65
IU
|
Calcium:
28
mg
|
Iron:
0.4
mg