This post may contain affiliate links. As an Amazon Associate, I earn from qualifying purchases. For more information, please visit my Privacy Policy.
If you're a regular around these parts, you'll know that I posted a Lemon Poppy Seed Stovetop Cake last month. You'll also know that a stovetop cake is my latest obsession. So, brace yourself — there will be an apple cinnamon stovetop cake coming next month! (Update: Here is the Apple Cinnamon Stovetop Cake!) But right now, we are all about this Lemond Blueberry Stovetop Cake.
Is this a Dessert Cake or a Breakfast Cake?
Right now, it is the best of blueberry season. I had to combine my latest obsession with my favorite berry. This Lemon Blueberry Stovetop Cake is the answer to two questions:
(1) What's for dessert?
(2) What's for breakfast?
Yeah, this cake is the perfect dessert — light, lemony, bursting with blueberries.
And, yeah, this cake is the perfect breakfast — light, lemony, bursting with blueberries.
Let's Talk Stovetop Cake
So, why am I obsessed with a stovetop cake?
First off, it's nice to not have to turn on the oven, especially during these hot summer days. It's also a great way to deliver a spectacular cake for dessert without using up oven space while you're cooking your main meal in there.
Second, because I use melted butter, there is no creaming butter and sugar. That means there's no need for a mixer. The batter comes together super quick with a whisk and quite easily.
Finally, cooking a cake over water renders such a unique, moist texture. Everyone is dazzled by it!
Tips for a Successful Stovetop Cake
Here are a few tips for making a stovetop cake:
Plan Ahead
I make my stovetop cakes in an 8 inch round cake pan placed in a large pot. You can absolutely use a Dutch oven, but if the cover of the Dutch oven (or any pot) has steam holes in it, cover the inside of the cover with foil. You can also use a 9 inch round cake pan, provided you have a pot large enough for it to fit into so steam can come up the sides of the pan. I have used a 9 inch springform and covered the pan on the outside in heavy duty foil so no water or steam could enter where the pan detaches at its base. Your cook time will likely be approximately 5 minutes less if you use a 9 inch round cake pan.
Create your oven 
Stovetop cakes do not cook in a waterbath (like some cheesecakes). Instead, the cake pan sits above the water, with a cover on the pot, and cooks from the steam. To accomplish this, you can create a coil out of 18 inch heavy duty foil, join the coil into a circle, and place it on the bottom of the pot. Fill the pot with water, just until you have reach three-quarters of the way up the foil coil. You want to create a coil that is as even as possible so that your cake does not cook unevenly. I will tell you that I recently ran out of heavy duty foil and was feeling lazy, so I used regular foil that I doubled up. It worked just fine. Alternatively, you could use a large circle cutter or a trivot of some sort, provided they can withstand the heat and provide at least an inch of space between the bottom of the cake pan and the bottom of the pot.
Keep the pot covered
This is critical. You don't want any steam to escape, especially in the beginning of the cooking process. Once your batter is in the pan, cover the pot and turn the heat to high. Give it approximately 5 minutes before you lift the cover to see if it's boiling. Check it quickly so you don't have the cover off too long. (If you have a glass cover, you won't have to take it off to see if it has come to a boil.) Once the water is boiling, reduce the heat so that the water is at a simmer. I simply reduce the heat all the way to low. Keep the pot covered for at least 25 minutes before you check on the cake. (If you are using a 9 inch pan, keep the pot covered for at least 20 minutes before you check on the cake.)
Check for doneness
These cakes can be a drop tricky to know when they are done. Your best bet is to insert a toothpick. Once it comes out clean in the center, it should be done. BUT, if the sides of the cake have not yet started to pull away from the sides of the pan, let it steam longer. The cake is done once the sides of the cake start to pull away from the sides of the pan. Turn the heat off and allow the cake to sit in the pot, uncovered, for 15 minutes or so, until the pan is cool enough to touch and move to a wire rack. Allow the cake to cool completely in the pan before running a metal spatula or knife around the sides to remove the cake.
Deep, Dark Blueberry Glaze
Now, let's talk about the glaze for this cake. I have tried so many different blueberry glaze recipes and my own concoctions to end up with this glaze recipe which is now my go-to for any blueberry glaze. It's simple to make, so do not be dissuaded by the step of making Blueberry Paste. It takes 5 minutes to make the Blueberry Paste. Mixed with a little cream or milk and confectioner's sugar, you end up with a deep blue, delicious blueberry glaze. Simply stated, the best blueberry glaze.
In the pictures in this post, I drizzled the glaze on the cake. I have also poured it on and spread it with a metal spatula so the top of the cake is fully coated and drips are just falling off the side. Once spread, you have a few minutes before the blueberry glaze fully sets, so you can even pop on a few fresh blueberries in a decorative fashion.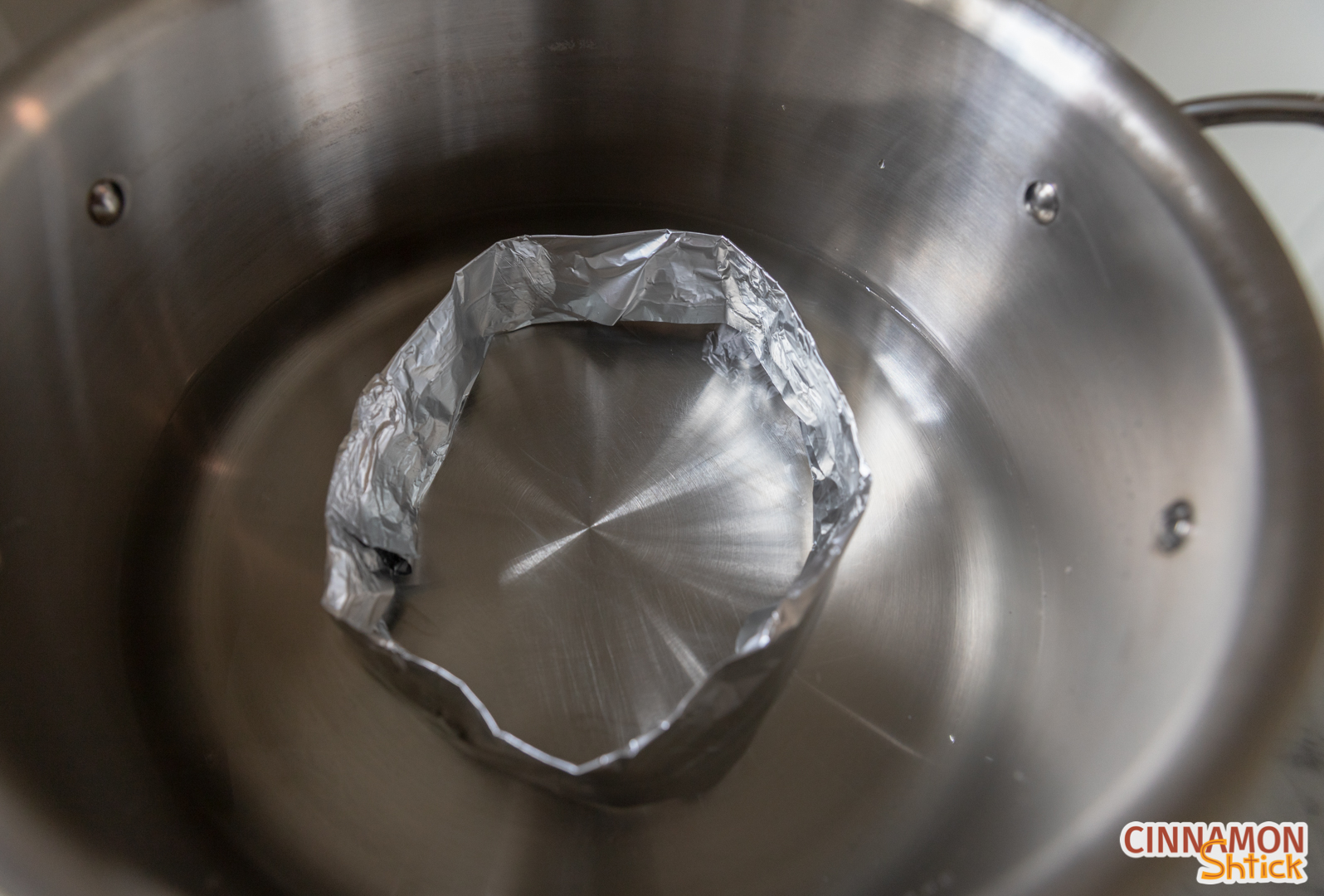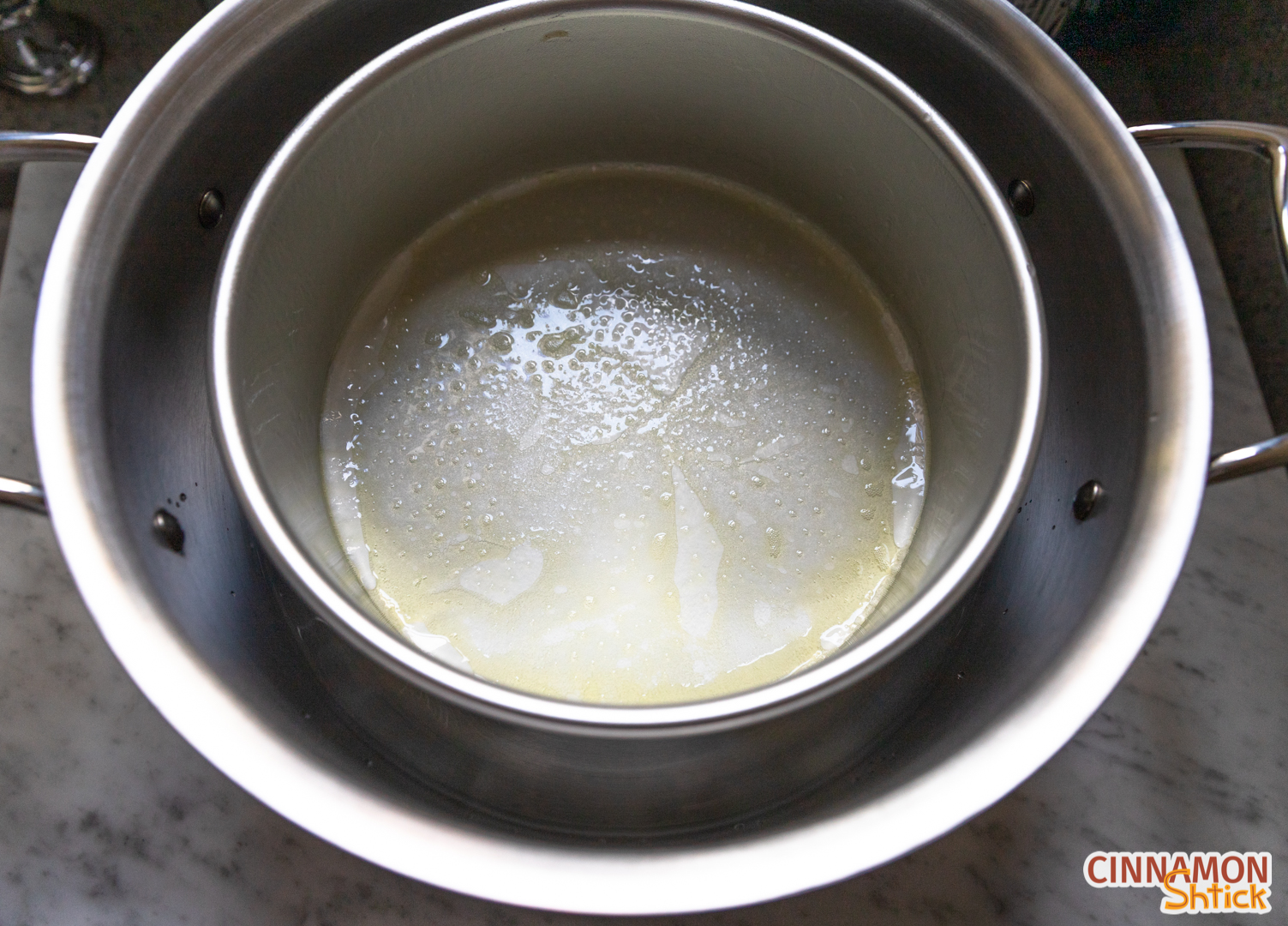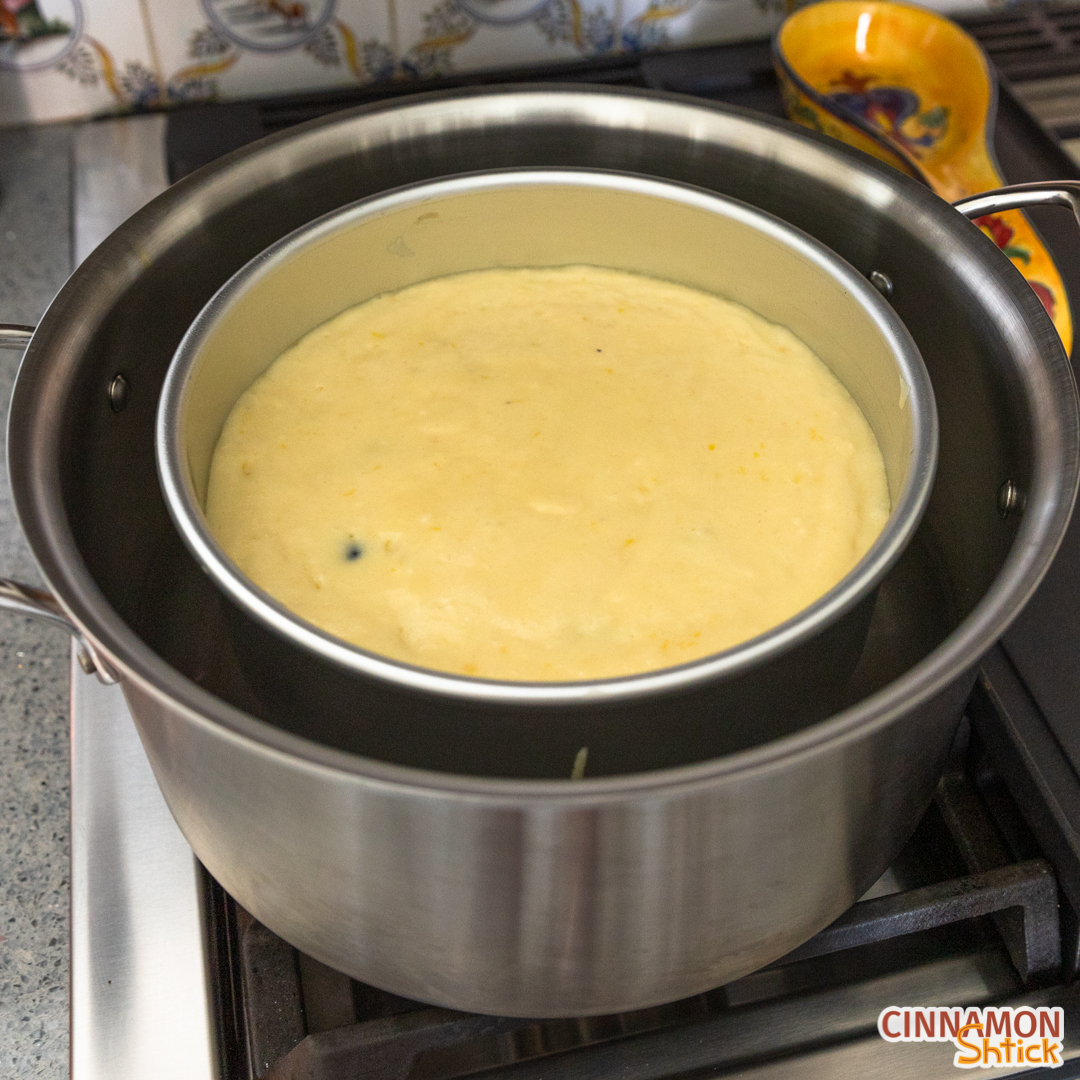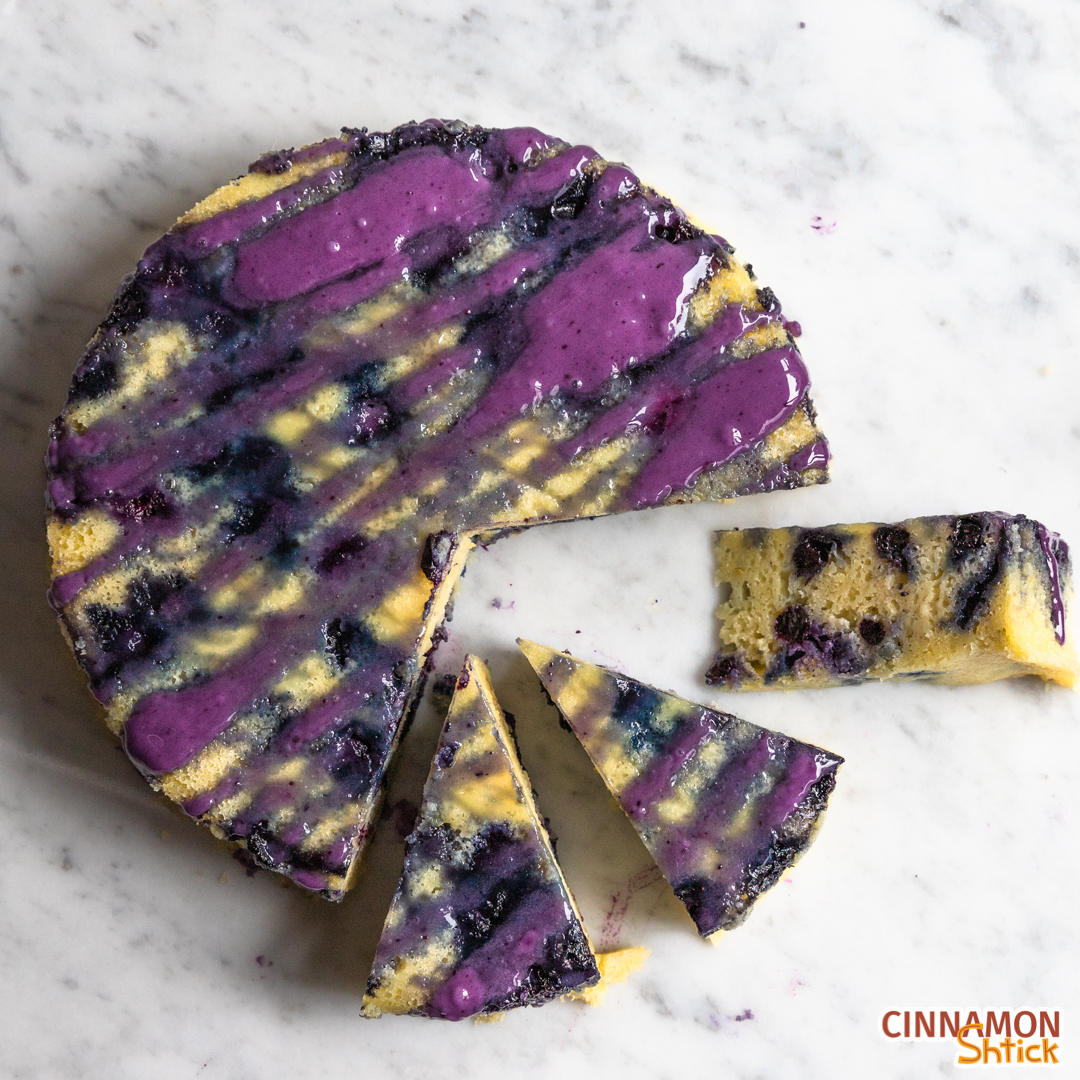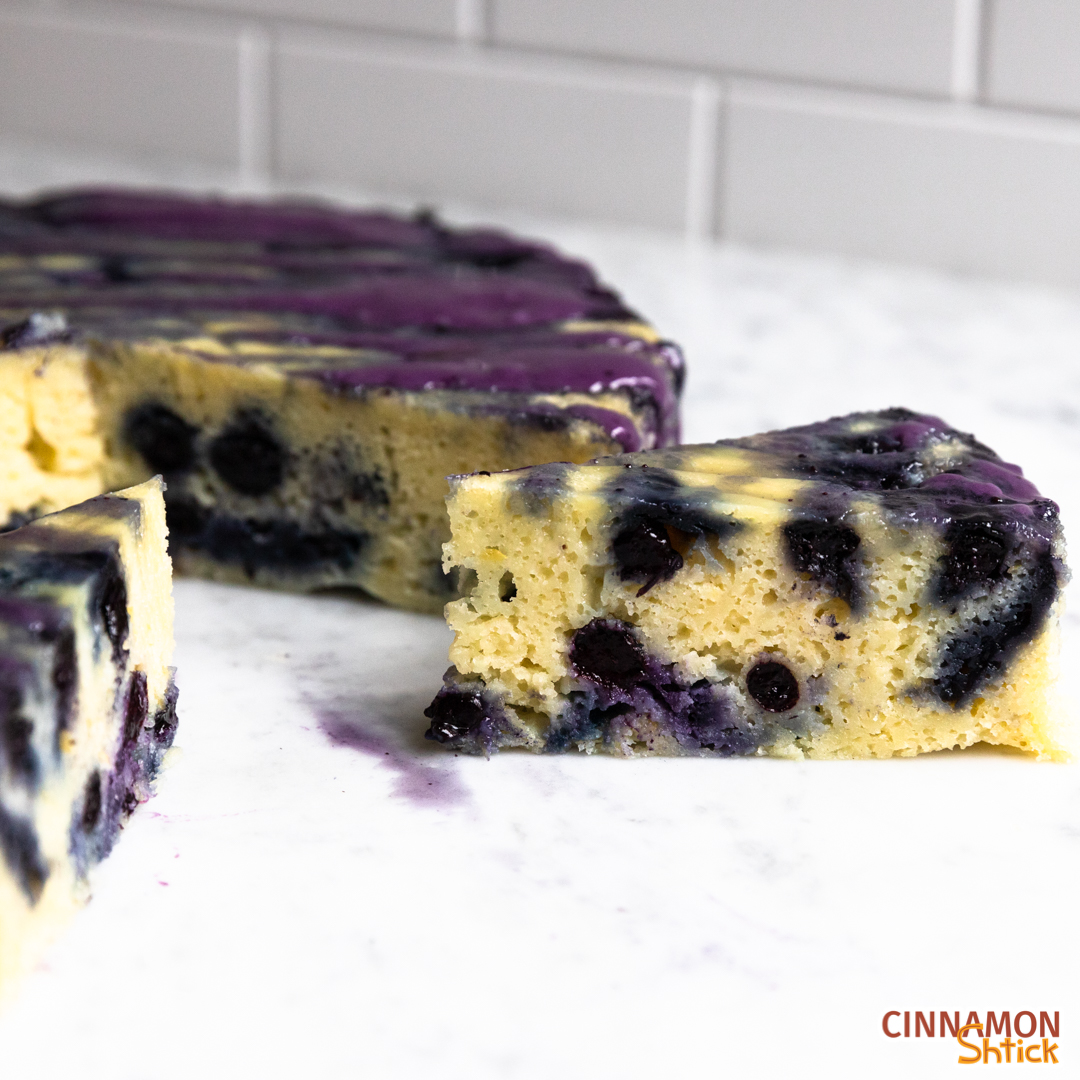 Lemon Blueberry Stovetop Cake
Bursting with lemon and blueberry, this super moist cake can make an elegant dessert or a wonderful breakfast.
Ingredients
Cake
160

g.

all-purpose flour

(1⅓ cups)

½

tsp.

baking soda

1½

tsp.

baking powder

½

tsp.

salt

Zest of 2 medium lemons

(approximately 2 tbsp.)

200

g.

sugar

(1 cup)

2

large eggs, at room temperature

123

g.

milk, at room temperature

(½ cup)

120

g.

sour cream, at room temperature

(½ cup)

85

g.

unsalted butter, melted and cooled

(6 tbsps.)

½

tsp.

vanilla

Juice of 1 medium lemon

(approximately 40 g. or 2½ tbsps.)

1

cup

blueberries

(fresh or frozen)

1

tbsp.

all-purpose flour
Glaze
125

g.

confectioners sugar

(1 cup)

2

tsp.

Blueberry Paste

1-3

tbsp.

heavy cream or milk
Instructions 
Cake. Grease an 8 inch round pan. Line it with parchment on the bottom and grease the parchment. Using 18 inch heavy duty foil, cut off a piece approximately 12 inches long and roll it up so that it becomes an approximately 1 inch thick, 18 inch long rectangle. Join the ends to form a circle. Place in the bottom of a large pot or Dutch oven. Pour water into the pot so that it reaches approximately ¾ of the way up the foil coil.

In a small bowl, whisk together the flour, baking soda, baking powder and salt. Set aside.

In a large bowl, press zest into the sugar to release the oils from the zest. Add eggs and whisk until thoroughly combined and mixture is somewhat lightened, approximately 30-60 seconds. Whisk in milk, sour cream, butter, vanilla, and lemon juice until thoroughly combined.

Add flour mixture to wet ingredients, mixing until just combined.

Toss blueberries in 1 tbsp. flour and fold in the blueberries. (If using frozen, do not thaw them in advance.)

Pour into prepared pan. Cover pot and bring to a boil (usually takes 5-6 minutes for me), then reduce to a simmer. Steam for 30-45 minutes, waiting at least 25 minutes before opening the lid to check on it. Use a toothpick to check for doneness. The toothpick should come out clean. When done, turn flame off and uncover. Allow to cool approximately 15 minutes, then remove from pot and allow to cool on wire rack. Once fully cooled, use a metal spatula or knife to release the edges and remove cake from pan. I prefer to have the cake flipped over so that the glaze spreads evenly. (The top of the cake will likely be uneven when you remove it from the pan.)

Glaze. Heat 1 tbsp. of the cream or milk and stir with the Blueberry Paste. (If there are still blueberry skins, you might want to strain it one more time. No harm if they stay in though. It just depends on the look you prefer.) Whisk the blueberry mixture into the confectioner's sugar, adding additional cream/milk until you reach a spreadable consistency. Pour over the cooled cake, using a metal spatula to spread it to the edges and allowing some of it to drip off the sides. (Alternatively, you can drizzle the glaze in a pretty pattern.) Allow the glaze to harden at least 30 minutes before serving.
Notes
If you are using a Dutch oven that has a cover with holes in it, cover the inside of the cover with foil. Those holes are great for steaming, but they will cause water to drip on your cake as it cooks.
Store the cake in an airtight container at room temperature. It will keep for at least several days, although some of the glaze may get absorbed into the top of the cake. It is a delicious breakfast cake! 
The cake freezes beautifully. Cut individual slices, wrap them individually in plastic wrap, and toss them in a freezer bag. This way you can pull a slice out whenever the urge hits. Allow to defrost at room temperature approximately 30 minutes. 
Nutrition
Calories:
257
kcal
|
Carbohydrates:
41
g
|
Protein:
3
g
|
Fat:
9
g
|
Saturated Fat:
6
g
|
Trans Fat:
1
g
|
Cholesterol:
50
mg
|
Sodium:
226
mg
|
Potassium:
66
mg
|
Fiber:
1
g
|
Sugar:
29
g
|
Vitamin A:
320
IU
|
Vitamin C:
1
mg
|
Calcium:
69
mg
|
Iron:
1
mg