This post may contain affiliate links. As an Amazon Associate, I earn from qualifying purchases. For more information, please visit my Privacy Policy.
In light of my blueberry obsession, I have searched high and low for the perfect blueberry glaze. Many blueberry glazes take shortcuts which result in the blueberry skins in the glaze (which actually can be very pretty) and lacking in blueberry flavor. I am guilty of this in my Limoncello Blueberry Hand Pies. Luckily, since I published that recipe, I have done tremendous research and experiments to realize that it all starts with a Blueberry Paste.
Cook Down the Blueberries
I realized that the best way to make a flavorful blueberry glaze would be to cook down the blueberries, which will dehydrate the water and concentrate the flavor. I added a little sugar to sweeten the deal, but I knew that I did not want to add any thickener to it (like the filling in the Limoncello Blueberry Hand Pies) because I would later be adding confectioner's sugar which itself contains corn starch. After a couple trial runs, I stumbled upon a recipe from Adventures in Cooking, which utilized the same concept, but added water, allowing the berries to cook more before ultimately dehydrating them. Magical.
Spice up the Flavor
Still, I wanted to deepen the flavor further, I add a very small pinch of ground cloves, which beautifully enhances the blueberry flavor. This is a tip I picked up in culinary school and swear by it.
This paste is super simple to make and a great thing to have on hand for when you want to make a blueberry glaze. It also serves as the backbone for blueberry buttercream. In the meantime, you can use any leftover as a spread on toast, waffles or pancakes.
To see how it is used as a blueberry glaze, check out my Lemon Blueberry Stovetop Cake post, which is pictured at the top of this post.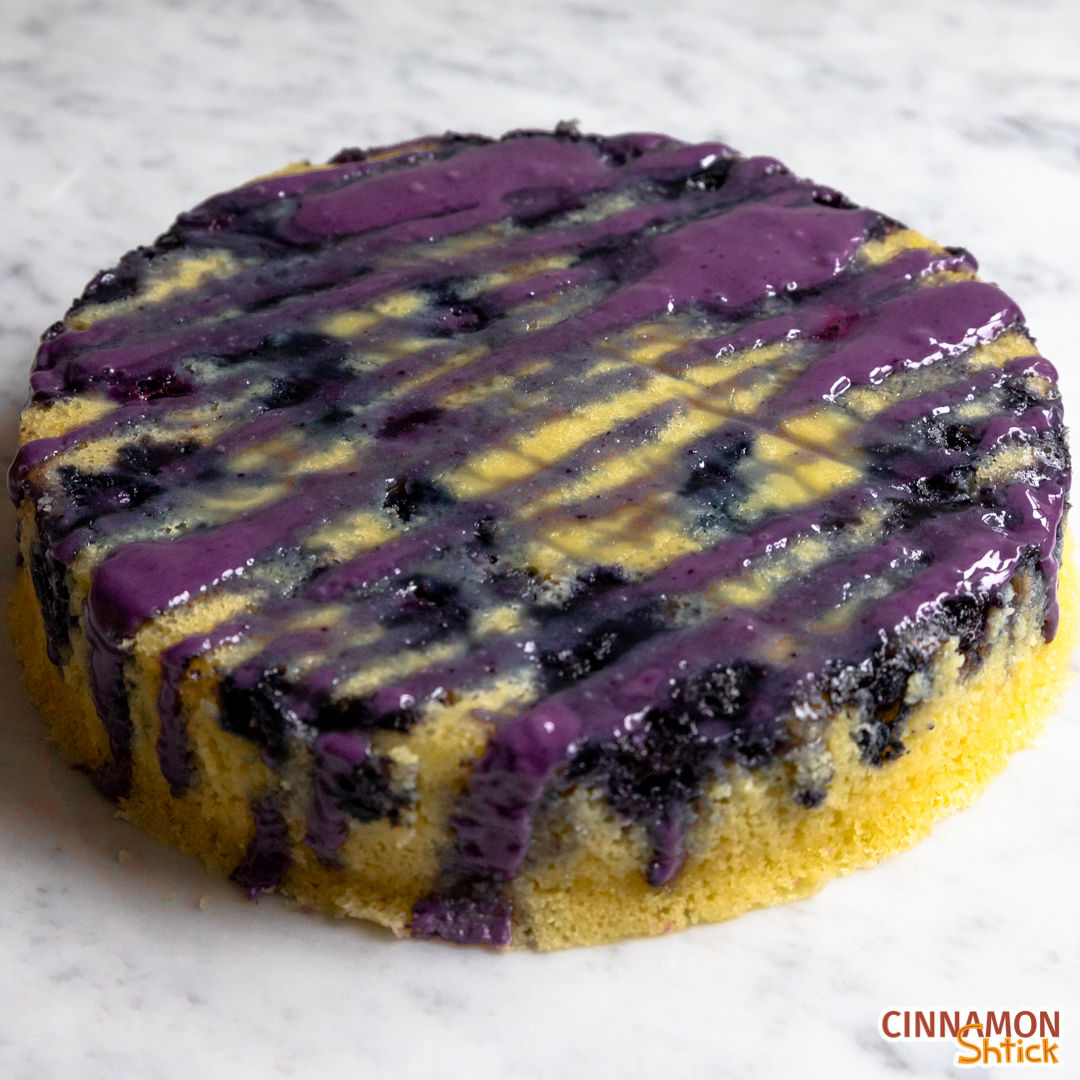 Blueberry Paste
This paste serves as the backbone for Blueberry Glaze and Blueberry Buttercream. (Recipe adapted from Adventures in Cooking)
Ingredients
¾

cup

blueberries

(fresh or frozen)

50

grams

sugar

(¼ cup)

2

teaspoons

water

Small pinch

ground cloves
Instructions 
Combine all ingredients in a small saucepan and bring to a boil over medium heat, stirring with a wooden spoon and crushing the blueberries as they cook. Cook approximately 5 minutes until the blueberries are soft and the mixture is thick and deep blue in color.

Remove from the heat. Using a strainer (or a sieve) and the back of a spoon, press the blueberry paste into a bowl. Hold onto the blueberry bits in the strainer for use in other recipes or spreading on toast, waffles or pancakes.

Allow to cool. Store in airtight container in refrigerator or freezer.
Nutrition
Calories:
86
kcal
|
Carbohydrates:
22
g
|
Protein:
1
g
|
Fat:
1
g
|
Saturated Fat:
1
g
|
Sodium:
1
mg
|
Potassium:
29
mg
|
Fiber:
1
g
|
Sugar:
20
g
|
Vitamin A:
20
IU
|
Vitamin C:
4
mg
|
Calcium:
2
mg
|
Iron:
1
mg