This post may contain affiliate links. As an Amazon Associate, I earn from qualifying purchases. For more information, please visit my Privacy Policy.
As I continue my stovetop cake obsession, I had to adapt for autumn. Obviously, that means apples! Like my Lemon Poppyseed Stovetop Cake and my Lemon Blueberry Stovetop Cake, this Apple Cinnamon Stovetop Cake is super moist and flavorful.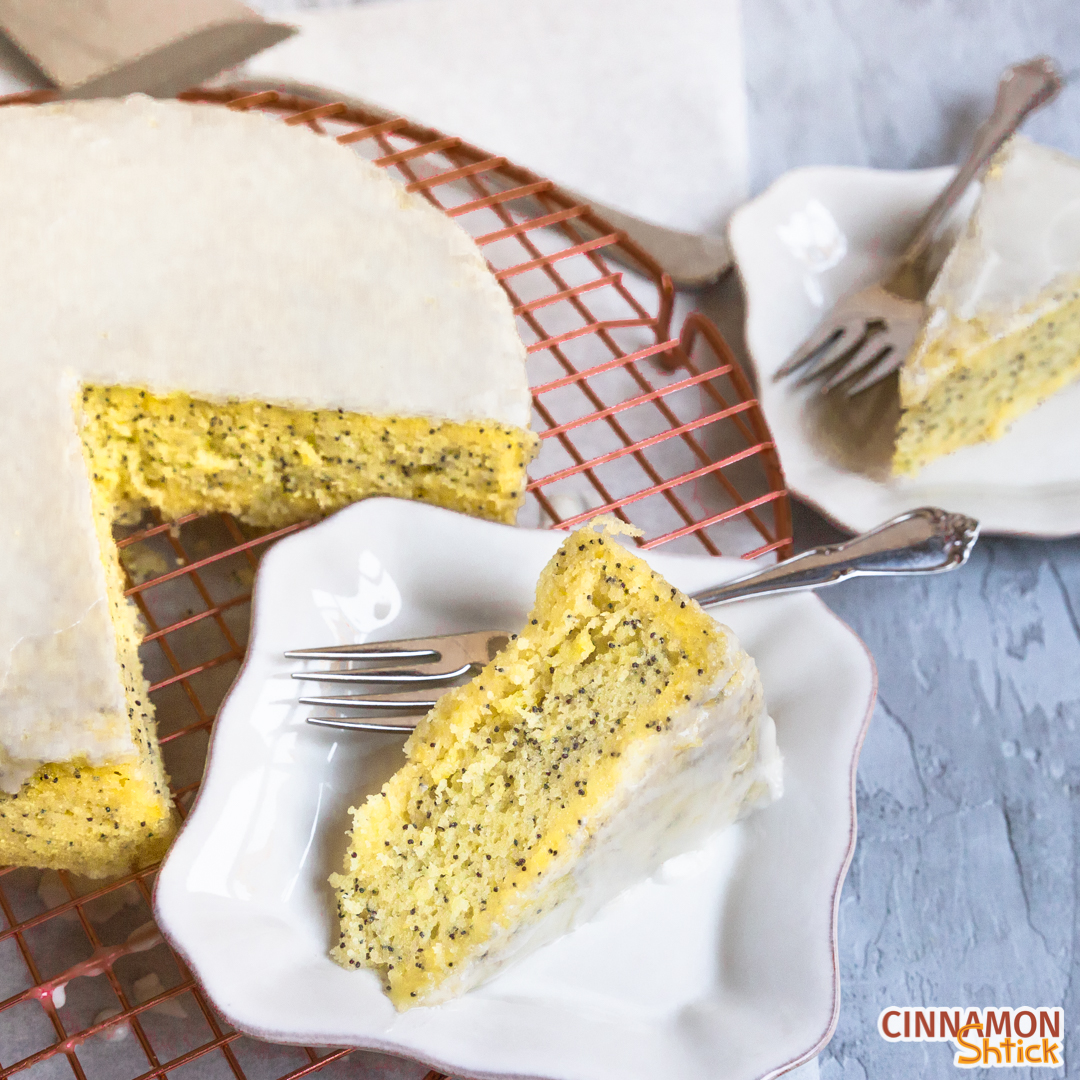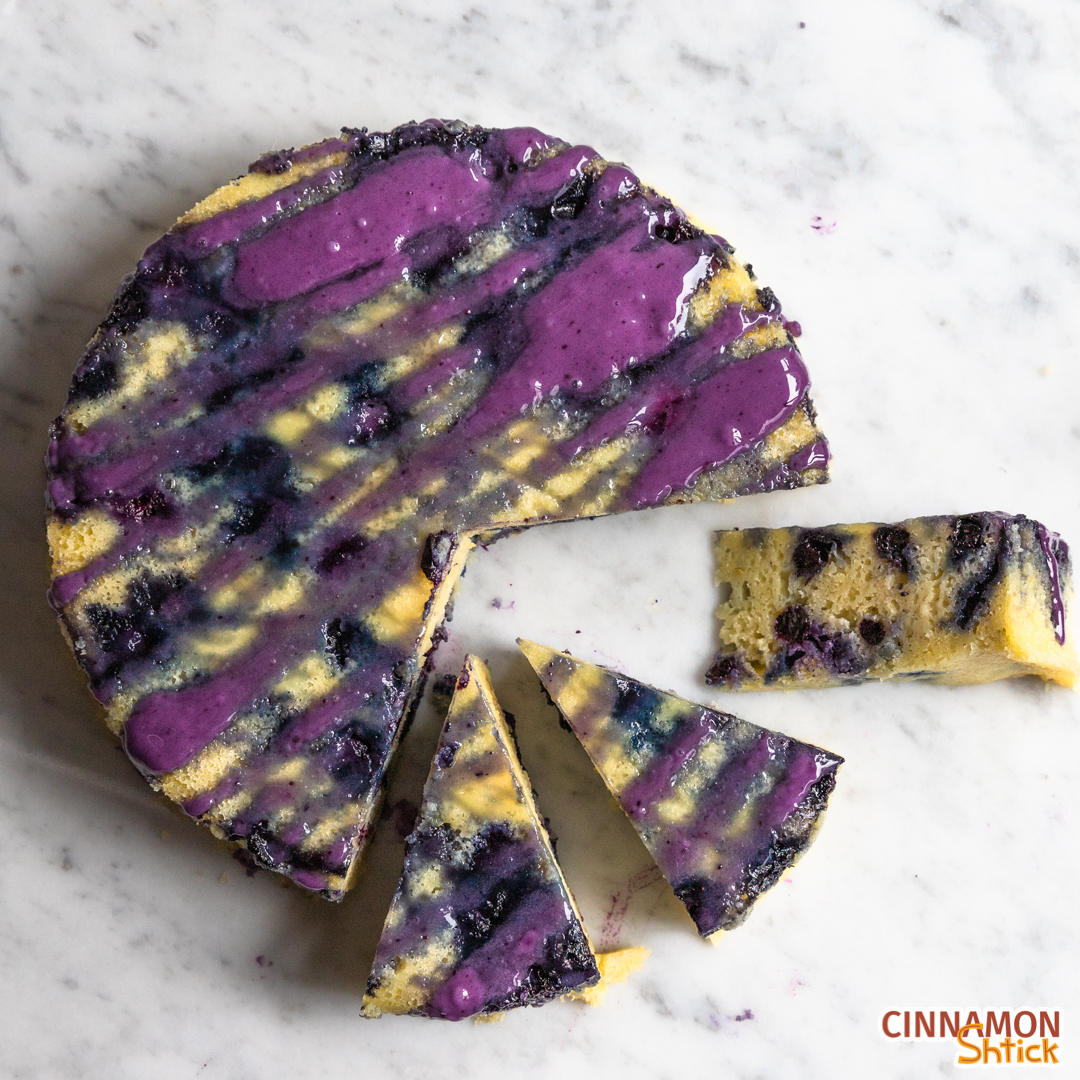 Why am I Obsessed with Stovetop Cakes?
My initial stovetop cake recipe was my Lemon Poppy Seed Stovetop Cake. As I explain in that post, these cakes were all inspired by the Stovetop Chocolate Cake from Christopher Kimball's Milk Street. There are a few reasons why I love these cakes:
They are super easy to make, all mixed up in a bowl without the need for a mixer.
They take about an hour from beginning to end (including cooking time).
No need to turn the oven on.
You can overcook these cakes and they are still exceptionally moist.
They stay fresh for many days.
What Apples Should you Use in this Apple Cinnamon Stovetop Cake?
Good question!
When baking with apples, I am a firm believer in mixing it up. By that I mean, I prefer to use more than one variety of apple in baked goods such as pies. Mixing up apple varieties in a pie, for example, renders a filling that has pieces of broken down apples and pieces of apples in tact. That makes for a great filling.
For a cake such as this, I prefer to have the pieces of apple stay more in tact. For this recipe, I have been using Pink Lady apples or Gala apples, or one of each. Rome apples also work great. I would stay away from apples that are more on the tart side.
This recipe calls for only two apples. Do not be tempted to add more. It will change the consistency of the batter, take longer to cook, and the result is not as enjoyable.
Let's talk about the Glaze!
The glaze for this Apple Cinnamon Stovetop Cake is easy and delish!
The glaze recipe calls for boiled cider. If you do not know what boiled cider is, do not panic! It is exactly what it sounds like.
Boiled cider is apple cider that has been boiled down to reduce the water in the cider, leaving you with a concentrated version of the cider. Simple! You can certainly make boiled cider yourself. If you're going to take the time to make it, I suggest you start with a gallon of apple cider. Bring it to a boil, then let it simmer for approximately five hours, stirring every hour, and more frequently the last hour or so. The cider should reduce in volume to about 1/8 of what it was and be the consistency of honey.
That said, if you don't got time for that, do what I do: Buy it! I purchase my boiled cider from King Arthur Baking Company.*
While I am a big proponent of making components for my baked goods myself, I feel there is no difference between me stirring a simmering pot of cider for five hours or someone else stirring it. However, I will eventually make my own because it is more cost effective, and it is a great staple to have in stock for apple baking season!
*As an Amazon Associate, I earn from qualifying purchases.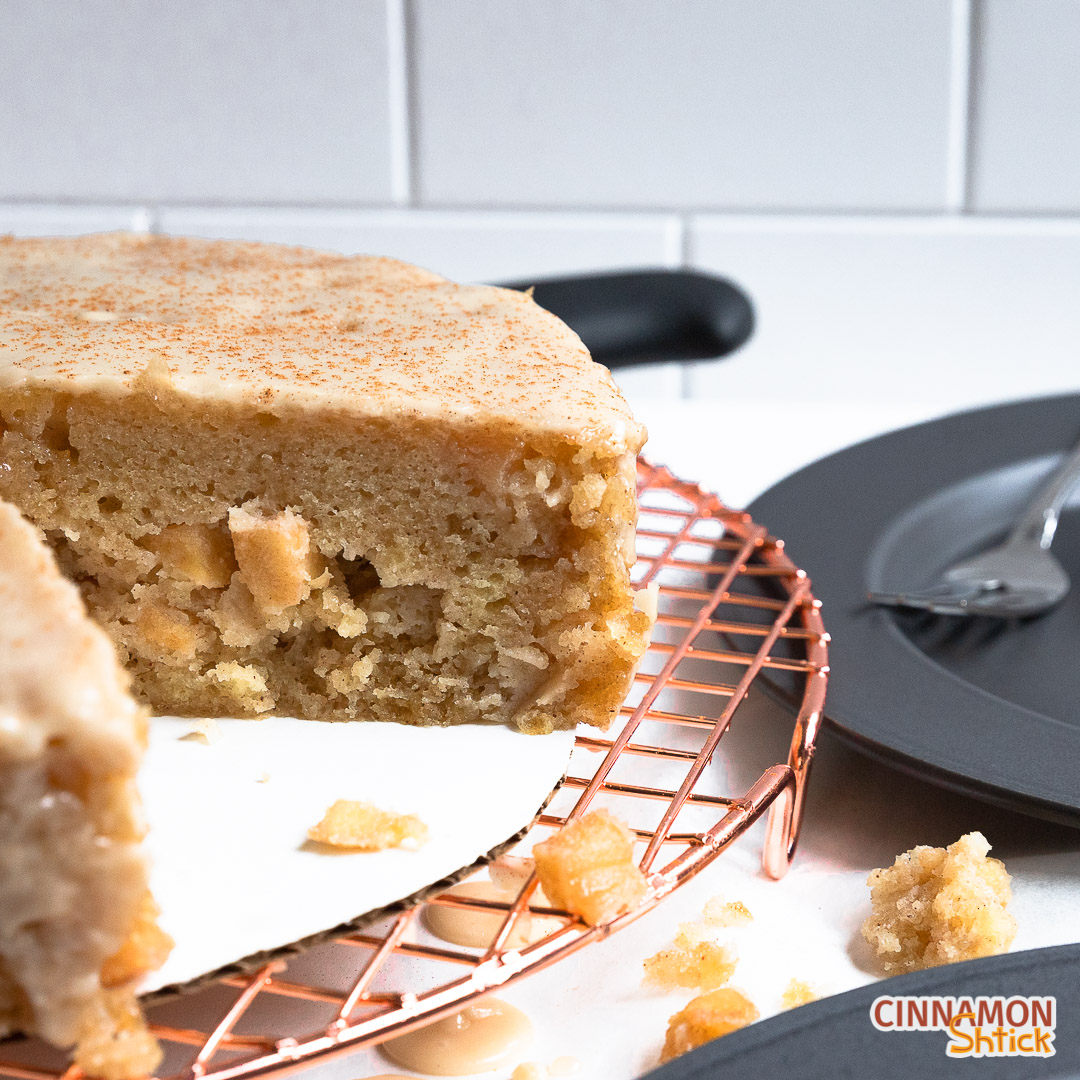 Apple Cinnamon Stovetop Cake
Easy to make, this cake is extra moist, stays fresh for days, and packs in powerful apple cinnamon flavor.
Ingredients
Cinnamon Sugar Mixture:
25

g.

sugar

(2 tbsp.)

1

tsp.

cinnamon
Cake:
2

medium sized apples

(peeled, cored and chopped to ¼ inch cubes)

160

g.

all-purpose flour

(1¼ cup)

½

tsp.

baking soda

1½

tsp.

baking powder

½

tsp.

salt

2

large eggs, at room temperature

200

g.

sugar

(1 cup)

123

g.

milk, at room temperature

(½ cup)

120

g.

sour cream, room temperature

(½ cup)

85

g.

unsalted butter, melted and cooled

(6 tbsps.)

2

tsps.

vanilla
Glaze
125

g.

confectioner's sugar

(1 cup)

2

tsp.

boiled cider

3-4

tbsp.

heavy cream or milk

Cinnamon for dusting

(optional)
Instructions 
Cake
Grease an 8 inch round pan. Line it with parchment on the bottom and grease the parchment. Using 18 inch heavy duty foil, cut off a piece approximately 12 inches long and roll it up so that it becomes an approximately 1 inch thick, 18 inch long rectangle. Join the ends to form a circle. Place in the bottom of a large pot or Dutch oven. Pour water into the pot so that it reaches approximately ¾ of the way up the foil coil. Place prepared pan on top of the foil circle.

In a small bowl, whisk together the sugar and cinnamon. Toss apples in the cinnamon sugar mixture. Set aside.

In a small bowl, whisk together flour, baking soda, baking powder and salt. Set aside.

In a large bowl, whisk eggs with sugar until thoroughly combined and mixture is somewhat lightened, approximately 30-60 seconds. Whisk in milk, sour cream, butter, and vanilla until thoroughly combined.

Add flour mixture to wet ingredients, mixing until just combined.

Fold coated apples into cake batter. Do not overmix.

Pour into prepared pan. Cover pot and bring to boil, then reduce to a simmer. Steam for 30-45 minutes, waiting at least 25 minutes before opening the lid. Use a toothpick to check for doneness. The toothpick should come out clean. However, do not rely solely on the toothpick test. The cake will be done when it is just starting to pull away from the sides of the pan. When done, turn flame off and uncover. Allow to cool approximately 15 minutes, then remove from the pot and allow to cool on wire rack. Once fully cooled, use a metal spatula or knife to release the edges and remove cake from pan.
Glaze
Whisk the boiled cider and 1 tbsp. of the cream/milk into the confectioner's sugar, adding additional cream/milk until you reach a spreadable consistency. Pour over the cooled cake, using a metal spatula to spread it to the edges and allowing some of it to drip off the sides. Lightly dust with cinnamon, if desired. Allow the glaze to harden at least 30 minutes before serving.
Notes
Store the glazed cake in an airtight container or cake plate. It will last for at least a couple days at room temperature and even longer refrigerated. If refrigerating, allow it to get to room temperature for about 30 minutes before serving.
When storing, do not wrap anything directly on the top or the glaze will dissolve into the cake.
To avoid any glaze issues, you can make and store the cake, wrapped tightly in plastic wrap, and make and pour the glaze approximately 30 minutes before serving.
Nutrition
Calories:
241
kcal
|
Carbohydrates:
45
g
|
Protein:
3
g
|
Fat:
10
g
|
Saturated Fat:
6
g
|
Trans Fat:
1
g
|
Cholesterol:
54
mg
|
Sodium:
227
mg
|
Potassium:
93
mg
|
Fiber:
1
g
|
Sugar:
23
g
|
Vitamin A:
367
IU
|
Vitamin C:
2
mg
|
Calcium:
75
mg
|
Iron:
1
mg