What are Kichel?
One of my absolute favorite things from a Jewish bakery! Kichel are delish, for starters! Kichel (also called Jewish Bow Tie Cookies) is actually the Yiddish word for cookie, but for those of us regulars at Jewish bakeries, we know that it means a specific type of cookie – a light, airy, crunchy, kind of part cookie/part cracker, usually coated in sugar, yet eaten both as a sweet and with savory. How's that for an overbroad definition?
Why are Kichel also Called Jewish Bow Tie Cookies?
If you have not had kichel, just try one. The dough is very simple, made mostly from eggs, a bit of oil, and flour. The sweetness comes from the sugar coating.
Growing up, our local Jewish bakery made kichel that were square shaped. It was not until I was older and venturing out to other bakeries (sounds like I was cheating on my local bakery!) that I discovered that most kichel are shaped into bow ties. How fun!
Developing this Kichel Recipe
With so many traditional Jewish bakeries closing over the past 15 years or so, I fear that kichel in America could die with them. Not on my watch!
Last year, I decided to do some kichel recipe research. While I have a bunch of Jewish cookbooks, I do not believe any of them have a kichel recipe. (I say "do not believe" because they are in a box in storage for the time being, and I have not had the desire to hunt for them.) So, I got onto the Google machine to see what I could find.
I was surprised to find only a couple different recipes for kichel. Most bloggers republished the outstanding recipe from the 2011 cookbook by Stanley Ginsberg and Norman Berg, "Inside the Jewish Bakery: Recipes and Memories from the Golden Age of Jewish Baking". The other recipe I found out there is from Joan Nathan, published in Tablet Magazine, which is actually a recipe from a Jewish bakery in Michigan.
I will tell you that both those recipes deliver outstanding kichel. That said, I wanted a recipe that is more accessible – both recipes produced a LOT of kichel, more than I should be eating. (No self-control here.) In addition, the recipe from Ginsberg and Berg uses 4 eggs plus 9 egg yolks. That's a heck of a lot of eggs, and a lot of work to separate that many eggs, especially for a multi-tasking home baker.
So, I embarked on developing a more approachable recipe. This recipe renders delish kichel, uses just 4 eggs (only one of which needs to be separated), and results in a sensible 36 cookies.
Kichel Making Tips
Here are some tips for making kichel:
Use the mixer. You must knead the dough to develop the gluten in the flour. Especially because this is such a sticky dough, it is much easier to use the mixer, stopping every few minutes to scrape down the sides and bottom of the bowl.
Don't skimp on the sugar. Use the sugar to roll out the dough, both on the bottom and top of the dough. If the dough absorbs some of the sugar, add more sugar. The sugar will prevent the dough from sticking as you roll it out and shape the kichel. When you cut the rectangles and shape into bow ties, cover any exposed pieces of dough in more sugar.
Bake them thoroughly. Do not underbake kichel. You want them to dry out and harden. Underbaking could result in them collapsing. Err on the side of overbaking without letting them burn. If you are baking two trays at the same time on different oven racks, be sure to switch and rotate them half way through the baking process.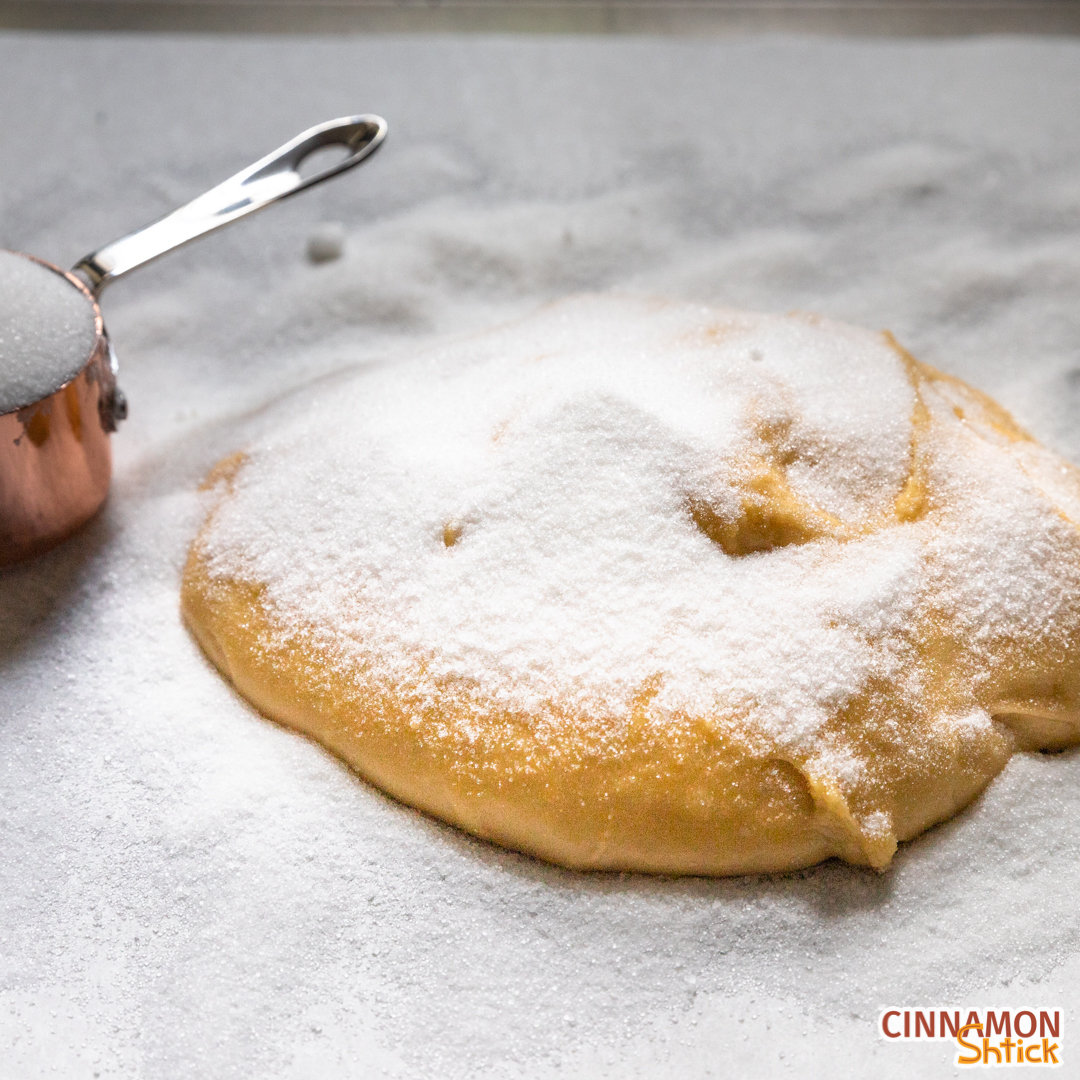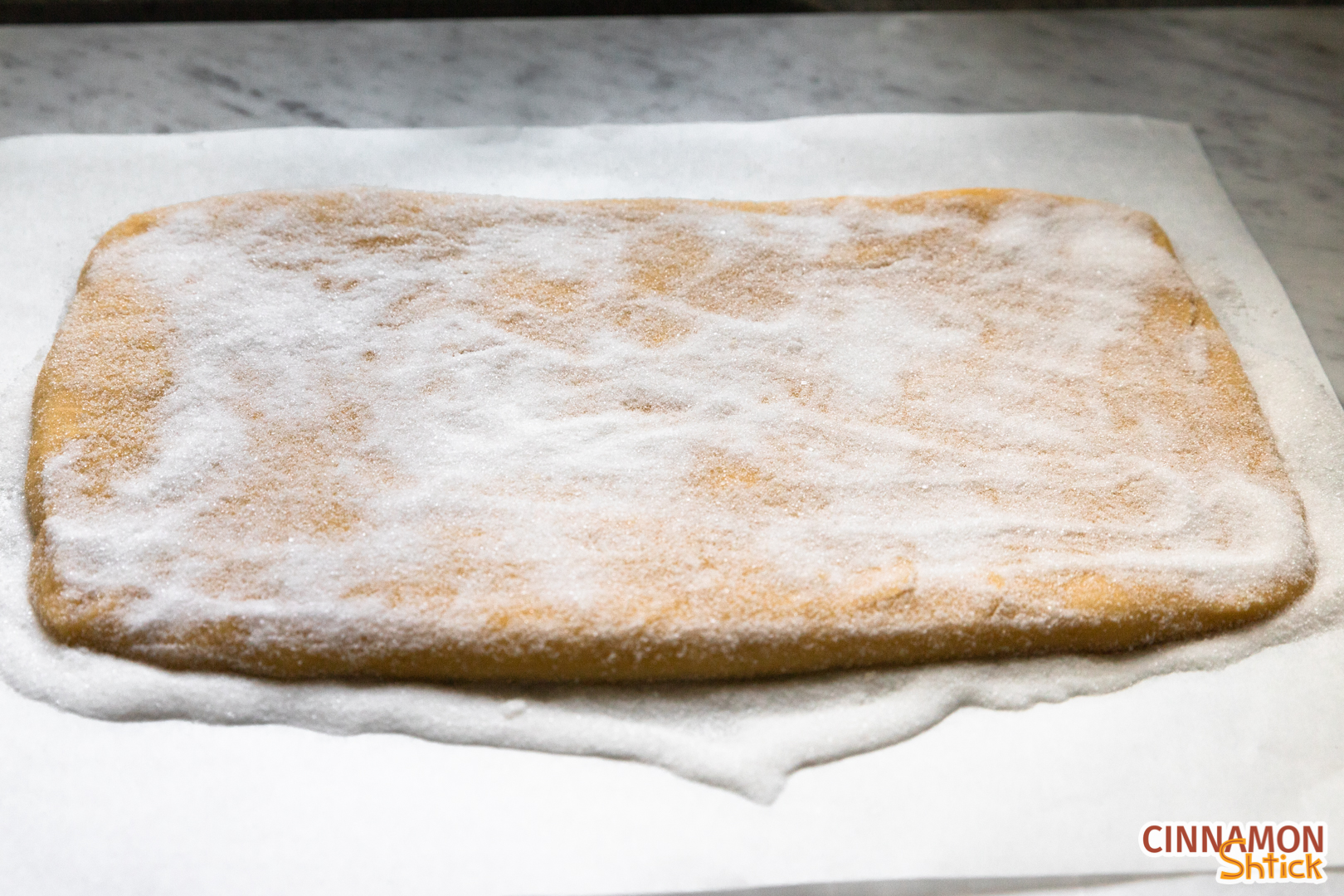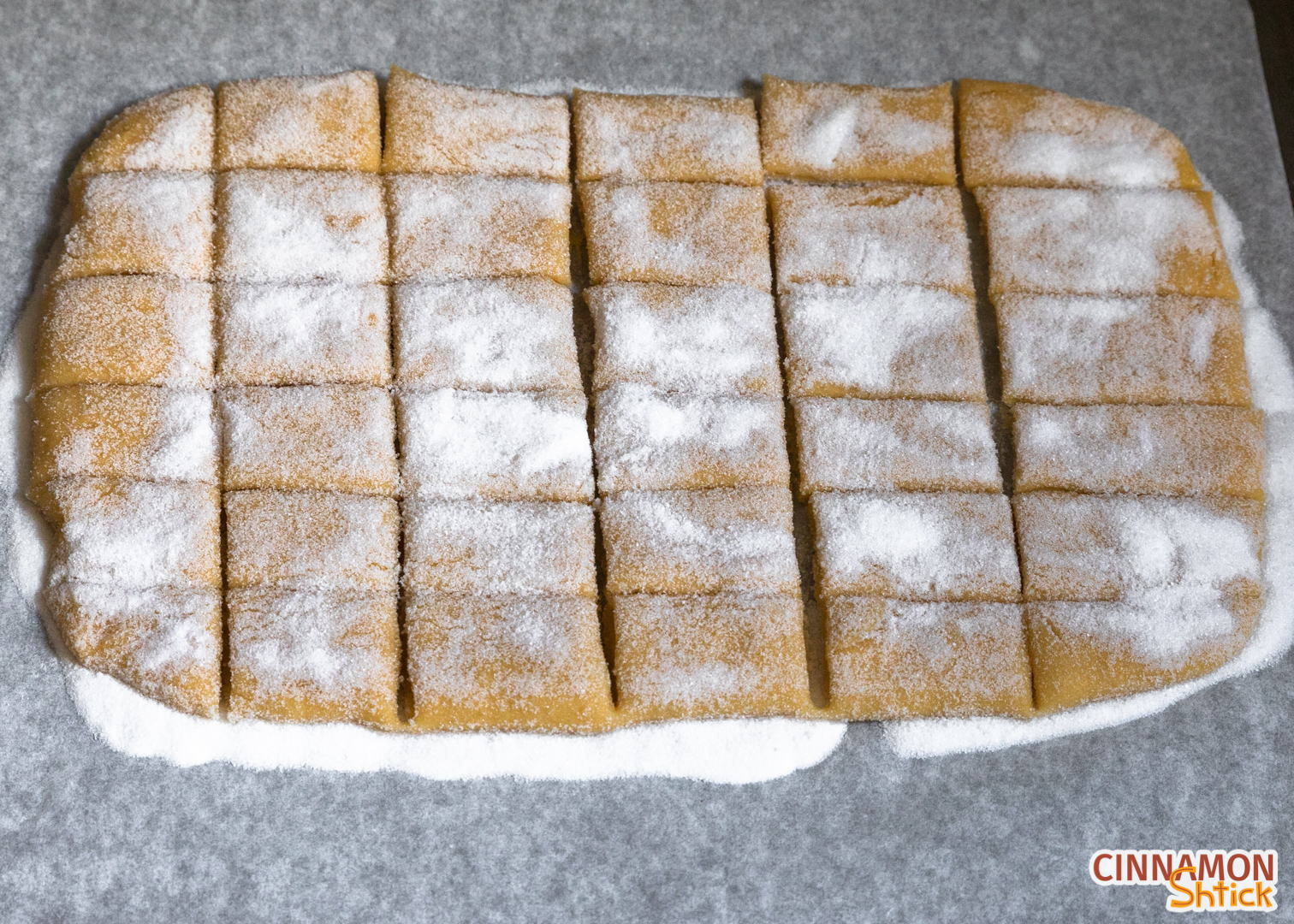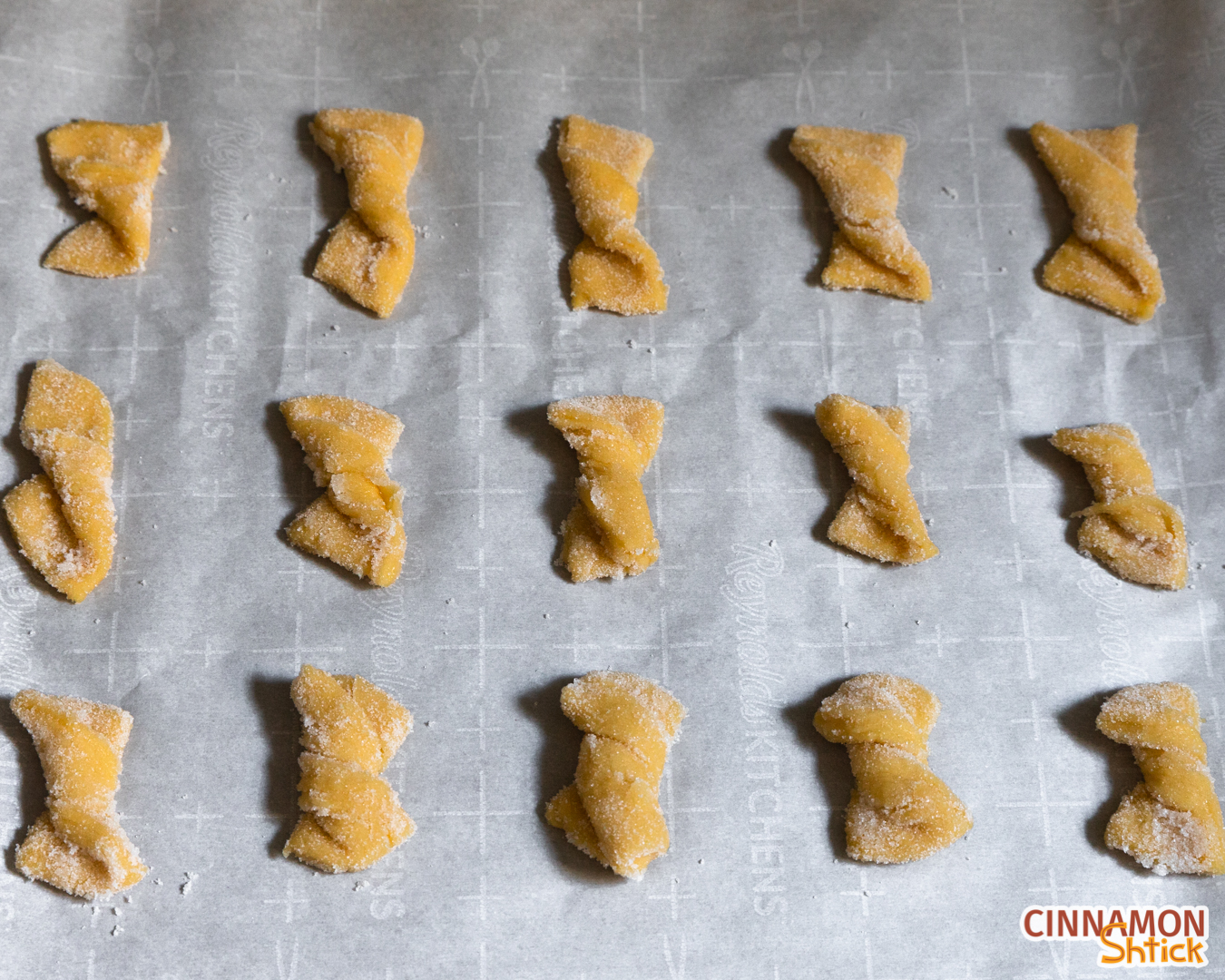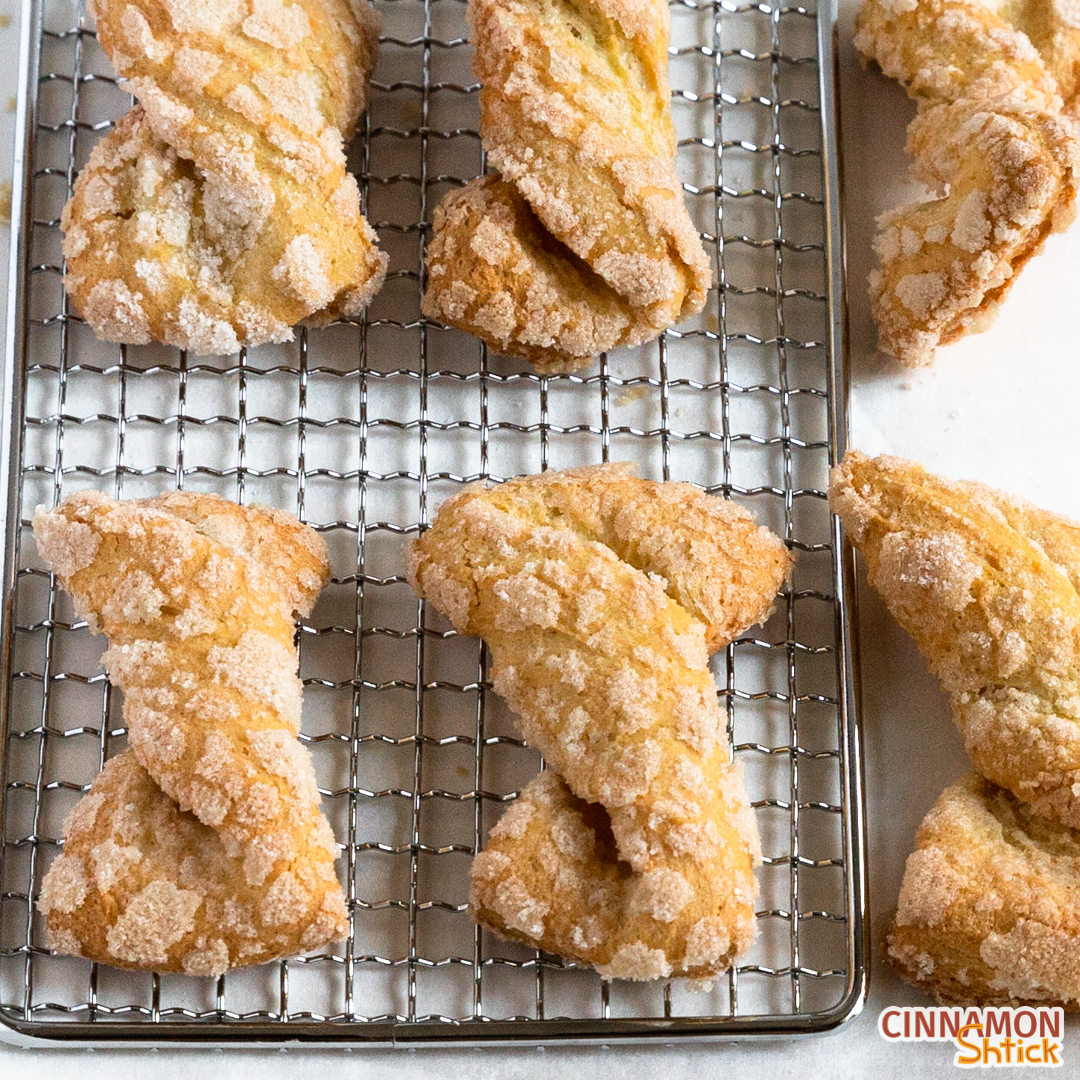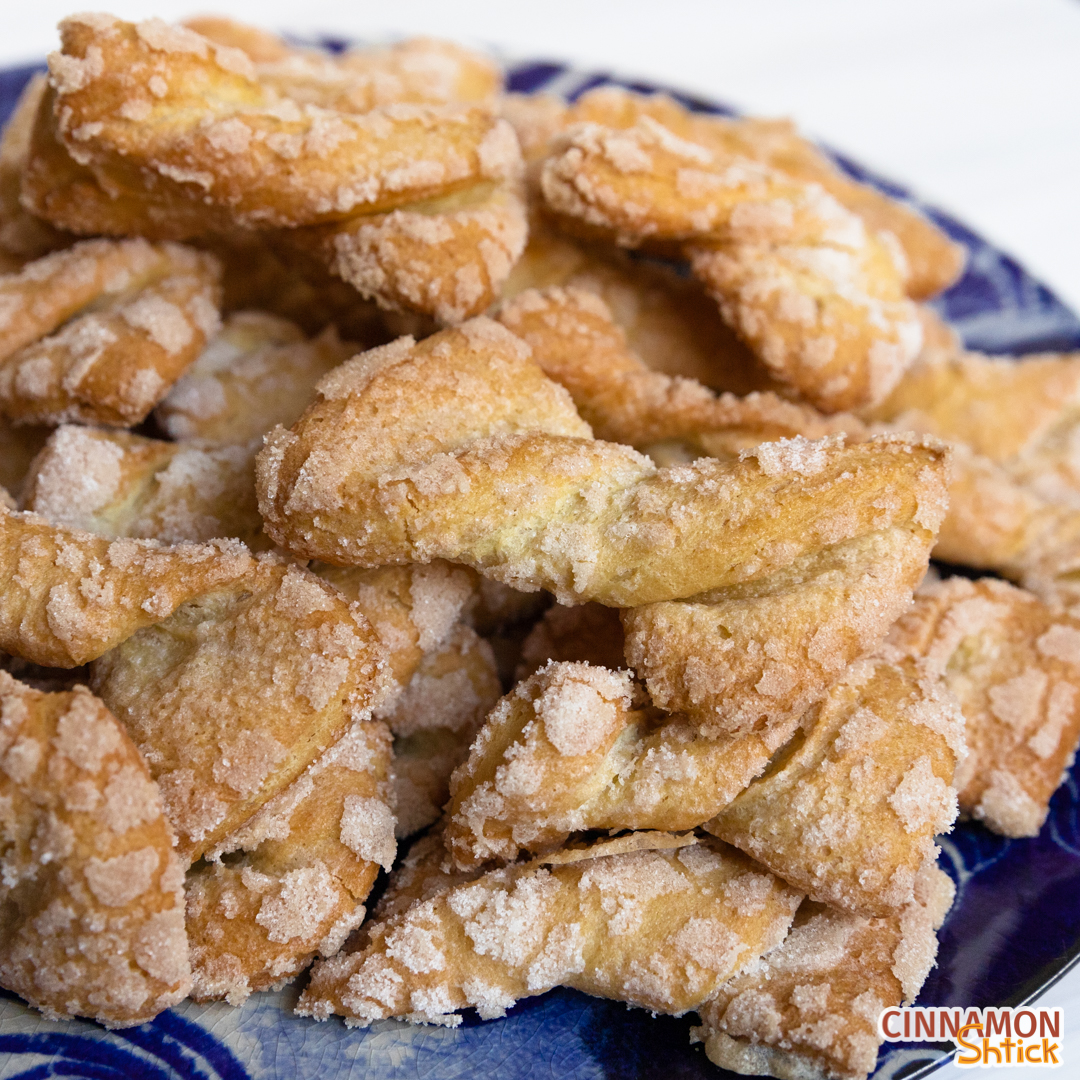 Kichel (Jewish Bow Tie Cookies)
This traditional Jewish cookie was a staple at Jewish bakeries. This easy to make recipe will take you back to your childhood.
Notes
For puffier Kichel, bake on the bottom third of the oven. 
Kichel will stay fresh for at least several days stored in an airtight container. They also freeze very well.
Nutrition
Calories:
62
kcal
|
Carbohydrates:
9
g
|
Protein:
1
g
|
Fat:
3
g
|
Saturated Fat:
2
g
|
Trans Fat:
1
g
|
Cholesterol:
19
mg
|
Sodium:
45
mg
|
Potassium:
12
mg
|
Fiber:
1
g
|
Sugar:
4
g
|
Vitamin A:
27
IU
|
Calcium:
8
mg
|
Iron:
1
mg