This post may contain affiliate links. As an Amazon Associate, I earn from qualifying purchases. For more information, please visit my Privacy Policy.
It's Purim time! Purim is probably my favorite Jewish holiday. For one thing, it's a party holiday. Not like Hanukkah where you light candles and get gifts. Party as in dress up, drink, and eat hamantaschen! I am going to make it my personal mission to come up with at least one new hamantaschen recipe every year. If you are looking for traditional hamantaschen flavors like apricot, poppy seed, prune, chocolate, or just a jam filling, look elsewhere. I'm less into what has been done in the past and more into unique concoctions or ideas that are not as usual. Hence, these Fig Hamantaschen!
What Are Hamataschen?
Let's first make sure we are all on the same page. Hamantaschen are triangular shaped cookies (or pastry) that are made with a variety of different fillings. Why are they triangular? Long story short, they are traditionally made for the Jewish holiday of Purim — a joyous holiday that commemorates the saving of the Jews from an evil dude named Haman. According to legend, Haman wore a three-cornered hat. (Very fashion-forward for such a hateful man!) Why they decided to shape cookies like his hat is beyond me. All I know is that, made properly, they are delish.
Why Fig Hamantaschen?
The real question is, why don't we see more Fig Hamantaschen? These are kind of like a Jewish version of the Fig Newton. (Dare I say Fig Jewton? … Oy!) But better. Last year, when I first started this blog, I published my Apple Cinnamon Spice Hamantaschen which is still one of my favorites. The spiced dough with the apples is such an enjoyable combination! Oh, and if you want some guidance and photos on rolling out the dough and shaping, you should definitely check out my Apple Cinnamon Spice Hamantaschen or the video on my Blueberry Hamantaschen.
I also published last year my S'mores Brownie Hamantaschen which is a fun and delicious play on S'mores, with a graham cracker dough, holding a fudgy brownie, topped with a marshmallow. They are downright delish! And don't forget Boston Cream Pie Hamantaschen!
When thinking about a new flavor for this year, my mind jumped to figs. I have no idea why. I have never — I mean NEVER — cooked or baked with or even bought figs! I'm too well familiar, of course, with Fig Newtons. So, I did some fig research (including reviewing the ingredients list on the Fig Newtons package), tinkered with some spices, citrus and alcohol, and landed on this recipe for Fig Hamantaschen. Let's just say I'm now mildly obsessed with them and with figs generally! (Foreshadowing: I predict a fig babka in the near future.)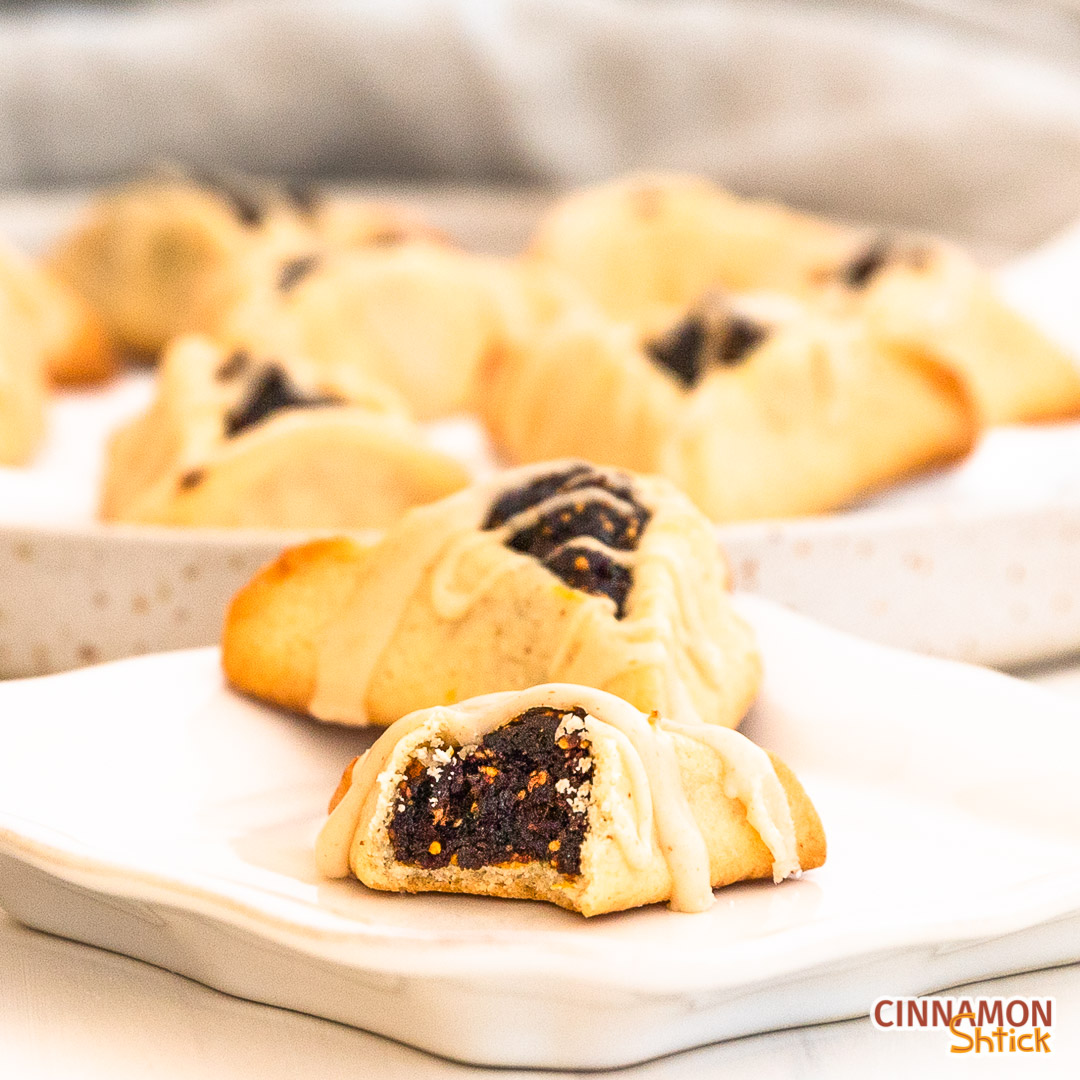 How to Make the Fig Hamantaschen Filling
Let's first talk about figs. For these hamantaschen, I highly recommend buying dried mission figs which are sweet and create a perfect fig filling. Oh, and they are also high in fiber and a bunch of other healthy things! (Put it in the Google machine — I'm not here to offer healthy eating advice, People!)
Because the figs are dried, we want to "revive" them a bit. (The dried figs I purchased were actually plump and moist, but I still "revived" them, which also adds flavor to them. These are the figs I used in the pictures here and they arrived from Amazon in less than 48 hours, but feel free to use any brand of dried mission figs. I have also used Sunmaid with great success, which is usually readily available in the supermarket.) My revival formula includes a complementary alcohol such as rum, triple sec, or any orange flavored liquor. Add some water to tone it down a drop, some orange zest, and cinnamon. Once you cut the stems off the dried figs, cut the figs in half or quarters, and cook them in the revival formula for 15 minutes or so. Warning: your kitchen may smell divine.
You want to cook the figs to the point of being tender. If the liquid seems to be gone from the pot after 15 minutes and the figs still are not soft, just add 1-2 tablespoons of water so it can keep cooking a few more minutes.
Pop the figs with some honey into the food processor, and you got yourself Fig Hamantaschen filling. Easy!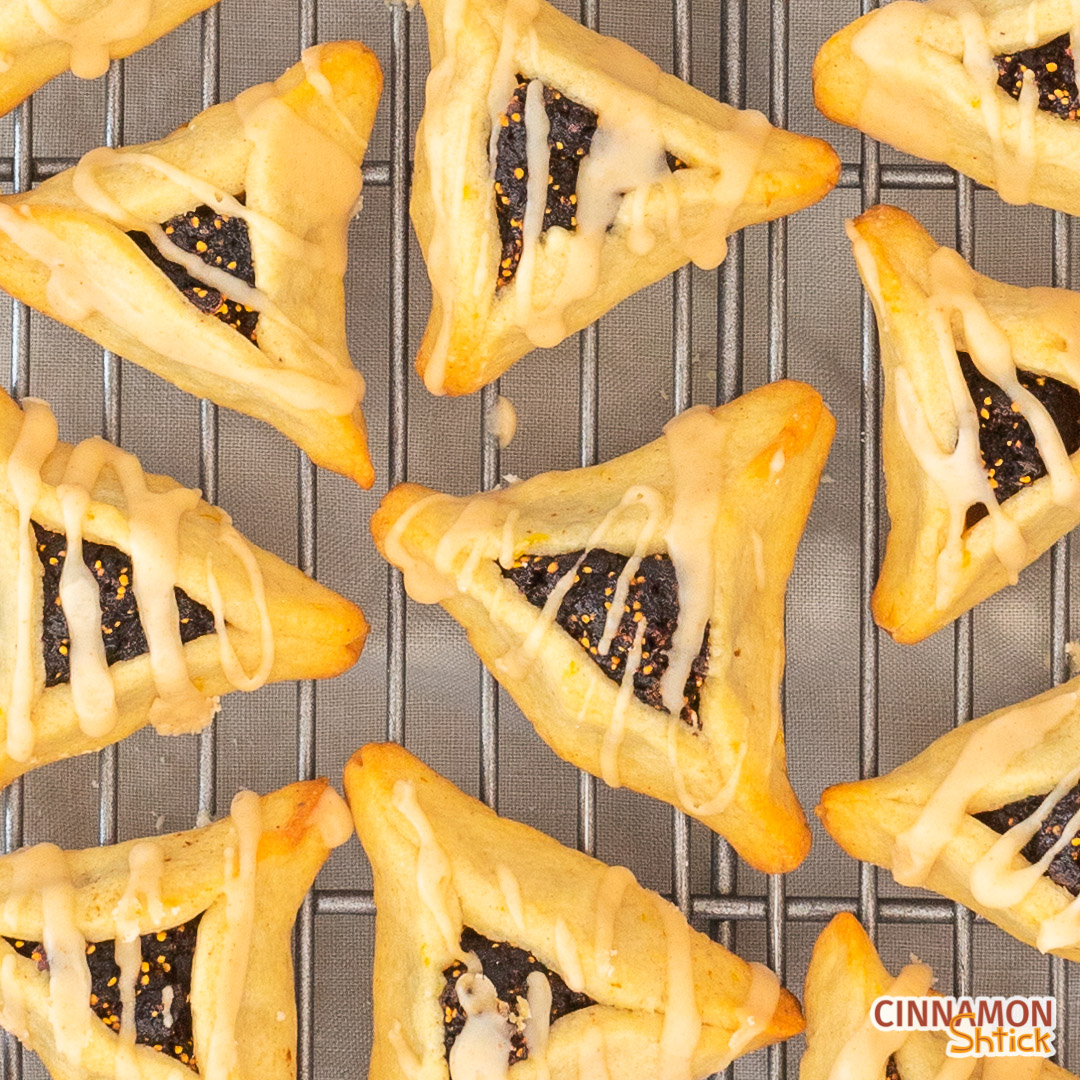 Rolling out the Hamantaschen Dough
Just a quick word on rolling out the hamantaschen dough. If you make this dough recipe by weight (which you should be doing!), the dough should be barely and slightly tacky. When you go to roll out the chilled dough, lightly flour the surface (I recommend rolling directly on parchment paper) and lightly flour the top fo the dough. That should be enough flour to allow you roll and cut out the circles without it sticking. If it is still very sticky, sprinkle with more flour.
I also want to reiterate what I said in my Apple Cinnamon Spice Hamantaschen post: refrigerate the dough before rolling, and if it becomes too difficult to work with, pop it back in the refrigerator. Also, do not skip the 15 minute freeze before baking. You can gather all the prepared hamantaschen onto a small pan or even a plate to place in the freezer. Once frozen, they are easy to move onto a parchment lined baking sheet. Putting frozen hamantaschen into the hot oven will help them keep their shape.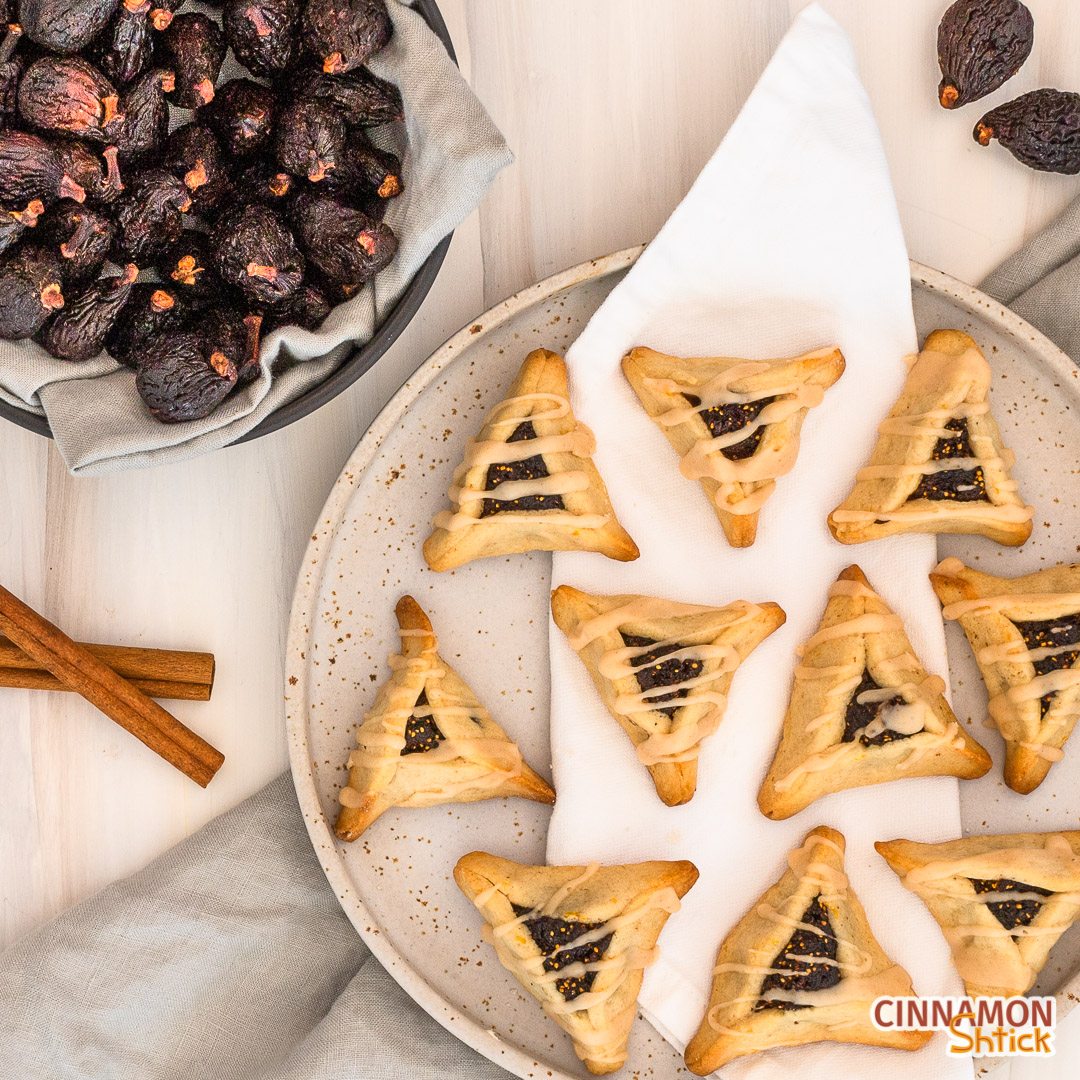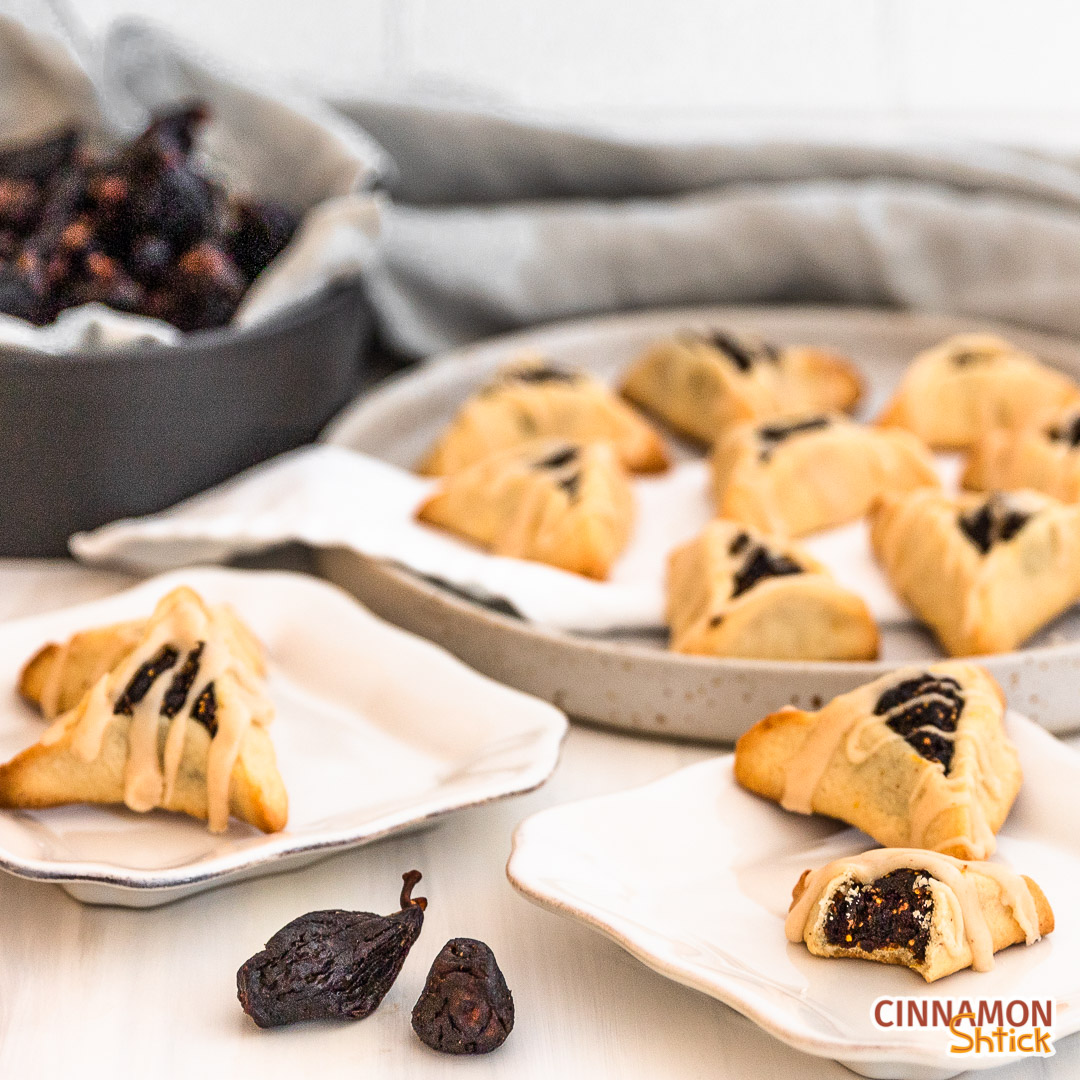 Fig Hamantaschen
Consider this the Fig Newton of hamantaschen! A beautiful cookie dough with a kiss of orange encases a fig filling made with rum, orange zest and cinnamon.
Ingredients
Hamantaschen Dough:
283

grams

all purpose flour

(2 cups plus 2 Tablespoons)

¼

teaspoon

baking powder

¼

teaspoon

ground ginger

½

teaspoon

cinnamon

⅛

teaspoon

nutmeg

¼

teaspoon

fine sea salt or table salt

1

teaspoon

orange zest

150

grams

sugar

(¾ cup)

113

grams

unsalted butter at room temperature

(8 Tablespoons or ½ cup)

1

egg, at room temperature

1

egg yolk, at room temperature

1

Tablespoon

whole milk

1

teaspoon

vanilla
Fig Filling:
14

ounces

dried figs

(stems removed and sliced in half)

59

grams

Rum, Grand Marnier, Orange Liqueur, orange juice or water

(¼ cup)

82

grams

water

(⅓ cup)

1

teaspoon

orange zest

1

teaspoon

cinnamon

¼

teaspoon

fine sea salt or table salt

42

grams

honey

(2 Tablespoons)
Glaze:
120

grams

confectioners' sugar

(1 cup)

¼

teaspoon

cinnamon

2-3

Tablespoons

freshly squeezed orange juice

(or more as needed)
Instructions 
Prepare the Dough. In a bowl, whisk together the flour, baking powder, ginger, cinnamon, nutmeg and salt. Set aside.

In the bowl of a mixer, press the orange zest into the sugar with your fingertips to release the oils from the zest. Add the butter and cream for 2-3 minutes. Add the egg, the egg yolk, milk, and vanilla and beat until all the liquid ingredients are fully incorporated.

With the mixer off, pour the dry ingredients into the mixer bowl over the liquid ingredients. Turn the mixer on the lowest speed and mix just until the dry ingredients are fully incorporated. (Alternatively, you can mix the dry ingredients in by hand using a rubber spatula.) Do not overmix.

Place half the dough on top of a large piece of plastic wrap. Using the plastic wrap, shape the dough into a disk, pushing down on it to thin it out. Fully cover the disk of dough in the plastic wrap and place in the refrigerator for at least two hours and for as long as 24 hours. (I usually make the dough the day before I am going to bake, so I let it sit overnight in the refrigerator. If you are in a rush, you can put the dough in the freezer for 30 minutes instead of the refrigerator.) Repeat with the remaining portion of the dough. While the dough rests in the refrigerator, make the fig filling.

Make the Fig Filling. Into a pot add the sliced dry figs, all the liquids, the orange zest, the cinnamon, and the salt. Bring the mixture to a boil, then lower the flame as much as possible to maintain a simmer or 10-20 minutes, checking on them at the 10 minute mark and every few minutes therafter. The figs should be very soft and most of the water should have disappeared. If the figs are very dry, you may have to add 1 to 2 Tablespoons of additional water and cook for a few more minutes.

Once figs are cooked and very soft, move them to a food processer. Add the honey and process until smooth. Allow them to cool. For easier use, fill a pastry bag or a ziplock bag with the cooled fig filling, cutting off the tip of the pastry bag or a corner of the ziplock bag. You can then pipe the filling into the dough circles. Alternatively, you can use a spoon to fill them. The fig filling can be prepared up to a week earlier and stored in an airtight container in the refrigerator, allowing it to come to room temperature before using.

Shape Hamentaschen. Line 2 or 3 cookie sheets with parchment paper. Take one of the dough disks from the refrigerator and roll out in between two pieces of parchment paper that are lightly dusted in flour. Roll the dough so that it is approximately ¼ of an inch thick. If you roll it too thin, the dough will rip as you remove it from the parchment. Using a round cookie cutter (I use a 2½ inch diameter), cut as many rounds out as you can. You may need to dip your cutter into some flour to avoid it sticking to the dough. Use a metal spatula dipped in flour to release the rounds. Gather the scraps and roll that clump of dough out and cut more rounds. Keep repeating until you have used all the dough. If at any point the dough becomes too sticky or difficult to work with, cover it in plastic wrap and let it cool in the refrigerator for about 15 minutes. Try to avoid adding too much flour to the dough.

Fill each round with approximately 2 tsps. of the fig filling. Lightly flour your fingertips and form each circle into triangles by folding up the rounds and pinching them tightly in three corners. (If they are not sticking together, wet your fingertip and rub it on the inside where you are trying to create the point.) You want to make sure that the seams are fully closed so that they do not open while baking. Place the shaped hamantaschen on the prepared cookie sheets.

Place the cookie sheets with the shaped hamantaschen in the freezer for at least 15 minutes. DO NOT SKIP THIS STEP. (If you have limited freezer space, place them tightly, right next to each other, on one prepared cookie sheet or a plate. Once frozen, you can easily remove them and set them further apart on another prepared baking sheet for baking.)

Preheat oven to 400° F.

Repeat steps 7 through 9 with the remaining disk of dough.

Bake the frozen hamantaschen for 10-12 minutes until they are lightly brown around the bottom edges.

Cool completely on pan or a wire rack before glazing.

Make Glaze. Whisk together the confectioners' sugar and the cinnamon. Add the orange juice, 1 Tablespoon at a time, until you reach a thick, pourable consistency. Use a spoon to drizzle the glaze over the cooled hamantaschen.
Notes
For the figs, I have used one 16 ounce package (with the listed amount of the remaining ingredients) and had leftover filling which I used on yogurt and ice cream!
If making these in one day, for time management purposes, I recommend making the dough, and while the dough disks are in the refrigerator, make the fig filling. By the time the fig filling cools, the dough should be ready to roll out.
You can also make either or both the filling and the dough the day before and store both in the refrigerator.
Although I have not done this, both the dough and the fig filling should freeze well. Take them both out of the freezer and place them in the refrigerator the night before you plan on rolling, shaping and baking. They should both be defrosted by the time you roll out the dough the next day.
You can also roll and shape the hamanteschen and freeze them for up to 3 months. This way you can bake as many as you want right from the freezer.
Once baked, store at room temperature in a sealed container. They will remain fresh for at least several days.
Once baked, these freeze beautifully. Defrost at room temperature for 10-15 minutes.
Nutrition
Serving:
40
g
|
Calories:
96
kcal
|
Carbohydrates:
20
g
|
Protein:
1
g
|
Fat:
3
g
|
Saturated Fat:
2
g
|
Trans Fat:
1
g
|
Cholesterol:
15
mg
|
Sodium:
31
mg
|
Potassium:
82
mg
|
Fiber:
1
g
|
Sugar:
9
g
|
Vitamin A:
88
IU
|
Vitamin C:
1
mg
|
Calcium:
24
mg
|
Iron:
1
mg