This post may contain affiliate links. As an Amazon Associate, I earn from qualifying purchases. For more information, please visit my Privacy Policy.
While I was coming up with my Apple Cinnamon Spice Hamantaschen recipe, I was thinking about other dough flavors, which lead to a hankering for graham crackers, which lead to thoughts about S'mores, which lead to – why not make a graham cracker hamantaschen dough, fill it with brownies, and top it with a marshmallow!??! … So, um, I did. And you know what? I have no regrets: S'mores Brownie Hamantaschen was thus born.
What are Hamantaschen?
They are triangular shaped cookies (or pastry) that are made with a variety of different fillings. Why are they triangular? Long story short, they are traditionally made for the Jewish holiday of Purim — a joyous holiday that commemorates the saving of the Jews from an evil dude named Haman. According to legend, Haman wore a three-cornered hat. (Very fashion-forward for such a hateful man!) Why they decided to shape cookies like his hat is beyond me. All I know is that, made properly, they are delish.
Why S'mores Brownie Hamantaschen?
Um, why not? Hamantaschen come in all sorts of fun flavors. The spirit of them is the shape. The flavor possibilities are unlimited.
If you would like a little guidance on the process of rolling and cutting the hamantaschen dough, take a look at my Apple Cinnamon Spice Hamantaschen post.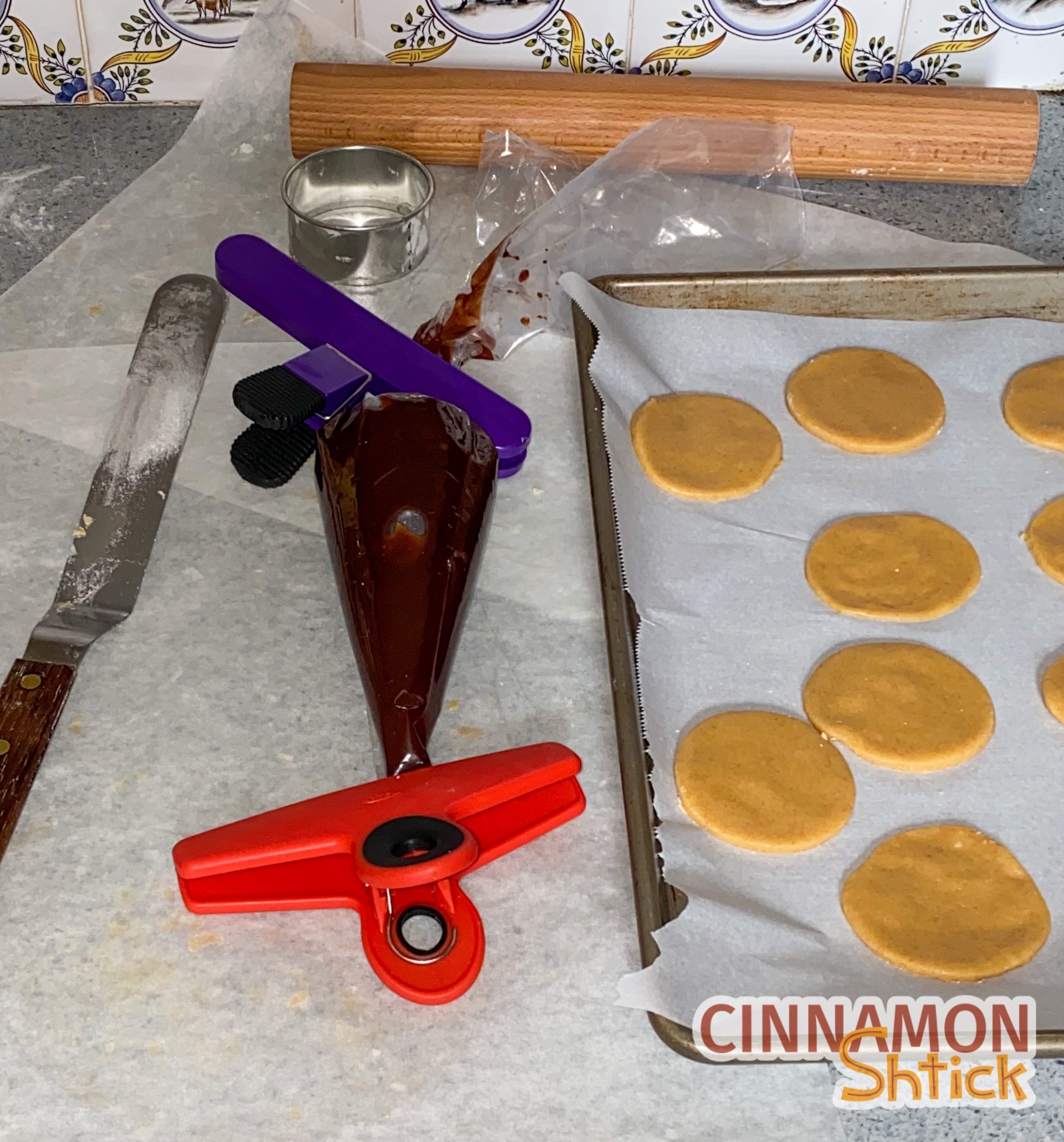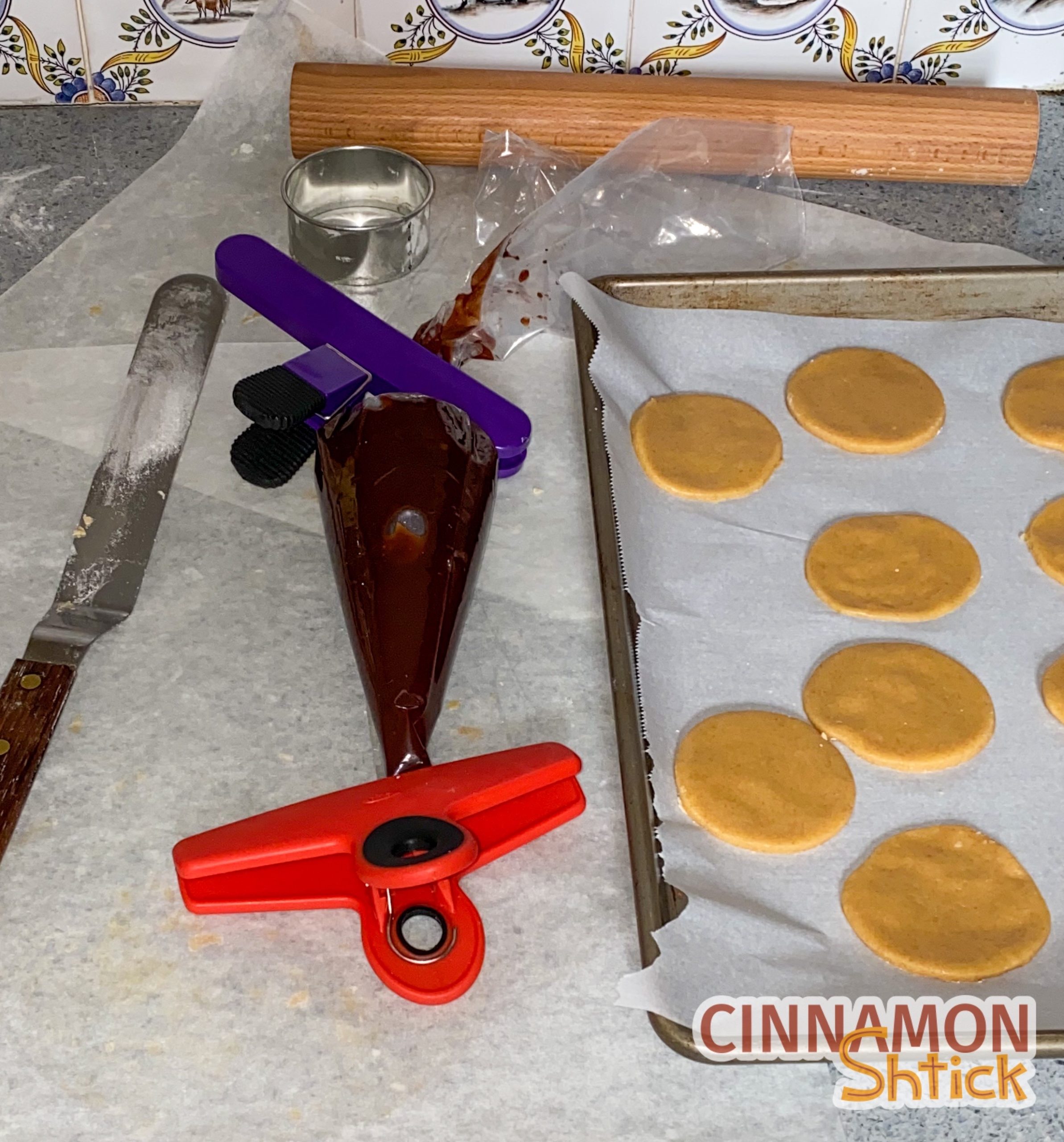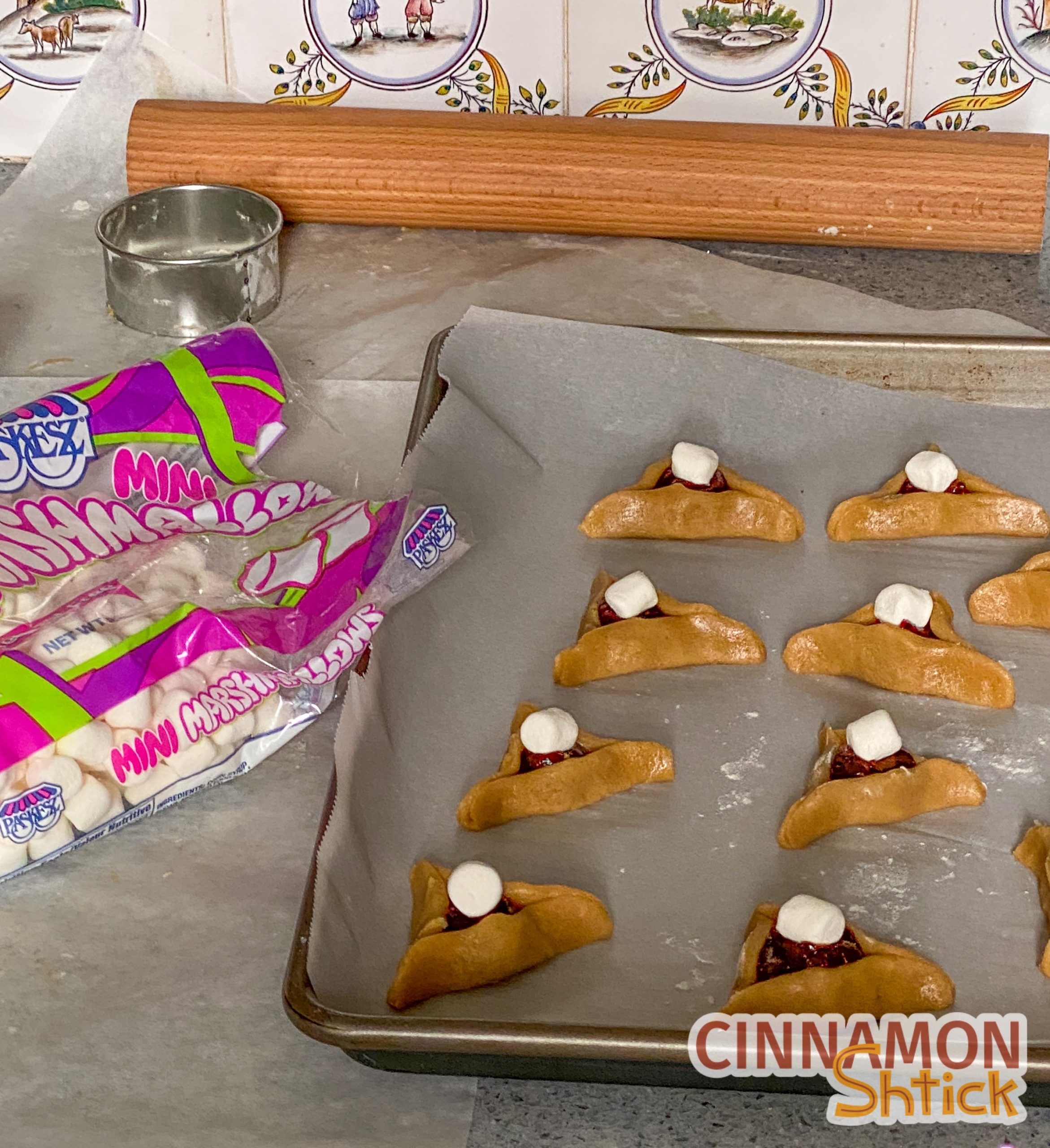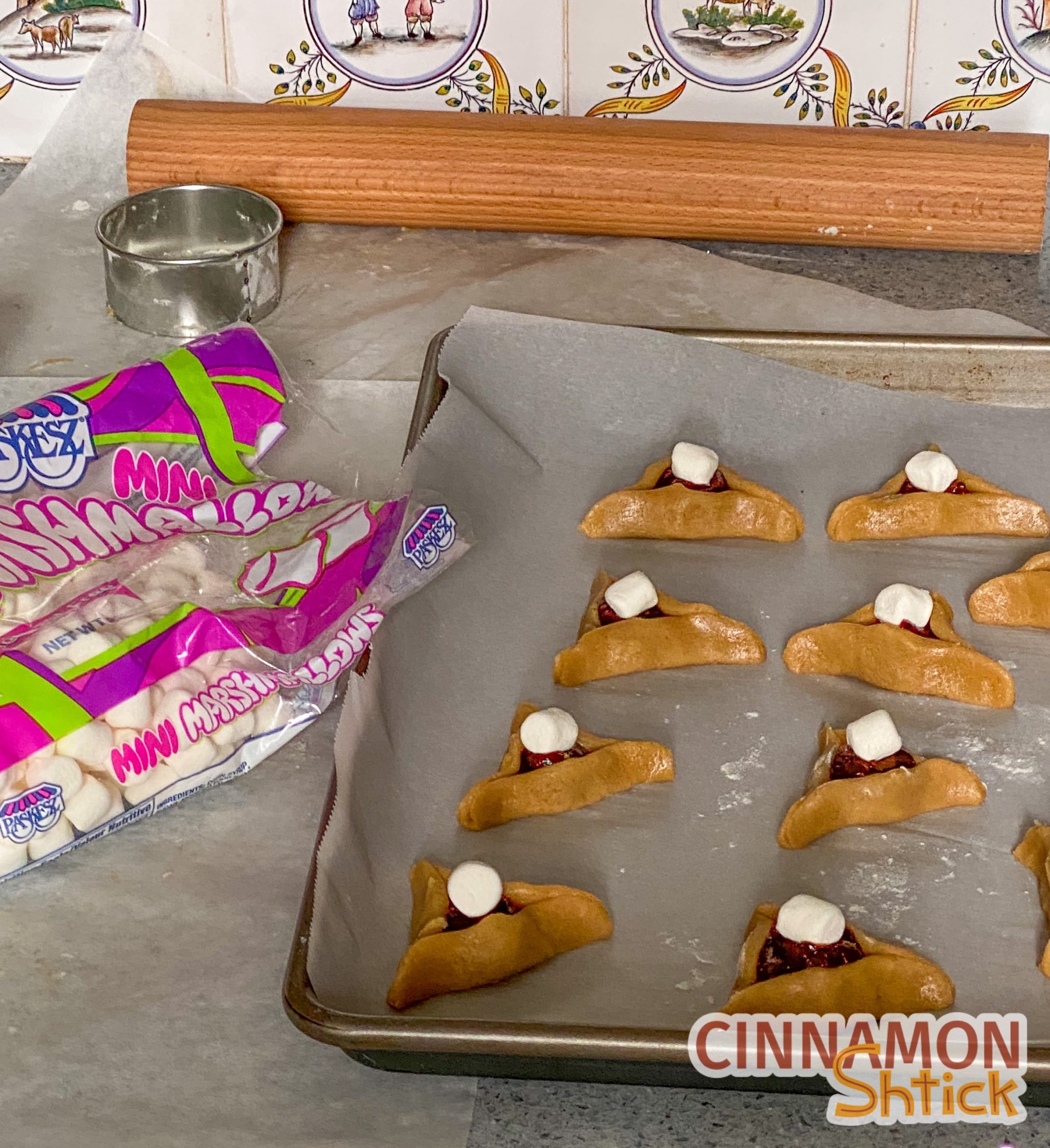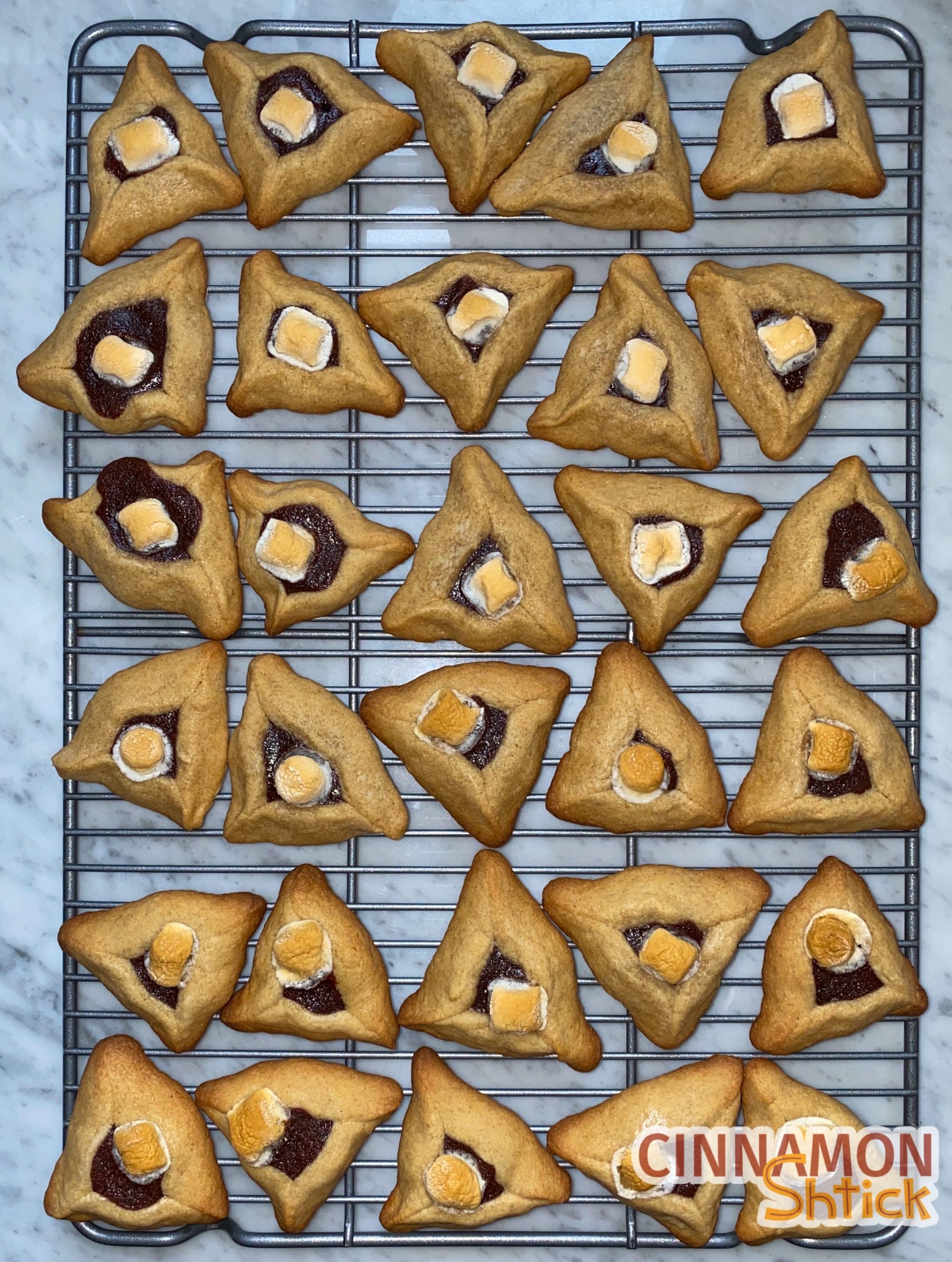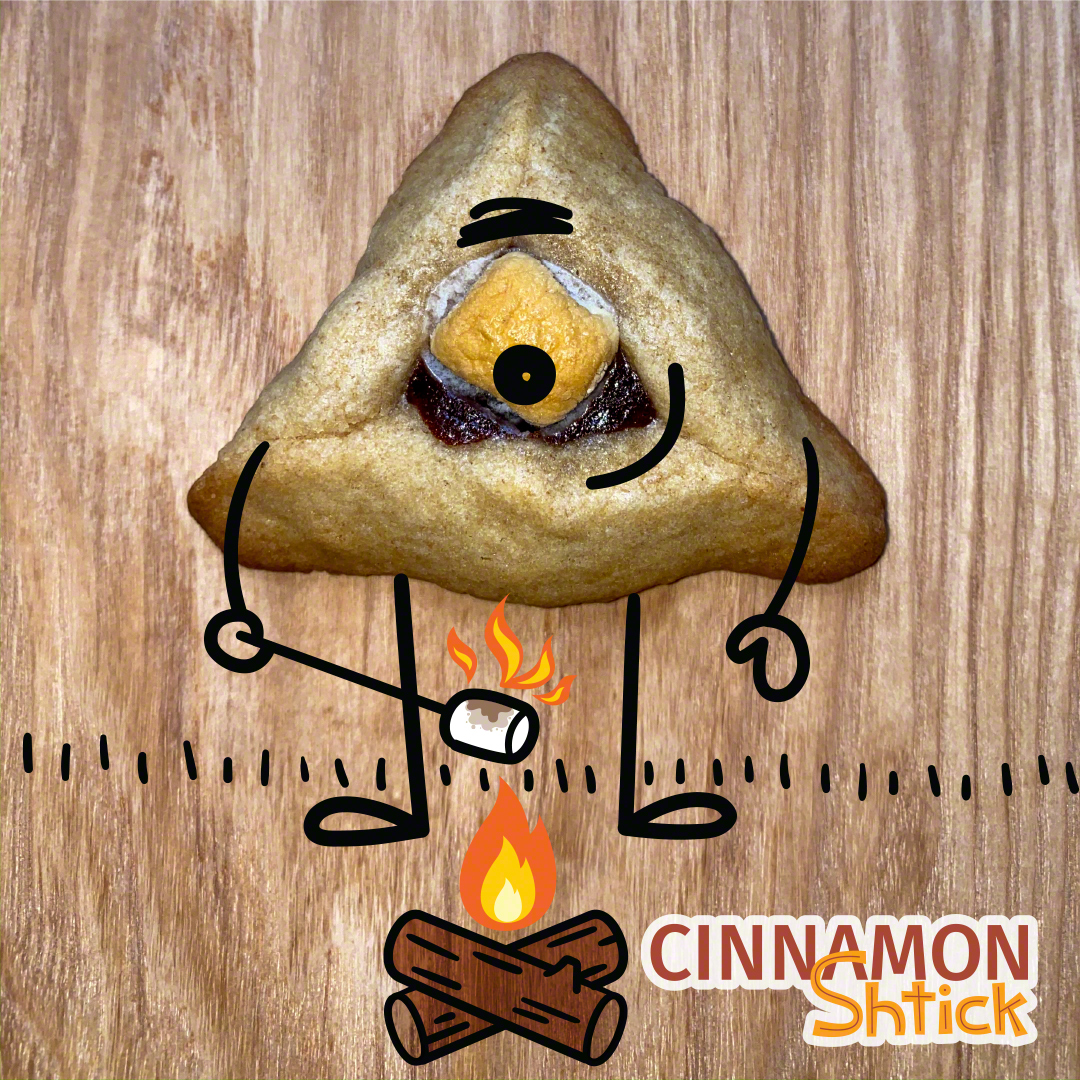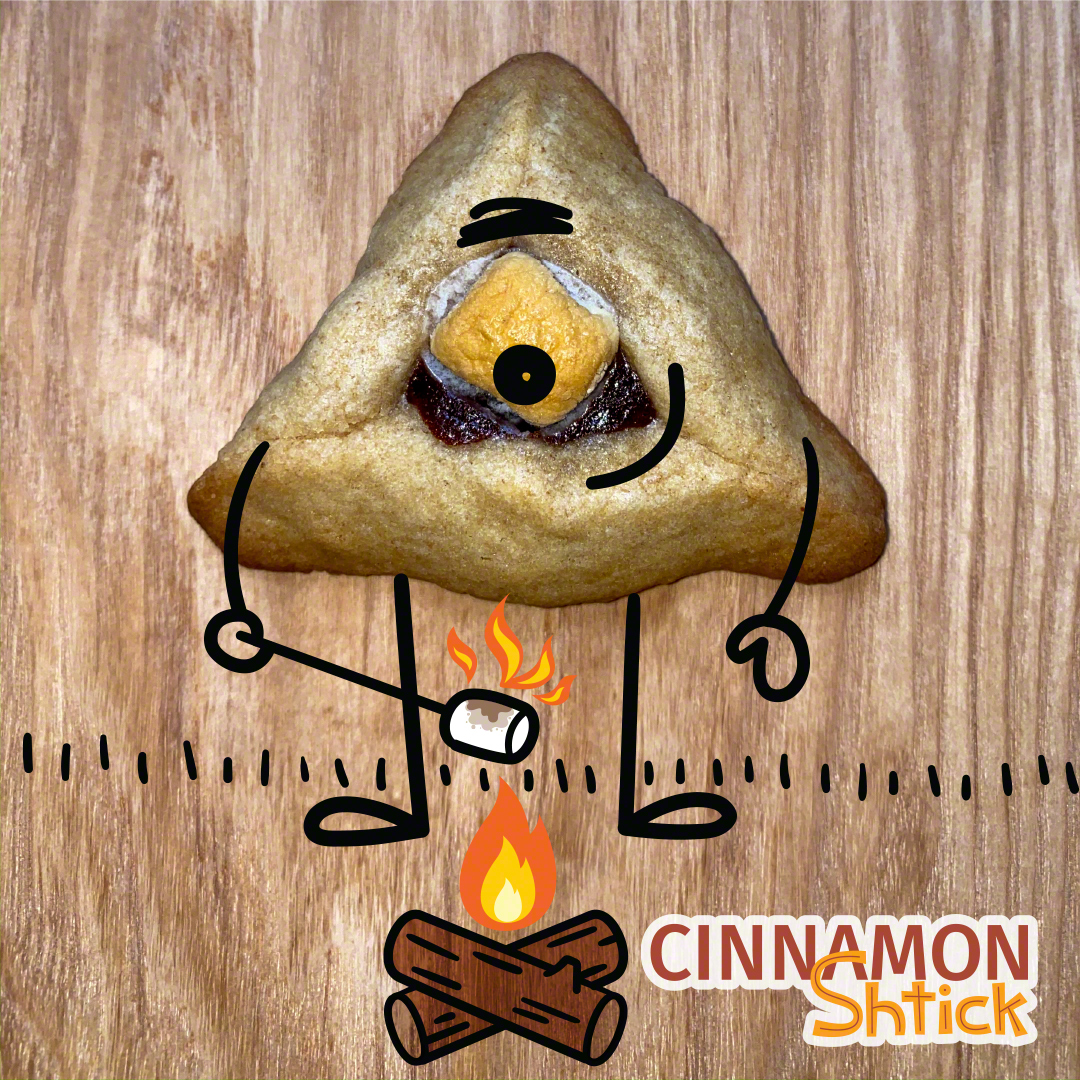 S'mores Brownie Hamantaschen
Graham cracker cookies filled with fudgy brownies and topped with marshmallows, these are not your Bubbe's hamantaschen! (Hamantaschen dough adapted from Shannon Sarna's Modern Jewish Baker)
Ingredients
Graham Cracker Hamantaschen Dough:
165

g.

all purpose flour

(1¼ cups plus 1 tbsp.)

170

g.

graham cracker crumbs

(2 cups)

¼

tsp.

baking powder

¼

tsp.

salt

113

g.

unsalted butter at room temperature

(8 tbsp. or ½ cup)

150

g.

sugar

(¾ cup)

1

egg at room temperature

1

egg yolk at room temperature

15

g.

whole milk

(1 tbsp.)

1

tsp.

vanilla
Brownie Filling:
30

g.

miniature marshmallows

(½ cup)

57

g.

unsalted butter

(4 tbsp.)

57

g.

unsweetened chocolate

(2 oz. )

50

g.

sugar

(¼ cup)

55

g.

light brown sugar

(¼ cup)

1

egg

(beaten)

½

tsp.

vanilla

30

g.

all purpose flour

(2 tbsp.)

1/8

tsp.

salt

Miniature marshmallows for the tops
Instructions 
Hamantaschen Dough. In a bowl, whisk together the flour, graham cracker crumbs (see Notes below), baking powder, and salt. Put aside.

In a mixer, cream the butter and sugar together for 2-3 minutes. Add the egg, the egg yolk, milk, and vanilla and beat until all the liquid ingredients are fully incorporated, approximately 2 minutes.

With the mixer off, pour the dry ingredients into the mixer bowl over the liquid ingredients. Turn the mixer on the lowest speed and mix just until the dry ingredients are fully incorporated. (Alternatively, you can mix the dry ingredients in by hand using a rubber spatula.) Do not overmix.

Place half the dough on top of a large piece of plastic wrap. Using the plastic wrap, shape the dough into a disk, pushing down on it to thin it out. Fully cover the disk of dough in the plastic wrap and place in the refrigerator for at least two hours and for as long as 24 hours. Repeat with the remaining portion of the dough.

Line 2 or 3 cookie sheets with parchment paper.

Brownie Filling. Place the marshmallows in a 2 quart saucepan over low heat. As they start to melt, stir them and add the butter and chocolate. Stir occasionally until all ingredients are fully melted. Remove from heat. Stir in the sugar and brown sugar. Set aside for a couple of minutes to make sure the mixture cools completely. Add the beaten egg and vanilla. Mix in the flour and salt just until all the flour is fully absorbed. Place batter into a piping bag or wrap in plastic wrap. Refrigerate the brownie batter for at least one hour.

Return to Hamantaschen Dough. Take one of the dough disks from the refrigerator and roll out in between two pieces of parchment paper. Roll the dough so that is approximately ¼ of an inch thick. If you roll it too thin, the dough will rip as you remove it from the parchment. Using a round cookie cutter (I use a 2½ inch diameter), cut as many rounds out as you can. You may need to dip your cutter into some flour to avoid it sticking to the dough. Use a metal spatula dipped in flour to release the rounds. Gather the scraps and roll that clump of dough out and cut more rounds. Keep repeating until you have used all the dough. If at any point the dough becomes too sticky or difficult to work with, cover it in plastic wrap and let it cool in the refrigerator for about 15 minutes.

Fill each round with approximately 1 tsp. of the brownie filling. (It is easiest to fill the cookies by using a piping bag. If you do not have a piping bag.) Do not over fill them! Lightly flour your fingertips and form each circle into triangles by folding up the rounds and pinching them tightly in three corners. (If they are not sticking together, wet your fingertip and rub it on the inside where you are trying to create the point.) You want to make sure that the seams are fully closed so that the filling does not break through the barriers while baking. Place the shaped hamantaschen on the prepared cookie sheets.

Place the cookie sheets with the shaped hamantaschen in the freezer for 15 minutes. DO NOT SKIP THIS STEP.

Preheat oven to 400° F.

Repeat steps 7 through 9 with the remaining disk of dough.

Place one to three miniature marshmallows in the center of the brownie mixture. Bake the frozen hamantaschen for 9-10 minutes until they are lightly brown around the bottom edges.

Cool completely on pan or a wire rack before serving.
Notes
For graham cracker crumbs, place graham crackers (depending on the brand, approximately 9-11 sleeves) into a blender or food processor. Blend or pulse until all crackers are broken down into crumbs.
You can make the dough the day before and store it in the refrigerator. Make the brownie mixture within an hour or two of when you intend to fill the hamantaschen.
You can also roll and shape the hamanteschen and freeze them for up to 3 months. This way you can bake as many as you want right from the freezer. Place the miniature marshmallows on just before baking.
Once baked, store at room temperature in a sealed container. They will remain fresh for at least several days.
These also freeze beautifully once baked. Defrost at room temperature for 10-15 minutes.
When making the brownie batter, it will make your life tons easier to place it into a piping bag. I used clips made for closing bags of chips on the bottom of the piping bag to leave a little space of air where I will cut it just before piping. I used another chip clip on top to keep the pastry bag closed while it rests in the refrigerator. When it is time to fill the hamantaschen, remove the clip from the top of the bag and twist the top of the bag just above to top of the batter, then remove the bottom clip and cut the tip of the bag off. (If the batter is too thick when you remove it from the refrigerator, massage the bag in your hands for a bit before cutting the tip off the bag off. The heat from your hands will get it to a warmer consistency for piping.)
Nutrition
Calories:
106
kcal
|
Carbohydrates:
14
g
|
Protein:
1
g
|
Fat:
5
g
|
Saturated Fat:
3
g
|
Trans Fat:
1
g
|
Cholesterol:
22
mg
|
Sodium:
55
mg
|
Potassium:
32
mg
|
Fiber:
1
g
|
Sugar:
8
g
|
Vitamin A:
125
IU
|
Calcium:
12
mg
|
Iron:
1
mg