This post may contain affiliate links. As an Amazon Associate, I earn from qualifying purchases. For more information, please visit my Privacy Policy.
Growing up, I always looked forward to Purim, mostly because our local Jewish bakery, The Bread Basket, made outstanding apple hamantaschen. They made a cookie type version and a yeasted dough version. Both brought me endless joy.
What are hamantaschen? They are triangular shaped cookies (or pastry) that are made with a variety of different fillings. Why are they triangular? Long story short, they are traditionally made for the Jewish holiday of Purim — a joyous holiday that commemorates the saving of the Jews from an evil dude named Haman. According to legend, Haman wore a three-cornered hat. (Very fashion-forward for such a hateful man!) Why they decided to shape cookies like his hat is beyond me. All I know is that, made properly, they are delish.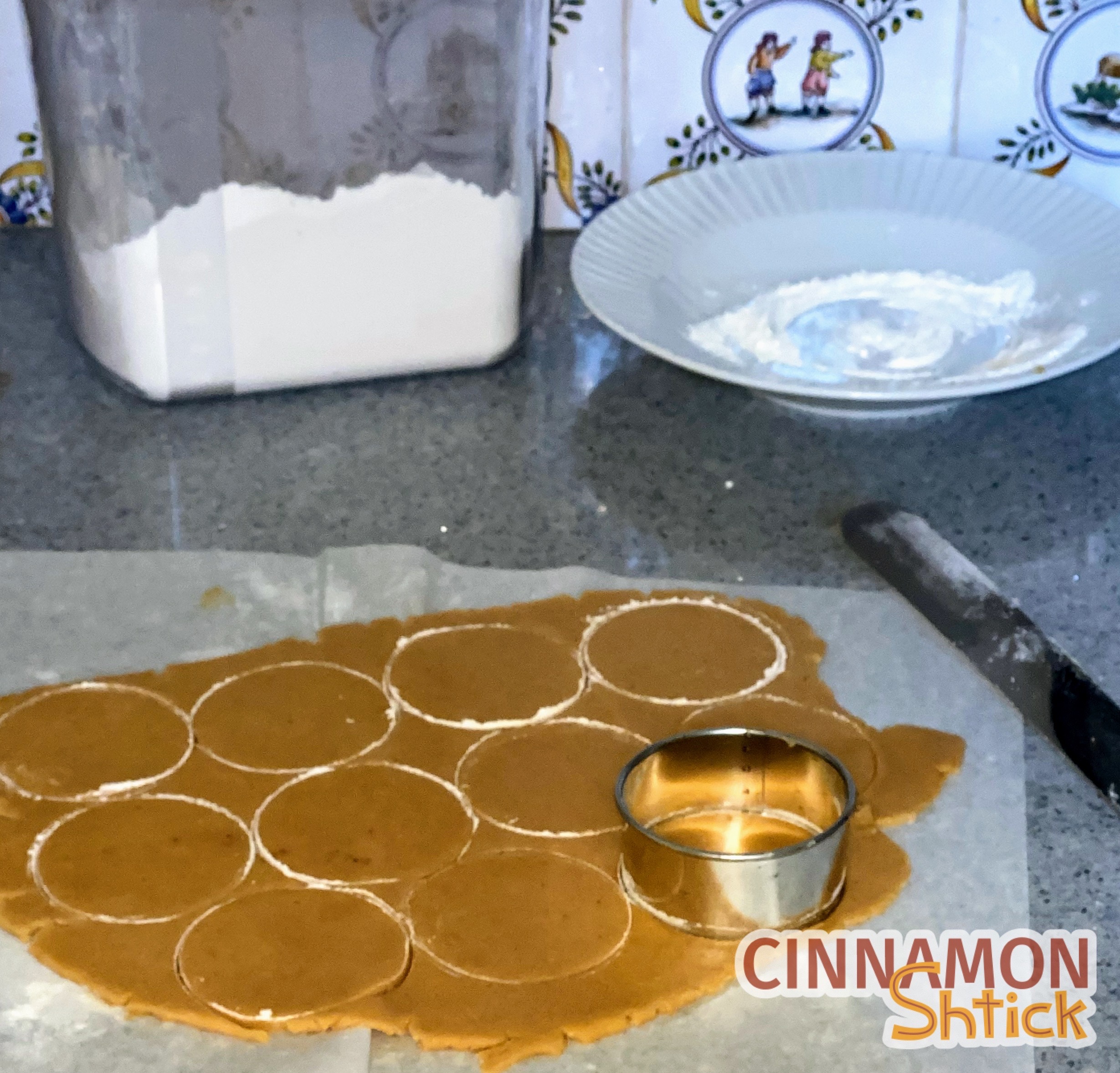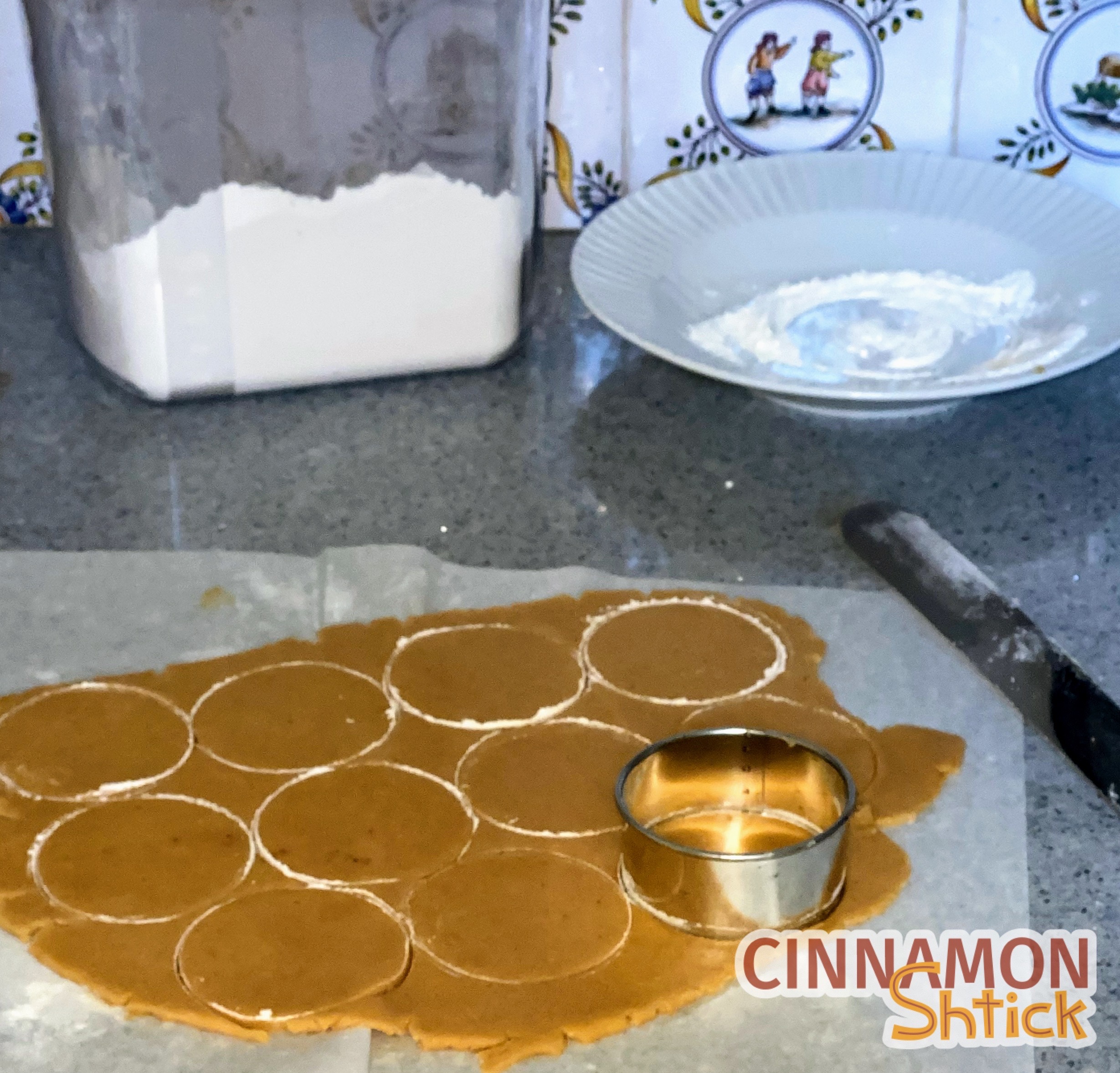 When we went to the Purim carnival at our synagogue or to relatives' houses, it was rare to find apple hamantaschen. The standard cookie type flavors were prune, poppy and apricot. (For me, those were called gross, grosser, and boring.)
I spent decades making different recipes in an effort to recreate the apple hamantaschen of my youth. Many of them were good, but none of them were nearly as good as The Bread Basket's.  It was not until I bought Shannon Sarna's Modern Jewish Baker* when it came out in 2017 that I found a recipe that seemed like a cousin to The Bread Basket's hamantaschen. (I have no affiliation whatsoever to Shannon or her cookbook, but I will tell you that it's a great cookbook to have! Her recipes are really good, and her instructions on things such as braiding techniques are super helpful.)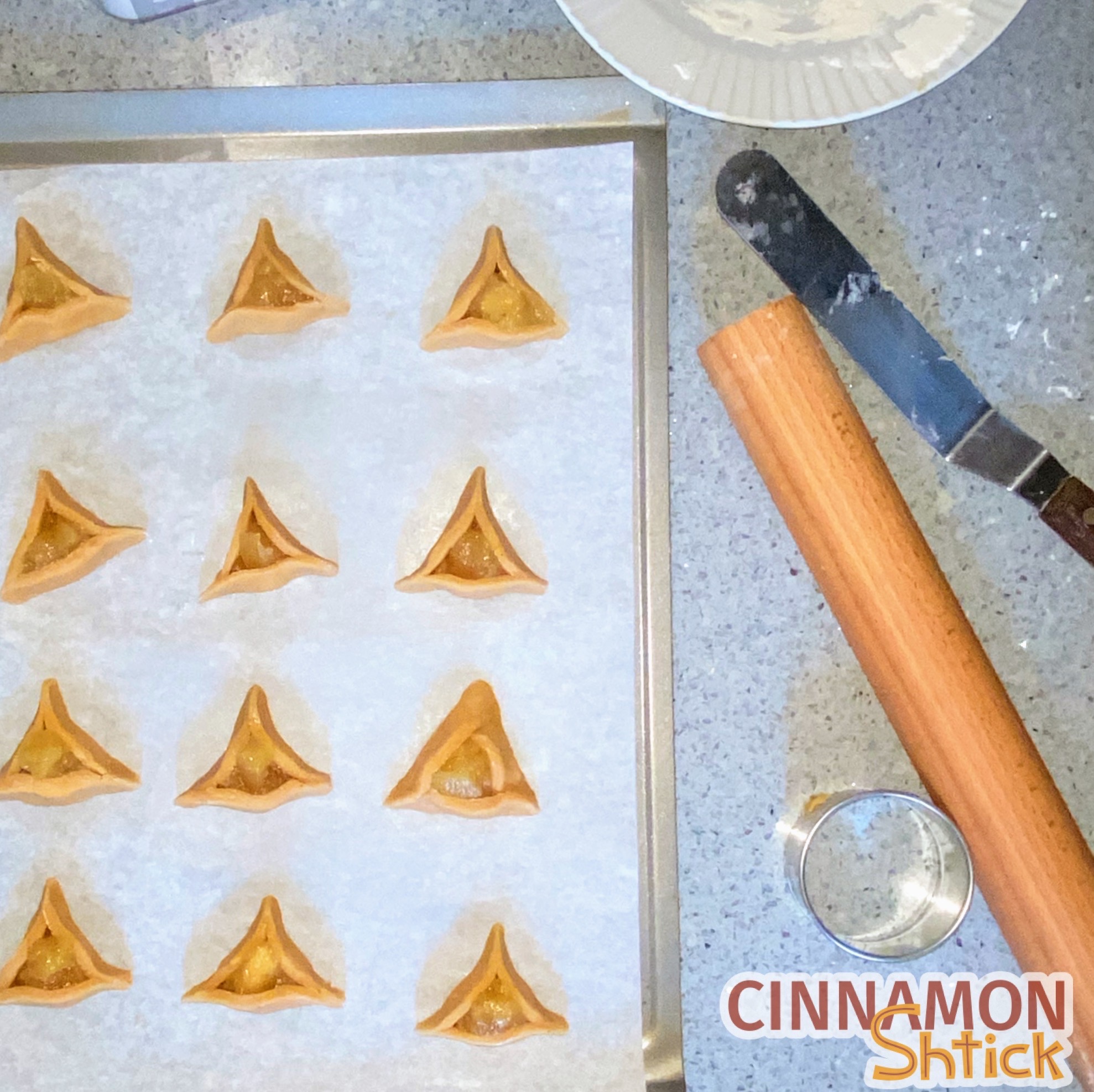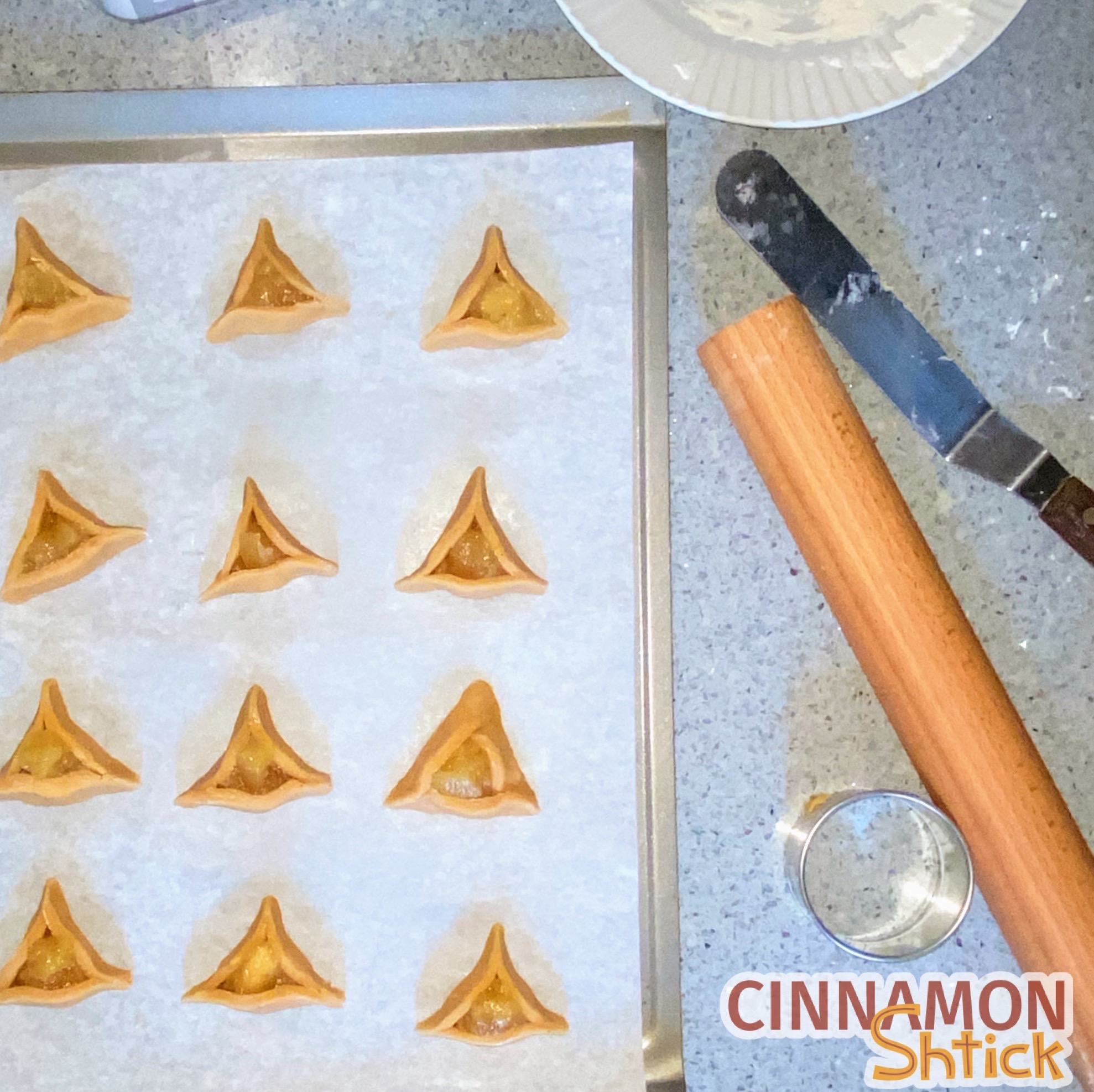 Although I was happy with Shannon's hamantaschen dough recipe, I decided it was time to crank things up a bit. Growing up, the cookie dough versions of hamantaschen generally tasted like orange juice, almond, or vanilla. Even today, I do not see much variety in the dough component of hamantaschen. I knew I was going to fill my hamantaschen with apple, but I wanted something different in the dough. Because I am a cinnamon addict, I added some spices to complement my apple filling.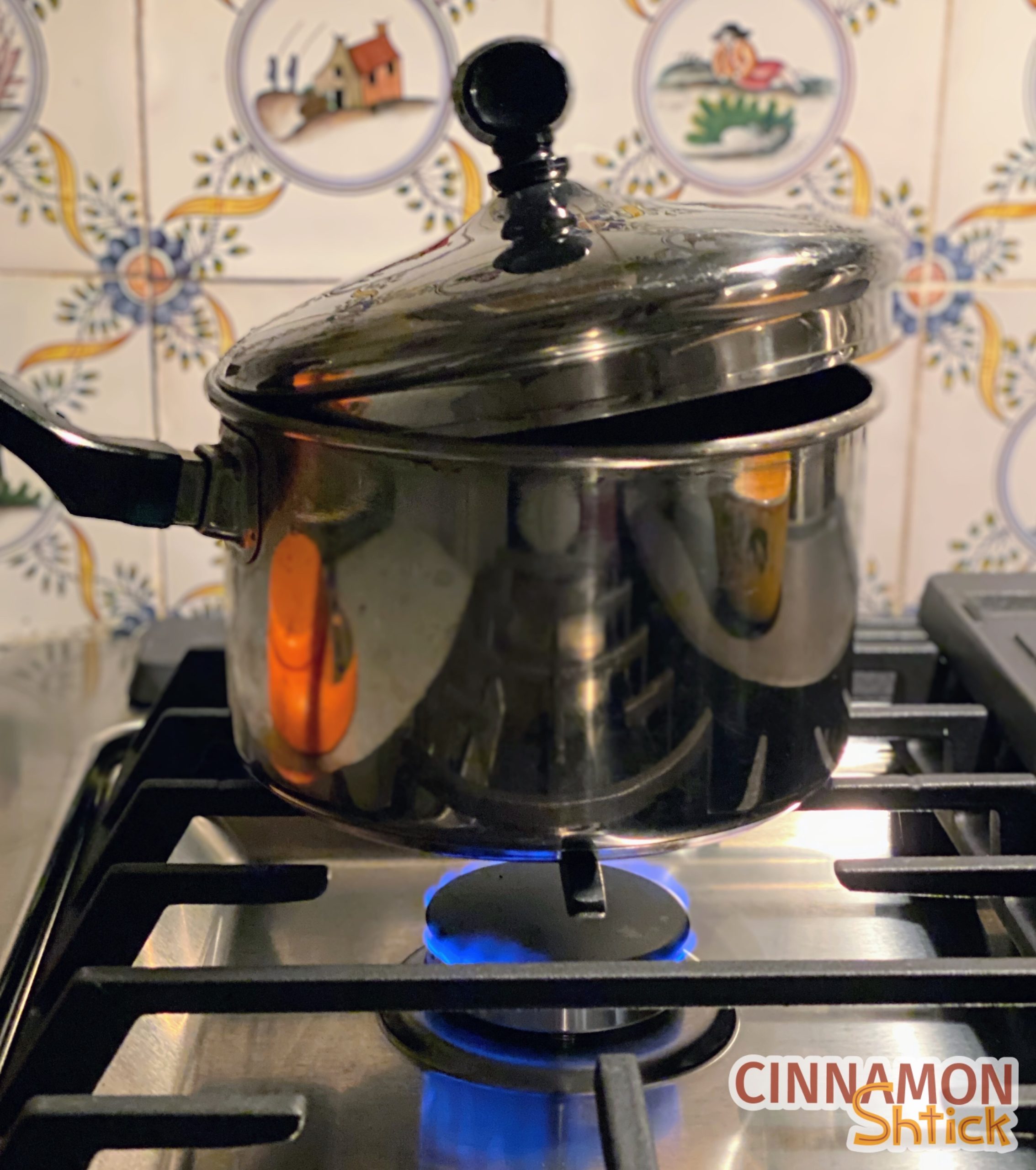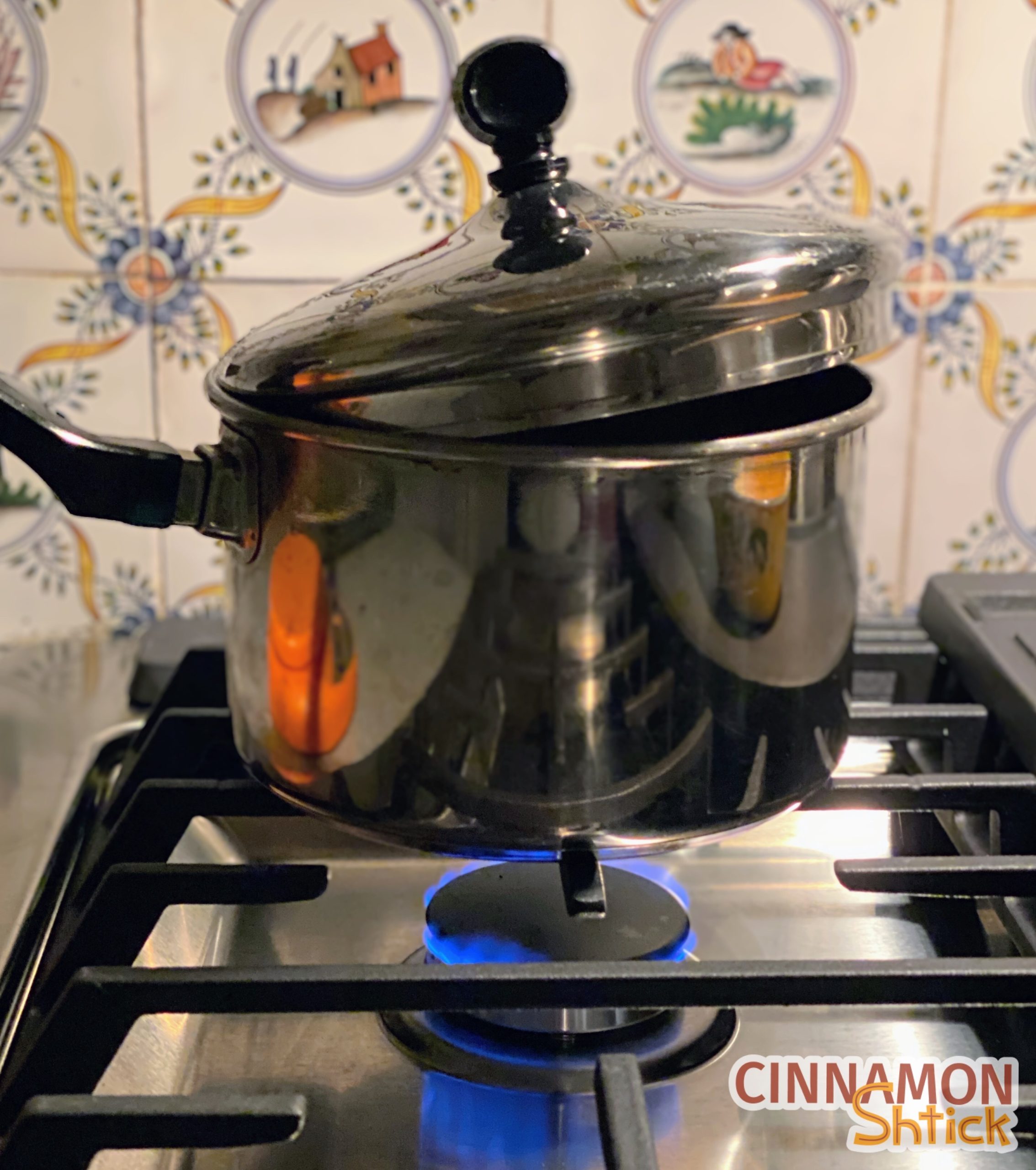 While I love Shannon's recipe, I found it a bit difficult to work with in my always too hot kitchen (due to the heating in our building), which caused the dough to crack as I was working with it. I found that adding an extra egg yolk and slightly increasing the flour made a delish dough that was a bit friendlier to work with.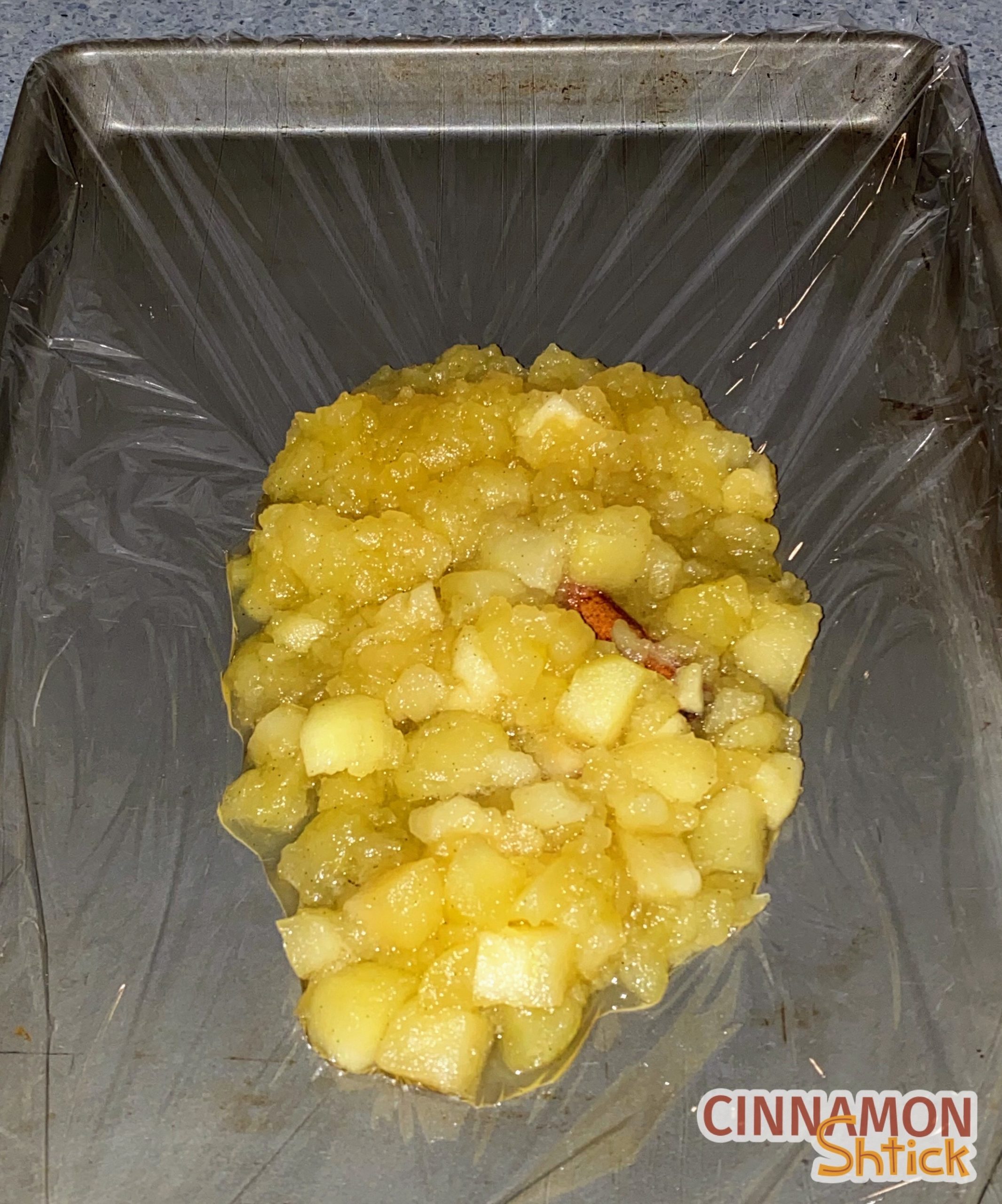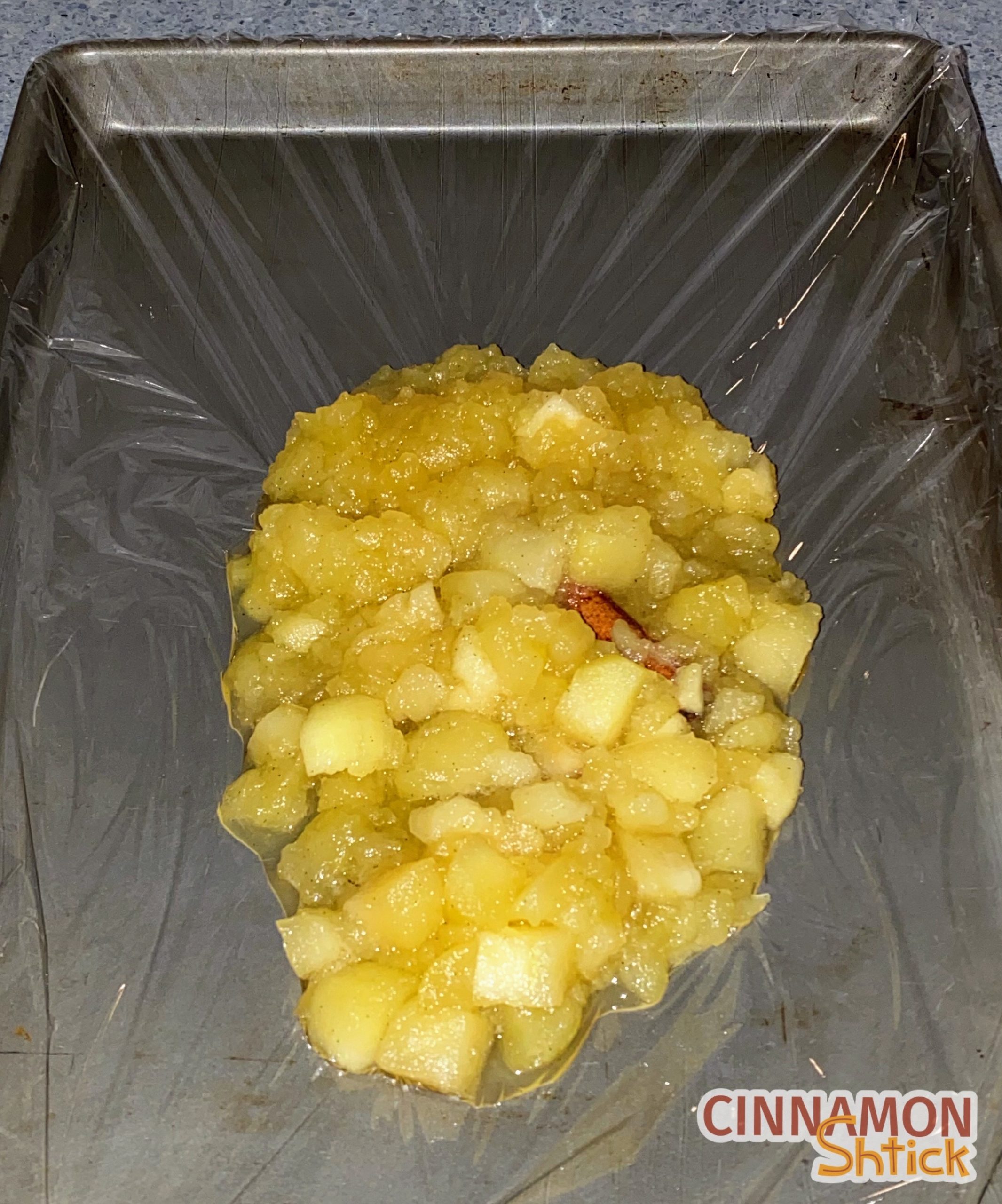 For those of you wanting a pareve (non-dairy) version, I recommend substituting the butter with Earth Balance Vegan Buttery Sticks* and replacing the milk with soy, almond or oat milk.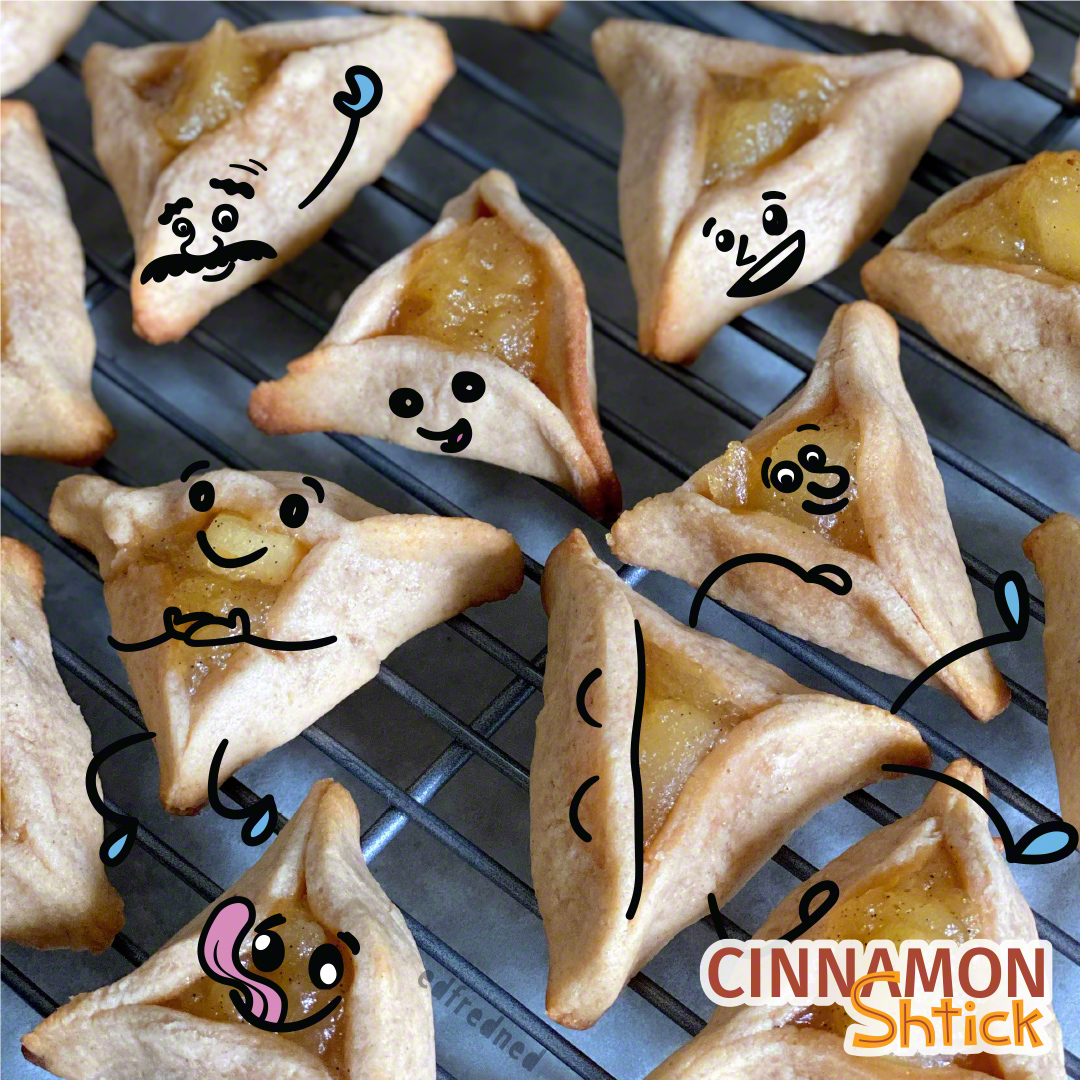 *As an Amazon Associate, I earn from qualifying purchases.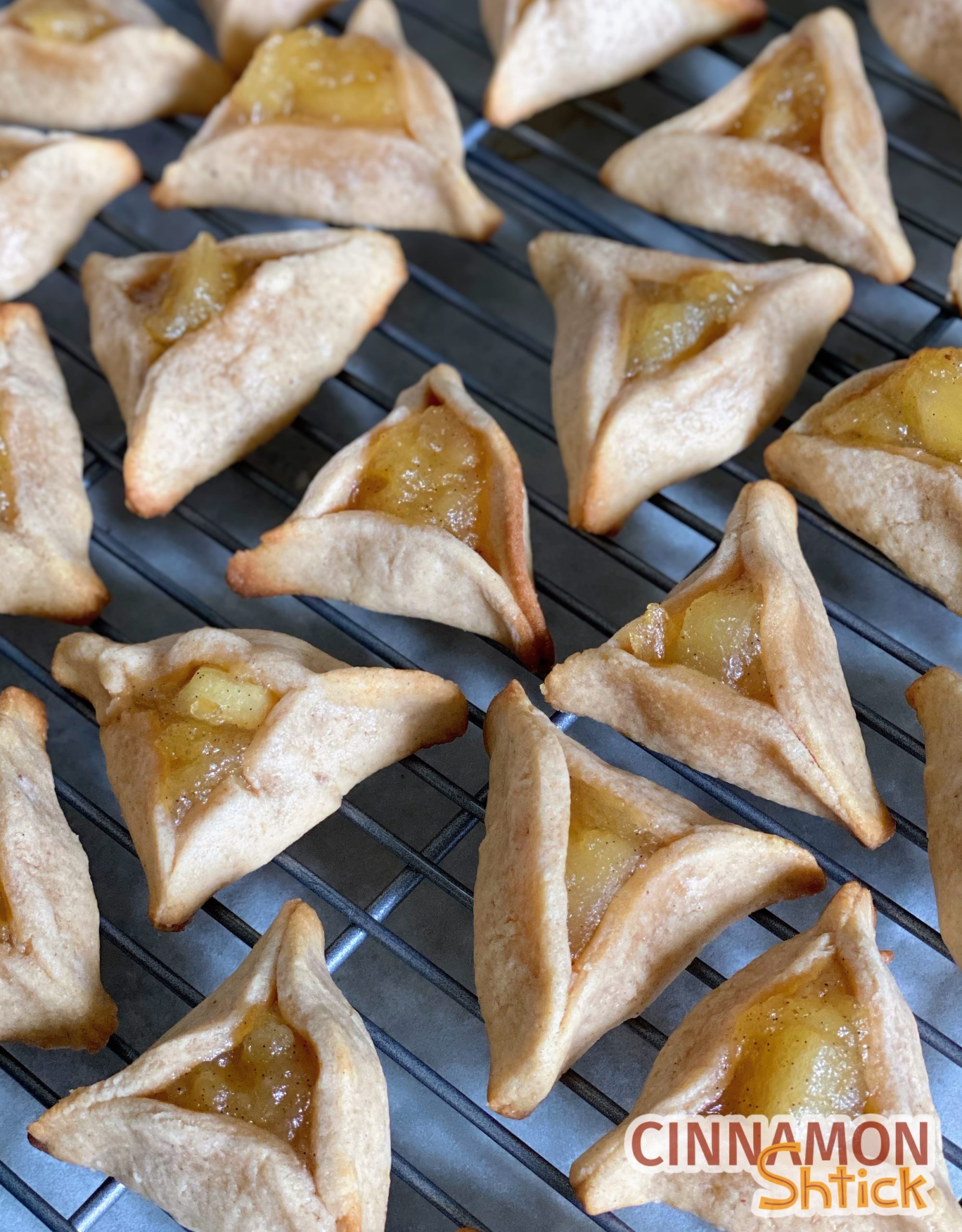 Apple Cinnamon Spice Hamantaschen
For Purim or all year around, these traditional cookies are packed with apple cinnamon spice flavor. (Hamantaschen dough adapted from Shannon Sarna's Modern Jewish Baker)
Ingredients
Hamantaschen Dough:
283

g.

all purpose flour

(2 cups plus 2 tbsp.)

¼

tsp.

baking powder

1¼

tsp.

ground ginger

1¼

tsp.

cinnamon

¼

tsp.

nutmeg

¼

tsp.

salt

113

g.

unsalted butter at room temperature

(8 tbsp. or ½ cup)

150

g.

sugar

(¾ cup)

1

egg, at room temperature

1

egg yolk, at room temperature

15

g.

whole milk

(1 tbsp.)

5

g.

vanilla

(1 tsp.)
Apple Filling:
375

g.

Golden Delicious apples, peeled, halved and cored, weighed after peeling, halving and coring

(about 2½ medium sized apples)

63

g.

sugar

(¼ cup plus 1 tbsp.)

¼

tsp.

vanilla bean paste

(or vanilla extract)

1

small cinnamon stick

10

g.

lemon juice

(2 tsp.)

20

g.

water

(1 tbsp. plus 1 tsp.)
Instructions 
Prepare the Dough. In a bowl, whisk together the flour, baking powder, ginger, cinnamon, nutmeg and salt. Put aside.

In a mixer, cream the butter and sugar together for 2-3 minutes. Add the egg, the egg yolk, milk, and vanilla and beat until all the liquid ingredients are fully incorporated.

With the mixer off, pour the dry ingredients into the mixer bowl over the liquid ingredients. Turn the mixer on the lowest speed and mix just until the dry ingredients are fully incorporated. (Alternatively, you can mix the dry ingredients in by hand using a rubber spatula.) Do not overmix.

Place half the dough on top of a large piece of plastic wrap. Using the plastic wrap, shape the dough into a disk, pushing down on it to thin it out. Fully cover the disk of dough in the plastic wrap and place in the refrigerator for at least two hours and for as long as 24 hours. (I usually make the dough the day before I am going to bake, so I let it sit overnight in the refrigerator.) Repeat with the remaining portion of the dough. While the dough rests in the refrigerator, make the apple filling.

Make the Apple Filling. Cover a jelly roll pan or cookie sheet with plastic wrap. Set aside.

Cut the apples into ¼ of an inch squares and place into a 2-quart saucepan.

Add the sugar, vanilla bean paste (or extract), cinnamon stick, lemon juice and water to the saucepan.

Gently mix all the ingredients together. Cover the saucepan with its lid tilted to the side so that steam can escape easily. Cook mixture on a low flame, stirring occasionally (every 5-7 minutes). The mixture is done when the apples are translucent and the water has evaporated, approximately 30-35 minutes. (If some of the apples cook to the point of applesauce, do not panic. It will taste just as good!)

Pour the cooked apple mixture onto the plastic wrap and allow it to cool. (You can also pour it into a heatproof dish to cool.) Once cool, remove the cinnamon stick and discard. If not using immediately, transfer the apple mixture to a container and refrigerate for up to seven days. (If refrigerating, you can keep the cinnamon stick in there to add some additional flavor.)

Line 2 or 3 cookie sheets with parchment paper.

Shape Hamentaschen. Take one of the dough disks from the refrigerator and roll out in between two pieces of parchment paper. Roll the dough so that it is approximately ¼ of an inch thick. If you roll it too thin, the dough will rip as you remove it from the parchment. Using a round cookie cutter (I use a 2½ inch diameter), cut as many rounds out as you can. You may need to dip your cutter into some flour to avoid it sticking to the dough. Use a metal spatula dipped in flour to release the rounds. Gather the scraps and roll that clump of dough out and cut more rounds. Keep repeating until you have used all the dough. If at any point the dough becomes too sticky or difficult to work with, cover it in plastic wrap and let it cool in the refrigerator for about 15 minutes.

Fill each round with approximately 1 tsp. of the apple filling. Do not over fill them! Lightly flour your fingertips and form each circle into triangles by folding up the rounds and pinching them tightly in three corners. (If they are not sticking together, wet your fingertip and rub it on the inside where you are trying to create the point.) You want to make sure that the seams are fully closed so that the filling does not break through the barriers while baking. Place the shaped hamantaschen on the prepared cookie sheets.

Place the cookie sheets with the shaped hamantaschen in the freezer for at least 15 minutes. DO NOT SKIP THIS STEP.

Preheat oven to 400° F.

Repeat steps 6 through 8 with the remaining disk of dough.

Bake the frozen hamantaschen for 9-10 minutes until they are lightly brown around the bottom edges.

Cool completely on pan or a wire rack before serving.
Notes
If making these in one day, for time management purposes, I recommend making the dough, and while the dough disks are in the refrigerator, make the apple filling. By the time the apple filling cools, the dough should be ready to roll out.
You can also make either or both the filling and the dough the day before and store both in the refrigerator.
Although I have not done this, both the dough and the apple filling should freeze well. Take them both out of the freezer and place them in the refrigerator the night before you plan on rolling, shaping and baking. They should both be defrosted by the time you roll out the dough the next day.
You can also roll and shape the hamanteschen and freeze them for up to 3 months. This way you can bake as many as you want right from the freezer.
Once baked, store at room temperature in a sealed container. They will remain fresh for at least several days.
Once baked, these freeze beautifully. Defrost at room temperature for 10-15 minutes.
Nutrition
Calories:
77
kcal
|
Carbohydrates:
12
g
|
Protein:
1
g
|
Fat:
3
g
|
Saturated Fat:
2
g
|
Trans Fat:
1
g
|
Cholesterol:
15
mg
|
Sodium:
18
mg
|
Potassium:
24
mg
|
Fiber:
1
g
|
Sugar:
6
g
|
Vitamin A:
89
IU
|
Vitamin C:
1
mg
|
Calcium:
8
mg
|
Iron:
1
mg