This post may contain affiliate links. As an Amazon Associate, I earn from qualifying purchases. For more information, please visit my Privacy Policy.
Happy National Bagel Day!!!
Such an exciting and important holiday! So much so, that I decided to share my homemade Egg Bagel recipe. WHOOHOO!
What is an Egg Bagel?
It is exactly what it sounds like, People! Bagels are a lean bread, meaning that they are generally made without adding fats or protein. The starting point for any bagel is flour, water, yeast (or sourdough starter), salt, a little sugar/honey, and, if making a New York style bagel, malt. When we add eggs to the dough, we are adding both fat and protein. The result is a richer flavor than a plain bagel, and a more tender dough.
There are recipes out there that use whole eggs and even go so far as to add food coloring to really make the bagels look yellow-egg like. I went a different route and used just the yolks, resulting in a natural looking yellow.
Egg Bagels are delicious. Coat them in whatever seeds you would coat a plain bagel. Eat them just as you would a plain bagel.
I particularly enjoy an Everything Egg Bagel. Check out my Everything Seasoning blend for Everything Egg Bagels!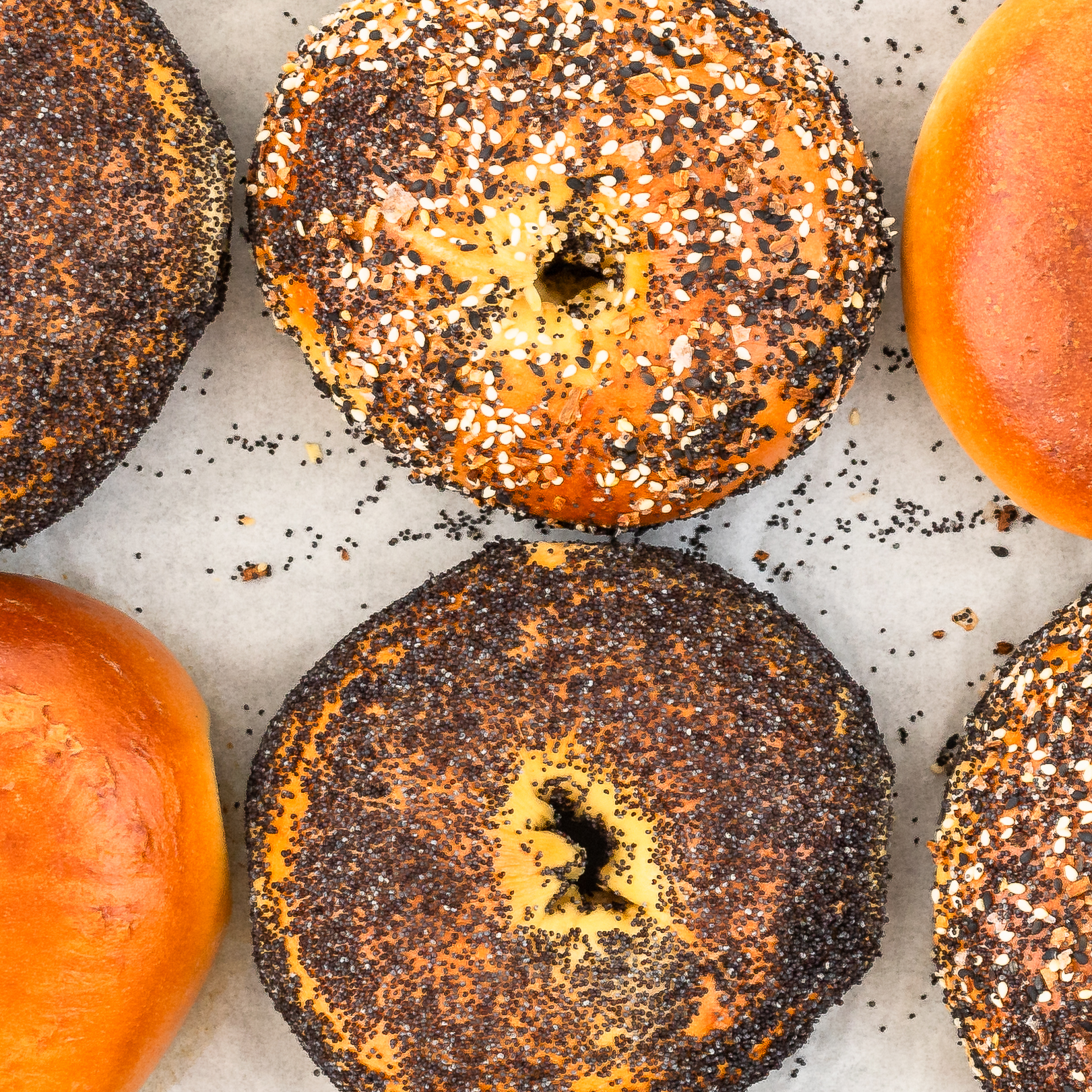 A Word about Malt
Malt powder (or syrup) is a sweet derivative of roasted barley. In this recipe (and most bagel recipes), we use non-diastatic malt, which means that the malt was heated to the point of killing the enzymes contained in it. Diastatic malt therefore has active enzymes in it and is used in bread recipes to assist with rising and conditioning the dough. Non-diastatic malt, which is more commonly used in bagels, simply provides a touch of sweetness and deeper color in the bagels without affecting the rise or dough consistency.
For more information about using malt powder versus malt barley syrup, check out my Bagels post, which also includes a video showing how to shape the bagels.
In this egg bagel recipe, the malt is therefore not a key ingredient in terms of the structure of the bagel. It is, however, a key ingredient in terms of flavor. There are recipes out there that use "substitutes" for malt such as molasses and brown sugar. Those bagels may come out good, but they are not (I repeat NOT!) true New York bagels.
We Don't "Love" Substitutes
And remember: a substitute is just that. It is a second-best replacement for an ideal ingredient. If you are going to take the time and energy to make something, don't you want it to be the best? I do. So, if you are going to make these bagels, plan in advance and buy the non-diastatic malt powder. It is readily available at King Arthur Baking Company (where I buy it) and sometimes Amazon. You can also buy other brands at Amazon, such as Mondernist Pantry. I bounce between the powder and malt barley syrup because the powder is easier to work with and has a longer shelf life, but I believe the bagels have a deeper flavor when I use syrup..
How to Make Egg Bagels
The key to success to Egg Bagels is to get your eggs to room temperature before you mix them in the dough. Adding cold egg yolks to the warm water/yeast mixture is a recipe for disaster. Especially when working with yeast, you want all your ingredients to be no cooler than room temperature. Take your eggs out of the refrigerator 30-60 minutes before you plan to mix the dough. Or, follow one of my hacks in my Getting to Room Temperature post and place the eggs in a bowl of warm water for 10-15 minutes.
1. Mix Ingredients
Mix your yeast with the water and approximately 1 tsp. of the sugar. Once foamy, add the room temperature egg yolks, flour, malt powder, and sugar. (If using instant yeast, just add all these ingredients to your mixer bowl and start kneading.) It will take a few minutes for the dough to come together. Resist the urge to add more water. If, after about 3 minutes, the dough has not come together, add 1 tsp. of water. Unless you live in the dessert or it's a particularly dry day, you should not need more water than that.
2. Knead and Add Salt
By about the 7 minute mark, slow down the mixer and start adding the salt. (Nerd alert: We wait to add the salt because salt, when first combined with yeast, can kill some of the yeast or slow the yeast development in the dough.) Once the dough is formed, the yeast reacts much more kindly to the salt, and it actually helps the yeast develop. Knead for about 5 more minutes.
3. Windowpane Test
Do the windowpane test to make sure the gluten in the dough is fully developed. To see what this looks like, check out my Bagels recipes post or my Cinnamon Raisin Bagel recipe post.
4. Shape and Rest
Shape the bagels. For a video on how to shape bagels, see my Bagel Making video saved on my Instagram profile or in my Bagels recipe post. Cover in plastic wrap and pop them into the refrigerator.
5. Refrigerate overnight
This helps the flavor develop further while slowing down the fermentation process. It also means you get to boil and bake first thing in the morning and enjoy fresh Egg Bagels for breakfast!
6. Boil and Bake
Remove the bagels from the refrigerator and allow them to come to room temperature, approximately 45-60 minutes. Then boil and bake. Tip: If your bagels seem to stick to the parchment paper, do not force them off. Instead, use scissors to cut an outside square around each bagel. Lift the bagel up from under the parchment and place it in the boiling water. Within 15 seconds or so, you will be able to easily release the parchment from the bagel. Carefully remove the parchment from the boiling water.
When boiling on each side for 30 seconds, I find using Alexa or Siri takes longer than just setting a timer, so I use a TimeStack from Thermoworks which lets me set multiple timers and to record my voice so I know what the timer is. (They also sell an Extra Big and Loud Timer which is also great.
Be careful not to linger too long after boiling the Egg Bagels before baking. It is best to get them into the oven within a few minutes after boiling.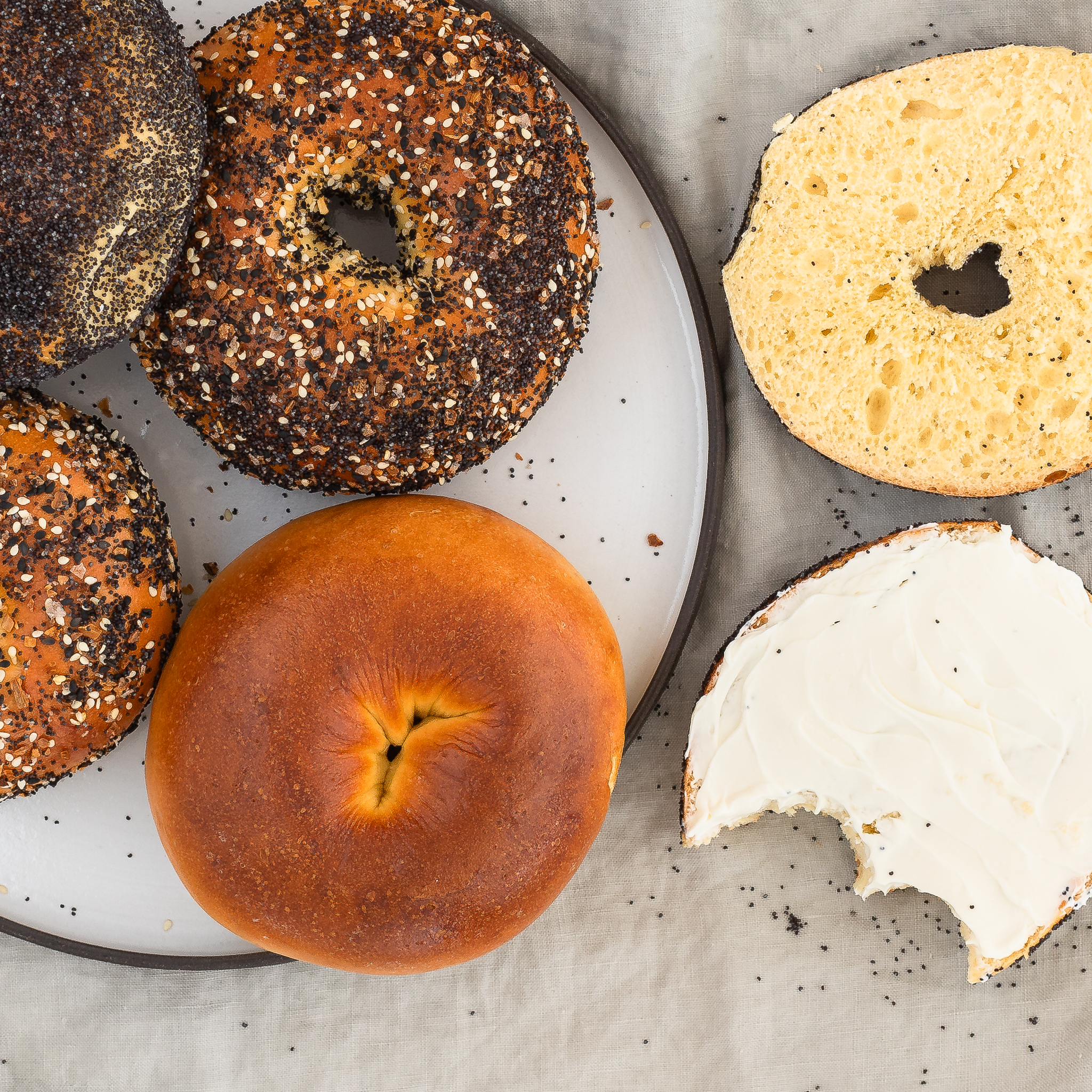 Why No Measurements?
I have not included U.S. volume measurements for this egg bagel recipe. Bread formulas are very precise. There is too much disparity when measuring 1 cup of flour. If you are going to make my Egg Bagels, I want you to end up with a desired result – not a rubbery, dense bagel. If you still need to buy a scale (shame, SHAME!), see my post on Weighing v. Measuring for some recommendations.
For plain bagels, check out my Bagels recipe.
Another fun spin is my Stuffed Onion Bagels recipe.
And Cinnamon Raisin Bagel fans, I probably hold you closest to my heart!
Frequently Asked Questions About Making Egg Bagels
Do I have to use malt to make egg bagels?
To make a true New York Bagel, there should be malt. If you do not have malt or do not want to buy malt, this is not the recipe for you. I include measurements for both malt barley syrup and non-diastatic malt powder.
Can I double this egg bagel recipe?
Yes, you can easily double this recipe to get a dozen bagels. However, depending on the type of electric mixer you have, you may have to knead the dough by hand. A more powerful mixer like the KitchenAid Professional series can handle kneading a double batch of this recipe. The Artisan series will not and kneading that much dough could damage the motor.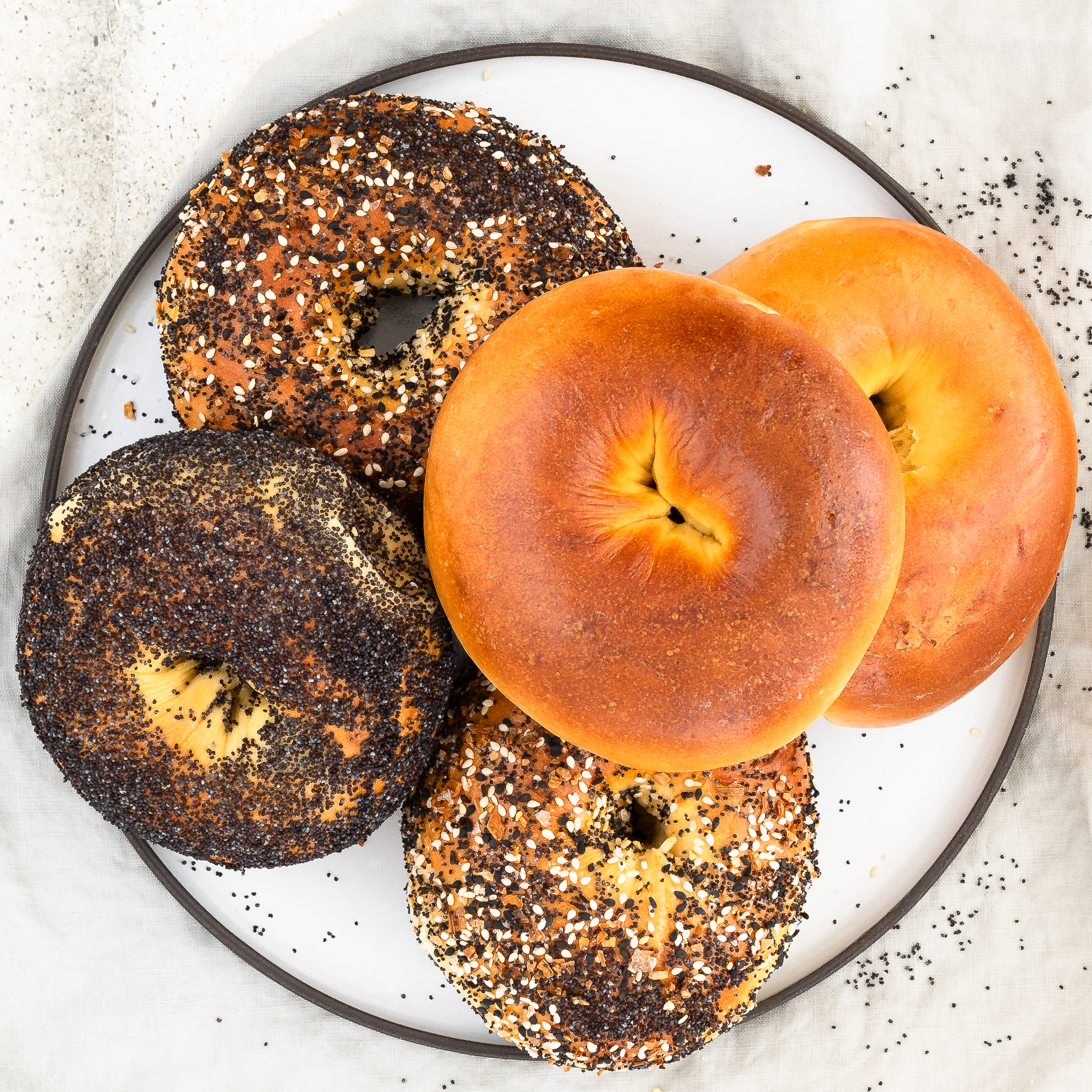 Egg Bagels
Egg Bagels are the richer cousin to the traditional bagel. Plain, poppy seed, everything seasoning -- it all works just as great on an Egg Bagel!
Ingredients
3

grams

active dry yeast or instant yeast

160

grams

water

(warm, but no more than 115°F)

5

large egg yolks, at room temperature

(approximately 80 grams)

455

grams

bread flour

25

grams

sugar

(divided)

20

grams

non-diastatic malt powder, plus approximately 2 Tablespoons for water bath

(if using malt barley syrup, use 10 grams in the dough and 1 Tablespoon for water bath)

10

grams

salt
Instructions 
In a mixing bowl fitted with the dough hook, combine the yeast, water and approximately 1 teaspoon of the sugar. Gently stir to hydrate the yeast. Allow to sit until foamy, 3-5 minutes. Add the yolks, bread flour, rest of the sugar, and 20 grams malt powder or malt barley syrup. (If using instant yeast, combine all ingredients except the salt and continue from here.) Knead on a medium-low speed for about 7 minutes. Then, with the mixer on a low speed, slowly add the salt. Once combined, increase the mixer to medium-low, and continue kneading an additional 3-5 minutes. The salt should be fully absorbed (you should not feel the salt when you touch the dough) and the dough should be very smooth.

To make sure the gluten is fully developed, do a windowpane test. Take a small piece (approximately 1 teaspoon) of dough and stretch it between your fingers. It should form a "window pane", meaning it should get thin enough that it is translucent without it ripping. If it is not at that point yet, continue kneading in the machine at 1 minute intervals or knead by hand until it passes the test. If it feels too dry (which could also cause it to rip), add 1 teaspoon of water. The dough should barely be tacky.

Divide the dough into six equal portions, each approximately 125 grams (If you want your bagels to each be equal, weigh the entire dough and divide the weight by 6.) Shape each one into a ball, covering with plastic wrap as you shape each ball. Taking one dough ball at a time, flatten the ball with your fingers into an oval/rectangle, approximately four inches by six inches, so that the long part of the oval/rectangle is horizontal in front of you. Fold over the top third onto itself, pressing down. Make another fold over the remaining portion of the dough. Pinch the ends of the log together. With both your hands, roll the dough into a rope, approximately 8-9 inches long. In between rolling, it is a good idea to squeeze the log to release any air bubbles within it. Cover with plastic wrap. Repeat with remaining dough balls. Allow the six ropes to rest for 15 minutes.

Attach the ends of each rope to form bagels. Place each bagel on a baking sheet lined with parchment paper. Place the tray, tightly covered in plastic wrap, in the refrigerator overnight.

In the morning, remove the tray from the refrigerator and allow the bagels to come to room temperature, approximately 45-60 minutes.

Approximately 30 minutes before you plan to boil the bagels, preheat the oven to 425°F. Line a baking sheet with parchment paper and set aside.

Using a pot large enough to comfortably hold 2 or 3 bagels at a time, bring a pot of water to a boil and add 2 Tablespoons of non-diastatic malt powder or 1 Tablespoon malt barley syrup. (I use a 4½ quart pot and fill it up approximately half way with water.) Place 2 or 3 bagels at a time into the boiling water for 30 seconds. Flip each bagel and boil for an additional 30 seconds. Using a strainer or a slotted spoon, remove each bagel from the water, coat with any desired toppings, and place on the prepared baking tray. Repeat with the rest of the bagels.

Bake the bagels for 16-20 minutes, until the tops are nicely browned.
Notes
If you are coating your bagels in any toppings, prior to boiling, spread a piece of aluminum foil on the counter, folding the four edges up. Spread your toppings on the foil. When you remove the bagels from the water bath, immediately dump them on your toppings. Be sure to flip over so you get both sides. You can also turn the bagels on their sides and roll them in the topping so that the bagels are completely coated. When done, fold the foil onto itself for easy clean up. 

Once baked and cooled, the bagels can be stored in the freezer for months. I recommend slicing them before freezing. To defrost, wrap each bagel individually in foil, place in cold oven, and turn oven on to 350°F. Within a few minutes of your oven reaching 350°F, your bagels should be defrosted and nicely warmed, begging for butter to be shmeared all over them.
Nutrition
Calories:
352
kcal
|
Carbohydrates:
63
g
|
Protein:
12
g
|
Fat:
5
g
|
Saturated Fat:
2
g
|
Cholesterol:
163
mg
|
Sodium:
657
mg
|
Potassium:
105
mg
|
Fiber:
2
g
|
Sugar:
5
g
|
Vitamin A:
218
IU
|
Vitamin C:
1
mg
|
Calcium:
33
mg
|
Iron:
1
mg