This post may contain affiliate links. As an Amazon Associate, I earn from qualifying purchases. For more information, please visit my Privacy Policy.
I honestly do not recall the last time that I went to an ice cream shop and ordered vanilla ice cream. Usually, I go for something with chocolate, Cookies and Cream being my all time favorite. I also opt for something cinnamony (like my Cinnamon Stick Ice Cream) or even fruity. But vanilla? Not so much. That's why I developed this Vanilla Ice Cream Recipe. It is super duper filled with vanilla, custard based so it is rich and creamy, and downright delish. This is the vanilla ice cream you want a bowl of as is or to plop on a warm pie or a sensible piece of cake. Oh and let's not forget the ice cream sandwiches! I have been enjoying this vanilla ice cream in between two freshly baked chocolate chip cookies almost daily for the last week.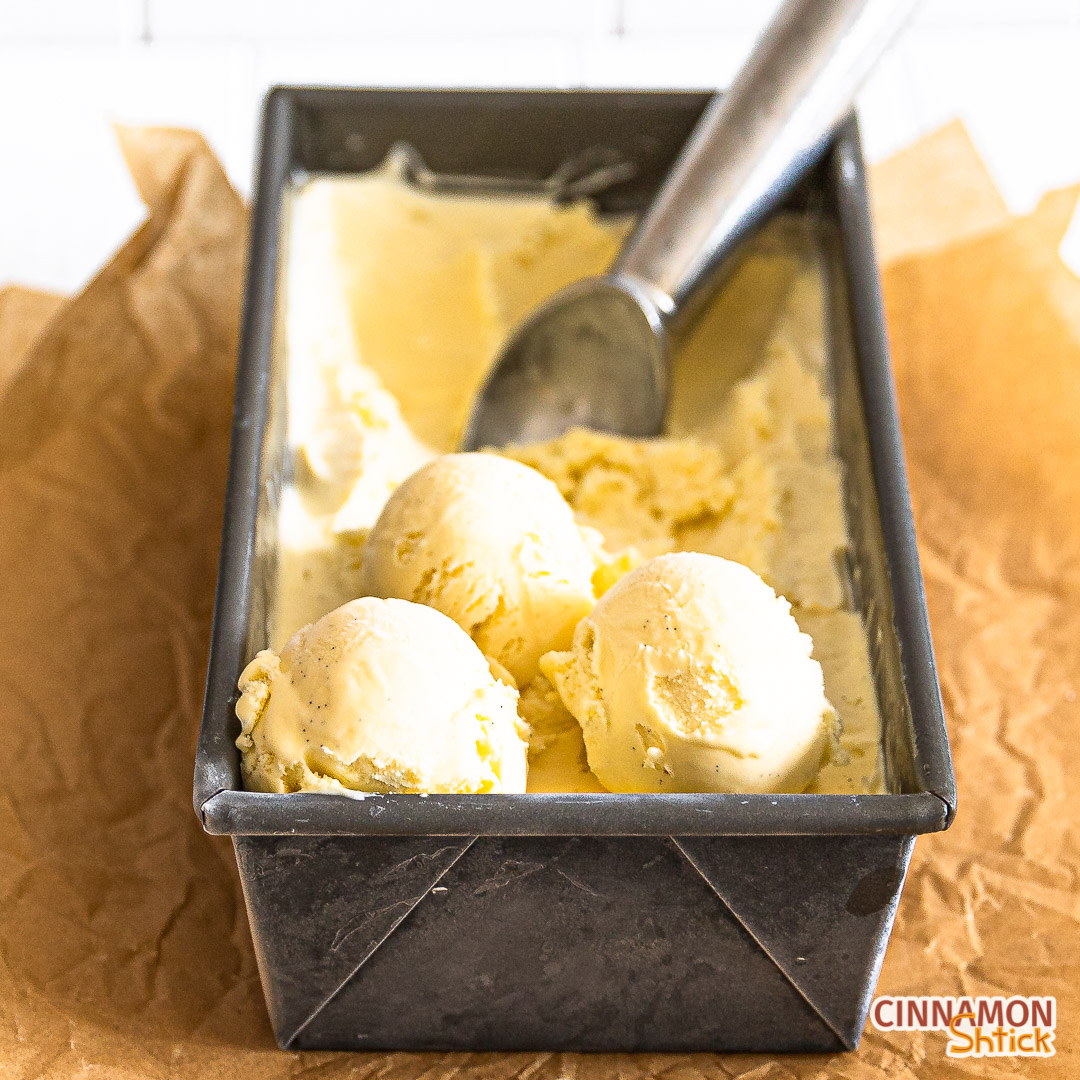 This Vanilla Ice Cream Recipe is the best for two reasons:
First, it is a custard based ice cream. Traditionally, a vanilla ice cream made from a custard base is called French vanilla ice cream. Regular vanilla ice cream is not custard based. I cannot say that I understand why people make the distinction because all of my ice cream recipes are custard based, and I am I firm believer that a custard base renders the best, most delicious, and best textured ice cream. Hey, it's just how I feel!
Second, this Vanilla Ice Cream Recipe has tremendous flavor because it includes the seeds (also known as the caviar) of at least one fresh vanilla bean.
Vanilla Bean, Vanilla Bean Paste, or Vanilla Extract?
While I'm unloading my firm beliefs, I will include that a vanilla based treat should show signs of vanilla. That means that I want to see the vanilla seeds in it. Balancing the cost of vanilla beans with the intended flavor for this ice cream, I like to use one vanilla bean plus 1 teaspoon of vanilla bean paste, which is a blend of vanilla extract with vanilla bean powder including vanilla seeds. Vanilla bean paste is great because you get the seeds of the vanilla bean in addition to extract. If you do not have vanilla bean paste, you can substitute vanilla extract for it. And here is an important formula every baker should know:
1 vanilla bean = 1 teaspoon of vanilla bean paste = 1 teaspoon of vanilla extract
Yes, you can use all three interchangeably. When baking a cake or cookies, you do not necessarily need to see the vanilla seeds, so extract is great. When making something like a vanilla custard, vanilla ice cream, vanilla pudding, or even vanilla frosting, it is magical to see the vanilla seeds in there, so I opt for a vanilla bean or vanilla bean paste.
For this Vanilla Ice Cream Recipe, I highly recommend that you use at least one vanilla bean. You could absolutely use two and not use any vanilla bean paste or extract. If you do not want to spend money on vanilla beans, I would use two teaspoons of vanilla bean paste.
Ice Cream Making Tips
Making ice cream is actually quite simple and does not require much active time. Here are a few tips to follow when making ice cream:
Prep your ingredients
Most importantly, separate your eggs. (Save the whites for an omelet or another sensible pastry product like the marshmallow crème frosting in my Chocolate Cake with Marshmallow Frosting, meringues, a chiffon cake, an angel food cake…)
If you have never used a vanilla bean before, do not be scared of it! With a paring knife, simply slice it down the middle lengthwise, scrape both sides with the back of your knife, and throw all those yummy seeds together with the entire split bean (also called a pod) into the saucepan.
Whisk the yolks with half the sugar
I usually get this started before I heat up the liquid ingredients to get a head start on it. This can be a bit of a workout, but it is an essential step to a creamy ice cream! You want to whisk the yolk/sugar mixture until it is thick, pale yellow in color and forms a ribbon when dripped on itself. (Nerd alert: We use part of the sugar here because it helps strengthen the proteins in the yolks to hold small air pockets that result in a creamy ice cream.) If you're feeling lazy, you can always let the mixer do the whisking.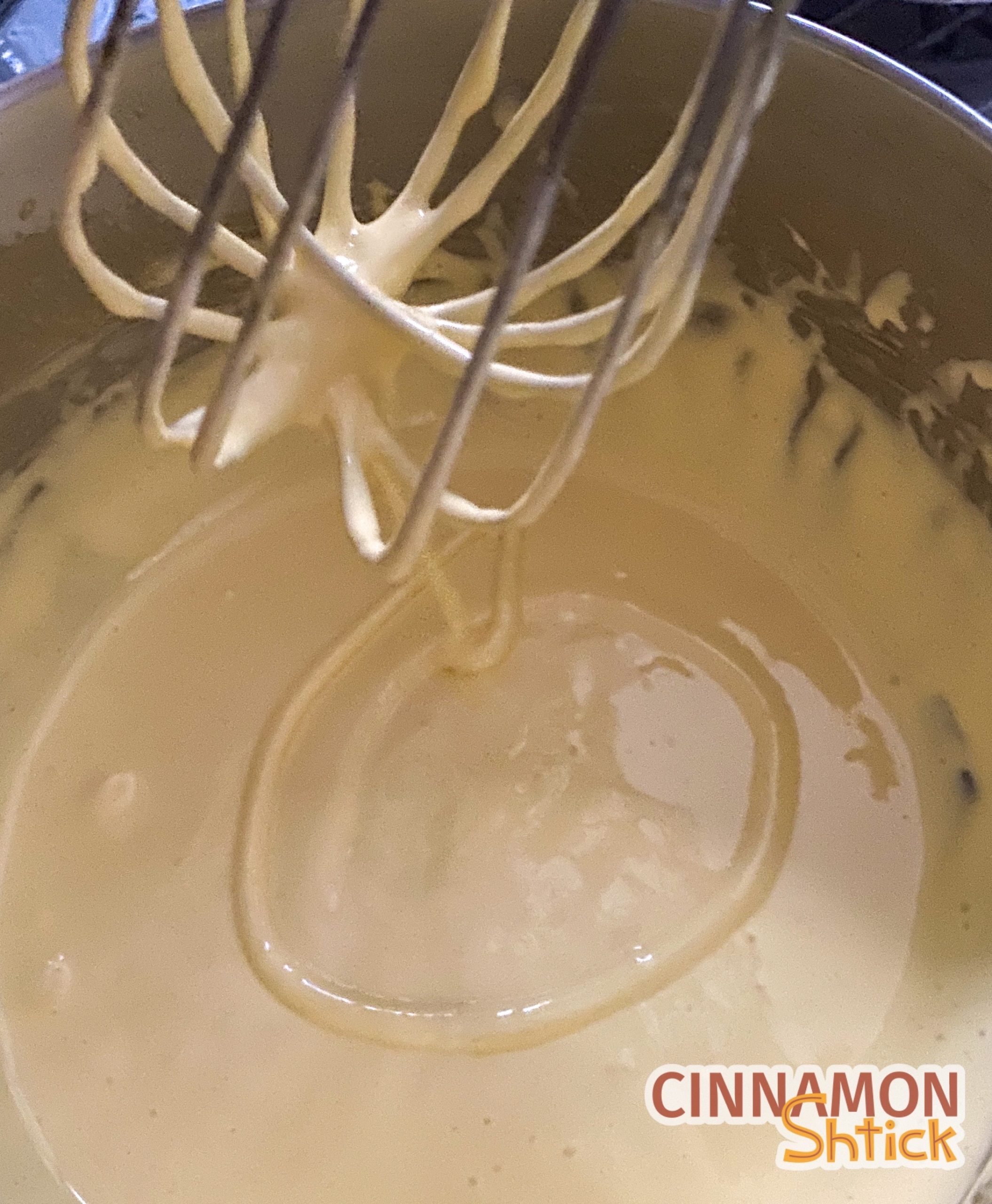 Temper the yolks
You need to whisk the heated liquid mixture into your beaten yolk/sugar mixture. To do this, it is imperative that you continuously whisk the yolk/sugar mixture from the time that the first drop of the heated liquid ingredients come into contact with the yolk/sugar mixture. (Or else you'll end up with scrambled eggs!) This step is probably easiest with another set of hands to hold the bowl of the thick yolk/sugar mixture. If no one else is around (no one ever is when I make ice cream), place your yolk/sugar mixture bowl on a rubber mat or wrap a wet a dishtowel around the base of the bowl so that it does not move while you whisk. (Swaddle that baby!)
Heat to 185°F
Once you got the hot milk mixture added to the yolk/sugar mixture, return the whole she-bang to the pot, stirring constantly with a wooden spoon or heat proof spatula until the temperature reaches 185°F. Yes, many recipes tell you that you should heat until a line holds on the back of the spoon. However, the only way to be certain that the custard is fully cooked is to take its temperature. It usually only takes a minute or two to reach the desired temperature. I highly recommend this thermometer from ThermoWorks. I literally use it to take the temperature of anything I make, from ice cream to breads to tempering chocolate. 
Strain and chill
It's always a good idea to strain the mixture just in case a little of the egg started to scramble. You will also catch the vanilla bean pod for easy removal. It's best to do this over an ice bath so that the mixture cools down quickly (usually takes about 10 minutes, stirring every few minutes) so you can get it into the refrigerator. Cover the mixture with plastic wrap directly touching the surface and chill in the refrigerator for at least 4 hours. (I usually let it sit overnight and churn it in the morning.)
While you could go right ahead and churn it in your ice cream machine once it is at room temperature, it's best to let it chill in the refrigerator so that the flavors develop further. I also find that, with at-home ice cream makers, I end up with a better result churning a refrigerator cold ice cream base as opposed to a room temperature ice cream base. (I have used both the Kitchen Aid Ice Cream Maker Attachment and this Cuisinart ice cream maker with tremendously great results.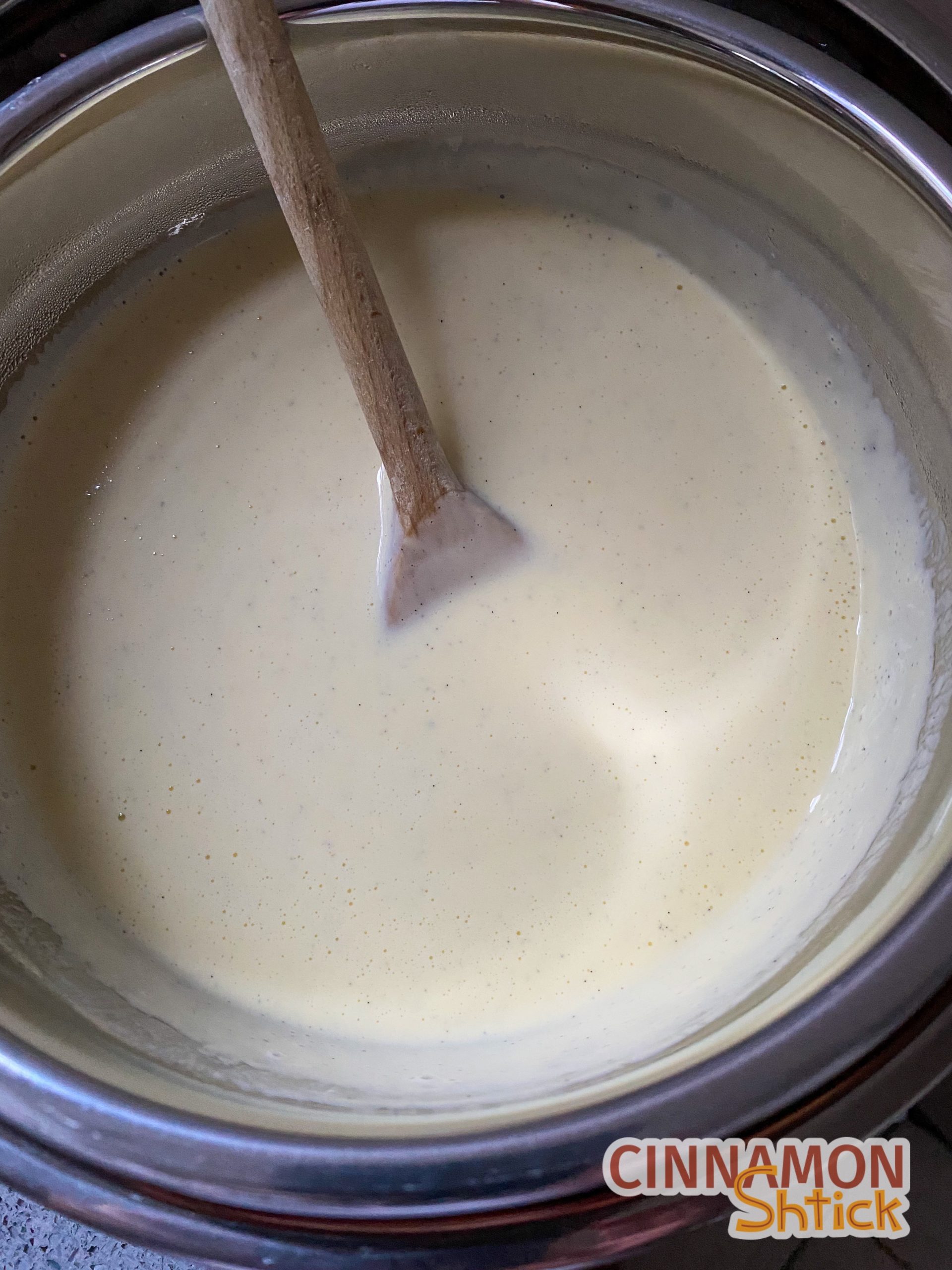 Churn and Freeze
Follow the manufacturer's directions of your ice cream maker to churn the ice cream. At the very end, add any mix-ins, if you're going that route. You may have to mix them in by hand with a rubber spatula or wooden spoon once you turn your machine off. The ice cream will likely be the consistency of soft-serve. Once you freeze it for at least 4 hours, it will firm up and scoop out beautifully.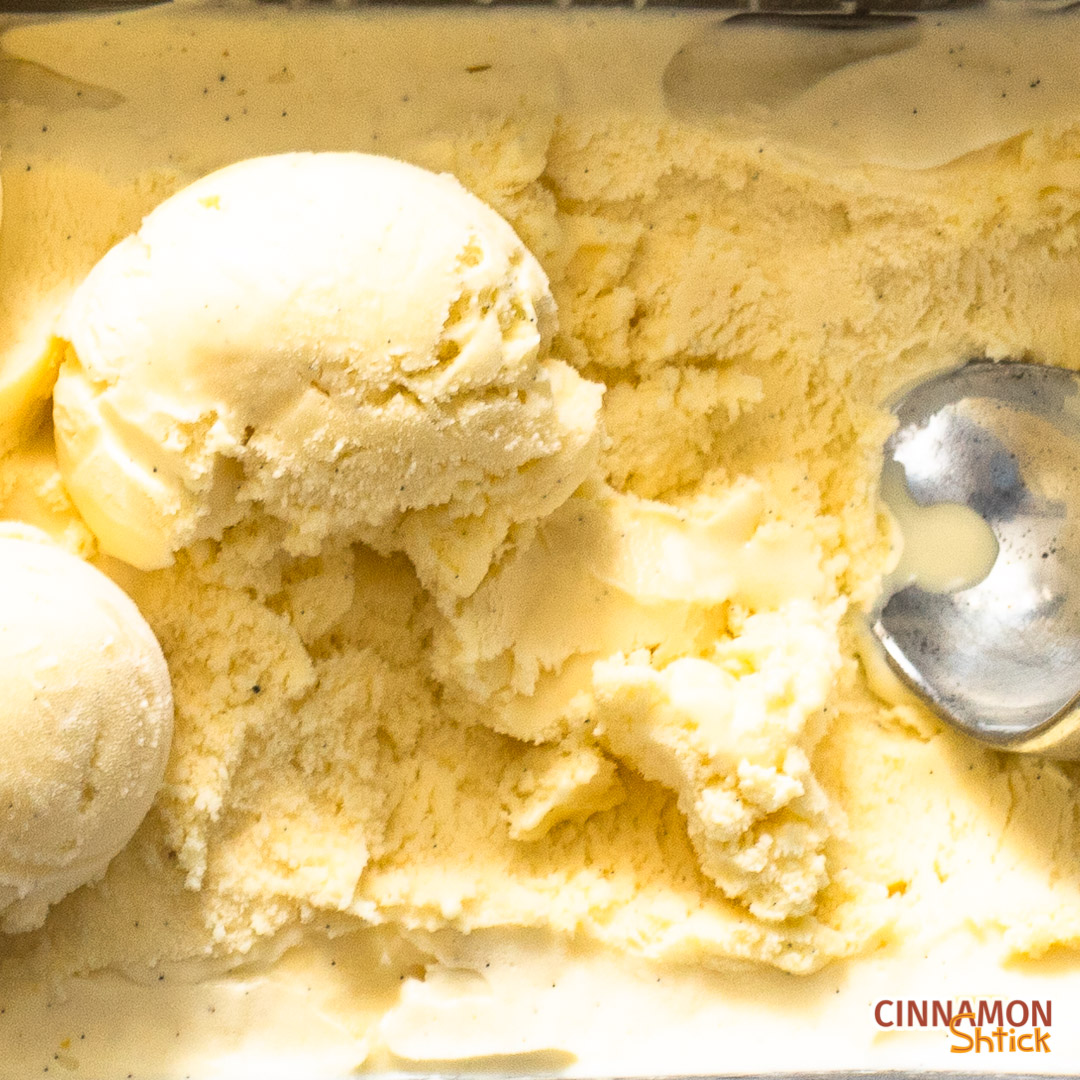 Frequently Asked Questions for Making Vanilla Ice Cream
What is a substitute for a vanilla bean?
While you will get the best flavor from a real vanilla bean, you can use (a) 2 tsp. of vanilla bean paste or (b) 1 tsp. vanilla bean paste and 1 tsp. vanilla extract or (c) 2 tsp. vanilla extract.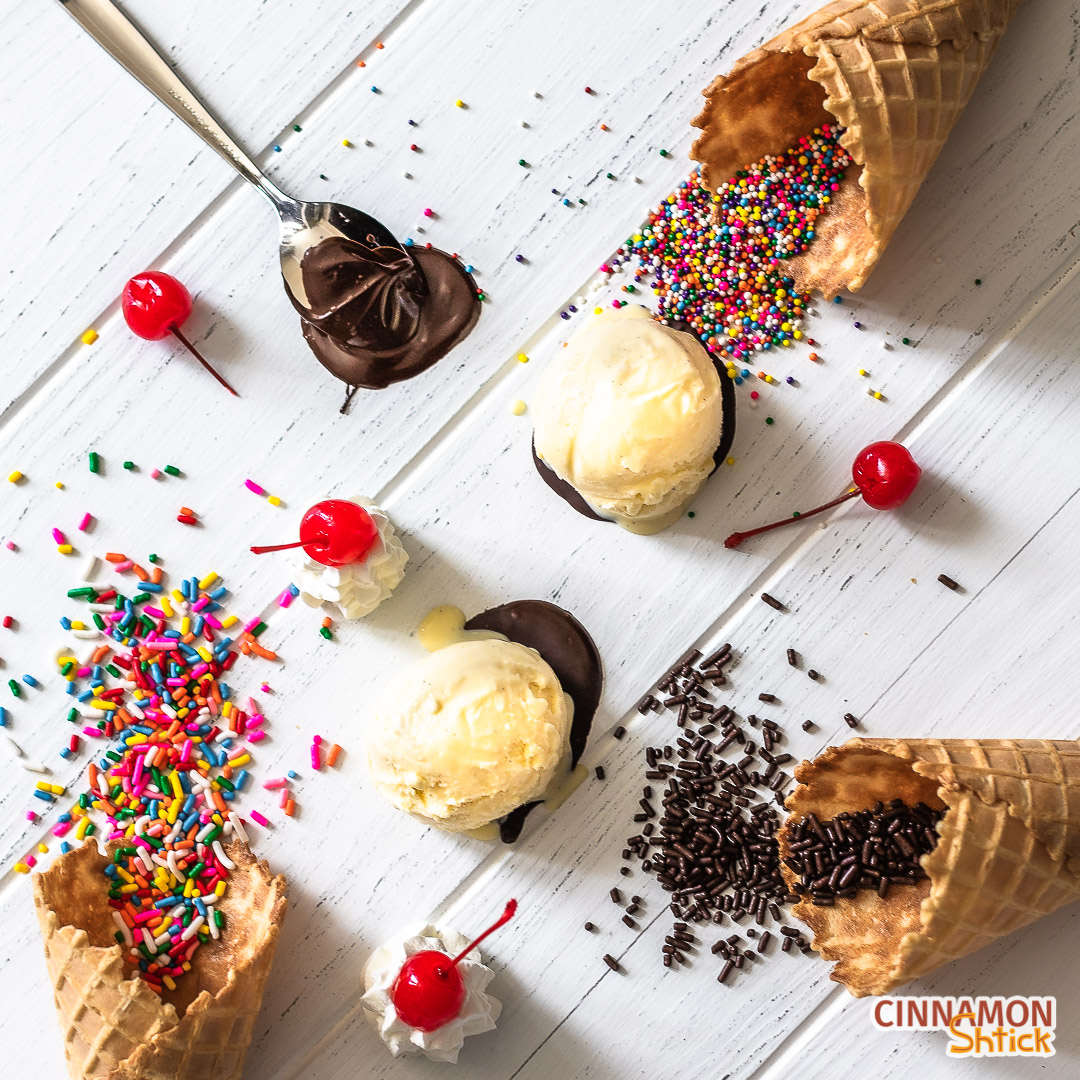 Vanilla Ice Cream
This super creamy ice cream boasts huge, natural vanilla flavor. Enjoy it on its own, in a sundae, on top of cake or pie, or in an ice cream sandwhich. This recipe makes 1 quart of ice cream.
Ingredients
1

vanilla bean

1

teaspoon

vanilla bean paste

550

grams

whole milk

(2 cups plus 2 Tablespoons)

255

grams

heavy cream

(1 cup plus 1 Tablespoon)

200

grams

sugar

(divided (1 cup))

6

large egg yolks
Instructions 
Fill a large bowl half way with ice. Pour cold water over the ice so that the bowl is no more than ⅔ high. Place a clean bowl on top of the water bath. Place a strainer over the empty bowl. Set aside

Scrape the vanilla bean and add it to half the sugar (you can eyeball half) in a 2 or 3 quart saucepan. Add the vanilla bean paste, the milk and the cream and whisk over low to medium heat, stirring occasionally to ensure the sugar dissolves. Heat to a simmer.

While the liquid heats up, vigorously whisk the egg yolks with the remaining sugar. You want to whisk it until the mixture turns pale yellow, becomes thick, and forms a ribbon when dripped on itself. (You can use an electric mixer with the whisk attachment if you are feeling lazy. It will take approximately 5 minutes of constant whisking by hand.)

Once the liquid mixture comes to a simmer, turn the heat off and let it sit for a minute or two. With the bowl containing the egg/sugar mixture secure on the counter (if no one is around to hold it, place it on a rubber mat or wet a dishtowel and wrap it around the base of the bowl), slowly pour the heated liquid mixture into the eggs, whisking constantly. Once fully incorporated, pour the contents of the bowl back into the saucepan. Over a medium-low heat, stir the mixture constantly with a wooden spoon until it reaches 185° F or a line holds when you drag your finger across the back of the wooden spoon. (It should only take a minute or two to reach the correct temperature.)

Immediately remove the saucepan from the heat and pour the cooked mixture through the strainer into the empty bowl sitting in the ice water bath. Lift strainer and discard the vanilla bean. (You can rinse off the vanilla bean in cold water and let it air dry completely for 24 hours. Save it for later use, such as to make vanilla sugar.) Continue stirring every few minutes as it sits in the ice bath until the mixture has completely cooled, about 10 minutes.

Pour into a container. Cover with plastic wrap directly over (touching) the mixture. Cover and place in refrigerator for 4-24 hours.

Follow your ice cream manufacturer's directions to churn the ice cream. Transfer the ice cream to a freezer container. Cover with a piece of parchment paper or plastic wrap directly on the surface. Cover container and freeze.
Notes
For the vanilla, you can use any combination of the following:
2 vanilla beans, cut open and scraped;
1 vanilla bean, cut open and scraped, and 1 teaspoon vanilla bean paste;
1 vanilla bean, cut open and scraped, and 1 teaspoon vanilla extract;
2 teaspoons vanilla bean paste; or
1 teaspoon vanilla bean paste and 1 teaspoon vanilla extract.
Nutrition
Calories:
199
kcal
|
Carbohydrates:
20
g
|
Protein:
3
g
|
Fat:
12
g
|
Saturated Fat:
7
g
|
Cholesterol:
131
mg
|
Sodium:
32
mg
|
Potassium:
87
mg
|
Sugar:
19
g
|
Vitamin A:
516
IU
|
Vitamin C:
1
mg
|
Calcium:
77
mg
|
Iron:
1
mg