This post may contain affiliate links. As an Amazon Associate, I earn from qualifying purchases. For more information, please visit my Privacy Policy.
Growing up, one of my very favorite store bought cakes, without hesitation, was Entenmann's Marshmallow Devil's Food Iced Cake. (That always seemed like a big mouthful for Chocolate Cake with Marshmallow Frosting.) Words cannot describe the great joy it brought to me.
My parents worked at my summer camp (yes, staff brat here), and they usually had this cake in their room. Breaking the "rules", I would often find myself in their room for a slice of this Entenmann's cake!
As an adult, I stopped buying these types of prepared cakes and instead have been baking my own. For some reason, I cannot bring myself to buy one of these Entenmann's cakes. Probably because I know myself too well — I will go to town on it in one sitting.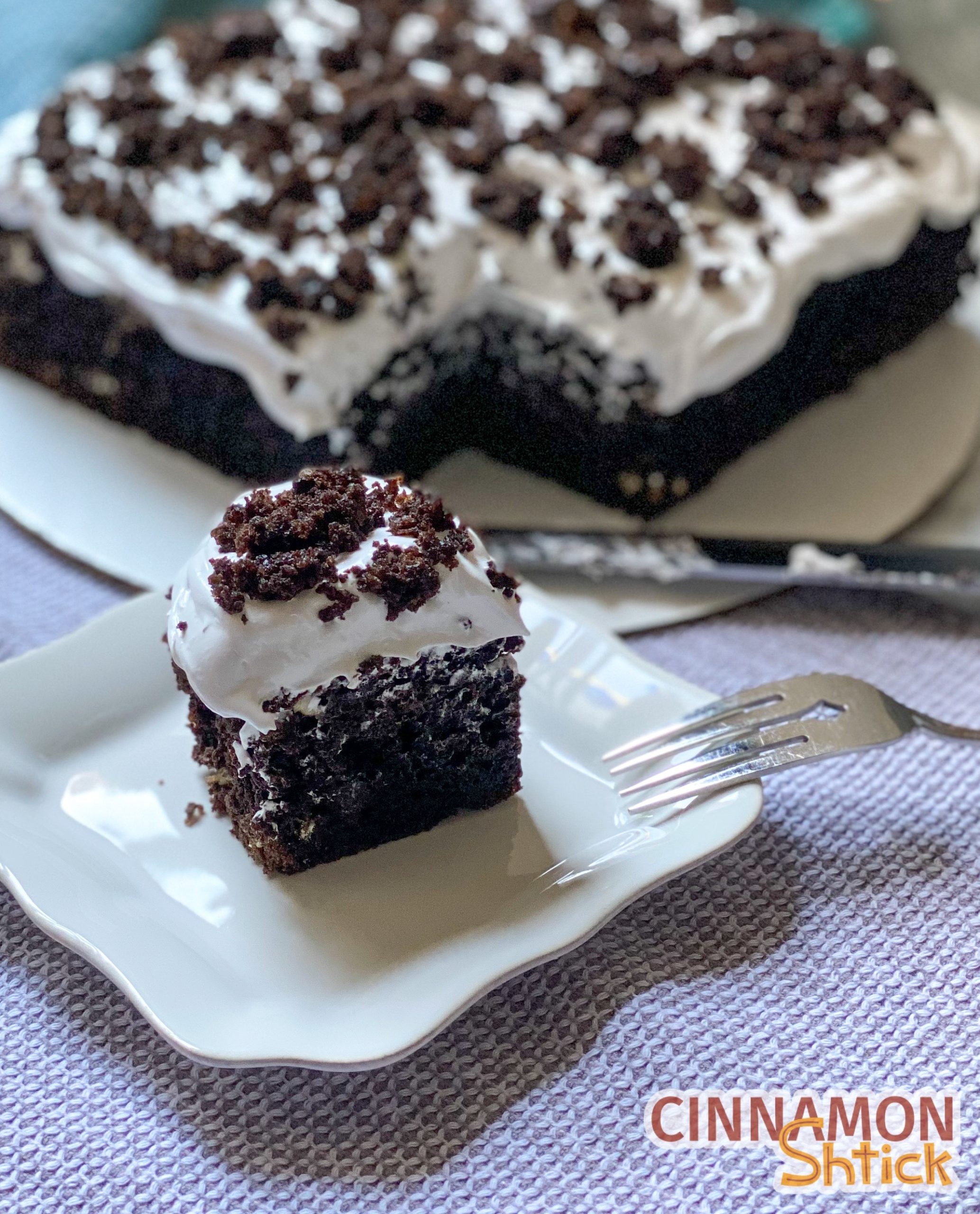 Baking from scratch, I love to share whatever I make. So, making this cake at home is much more sensible because I will share more and eat less of it. It also is fresher and outrageously delish!




Creating a Homemade Chocolate Cake with Marshmallow Frosting
To create a homemade version, I wanted a super moist, deep chocolate cake. It took several tries, but I finally achieved what I was looking for with this cake recipe.
As for the frosting, the easy way out seemed to use marshmallow fluff. Don't get me wrong – it works well and pairs beautifully with the cake. It just feels a little "dirty" using the fluff, you know? It's not exactly entirely homemade. It is also incredibly sweet. But I am providing you with a recipe for this version in case you want an easy way out, or if you want the frosted cake to last more than several days (how is that possible?), or if you will be serving the cake in warm weather (think outdoor bbq setting).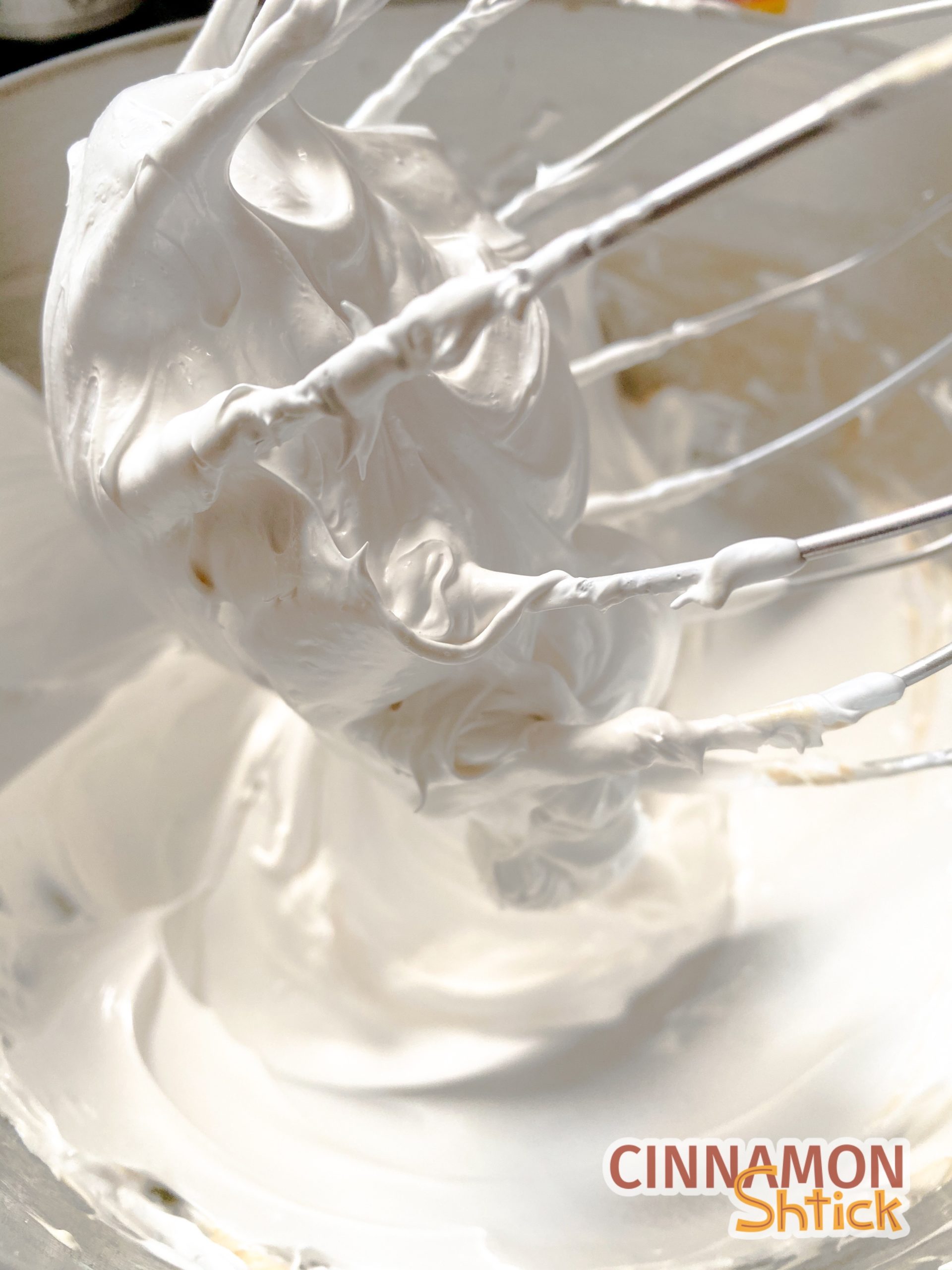 The marshmallow crème frosting recipe is more serious (but simple to make). It turns out beautiful, both in terms of texture and taste. It probably takes a few more minutes than the fluff version, but so worth it in my opinion. Once made, it will not last as long as the fluff version, but I have never had that issue since the cake is usually gone within two days anyway.
Either way, I hope this recipe is as nostalgic for you as it is for me!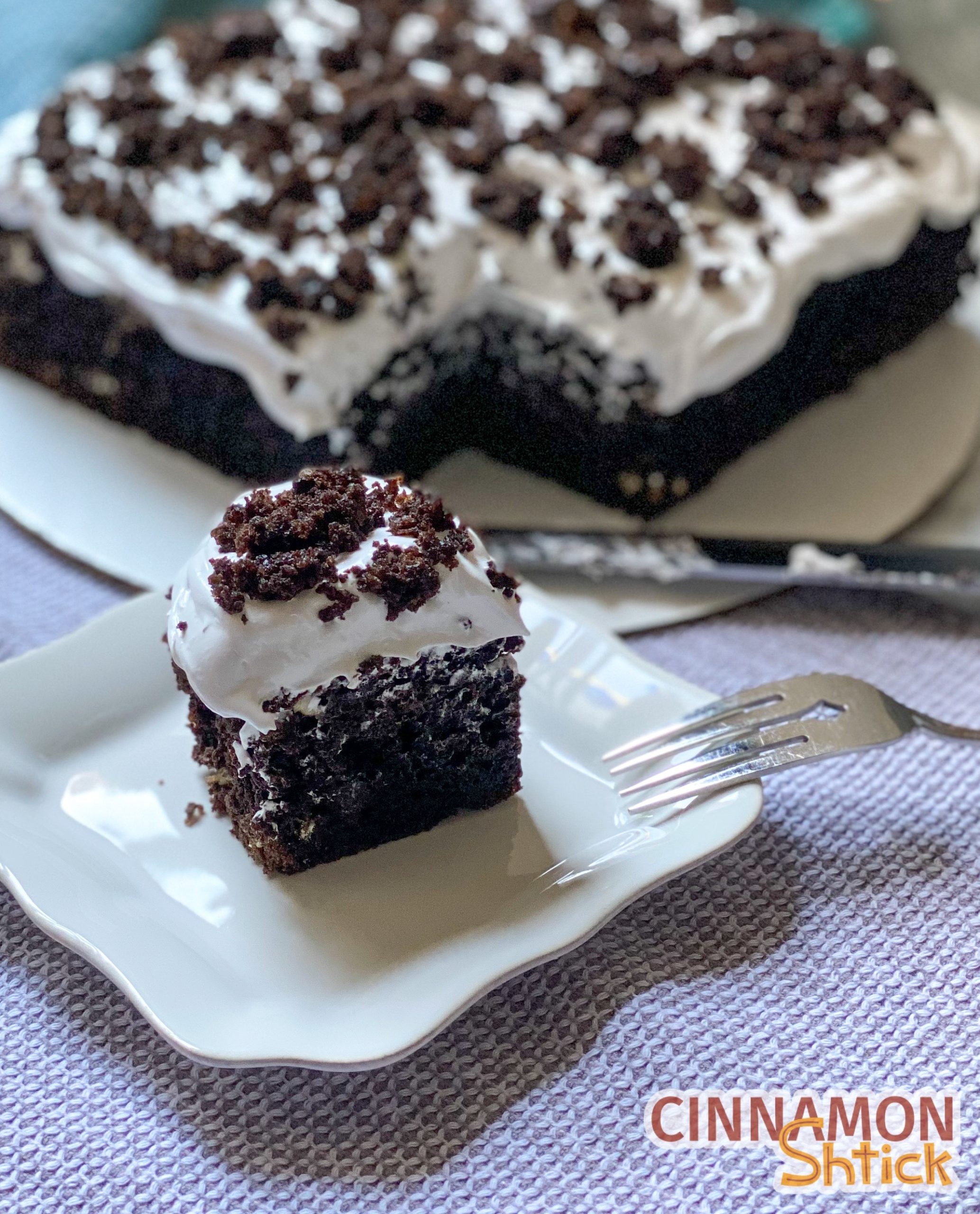 Chocolate Cake with Marshmallow Frosting
This copycat Entenmann's Marshmallow Devil's Food Iced Cake recipe renders the best chocolate cake with marshmallow frosting.
Ingredients
Cake Batter
38

g.

Dutch process cocoa powder*

(¼ cup plus 2 tbsp.)

245

g.

1 cup whole milk

(You can substitute a low fat or skim milk, or even water.)

180

g.

all purpose flour

(1½ cups)

½

tsp.

baking soda

½

tsp.

baking powder

¼

tsp.

salt

110

g.

oil

(½ cup)

150

g.

sugar

(¾ cup)

165

g.

dark brown sugar

(¾ cup)

2

eggs

(room temperature)

1

tsp.

vanilla extract

120

g.

sour cream, at room temperature

(½ cup)
Fluff Buttercream
57

g.

butter

(1/2 cup )

⅛

tsp.

salt

165

g

confectioners' sugar

(1½ cups)

100

g.

marshmallow fluff

(3.5 oz.)

1

tsp.

vanilla
Marshmallow Crème Frosting
2

large egg whites

100

g

sugar

(½ cup)

55

g.

light corn syrup

(2 tbsp. plus 2 tsp.)

¼

tsp.

cream of tartar

⅛

tsp.

salt

1

tsp.

vanilla
Instructions 
Cake. Preheat oven to 350° F. Grease the bottoms and side of an 8 inch x 8 inch baking pan. Line the bottom and sides with parchment paper. Grease and flour the parchment paper. (If you are not using parchment paper, just grease and flour the pan, but it is much easier to release the cake using parchment paper at least on the bottom of the pan.)

In a small saucepan, bring the milk to a simmer on low heat. Place the cocoa powders in a small, heatproof bowl. Pour the simmering milk over the cocoa powder, whisk and set aside to cool.

In a small bowl, sift together the flour, baking soda, baking powder and salt. Set aside.

In a medium bowl, whisk the oil, sugar, brown sugar, eggs and vanilla until fully combined. Whisk in the cooled cocoa/milk mixture.

Stir half the flour mixture into the liquid ingredients and, before the flour is fully combined, add the sour cream. Just before all the sour cream is combined, stir in the rest of the flour, just until all the ingredients are fully combined. Do not overmix.

Spread batter into prepared pan. Bake for 43-47 minutes, just until a toothpick inserted comes out clean. Allow cake to cool in pan completely on a wire rack.

Option 1: Fluff Buttercream. With an electric mixer, beat butter with sugar and salt until light and fluffy. Add marshmallow fluff and vanilla and beat until fully combined.

Option 2: Marshmallow Crème Frosting. Fill a medium size pot about one-third with water. Place pot on a burner over medium-low heat. In the metal bowl of a stand mixer, combine all ingredients except for the vanilla. Place the bowl over the pot of water. The water should not touch the bottom of the mixing bowl. Constantly whisk the mixture until it reaches 160° F. If using pasteurized egg whites, you can go to just 140° F. (Do not stop whisking, as you do not want scrambled egg whites.) Immediately remove the mixing bowl from the heat and insert it onto the mixer with the whisk attachment. Whisk at medium-high speed until stiff peaks form. (Start mixing immediately. The mixture will cool as it is whipped.) Add vanilla and whisk an additional 30 seconds until fully incorporated.

Assembly. Remove the cake from the pan. With a serrated knife, cut off thin slices (no more than ¼ of an inch thick) from each of the four sides of the cake, each the full length of the cake. Crumble the thin slices into a bowl and set aside. Spread the fluff buttercream or the marshmallow crème frosting on the top of the cake. Sprinkle with the cake crumbs.
Notes
*You could, in theory, use natural cocoa powder instead of Dutch process, but you will not have as deep a chocolate flavor. I use 28 g. of Dutch process cocoa and 10 g. of black cocoa, for an even deeper chocolate flavor. (Black cocoa is Dutch process cocoa.)
The fluff buttercream, on its own, is very sweet, but eaten with the cake, it is very enjoyable. I offer the fluff buttercream as an option because some may find it easier to make, and it will last longer and can be stored at room temperature. (Although, I prefer to store it in an airtight container in the refrigerator. Bring it to room temperature to eat.)
The marshmallow crème frosting is far more superior in flavor and very fun to make! If you do not have a thermometer (GET ONE!), keep whisking the mixture over the simmering water for a minute or two after all the sugar is fully dissolved. Once the cake is frosted, store the cake in an airtight container in the refrigerator. Also bring it to room temperature before eating. This frosting should last a few days on the cake but may start to separate as time goes on. I have not experienced that for the simple reason that the cake is always gone within a couple days!
To make the marshmallow crème frosting without a mixer, use a metal mixing bowl for your ingredients. Once you reach the appropriate temperature, remove the bowl from the pot and continue whisking. Be careful – the bottom of the bowl will be hot! Whisking egg whites by hand is not impossible, but it is a workout.
An alternative to decorating if using marshmallow crème frosting is to use a kitchen torch to brown the frosting. If doing this, however, either do not use cake crumbs on top or sprinkle them AFTER you torch the frosting.
Nutrition
Calories:
315
kcal
|
Carbohydrates:
55
g
|
Protein:
3
g
|
Fat:
10
g
|
Saturated Fat:
2
g
|
Trans Fat:
1
g
|
Cholesterol:
26
mg
|
Sodium:
155
mg
|
Potassium:
126
mg
|
Fiber:
1
g
|
Sugar:
44
g
|
Vitamin A:
107
IU
|
Vitamin C:
1
mg
|
Calcium:
56
mg
|
Iron:
1
mg