This post may contain affiliate links. As an Amazon Associate, I earn from qualifying purchases. For more information, please visit my Privacy Policy.
I have been working on a fig babka recipe since I started developing my Fig Hamantaschen recipe earlier this year. I loved how those hamantaschen turned out. The fig filling was so delicious. I added a little orange zest in the cookie dough to complement the hint of orange in the fig filling. So good!!! However, when I did the same with my babka dough, I just didn't love it. There was too much orange for my taste. (Although, my usual taste testers loved it.) Yes, I could have reduced the amount of zest in the dough, but that first test literally left me with a bad taste in my mouth. So, I decided to take this fig babka in a different direction which sort of left it sitting on the back burner (so to speak) for a bit. Ultimately, I landed on a strawberry babka dough.
Strawberry Brioche Dough
Recently, I was thinking that I have never seen a strawberry bread dough. I'm not talking about a bread dough with strawberry filling or jam swirled in. I'm taking about an actual dough with strawberries in it. I needed to pursue that.
Experiment 1: Freeze Dried Strawberries
I spent weeks experimenting. I knew not to bother just pureeing strawberries and tossing them into the dough. Strawberries are predominantly water (over 90%). Adding that much liquid to my babka dough recipe would not be workable. I tried using freeze dried strawberries, but the dough was dense and did not rise much. (It could be that the powder absorbed much of the liquid from the other ingredients. I probably could have played around more with it by adding more liquid to the recipe. Perhaps I'll try that eventually.)
Experiment 2 and the Winner: Strawberry Paste
Then I started to think, how do people make strawberry cake? I recalled that one of my favorite blogs, Sally's Baking Addiction, published a strawberry cake recipe several years ago. I need to make that cake. In fact, I am literally ashamed of myself for not having made it yet!
I borrowed Sally's technique of pureeing the strawberries, then cooking them down to decrease the amount of liquid in the puree, resulting in more concentration of strawberry flavor. Even with the strawberries cooked down, adding the cooked puree (or as I call it, the strawberry paste) to my babka dough resulted in adding additional liquid. So, I had to add a little more flour to my babka dough recipe. But, voila! The result was a soft, delicious brioche with a mild strawberry flavor.
Evolution of Strawberry Fig Babka
Having developed the strawberry brioche dough, my thought was to turn it into a babka. (That said, the strawberry brioche dough on its own is wonderful! Eating a slice is like having spread strawberry jam on it without the stickiness on your fingers!) I developed two different fillings: a white chocolate strawberry filling and a strawberry cheesecake filling. Both were delicious, especially the white chocolate strawberry one! However, there were no visual swirls in the dough once baked, and I did not want to use any food coloring. While I could have opted for a chocolate filling, I just felt like that is too expected. Then I remembered that I have my fig babka on the back burner!
Strawberries and fig pair so well together. While the fig flavor is strong (and sooooo delish!), you still get undertones of the strawberry in each bite. This Strawberry Fig Babka is enjoyable on its own, toasted, with a shmear of cream cheese, butter, strawberry jam, and … as French toast!
How to Make Strawberry Paste
The key to success to the strawberry brioche dough is cooking down the strawberries in order to significantly reduce the liquid. I am calling this strawberry paste rather than puree because the end result is more reminiscent of a tomato paste in terms of look, although not quite as thick as tomato paste. Making the strawberry paste is actually quite simple and requires only one ingredient: strawberries! That said, if you want to "up" the strawberry flavor, you can grind up some freeze dried strawberries (12 grams or 1/2 cup) in a blender to turn it into a powder and cook it with the puree.
Fresh or Frozen Strawberries?
When I decided to go down this strawberry path, I discovered that the local markets did not have very nice looking strawberries, and what they did have were astronomical in terms of price. I believe that is because it is not yet strawberry season in my area, and we usually get strawberries this time of year from Texas. Earlier this year, however, Texas experienced unusually cold weather that killed much of the strawberry crop. Such is life.
I did not want the lack of fresh strawberries to slow me down, so I opted for frozen strawberries. A dear friend of mine who lives in California and has an abundance of fresh, sweet strawberries has made this dough recipe with fresh strawberries. While she obtained a delicious, fluffy brioche, she reported back that it did not have any strawberry flavor. Since I have not been able to try it out myself with fresh strawberries, this recipe only uses frozen strawberries.
That said, if you want to use fresh strawberries, make sure that they are very ripe and sweet. One of the benefits of using frozen strawberries is that they are picked and frozen at their peak. The downside to using frozen strawberries is that they have even more water in them. All that means is that it needs to cook longer. No biggie.
In the U.S., Dole sells 1-pound sized bags of whole strawberries, which should be enough for this recipe. I have also used other brands that sell 10 ounce bags (which is almost two-thirds of a pound), in which case I have pureed and cooked down 20 ounces at a time. While I have had success with other brands, I have found that Dole has a little less water in them, resulting in a faster cook time. I will also tell you that when I last cooked down 20 ounces of strawberry puree from a generic brand, it took 2.5 hours when I had the flame as low as possible. (I will get into cook time in Step 2, below.)
Step 1: Puree the Strawberries
When using frozen strawberries, allow them to thaw at least a half hour, if not longer, before pureeing. Even if you have a strong blender like a Vitamix, it will be easier to puree them when they aren't so frozen.
Step 2: Cook the Puree to a Paste
Regardless of whether you use fresh or frozen strawberries, the trick is to make sure you cook down the puree until it is a paste. When you slide a spatula against the bottom of the pan, the mounds on either side should hold their shape so you can see the bottom of the pan. Even when you are at that point, I recommend to keep cooking for a bit.  I call this a paste because it should look similar to tomato paste.
When cooking the puree, do not start by bringing it to a boil, as the sides may burn and stick to the pan. Your best bet is to set the flame on medium-low, giving it a stir every 10-15 minutes. If using frozen berries, it will take longer to reach the paste consistency.
Once cooked, allow it to cool at least 15 minutes before making the dough. While it can be warm, you do not want it to be much warmer than 115° F so you do not kill the yeast when you first mix all the dough ingredients. You can also make the strawberry paste in advance and store it in the refrigerator for up to one week. Just let it get to room temperature before mixing it with the rest of the dough ingredients.
Eight Easy Steps to Make Strawberry Fig Babka
1. Mix the Strawberry Fig Babka Dough
Using a KitchenAid mixer makes this step seamless. Especially if you are using dry active yeast, the important thing here is to make sure that your eggs and butter are at room temperature. Forgot to take them out of the refrigerator and feeling so excited to get started that you do not want to wait 30-60 minutes for the eggs and butter to get to room temperature? No sweat. Check out my Getting to Room Temperature post.
2. Knead Until it Passes the Windowpane Test, then Add the Butter
You may need to stop your mixer to wipe down the sides as it kneads. I highly recommend using a dough scraper, although a rubber spatula can work too. The dough should clean the bottom of the bowl, meaning that it does not stick to the bowl. Although the dough should not be overly sticky, it should be slightly tacky. If the dough is not cleaning the bottom and sides of the bowl, add 10 g. (1 Tablespoon) of flour at a time. Because we all may cook down the strawberries to different stages, you may have more liquid in your dough. Adding small amounts of flour like this will allow you to control the dough until it gets to the point of cleaning the bottom and sides of the bowl. It should take 5-10 minutes for the dough to be kneaded.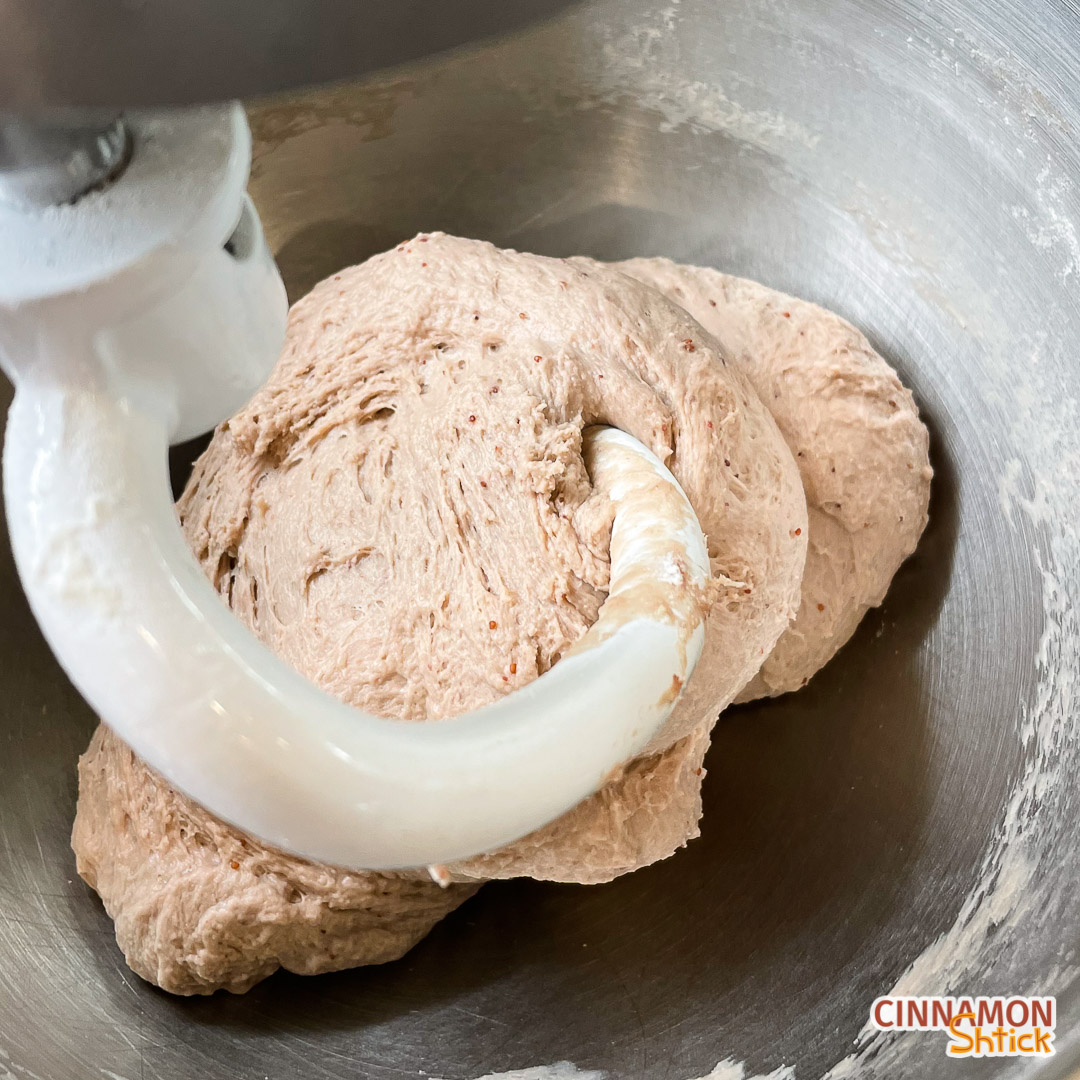 You will know it is done when you take a small piece of it and carefully spread it thin. If it doesn't rip and is translucent, it has passed the window pane test! At this point, put the mixer back on and add the butter, 1 Tablespoon at a time, allowing each Tabelspoon to be fully incorporated before adding the next.
3. Allow the Strawberry Fig Babka Dough to Rest
Bulk fermentation will take approximately 1 hour and 15 minutes. However, a great alternative to making your babkas in one day is to place the dough in the refrigerator overnight. In the morning, make your filling. When you remove the dough from the refrigerator to roll it out, you will find that the dough is much easier to work with and shape when it is cold, and you can have warm, fig babka in time for brunch!
4. Make the Fig Filling
The fig filling is super easy to make. I recommend cutting the figs in half so that they absorb more of the liquid as you cook them down. If they are super dry, you may need add a little more water in 1 Tablespoon increments as it cooks. You should not need to add too much additional water, if any. The figs should just be tender enough for a fork to easily pierce them. Once cooked, transfer them to a food processor or blender and puree them with the honey. You can absolutely make the fig filling in advance and store it in an airtight container in the refrigerator for up to seven days. If the filling is too thick to spread, add 1 Tablespoon of water to it, and give it a good stir. If it's still too thick to spread, add more water, 1 teaspoon at a time.
5. Roll out and Fill the Strawberry Fig Babka
This is the part that looks complicated, but it is really just a drop messy, which is perfectly ok! Roll the dough out into a rectangle, spread the filling on it, roll it up like a jelly roll or cinnamon rolls, then slice the log down the middle. Then use both portions to form an X. Starting from the middle, twist the ends downward towards you, then go back to the middle and twist the ends moving towards the top. Plop it in prepared pan. Easy!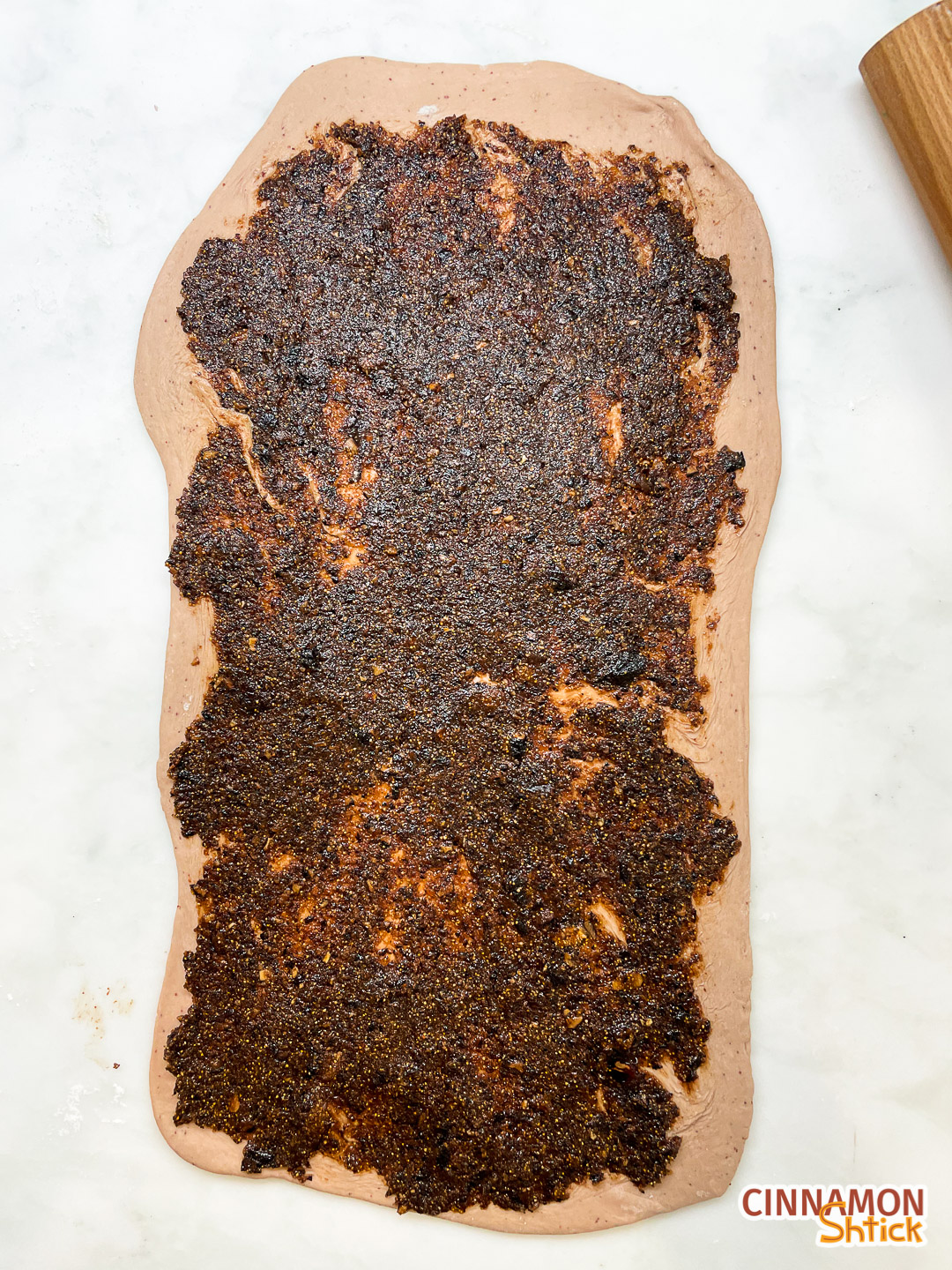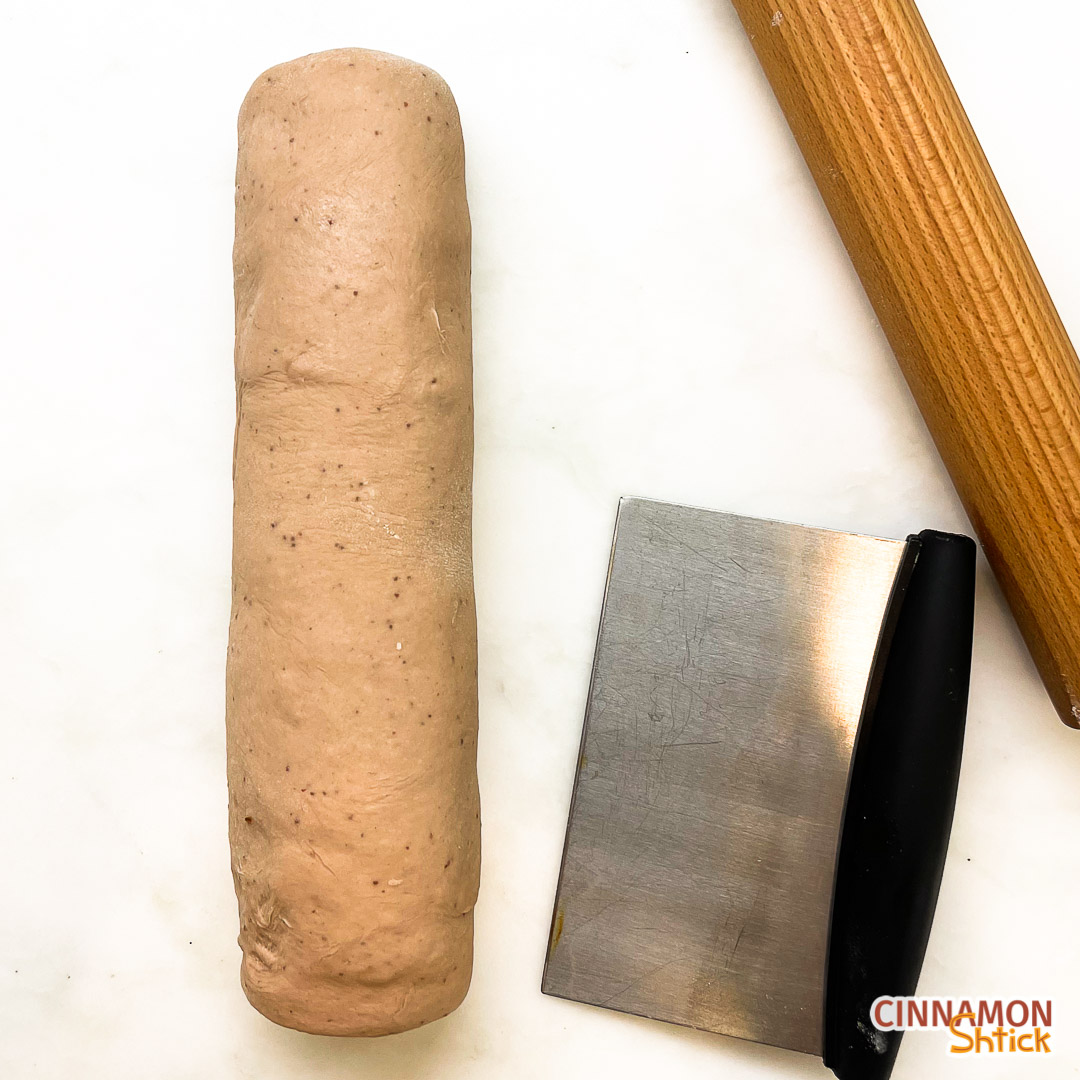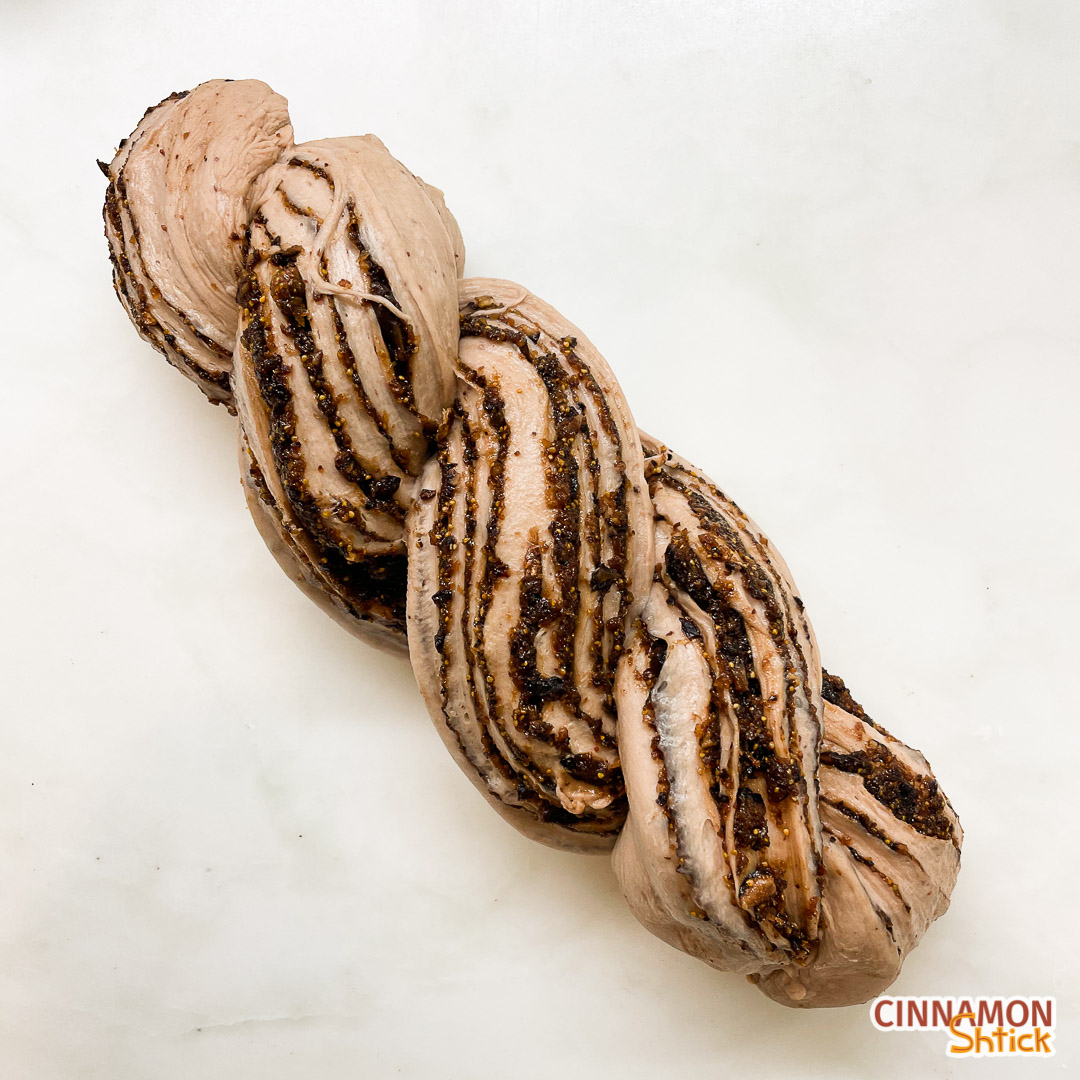 6. Let the Strawberry Fig Babka Dough Rise
Once the dough is rolled out and shaped, let it rise. If you refrigerated the dough overnight, I recommend letting the shaped dough rise for a full 1½ hours. Just before baking, top with a bunch of thinly sliced strawberries. They look pretty in the final product!
7. Bake
I have followed recipes that told me to take the internal temperature of the babka and that it was done at 185°F. Every time I would remove it from the oven after it reached 185°F, the middle would sink in because it was under baked. I recommend baking until the internal temperature is 205°F. To take the temperature of the babka, I highly recommend a Thermapen thermometer from ThermoWorks. I literally use it to take the temperature of anything I make, from ice cream to breads to tempering chocolate. The Strawberry Fig Babka will need to bake for 55-65 minutes. Again, the best way to know it is done is by taking the internal temperature. The top should be nicely browned.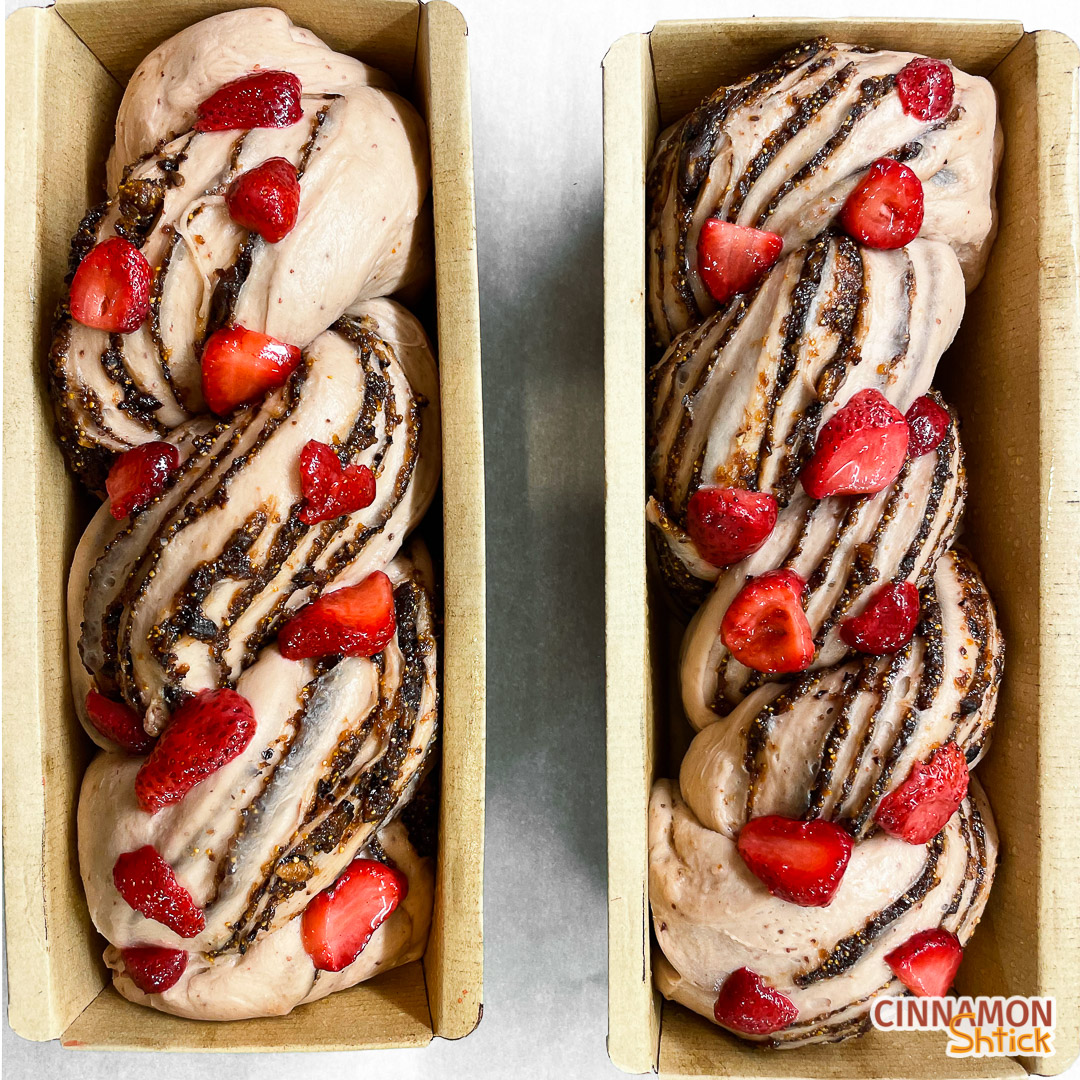 8. Make the Glaze
The glaze is super easy to make. Just bring the sugar and water to a boil just before the babkas are done baking. Remove from the heat and stir in vanilla. Once the babkas are done, use a pastry brush to cover the tops of the babkas with the glaze. I recommend two coats. Pop them back in the oven for 2 minutes.
Final Note
Anyone who regularly follows my recipes knows that I am a huge proponent of weighing ingredients rather than measuring them. One of my first blog posts was Weighing vs. Measuring where I explain why weighing is far superior to measuring. (I was THRILLED when the Los Angeles Times published a similar article earlier this year!)
This recipe, in particular, demonstrates why weighing is important. While I did several runs of weighing and measuring the strawberry paste to figure out that 130 g. is 1/2 cup of packed strawberry paste, I don't know how well any reader will pack it in. I almost published this recipe without measurements and just weights, but given the (bizarre — yes, I said it) reluctance of Americans to stop measuring and only weigh ingredients, I gave into peer pressure and included the measurements. By including measurements, I am in no way endorsing their use. Rather, I beg of you to weigh your ingredients. I will repeat here what I have said in many of my posts: BUY YOURSELF A SCALE!!!! (This is my favorite scale that I use for all my baking.)
Strawberry Fig Babka
Strawberry Brioche is swirled with the ultimate fig filling for a unique and delicious babka experience.
Ingredients
Dough:
7

grams

active dry or instant yeast

(2¼ teaspoons or 1 envelope)

245

grams

milk*

(1 cup)

75

grams

granulated sugar

(⅓ cup plus 2 teaspoons)

1

large egg, at room temperature

1

large egg yolk, at room temperature

2

teaspoons

vanilla extract

130

grams

strawberry paste**

(½ cup, packed)

550

grams

all purpose flour

(4½ cups plus 1 Tablespoon)

1

teaspoon

salt

113

grams

unsalted butter, at cool room temperature, cut into 8 pieces

(8 Tablespoons or ½ cup)
Fig Filling:
14

ounces

dried figs***

(stems removed and sliced in half)

59

grams

Rum, Grand Marnier, Orange Liqueur, orange juice or water

( ¼ cup)

82

grams

water

(⅓ cup)

1

teaspoon

orange zest

1

teaspoon

cinnamon

¼

teaspoon

fine sea salt or table salt

2

Tablespoons

honey
Glaze:
45

grams

water

(3 Tablespoons)

50

grams

sugar

(¼ cup)

½

teaspoon

vanilla
Instructions 
Prepare Dough. [If using instant yeast, skip to Step 3 and add the yeast and the milk with the rest of the ingredients.] In microwave at 20 second intervals, stirring after each interval, warm milk to body temperature, generally between 105°F and 110°F. Alternatively, you can heat the milk in a saucepan on a low flame, stirring constantly. Either way, do not let the milk get above 115°F. (If you do, just let it sit out at room temperature for a couple of minutes constantly checking it until it cools to body temperature.)

Place warmed milk into bowl of electric mixer. Sprinkle yeast and approximately 1 tsp. of the sugar over the milk. Using a fork, stir the mixture to distribute the sugar and hydrate the yeast granules. Allow to sit for approximately 3-5 minutes until the mixture gets foamy.

Add the room temperature egg, the room temperature egg yolk, the strawberry paste, and the vanilla to the mixture. Using the dough hook, turn the mixer on at a low speed and add the rest of the sugar. With the mixer running at the lowest speed, add the flour. As the flour starts to get absorbed by the liquid mixture, raise the mixer to a medium speed. You may need to turn the mixer off once or twice to wipe down the sides of the bowl with a dough scraper or rubber spatula. Allow to knead for approximately 3 minutes. The dough should clean the sides of the bowl and be tacky, but not too sticky. If it is too wet (sticking to the sides and bottom of the bowl), add some flour, no more than 1 Tbsp. at a time. If the mixture is too dry, add a little milk, 1 tsp. at a time.

Lower the mixer speed to low (1 or 2 on the KitchenAid) and slowly add the salt, allowing it to knead into the dough, an additional 3 minutes. Stop the mixer and take a small piece (approximately 1 tsp.) of dough and stretch it between your fingers. It should form a "window pane", meaning it should get thin enough that it is translucent without it ripping. If it is not at that point yet, continue kneading in the machine at 1 minute intervals. (It may just need an additional minute or two to reach the window pane stage. If it still isn't there yet, check to see if the dough is too dry. If it is, add ½ tsp. water and knead another minute.)

With the mixer running at medium speed, add the butter. It is best to add it one piece at a time, waiting until it is fully integrated into the dough before adding the next piece. You may need to turn off the mixer from time to time to push the slab of butter back into the range of the dough and the hook. This process will take approximately 5-10 minutes. Once all the butter is incorporated, the dough will look shiny and be slightly tacky. (If, after approximately ten minutes, the butter is still not fully incorporated, do not panic. Just move to the next step – having some unincorporated butter is not problematic in this recipe. That said, the key to incorporating the butter is nothing more than patience.)

Lightly grease a bowl with a little butter or nonstick cooking spray. Form dough into a ball and place it in the bowl. Turn the dough over to coat it in the butter or nonstick cooking spray and cover tightly with plastic wrap.**** Let the dough sit in a warm area on the counter until doubled in size, approximately one hour.

Fig Filling. Into a pot add the sliced, dry figs, all the liquids, the orange zest, the cinnamon, and the salt. Bring the mixture to a boil, then lower the flame as much as possible to maintain a simmer or 10-20 minutes, checking on them at the 10 minute mark and every few minutes therafter. The figs should be very soft and most of the water should have disappeared. If the figs are very dry, you may have to add 1 to 2 Tablespoons of additional water and cook for a few more minutes.

Once the figs are cooked and very soft, move them to a food processer. Add the honey and process until smooth. Allow them to cool. The fig filling can be prepared up to one week earlier and stored in an airtight container in the refrigerator.

Shape babkas. Prepare two loaf pans, 8 or 9 inches long, and 3 to 5 inches wide, by coating with nonstick cooking spray or butter. (Using butter imparts more flavor on the edges of your babkas.) For an even easier pan removal, use parchment paper on the bottom and/or sides of the pan, but be sure to coat the parchment with nonstick cooking spray or butter.

Once dough has doubled in size, remove the plastic wrap and de-gas it by folding it over onto itself and knead it a few times by hand. Divide it in half, preferably by weight. Cover one half with plastic wrap until you are ready to work with it.

With a rolling pin, roll dough out to three inches longer than the length of your pan. (If you are using a 9 inch long pan, roll it out to 12 inches, to form a rectangle of 12 inches by approximately 16-18 inches.) The dough should be approximately ⅛ inch thick.

Leaving a border of ½ an inch on the top and sides, spread ½ of the fig filling (by weight) all over the rolled out babka dough.

Have the dough facing you the long way so that the side of the dough that is three inches longer than the length of your pan is facing you. For example, if your pan is 9 inches long, the side of the dough that is 12 inches long should be in front of you. Roll the dough upward so that you have a 12 inch long log. Trim ½ inch to an inch from both sides of the log. (Tip: Save these trimmings and bake in a separate greased pan with trimmings from second log. This is the "mini babka" you get to taste so you can present the two babkas to your guests and already know how good it tastes!)

Slice the log down the middle in half, exposing the layers of filling. Form an X with the two pieces, and cross the two over each other starting from the middle going down towards you. Repeat from the middle going up. Place dough in prepared pan. Cover loosely with plastic wrap and allow to sit until doubled in size, approximately 1 hour to 1 hour and 15 minutes.

Repeat steps 11-14 with second portion of dough from step 10.

Approximately 30 minutes into the second rise, preheat oven to 350°F.

Once the babkas have doubled in size, bake for 55-65 minutes. (For an even prettier look, thinly slice a handful of strawberries and place them on top of the babkas just prior to putting them into the oven.)

Towards the end of the baking time, in a small pot bring the water and sugar to a boil, stirring to ensure the sugar is fully dissolved. Remove from the heat and stir in the vanilla.

The babka is done once the top is golden brown. (Best to take the babka's temperature. It is done when the internal temperature reaches 205°F).

Immediately after removing the babkas from the oven, brush the tops with the hot syrup glaze. Repeat with another coating of the syrup. Return to the oven for 2 additional minutes.

Cool babkas in pans for 10-15 minutes and then remove them from their pans onto a wire rack. (Use a metal spatula or flat knife against the sides of the pans before turning the pans over.)

Once at room temperature, if not eating immediately, cover in plastic wrap. If they actually last so long, they stay fresh for several days wrapped in plastic and stored at room temperature. They also freeze beautifully, wrapped in plastic wrap, for up to 3 months.
Notes
*Use whole milk, or if in a pinch, 2% milk. Anything less, and you will lose the benefit from the fats in the milk which add to both the flavor and texture of the babka.
**For the strawberry paste, puree in a blender at least 1 pound of slightly thawed (or entirely thawed) frozen strawberries. Pour the puree into a pot (2-quart pot works great here) and cook on medium low heat, stirring every 10-15 minutes, until it is thick and resembles tomato paste. If you draw a line through it, you should see the bottom of the pot and the mounds on either side of the streak should remain in place. Don't be afraid to cook it down even past this stage. The more water you cook out of it, the more concentrated strawberry you will have in the dough. (For a bolder strawberry flavor, add 1/2 cup or 12 grams of freeze dried strawberries ground in a blender to a powder.) Allow to cool at least 15 minutes before mixing it with the dough ingredients. Alternatively, store in an airtight container for up to seven days in the refrigerator, allowing it to come to room temperature before mixing it with the dough.
***SunMaid sells the figs in 7 ounce packages. Other brand sell them in varying sizes. Feel free to use between 12-14 ounces, depending on the brand you buy. No need to adjust the other ingredients. 
****At this point, you can place the covered bowl, before letting the dough rise, in the refrigerator overnight. In the morning, continue with step 7. The dough may not have doubled in size in the refrigerator, but that is not a problem. After you have shaped the babkas and placed them in the pans in step 14, allow them to rise, loosely covered with plastic wrap, for 1½ to 2 hours, rather than 1 hour. 
Nutrition
Calories:
204
kcal
|
Carbohydrates:
36
g
|
Protein:
4
g
|
Fat:
5
g
|
Saturated Fat:
3
g
|
Trans Fat:
1
g
|
Cholesterol:
26
mg
|
Sodium:
110
mg
|
Potassium:
169
mg
|
Fiber:
3
g
|
Sugar:
15
g
|
Vitamin A:
159
IU
|
Vitamin C:
4
mg
|
Calcium:
49
mg
|
Iron:
2
mg