This post may contain affiliate links. As an Amazon Associate, I earn from qualifying purchases. For more information, please visit my Privacy Policy.
For months, I have had a hankering for a really good M&M cookie. Actually, my craving was even more specific than that. I wanted an M&M cookie from an old school bakery. You know the kind — thick, almost airy, slightly crispy, not browned on the edges, barely soft in the middle, loaded with M&Ms. That craving sent me on a mission to make a bunch of different M&M cookie recipes, none of which completely satisfied my craving. While not exactly the cookie of my memories, this M&M Cookie recipe is so good that it has replaced my prior craving!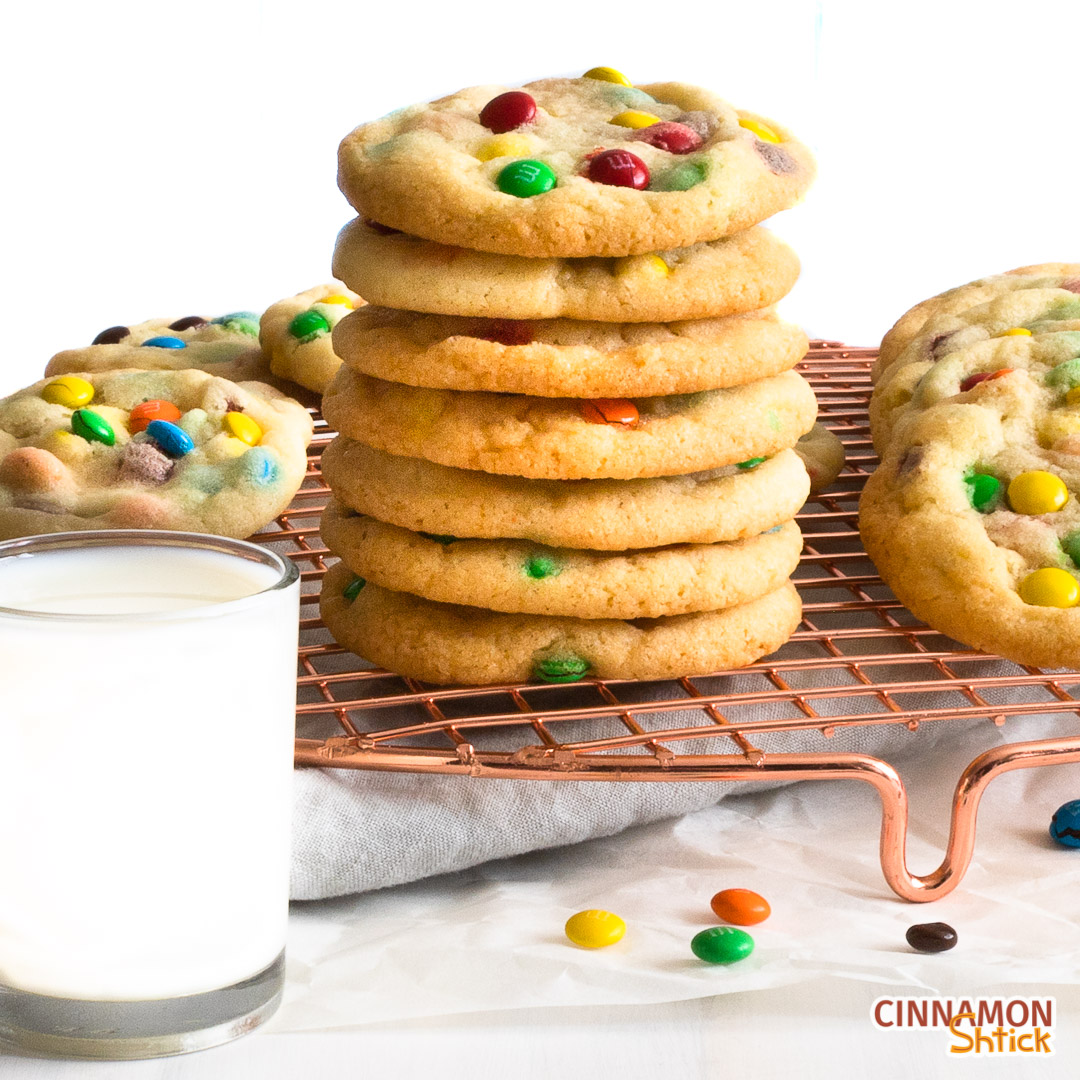 I was surprised that I could not find on the inter-webs an M&M cookie recipe that would deliver the cookie of my memory. The recipes I tried were good, but they were not satisfying my craving. So, I took advice bestowed upon me over 20 years ago from my first year legal writing professor in law school: take a step back, let it percolate. And that's what I did. I was so obsessed with making a particular cookie that I lost sight of what that cookie actually was.
For me, an M&M cookie should not be a chocolate chip cookie dough with M&Ms to replace (or join) the chocolate chips. Rather, I firmly believe that M&M Cookies should be made from a dough more reminiscent of a sugar cookie. Hey, it's just how I feel. If you are looking for the best chocolate chip cookie recipe though, I recommend my Brown Butter Chocolate Chip Cookies!
I then realized that, although those old school bakery cookies with the slight crunch were really enjoyable, I actually prefer a softer cookie, which is what this M&M Cookie recipe delivers.
Key Ingredients for M&M Cookies
Sugar
To keep with my viewpoint that this cookie had to be more sugar cookie dough than chocolate chip cookie dough, I did not use any brown sugar. Using only granulated sugar also causes the cookies to spread a bit more (which I really enjoy).
Butter
Butter imparts such a wonderful flavor in anything, but especially in cookies. That said, if you are going dairy free, I suggest using vegan baking sticks.
Cornstarch
I tossed in a drop of cornstarch to help compensate for the spreading of the cookies and to add a softness to the cookies. I do not recommend skipping it.
Vanilla
There are people out there who believe that a sugar cookie should look purely white, so they use clear vanilla. While I enjoy a nice presentation, if doesn't taste amazing, I have zero interest. I never buy clear vanilla because it is fake flavor. I'm a firm believer that, if you want whatever you are baking or cooking to taste quality, you must use quality ingredients. For me, quality includes natural, not fake anything — especially vanilla. I tend to use only two different vanilla brands: Heilala and Penzeys.
M&Ms
Obviously, to make M&M Cookies, you need M&Ms! What's not obvious, however, is that the mini M&Ms are ideal for these cookies. The ratio of candy to chocolate to cookie is perfect with the minis. Also, if you buy a "Sharing Size", which is just over 10 ounces, that's the perfect amount for this recipe. Mix in 1 cup of the minis to the dough. Use the rest on top of the cookies just before putting them in the oven. If you can't find the minis, don't sweat it! The cookies will be just as good with regular size M&Ms.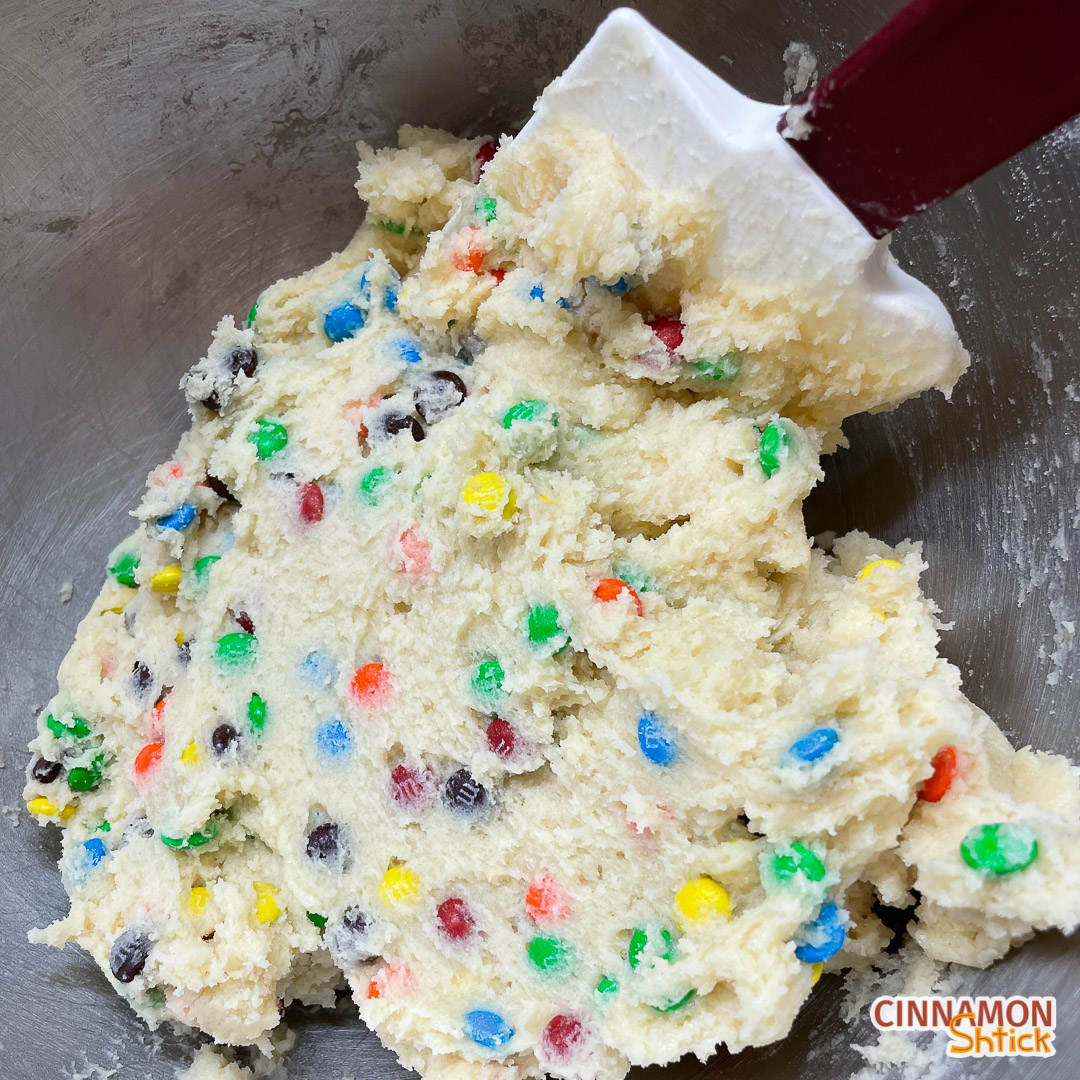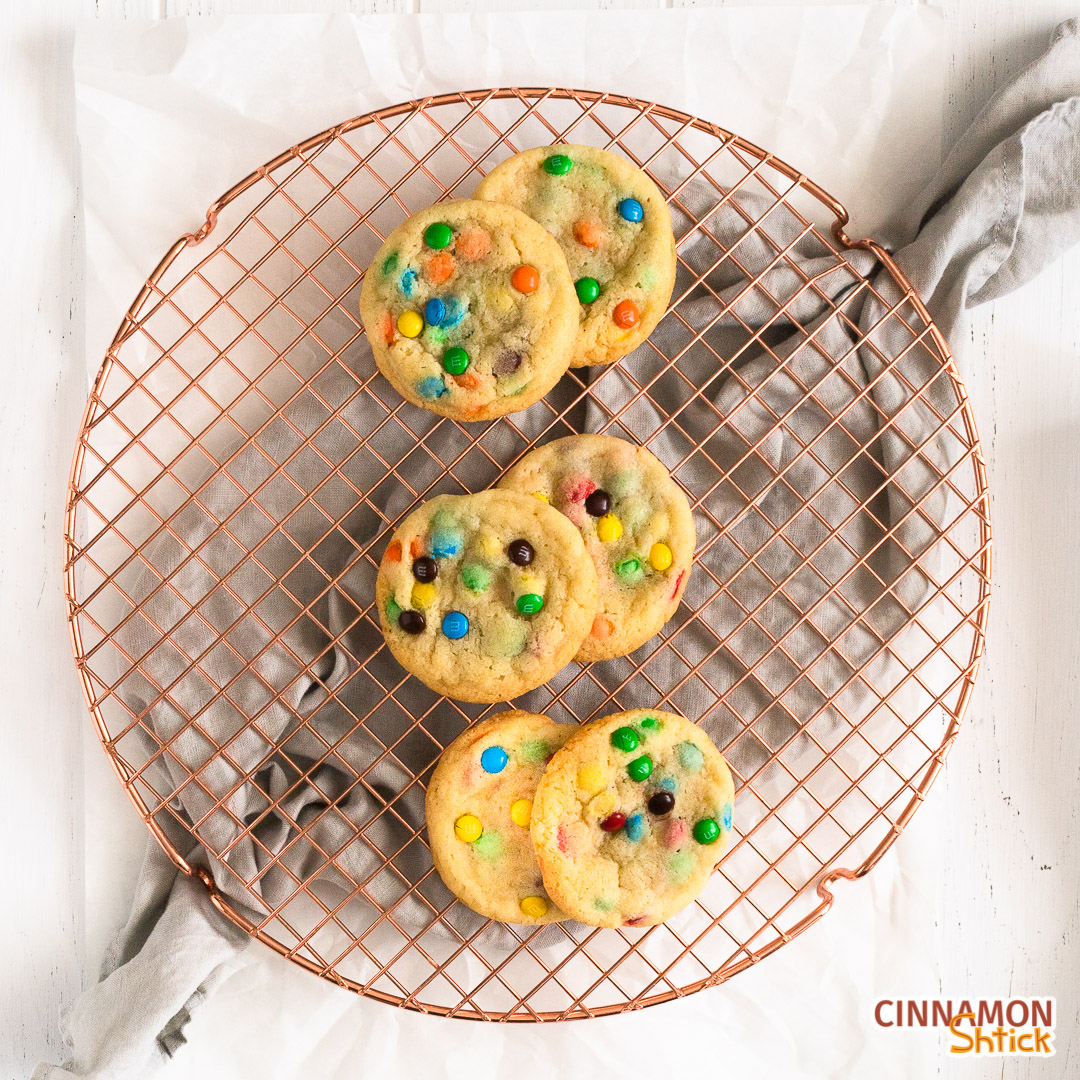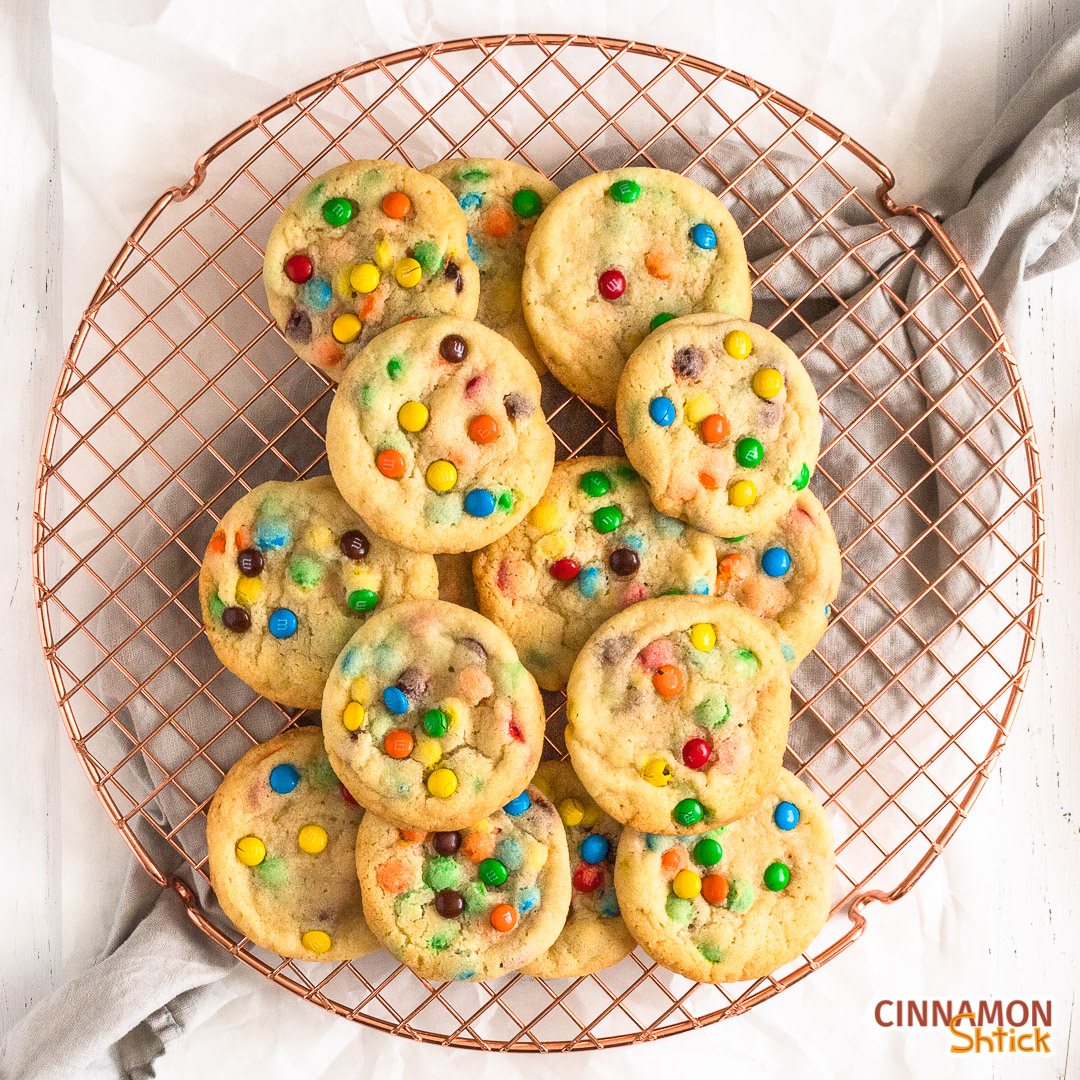 M&M Cookies
Easy to make, these M&M Cookies are downright delicious. A soft sugar cookie holds mini M&Ms, creating cookies that are colorful and enjoyable!
Ingredients
270

grams

all purpose flour

(2¼ cups)

1

teaspoon

cornstarch

½

teaspoon

baking soda

½

teaspoon

baking powder

¾

teaspoon

fine sea salt

227

grams

unsalted butter

(1 cup)

266

grams

sugar

(1⅓ cups )

1

large egg, at room temperature

1½

teaspoons

vanilla extract

230

grams

mini M&Ms*

(1 cup)
Instructions 
In a small bowl, whisk together the flour, cornstarch, baking soda, baking powder and salt. Set aside.

Cream together the butter and sugar in an electric mixer with the paddle attachment until light and fluffy, approximately 3-5 minutes.

Add the egg and vanilla and beat until fully combined.

With the mixer running on low, add the dry ingredients to the wet, just until combined. (Alternatively, use a spatula to fold in the dry ingredients.) Fold in the mini M&Ms.

Line a cookie sheet with parchment paper. Scoop dough into 30 gram balls (1½ Tablespoons) and place next to each other. Cover with plastic wrap and refrigerate at least 30 minutes and up to 48 hours. (Dough balls can be placed next to each other for refrigeration.)

Preheat oven to 375° F. Line a baking sheet with parchment paper.

Place cookies 3 inches apart from each other on prepared baking sheet. Press balls down slightly and top with more mini M&Ms. Bake for 10-12 minutes, just until the edges are slightly golden. Allow to cool on baking sheet for 5 minutes before moving to wire rack to cool completely.
Notes
*For the mini M&Ms, buy the Sharing Size, which is just over 10 ounces. You'll have enough to mix in with the cookies and use the leftover to top the cookies just before baking. If you can't find the minis, don't sweat it! Just use regular M&Ms. Will still be delish!
Don't like chocolate? Toss in Reese's Pieces instead. Don't like peanut butter? Toss in sprinkles instead!
Nutrition
Serving:
40
g
|
Calories:
144
kcal
|
Carbohydrates:
19
g
|
Protein:
1
g
|
Fat:
7
g
|
Saturated Fat:
4
g
|
Trans Fat:
1
g
|
Cholesterol:
20
mg
|
Sodium:
77
mg
|
Potassium:
12
mg
|
Fiber:
1
g
|
Sugar:
12
g
|
Vitamin A:
189
IU
|
Vitamin C:
1
mg
|
Calcium:
16
mg
|
Iron:
1
mg