This post may contain affiliate links. As an Amazon Associate, I earn from qualifying purchases. For more information, please visit my Privacy Policy.
Everyone has an opinion when it comes to chocolate chip cookies. Crispy versus chewy. Dense verse cake-like. Semi-sweet versus milk chocolate. I haven't met anyone, however, who has a negative opinion of Brown Butter Chocolate Chip Cookies.
There are tons of cookie recipes out there. This is the one I am in love with.
Origins of this Brown Butter Chocolate Chip Cookie Recipe
I found this original cookie recipe on King Arthur's website and adapted it for brown butter.
I initially made King Arthur's recipe as written, except I did not include almond extract. It's not that I do not enjoy almond in certain things. But, to be perfectly frank, almond extract has no business whatsoever in a chocolate chip cookie. (It's just how I feel!)
I liked their original recipe a lot. Because I am always honest — at least with respect to a baked good — I admit that I did not love it. Why? I generally do not enjoy baking with shortening, which proved true with this recipe. (The fat in the original recipe is half a cup of butter and half a cup of shortening.)
As a baker, however, I understood why the recipe was half and half. Approximately 15% of (American) butter is actually water, whereas shortening contains no water and is 100% fat. With all butter, there would be more water in the dough, causing the cookie to spread more.
Catering to my flavor palette, I replaced the shortening with butter. I loved how the cookies tasted, but, as predicted, some of them did spread out too much. I was thinking of adding a bit more flour to absorb that extra water from the butter.
Then it dawned on me: If I brown the butter, I will dehydrate all the water from the butter. Plus, brown butter always tastes better! Win/win.
Having browned the butter, the one cup of butter in my adapted version was now 100% fat with no water. To accommodate for the water content in the half a cup of butter from the original recipe, I added 1 Tablespoon of milk.
No joke, when I took these cookies out of the oven, I could not believe how gorgeous they were! Oh, and they turned out Ah-MAY-zing!!!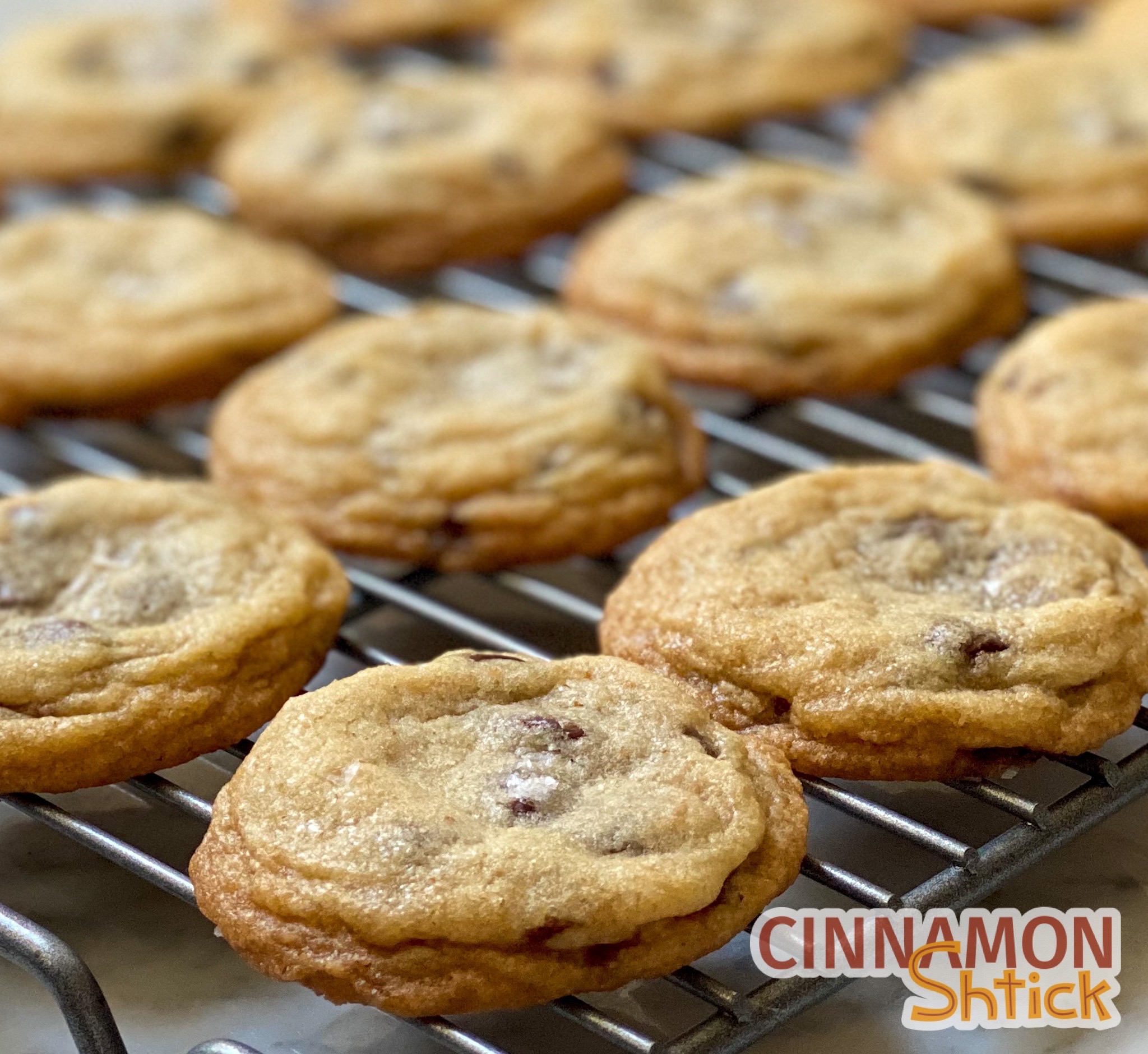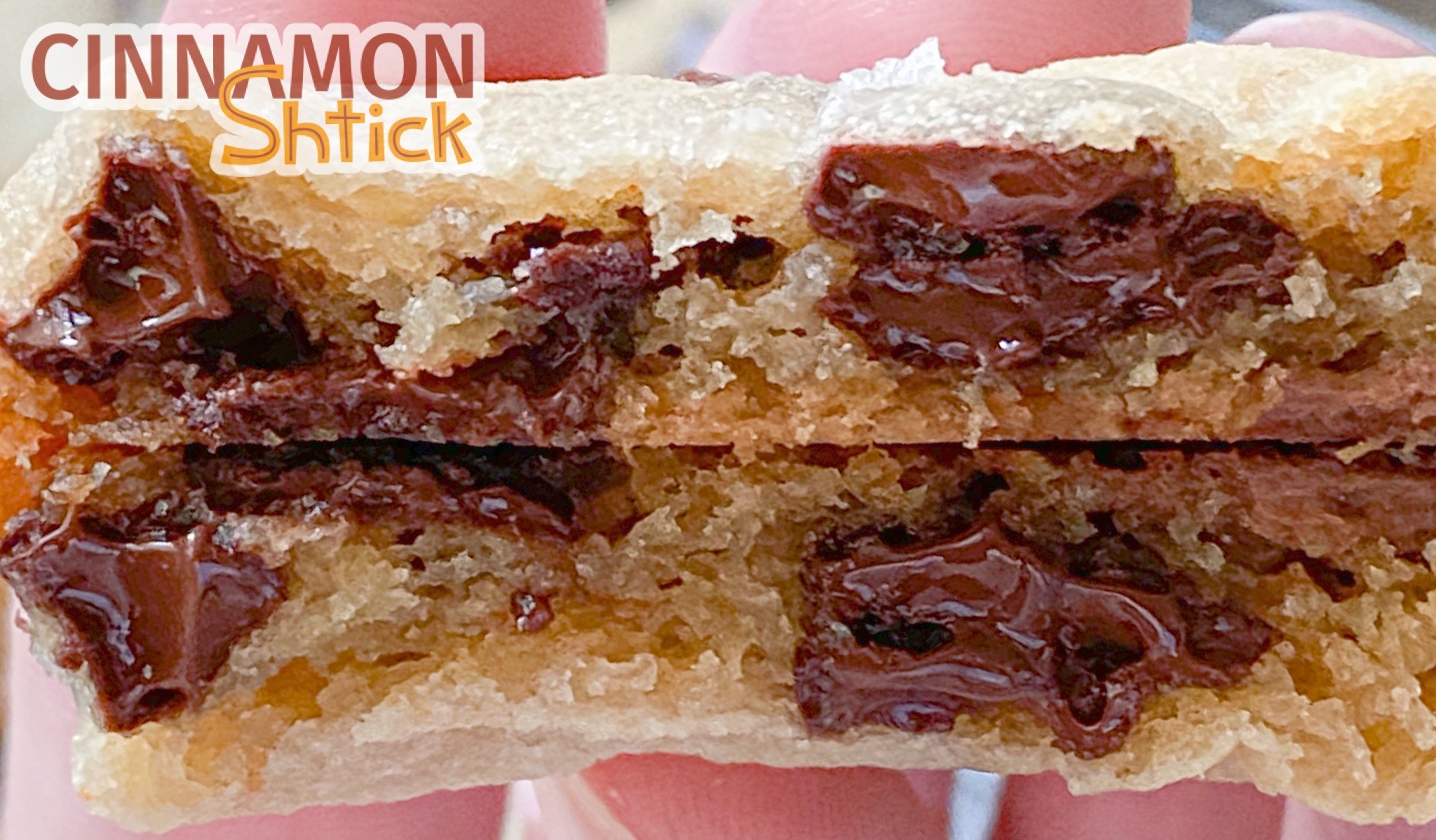 What is brown butter?
Brown butter is simply butter that is cooked, which causes the water in it to evaporate and the milk solids to brown. The result is a wonderful, somewhat nutty flavor. It is delicious in just about everything, from baked goods to sauces for entrees like chicken or fish.
How do I make brown butter?
I recommend cutting the butter into equal sized cubes so that it melts evenly and quicker, and first melting it over low heat. Then increase the heat to medium-low to cook it, stirring frequently. The milk solids will sink to the bottom of the pan, so you want to stir frequently to avoid them from sticking and burning. The butter will pop, crackle and foam, and it will be difficult to see what is going on in the bottom of the pan, but just keep stirring and lifting the spatula or spoon to see how brown the milk solids are getting. The process should take a few minutes, but it goes fast. For more information on how to make brown butter, check out my post Brown Butter: What is It and How to Make It.
Beware
The butter can go from brown to burnt very quickly, so keep an eye on it and go with your gut to know when it's done. Once it is done, immediately remove it from the flame and pour into a heatproof bowl to cool. You want to get it out of the hot pot to prevent it from cooking further.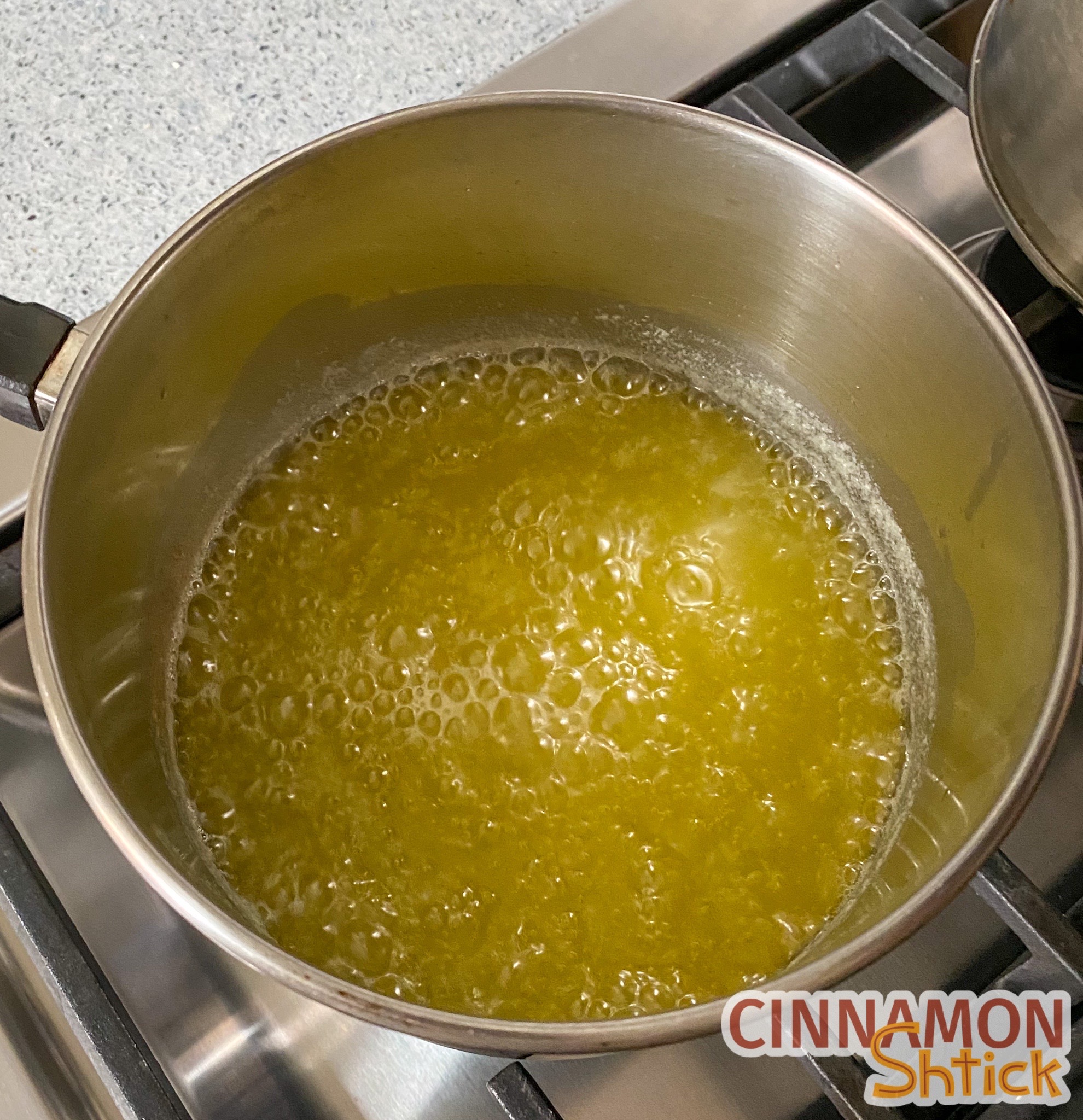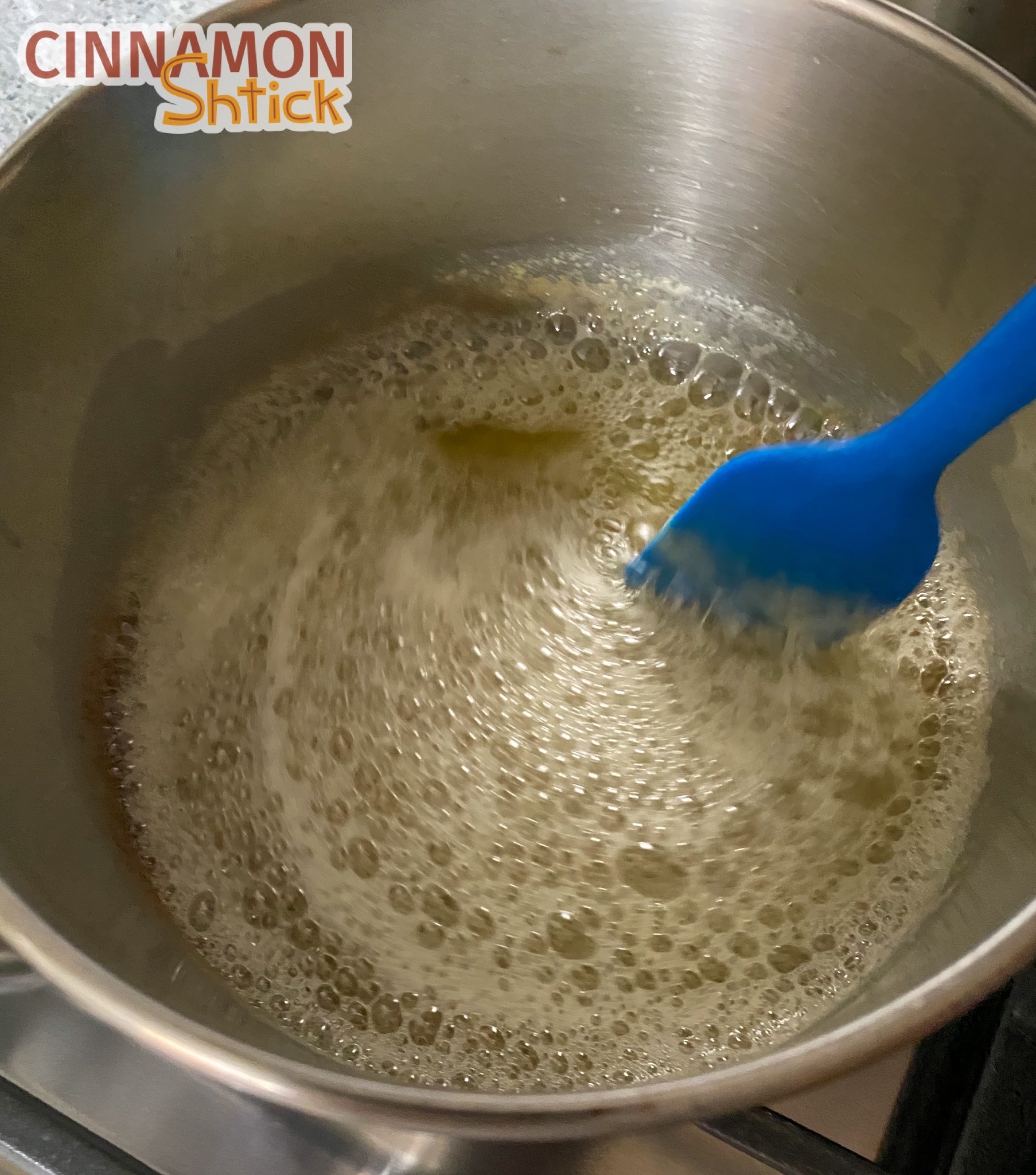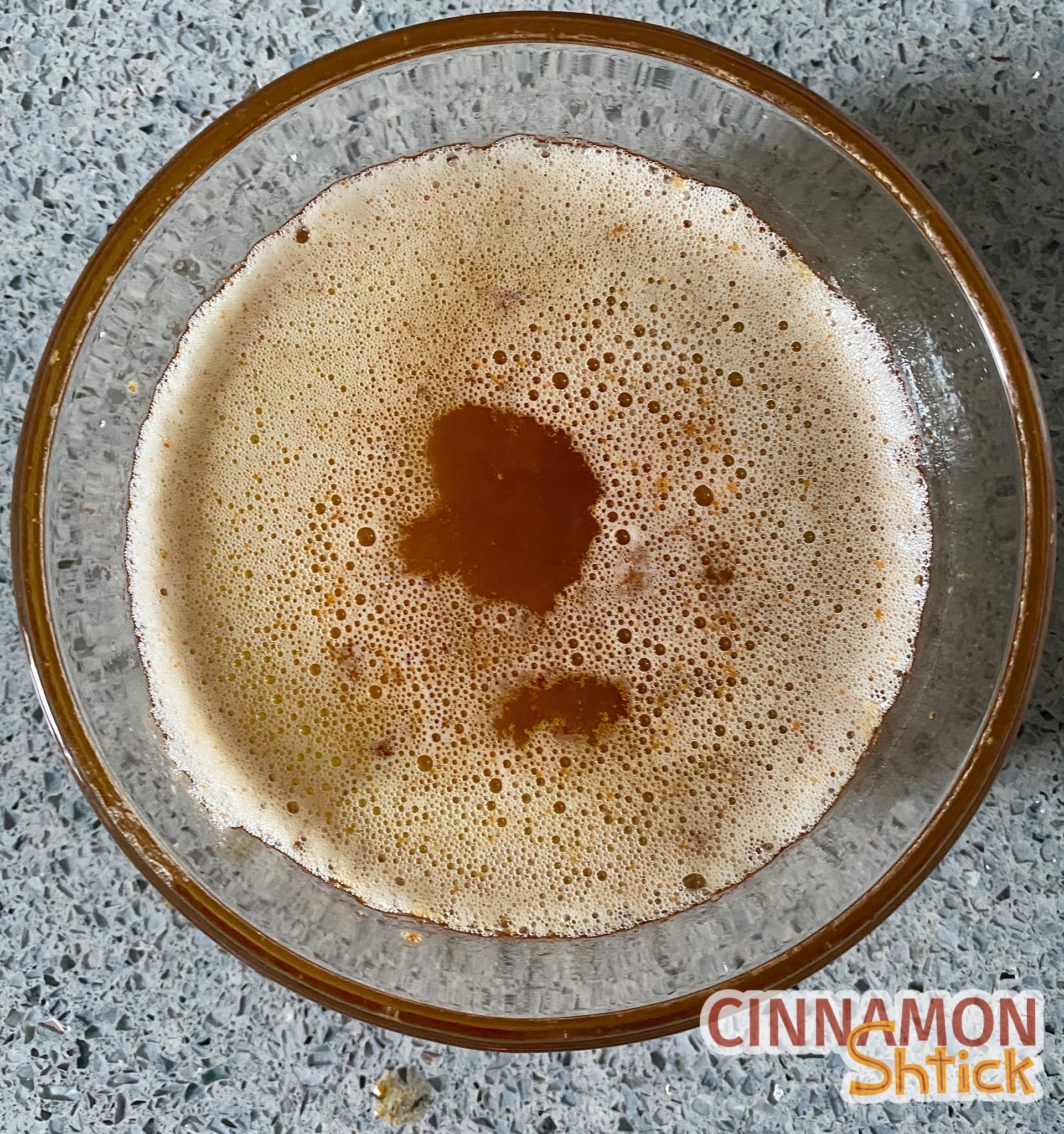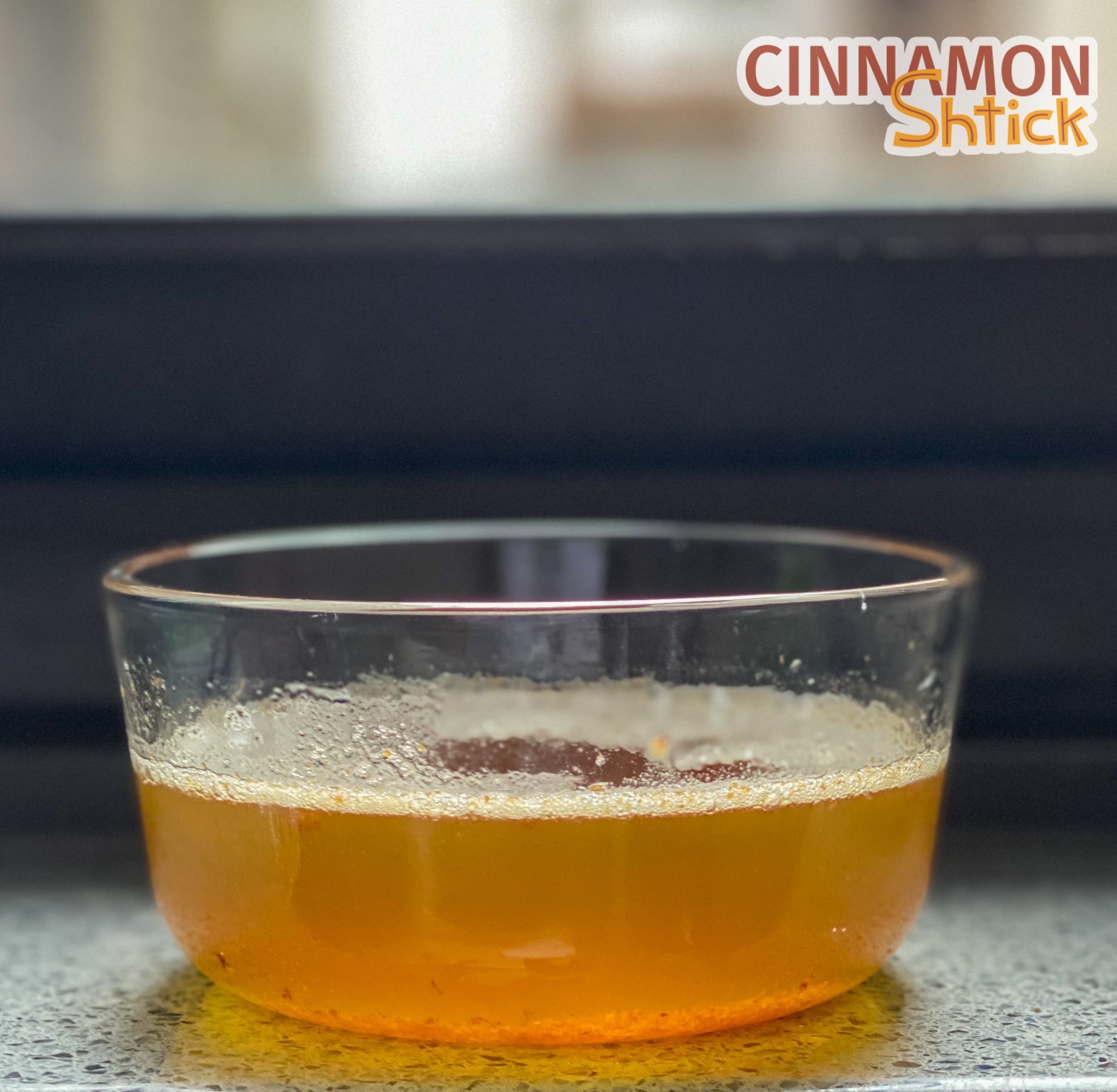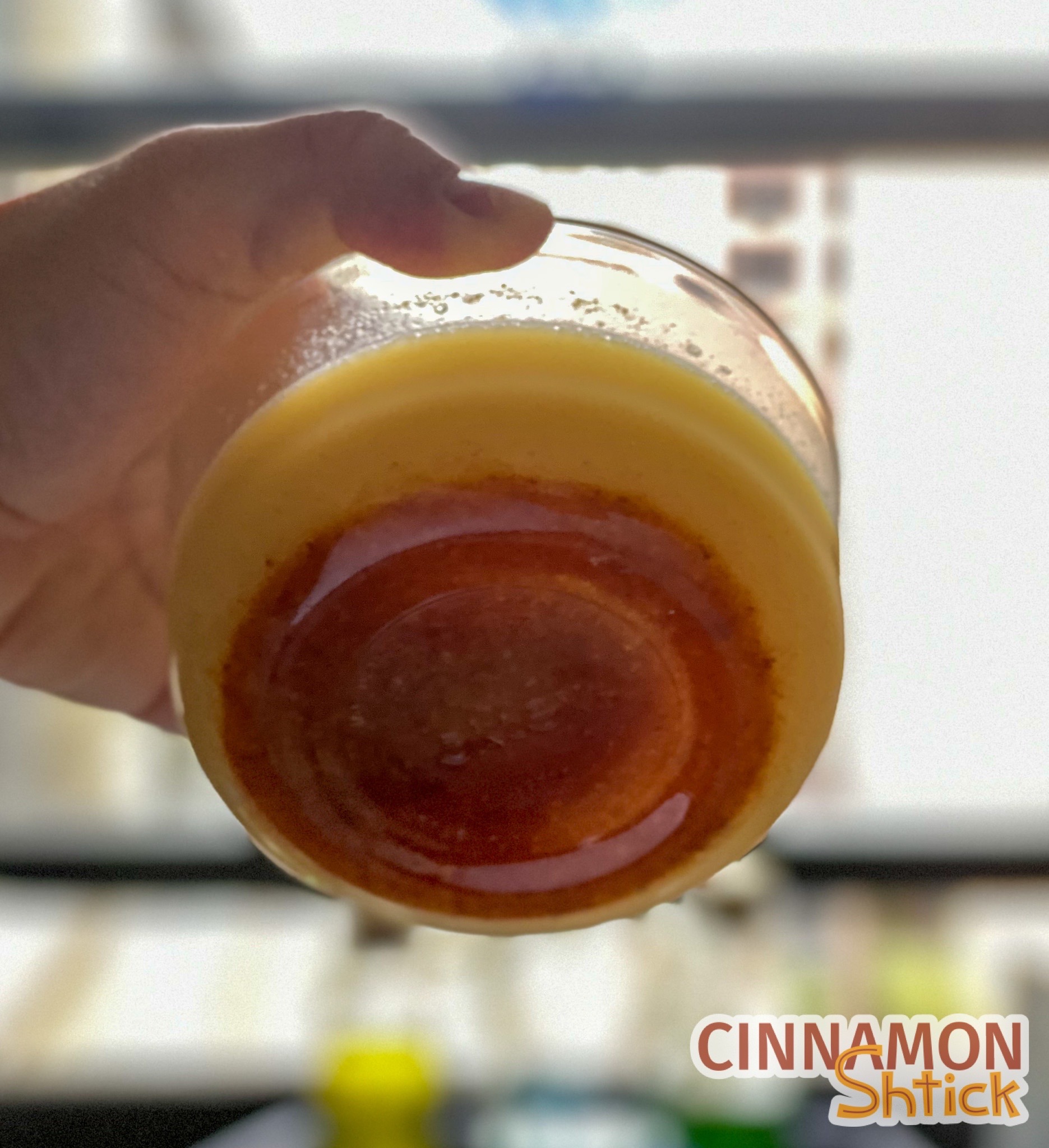 Do Not be Intimidated by Brown Butter!
Once you've done it, you will see it is super easy, just as this recipe is.
Plan Ahead to Make Brown Butter Chocolate Chip Cookies
The key to success for this recipe is planning. You need to brown your butter in advance so that you can put it back in the refrigerator to solidify. You also need to plan so you can refrigerate your dough before baking.
These cookies bake up best directly from the refrigerator, and they are put over the top with a light sprinkle of a flaky sea salt. (As always, I recommend Maldon sea salt.)
The Trick to Achieving a Round Cookie
Want your cookies to look picture-perfect round? Try this trick: Immediately when the cookies come out of the oven, with a round cookie cutter or a coffee mug upside down, move the cutter or mug in a circular, clockwise motion over each cookie. Because the cookies are still hot, they will conform to the circular shape. Magic!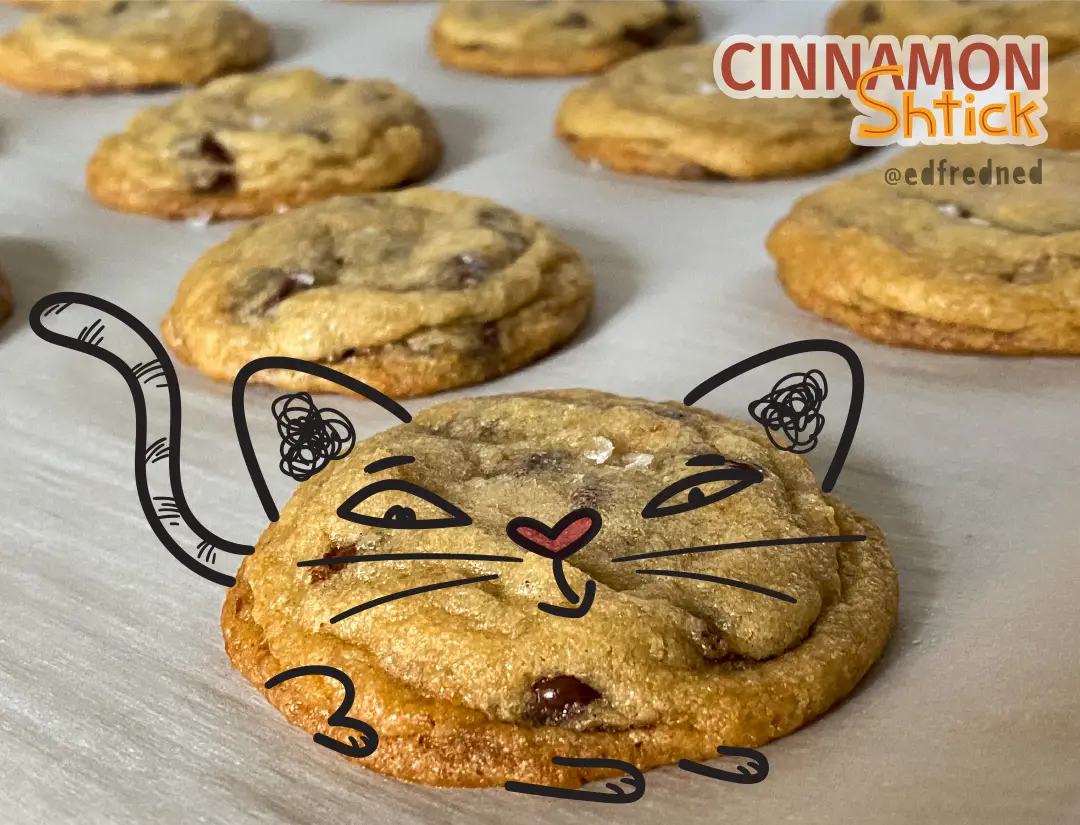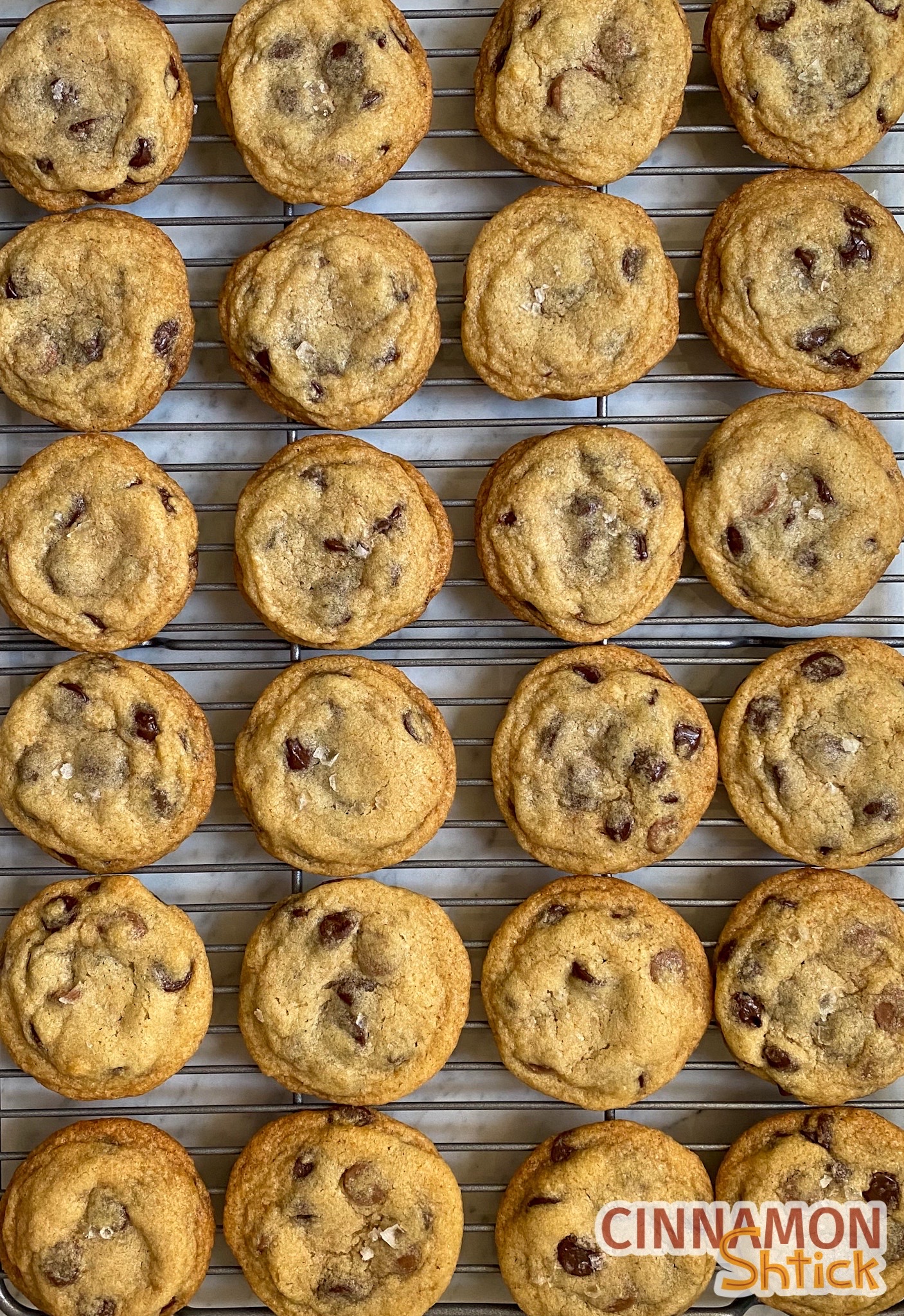 Brown Butter Chocolate Chip Cookies
These cookies are outrageously delicious, full of flavor, crisp on the edges, and gooey on the inside. (Adapted from King Arthur Flour.)
Ingredients
227

grams

unsalted butter, cut into ¼ inch squares

(16 Tablespoons or 2 sticks)

240

grams

all purpose flour

(2 cups)

1

teaspoon

baking soda

¾

teaspoon

salt

146

grams

light brown sugar

(⅔ cup, firmly packed)

133

grams

granulated sugar

(⅔ cup)

1

Tablespoon

milk

2

teaspoons

vanilla

1

teaspoons

vinegar

(cider or white)

1

large egg

340

grams

semisweet and/or bittersweet chocolate chips

(2 cups)

Flaky sea salt
Instructions 
In a large saucepan, melt the butter over low heat. Once fully melted, increase the heat to low-medium to cook the butter, stirring frequently with a rubber spatula or wooden spoon. The butter will start popping and crackling and then start foaming. The part of the butter that will start browning is the milk solids which will be on the bottom of the pan. This is why you need to keep stirring and lifting the spatula or spoon out of the pan to see what stage it is at. Once you have nicely browned specks on the bottom of the pan, remove the pan from the heat and immediately pour the butter into a heatproof bowl to stop it from cooking any further. (Be careful not to overcook the butter. It can go from brown to burnt very quickly.) Allow the butter to cool to room temperature. Cover and refrigerate until hardened, at least two hours. (Brown butter can be made a day or two in advance and stored in the refrigerator.)

In a small bowl, combine the flour, baking soda and salt.

In an electric mixer fitted with the paddle attachment, cream together the brown butter, sugar, brown sugar, milk, vanilla and vinegar. Add the egg and beat until fully combined.

Add the dry ingredients and mix just until fully combined. Mix in the chocolate chips.

Divide and shape into rounds, each weighing 30 grams. Refrigerate at least one hour and up to two days.

Preheat the oven to 375° F.

Sprinkle sea salt on top of each cookie and bake the cold cookies 11-13 minutes, just until the edges are light brown and the middle looks a bit doughy.

Cool for a few minutes on pan, then on a wire rack.
Notes
The brown butter can be made ahead of time, even by a few days. If you are new to making brown butter, use a lower flame so you have more control over the cooking process. It may take a few minutes longer, but the butter will be less likely to go from brown to burnt so quickly.
These can be made in one day, but plan ahead so your brown butter has time to solidify in the refrigerator and so that your cookie dough has time to get cold in the refrigerator.
The brown butter does not to be at room temperature to use it, but remove it from the refrigerator at least 15 minutes before mixing. 
You can freeze raw cookie dough balls to bake later. (Place them on a parchment lined baking sheet and place them in the freezer for about 30 minutes to get them cold. Then toss them in an airtight plastic bag. Pre-freezing them on the pan will prevent them from sticking to each other in the bag.) When ready to bake, place the frozen balls in the preheated oven. They may just need an additional minute or two.
You can also freeze the fully baked cookies. They should come to room temperature in about 10 minutes.
Deeper, quality chocolate is best for these cookies. (Milk chocolate is good, but not great.) Semi-sweet is fabulous, and a combination of semi-sweet and bittersweet is truly wonderful. Can't find bittersweet chips? Just chop up a quality bittersweet chocolate bar. I use these semi-sweet chips, these bittersweet chips, and these milk chocolate chips. Callebaut is one of my all time favorite chocolates to bake with. Their chocolate is slightly expensive, but it is what sets my cookies apart from everyone else's. Use quality ingredients for a quality baked good!
Nutrition
Calories:
157
kcal
|
Carbohydrates:
18
g
|
Protein:
1
g
|
Fat:
9
g
|
Saturated Fat:
5
g
|
Trans Fat:
1
g
|
Cholesterol:
19
mg
|
Sodium:
82
mg
|
Potassium:
70
mg
|
Fiber:
1
g
|
Sugar:
11
g
|
Vitamin A:
170
IU
|
Calcium:
13
mg
|
Iron:
1
mg