This post may contain affiliate links. As an Amazon Associate, I earn from qualifying purchases. For more information, please visit my Privacy Policy.
These Lemon Crescent Cookies are a take on traditional vanilla crescent cookies, which are common in Europe, especially around the holidays. They are a tender and delicate shortbread cookie that include ground nuts, adding both flavor and texture.
I love the vanilla ones. But it has always bothered me that I never see any other flavors. So, I created a new flavor. I also added poppy seeds because, well, they're fun with lemon! Feel free to leave them out if they aren't your thing.
For the almond flour, you can buy pre-packaged or you can make your own. Simply toast some almonds for a few minutes at 350°F. Allow them to cool completely, then pop them in the food processor. I like the pairing of almond and lemon (the almond flavor is very subtle), but there is no reason why you can't use walnuts, hazelnuts, or any other type of nut.
Lemon Crescent Cookies are the perfect tea time accompaniment. They also make great petit fours!
What also makes these cookies great are that they are super easy to make. Mixing the dough takes a matter of minutes. The only piece of advice I can offer is with respect to shaping.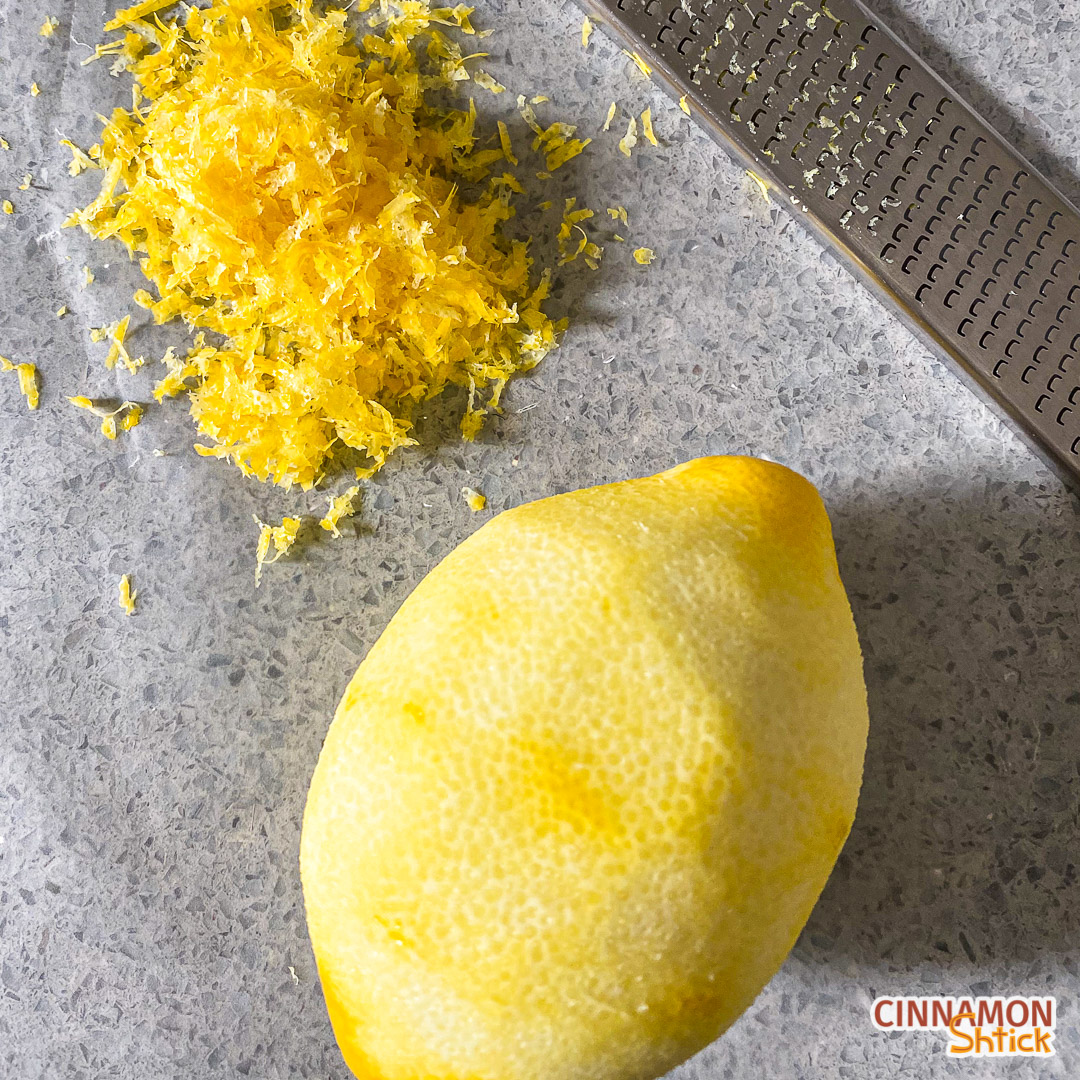 How Big Should the Cookies Be?
I tend to weigh all my cookies out for consistency. Almost every cookie I make, whether Brown Butter Chocolate Chip Cookies, Lime Cookies, or any other kind, tend to be 30 grams each. I don't know why. It's just what I do. So, I made these each 30 grams, which gave me 18 cookies.
You can absolutely make them half the size that I did. If you make each cookie 15 grams, you will need to reduce the baking time. I would check on them at the 8 minute mark and bake until they are slightly brown on the edges and nicely browned on the bottom.
How to Shape Lemon Crescent Cookies
Once the batter is mixed, you should be able to grab a piece of dough and squeeze it in the palm of your hand to make it come together. The dough should be a drop crumbly. If it is so crumbly that it is not coming together, add a drop more milk, ¼ tsp. at a time. You should not need more than ½ tsp. 
The dough will likely become softer and stickier the more you handle it, so try not to over-handle it. I like to shape each dough portion into a ball and then roll it out between my palms or on the countertop into a log, approximately 2 inches long. You can taper the edges if you like. I find it easiest when rolling against the countertop to roll in one direction (away from you) rather than rocking back and forth.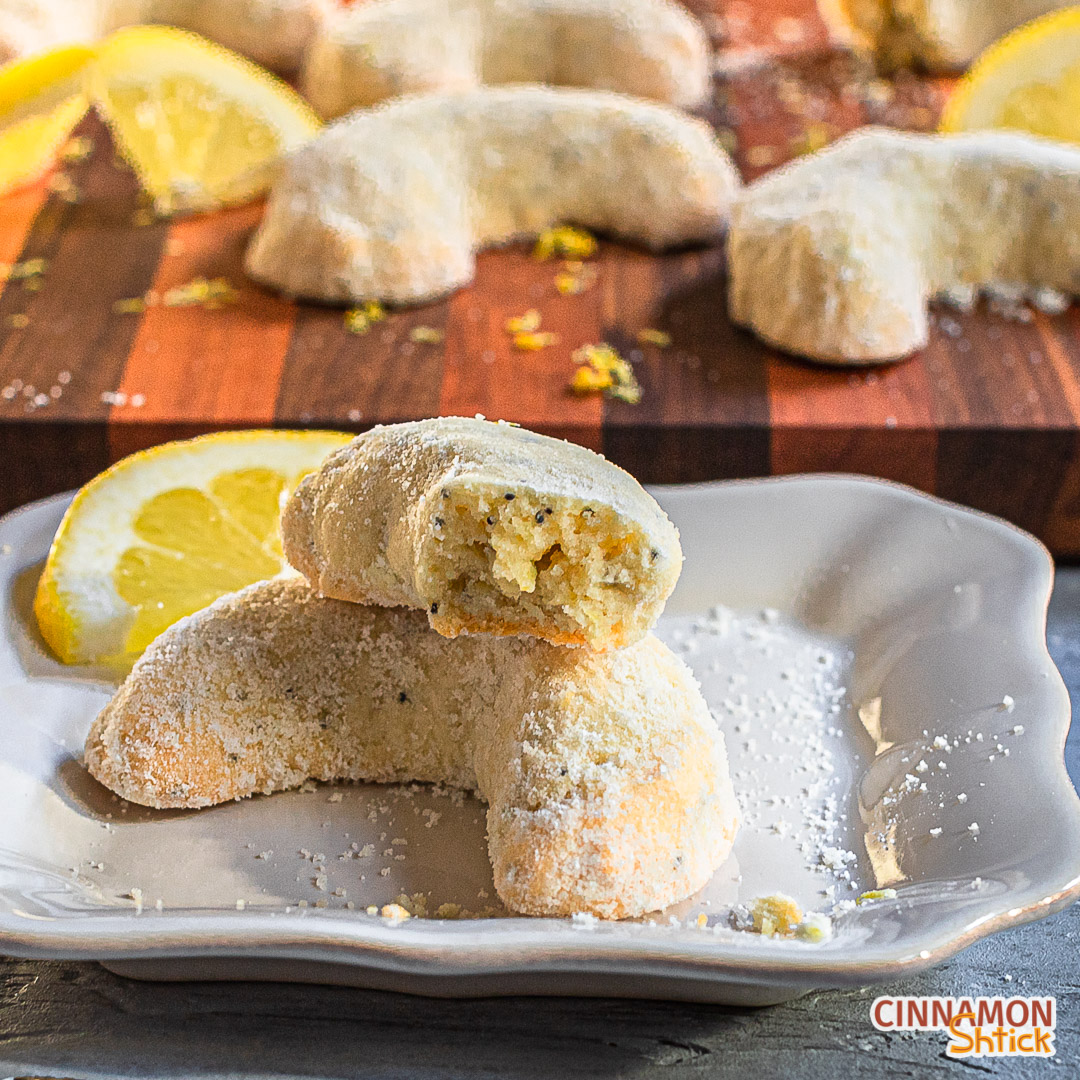 Lemon Crescent Cookies
Perfect for tea time or as petit fours, these Lemon Crescent Cookies are perfect all year around.
Ingredients
155

grams

unsalted butter, at room temperature

(11 Tablespoons)

90

grams

confectioner's sugar

(¾ cup)

Pinch

of salt

1

egg yolk

1

teaspoon

milk

¼

tsp.teaspoon

vanilla

2

teaspoon

lemon zest

(See Note)

75

grams

almond flour

(¾ cup)

205

grams

all purpose flour

(1¾ cup)

1

teaspoon

poppy seeds

(optional)

67

grams

sugar

(⅓ cup)

t

teaspoon

lemon zest

(use the rest of the zest from the lemon for the dough)

67

grams

confectioner's sugar

(⅔ cup)
Instructions 
Preheat oven to 350°F. Line cookie sheets with parchment paper.

Cream butter, confectioner's sugar, salt, yolk, milk, vanilla and zest until light and creamy, 5 minutes.

Mix in almond flour, flour and poppy seeds.

Weigh out 30 grams of dough and shape each into crescents.

While cookies are in the oven, in a small bowl press the zest into the sugar. Mix in confectioner's sugar.

Once the cookies are cool enough to handle (but still warm), coat them in the sugar/zest mixture. Allow to cool completely.
Notes
Zest from 1 large lemon should be enough for both the dough and the sugar coating. Feel free to add more zest to either for deeper lemon flavor.
To double the recipe, use 1 whole large egg (instead of two yolks) and do not add any milk.
You can make the dough in advance and store it in the refrigerator for several days. Bring to room temperature before baking.
Nutrition
Calories:
146
kcal
|
Carbohydrates:
22
g
|
Protein:
2
g
|
Fat:
10
g
|
Saturated Fat:
5
g
|
Trans Fat:
1
g
|
Cholesterol:
29
mg
|
Sodium:
2
mg
|
Potassium:
19
mg
|
Fiber:
1
g
|
Sugar:
4
g
|
Vitamin A:
230
IU
|
Vitamin C:
1
mg
|
Calcium:
19
mg
|
Iron:
1
mg