This post may contain affiliate links. As an Amazon Associate, I earn from qualifying purchases. For more information, please visit my Privacy Policy.
I can't think of anything more nostalgic than magic bars! Although, growing up, we called them seven layer bars. I have had it on my agenda for years to develop a cookie form of these bars. I finally gathered my thoughts and notes and did it. And I am so, so glad I did. (I used the graham cracker cookie base from my Graham Cracker Cranberry Cookies as a starting point.) These Magic Bar Cookies boast all the magic bar flavors in a soft, chewy, extremely enjoyable cookie!
What are Magic Bars a/k/a Seven Layer Bars?
Magic bars are one of the easiest, funnest, most delicious treats to make. Part baked good, part confection, magic bars are always a hit. Some call them seven layer bars because they traditionally contain seven ingredients, layered (for the most part) in a baking pan. In a nutshell (pun intended!), magic bars are made by layering graham cracker crumbs mixed with melted butter on the bottom of a baking pan, topped with sweetened condensed milk, chocolate chips, butterscotch chips, nuts, and coconut. Bake them up so everything sort of melts into each other and holds together, mostly glued together by the sweetened condensed milk. Super easy and beyond delicious.
There is much debate as to whether the sweetened condensed milk goes over the graham cracker crumbs or over the chocolate and butterscotch, whether the coconut goes on the very top or is layered in, and whether to use walnuts or pecans. In addition to these debates, there are bakers who leave out one ingredient or another — coconut, nuts, etc. or sub ingredients. That's sort of the magic of magic bars! You can make them what you want them to be. And, guess what! That's also true of these Magic Bar Cookies!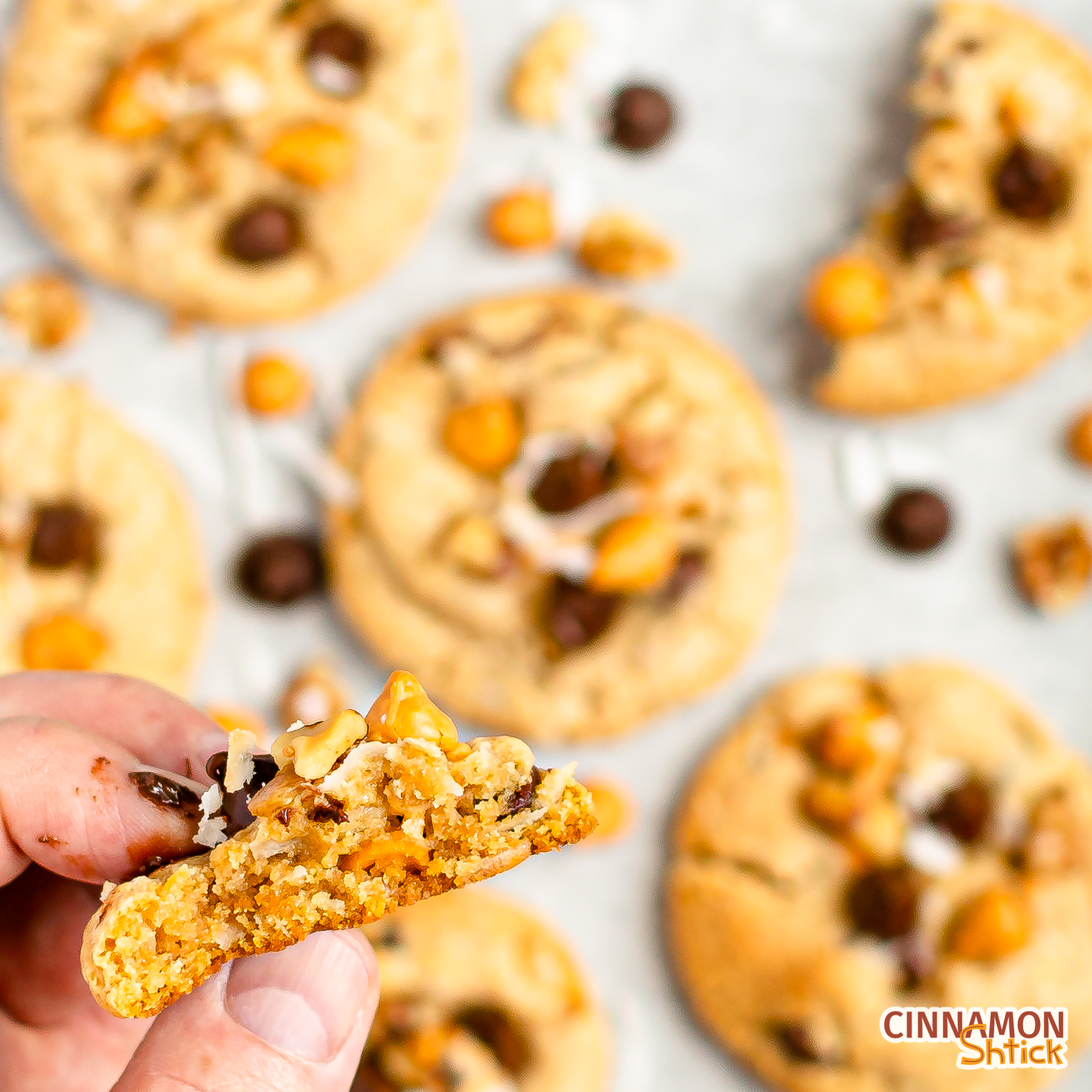 Making Magic Bar Cookies is Super Easy!
Let's first go over the ingredients:
Graham cracker crumbs: These get mixed in with the flour to give us the graham cracker flavor of magic bars. Because the graham crackers are already baked, the gluten in them can no longer develop. You can buy graham cracker crumbs or create crumbs yourself by putting graham crackers into a blender or food processor.
Flour: Like most cookie recipes, flour gives the cookies structure.
Baking soda, baking powder, and salt: All traditional cookie ingredients to help with the spread, rise, and flavor of the cookies.
Butter: The heart of a good cookie! Butter imparts delicious flavor and helps bind all the ingredients together.
Sugar: We use a combination of brown sugar and white sugar, which impact both the flavor and the spread of the cookies.
Egg: Eggs are emulsifiers, binding ingredients together. They also contribute to the softness of the cookies.
Sweetened condensed milk: This is the magical ingredient of magic bars. For these cookies, they provide a chewy softness. Personally, and no one is paying me to say this, I only use Eagle Brand sweetened condensed milk in my baking.
Vanilla: Always a good idea to include vanilla for additional flavor in a cookie.
Coconut, chocolate chips, butterscotch chips and walnuts: These are all the mix-ins for the cookies, making each bite, well, magical! Feel free to use more or less of any of them according to your own tastes and preferences. I generally use the same amount of each in this recipe, although I decreased the coconut slightly to accommodate my preferences. Feel free to increase the coconut 25 grams (

¼

cup).
How to Make Magic Bar Cookies
1. Whisk Together Dry Ingredients
Whisk together the flour, graham cracker crumbs, baking soda, baking powder and salt. Incorporating all the dry ingredients together will ensure even distribution when you add them to the wet ingredients.
2. Cream Butter with the Sugars
While this can be done by hand, it is much easier to use a stand mixer or a hand mixer. Mix them all together until they are creamy and well aerated.
3. Mix in Egg and Vanilla
No need to beat the egg beforehand. Mix in the egg and vanilla until fully incorporated.
4. Mix in Sweetened Condensed Milk
Mix in the sweetened condensed milk until fully incorporated.
5. Fold in Dry Ingredients
Pour all the dry ingredients into the wet ingredients. You can use a mixer and fold them in by hand. I like to get it started with the mixer, then finish mixing by hand to avoid over-developing the gluten in the flour.
6. Fold in the Mix-Ins
For more even distribution, mix them all together before adding them to the cookie dough.
7. Portion and Bake
The magic bar cookie dough will be slightly sticky, but still easily shapeable. You can use a cookie scoop or weigh the dough out. I like to weigh out 30 gram portions and form them into balls. To get extra decorative, you can top the cookies with more of the mix-ins. Bake for 10 minutes at 375° F, allow to cool for 5 minutes on the baking sheet, then transfer them to a wire rack to cool completely.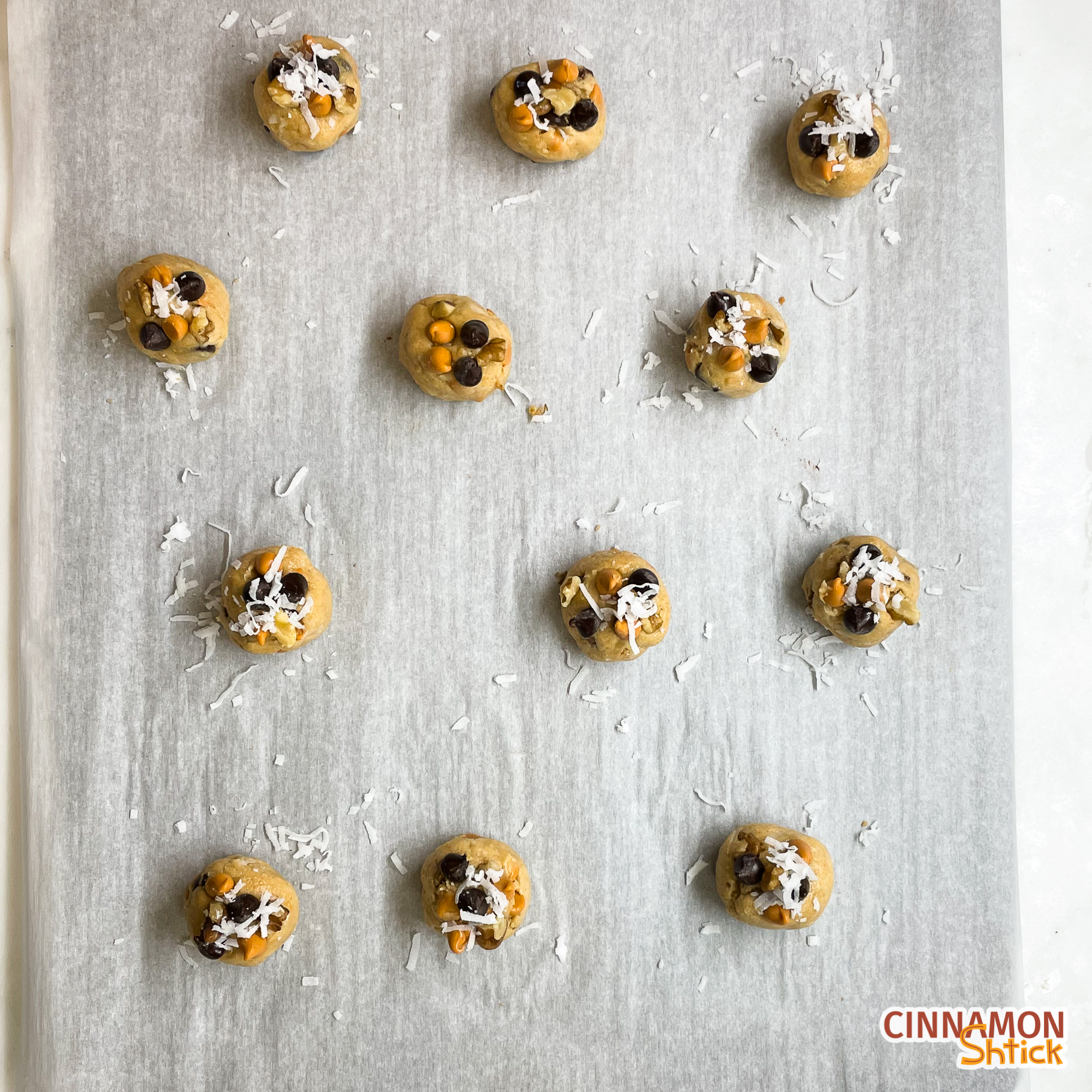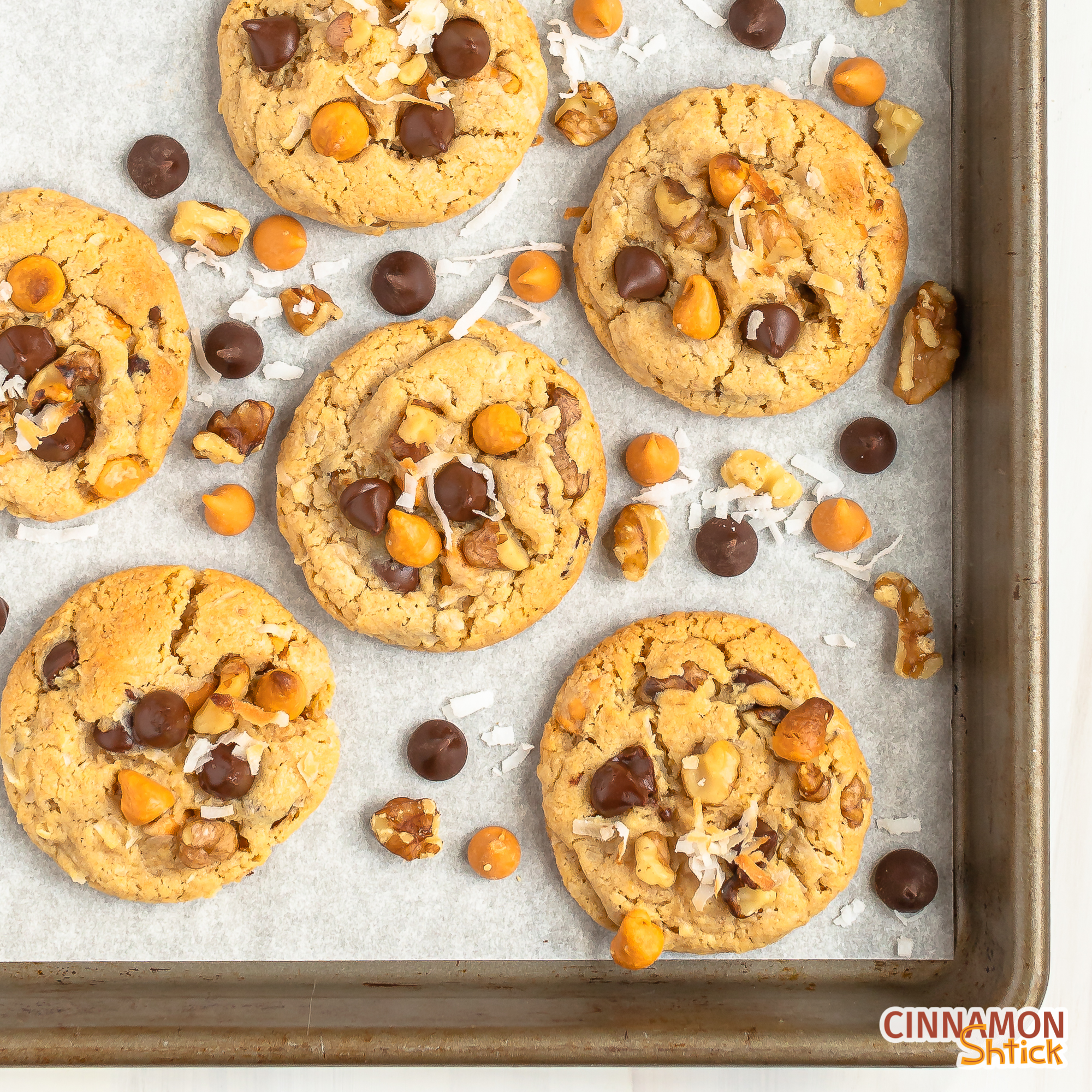 Frequently Asked Questions About Making Magic Bar Cookies
Can I skip any of the magic bar cookies ingredients?
The base of the cookie is designed for a certain consistency. However, feel free to increase, decrease, swap out, or omit any of the mix-in ingredients, such as the coconut, chocolate chips, butterscotch chips and nuts. For nuts, either walnuts or pecans are great here, or try some other variety.
What is the best way to store magic bar cookies?
Magic bar cookies will stay fresh for up to one week in an airtight container at room temperature. These also freeze beautifully (once baked). They thaw in about 10 minutes or so, which is great for pulling a few out for a sensible snack here and there.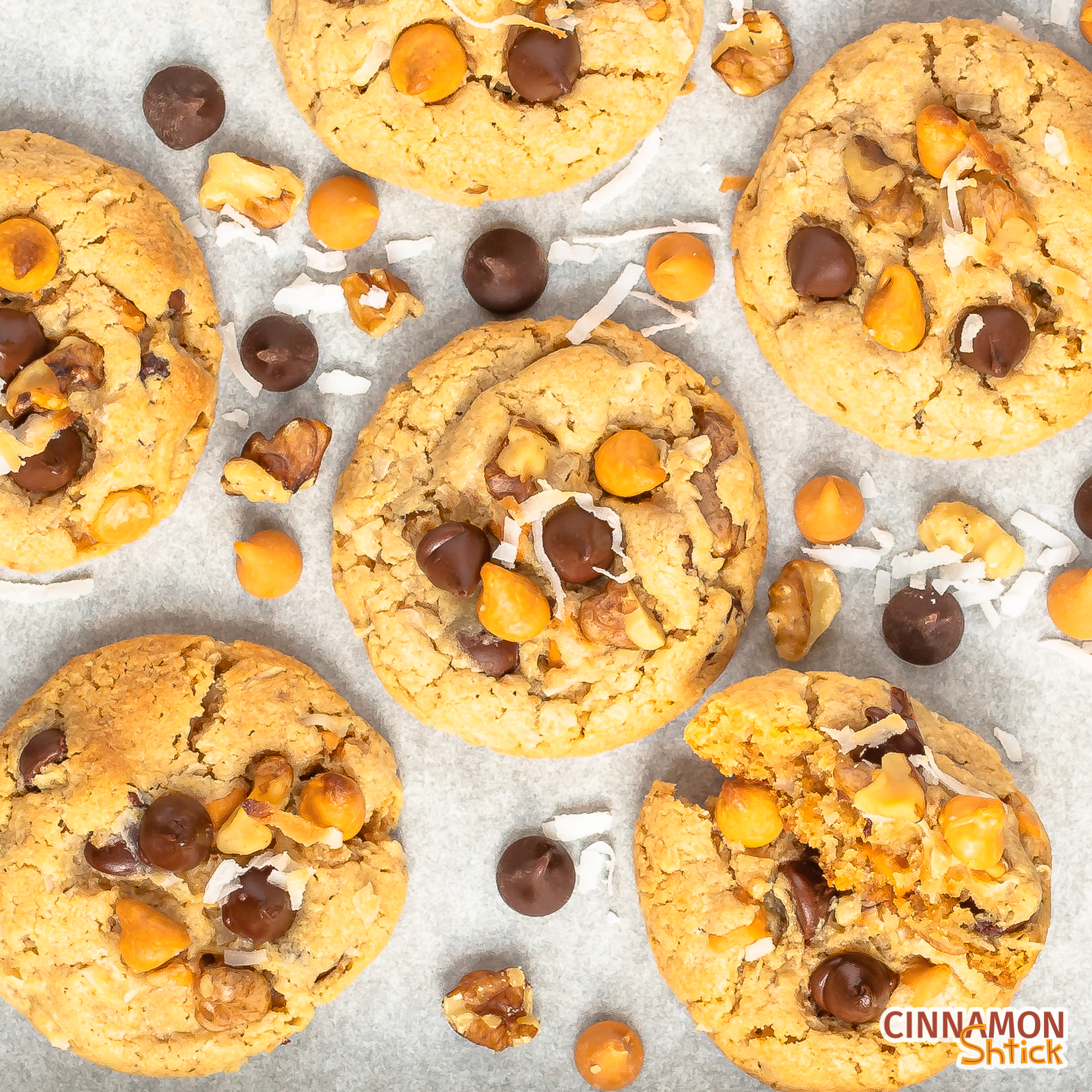 Magic Bar Cookies
These soft, chewy cookies are a fun twist on traditional magic bars.
Ingredients
270

grams

graham cracker crumbs

(2¼ cups)

210

grams

all purpose flour

(1¾ cups)

1

teaspoon

baking soda

1

teaspoon

baking powder

½

teaspoon

salt

226

grams

unsalted butter, at room temperature

(1 cup)

100

grams

granulated sugar

(½ cup)

105

grams

light brown sugar

(½ cup)

1

large egg

253

grams

sweetened condensed milk

(⅔ cup)

1

teaspoon

vanilla

75

grams

shredded coconut, sweetened

(¾ cup)

170

grams

semi sweet chocolate chips

(1 cup)

170

grams

butterscotch chips

(1 cup)

117

grams

chopped walnuts

(1 cup)
Instructions 
Preheat oven to 375° F. Line baking sheets with parchment paper.

In a small bowl, whisk together graham cracker crumbs, flour, baking soda, baking powder, and salt.

In a bowl of an electric mixer with the paddle attachment, cream together the butter and sugars until fully combined. Add egg and vanilla and mix until fully combined. Add the sweetened condensed milk, again mixing until fully combined. (You may have to stop the mixer a few times to scrape down the sides and the paddle with a rubber spatula.)

Mix the dry ingredients into the wet ingredients, just until combined. With a spatula, fold in the coconut, chocolate chips, butterscoth chips and walnuts.

Divde into 30 gram (1½ Tablespoon) balls, placing them approximately two inches apart on the prepared baking sheets.

Bake for 10 minutes, just until the edges are browned. Allow to cool on baking sheet for 5-10 minutes before removing to wire rack to cool completely.
Notes
If you can't find graham cracker crumbs, buy graham crackers and pop them into a blender or food processor to create the crumbs.
If you really like the flavor and texture of coconut, you may want to increase the amount to 100 grams (1 cup).
Many magic bar recipes use pecans rather than walnuts. Feel free to use whatever nuts you prefer!
Feel free to omit or sub-out any of the mix-ins: chocolate chips, butterscotch chips, coconut and nuts.
Nutrition
Calories:
160
kcal
|
Carbohydrates:
20
g
|
Protein:
2
g
|
Fat:
8
g
|
Saturated Fat:
4
g
|
Polyunsaturated Fat:
1
g
|
Monounsaturated Fat:
2
g
|
Trans Fat:
1
g
|
Cholesterol:
15
mg
|
Sodium:
116
mg
|
Potassium:
73
mg
|
Fiber:
1
g
|
Sugar:
13
g
|
Vitamin A:
137
IU
|
Vitamin C:
1
mg
|
Calcium:
32
mg
|
Iron:
1
mg