This post may contain affiliate links. As an Amazon Associate, I earn from qualifying purchases. For more information, please visit my Privacy Policy.
I rarely dive into recipes that cater to special diets, such as gluten free and dairy-free. However, I did with this one! And I'm so happy I did. I present to you: Lemon Blondies. These squares are a riff on a traditional blondie. And for those you observe Passover, these gluten free blondies make for the best Passover dessert!
This was my thought process: Even though I hate baking for the Jewish holiday Passover (because the baked goods cannot have any flour, among other things, in them), I wanted to come up with a Passover friendly dessert, mostly because I am bored with all the traditional Passover desserts. I needed it to be dairy free so that my family can enjoy it after eating a meat meal (part of keeping kosher). I never see lemon blondies out there — mostly lemon bars, which is a shortbread with a lemon curd. Don't get me wrong — I LOVE lemon bars. But I wanted something that is reminiscent of a blondie. You know the type: a cross between a cookie and a cake, akin to a brownie consistency.
From those thoughts, these Lemon Blondies were born. The core recipe is really for Lemon Blueberry Blondies. The blueberries are a perfect mix-in for these. If you're not into blueberries (shame, shame!), you can keep it all lemon, or toss is another fruit such as strawberries, or mix in some poppy seeds!
How to Make Lemon Blondies
These Lemon Blondies are very easy to make. Let me break it down for you:
1. Zest and Juice a Lemon
One small lemon will serve all your lemon purposes for these Lemon Blondies. Use all the zest from a small lemon. If your lemon is medium or large, measure out two packed teaspoons of the zest. Juice that lemon too. You'll need a couple teaspoons of the juice. Save the rest for something else … a cocktail, perhaps?
2. Press the Zest into the Sugar
Pour the sugar into the mixing bowl of an electric mixer. Add all the zest and use your fingertips to press the zest into the sugar. In addition to just feeling really therapeutic, this helps release some of the oils in the zest, deepening the lemon flavor.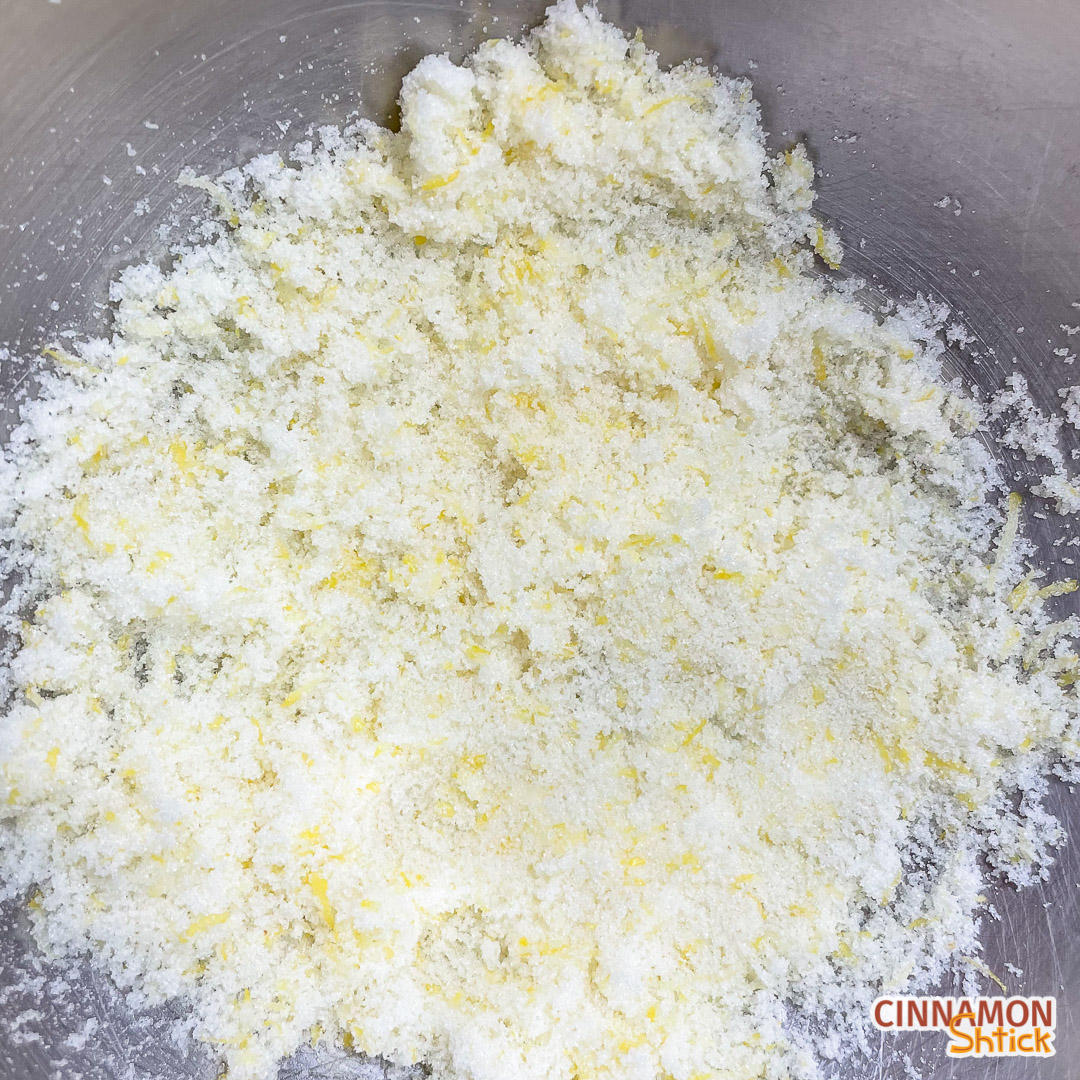 3. Whip the Eggs with the Sugar
Add the eggs and the egg white to the sugar. With either the whisk or paddle attachment (I prefer the whisk, but either works), beat the eggs with the sugar/zest mixture on high for at least 5 minutes. Yes, at least 5 minutes. The point of doing so is to aerate the mixture a bit. This recipe has no baking powder or baking soda, so the only "rise" will be from the air added at this stage. The mixture will be pale yellow, fluffy, and will form a ribbon when dropped on itself.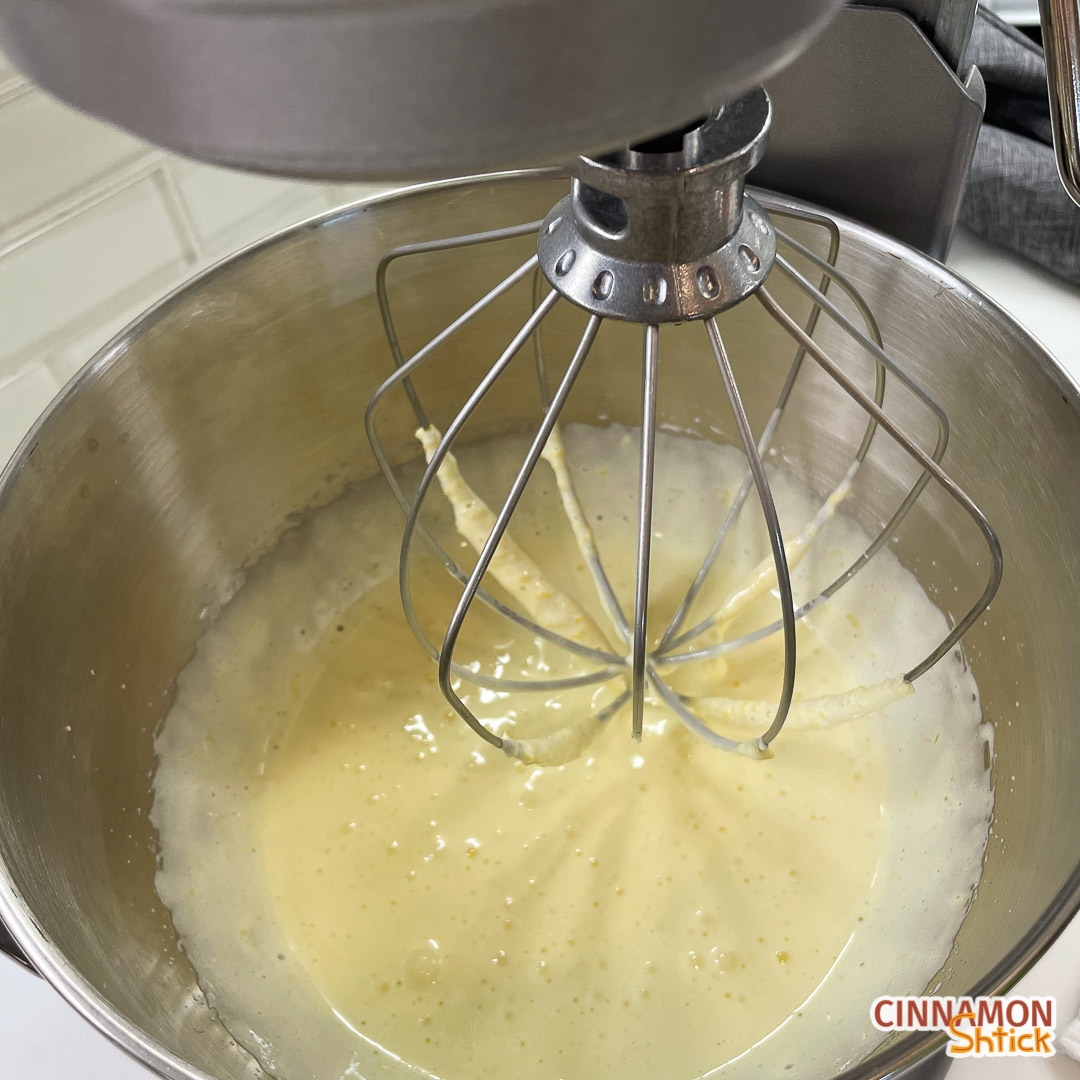 4. Mix the Almond Butter, Olive Oil, Lemon Juice and Vanilla
Almond butter. Let's tackle that first. This Lemon Blondie recipe is best made with a smooth almond butter. I admit that it can be difficult to find a smooth one, and there are many brands out there. I had great success with Barney Butter, which I highly recommend.* Don't sweat it if you can't find that brand. Just try to use the smoothest one you can.
Note for Passover Bakers: If you're making these Lemon Blondies for Passover, check out Haddar's Almond Butter or  Haddar's Mixed Nut Butter. You can also find Lieber's Almond Butter at Oh! Nuts (search Passover almond butter on their site).
Stir or whisk the olive oil, lemon juice and vanilla into the almond butter. It will be smooth and liquidy. That's what you are looking for.
If you are making these for Passover, Lieber's makes a kosher for Passover pure vanilla extract and an imitation vanilla extract (which is more economical and sufficient for these Lemon Blondies.) Gefen also makes a pure vanilla extract.
5. Whisk Dry Ingredients
The dry ingredients for these Lemon Blondies are almond flour, potato starch, and salt. Be careful when shopping for ingredients not to buy almond meal or potato flour. I recommend blanched, super fine almond flour. I also recommend sifting the potato flour if it is at all clumpy. Then just give them a quick whisk.
6. Add the Wet and Dry Ingredients
Add the almond butter mixture into the egg mixture and whisk until fully incorporated, You may need to stop the mixer and use a rubber spatula to wipe down the sides. Then add the dry ingredients and mix just until the dry ingredients are absorbed and no longer visible. If using blueberries, add them in and give the batter a couple of folds, being careful not to mix too much or your batter will turn blue. (If using frozen berries, put them in completely frozen. No need to defrost them.) Bake and enjoy!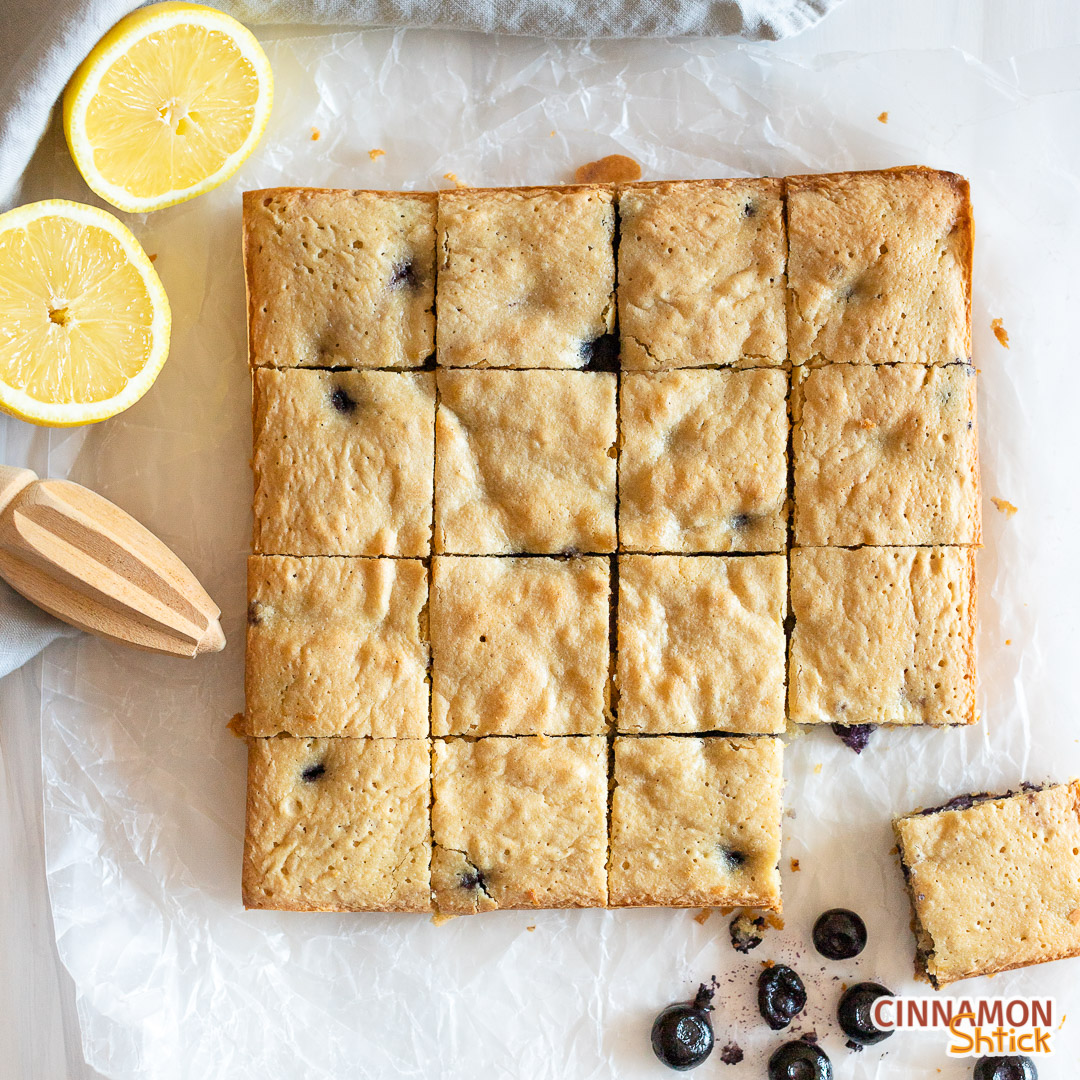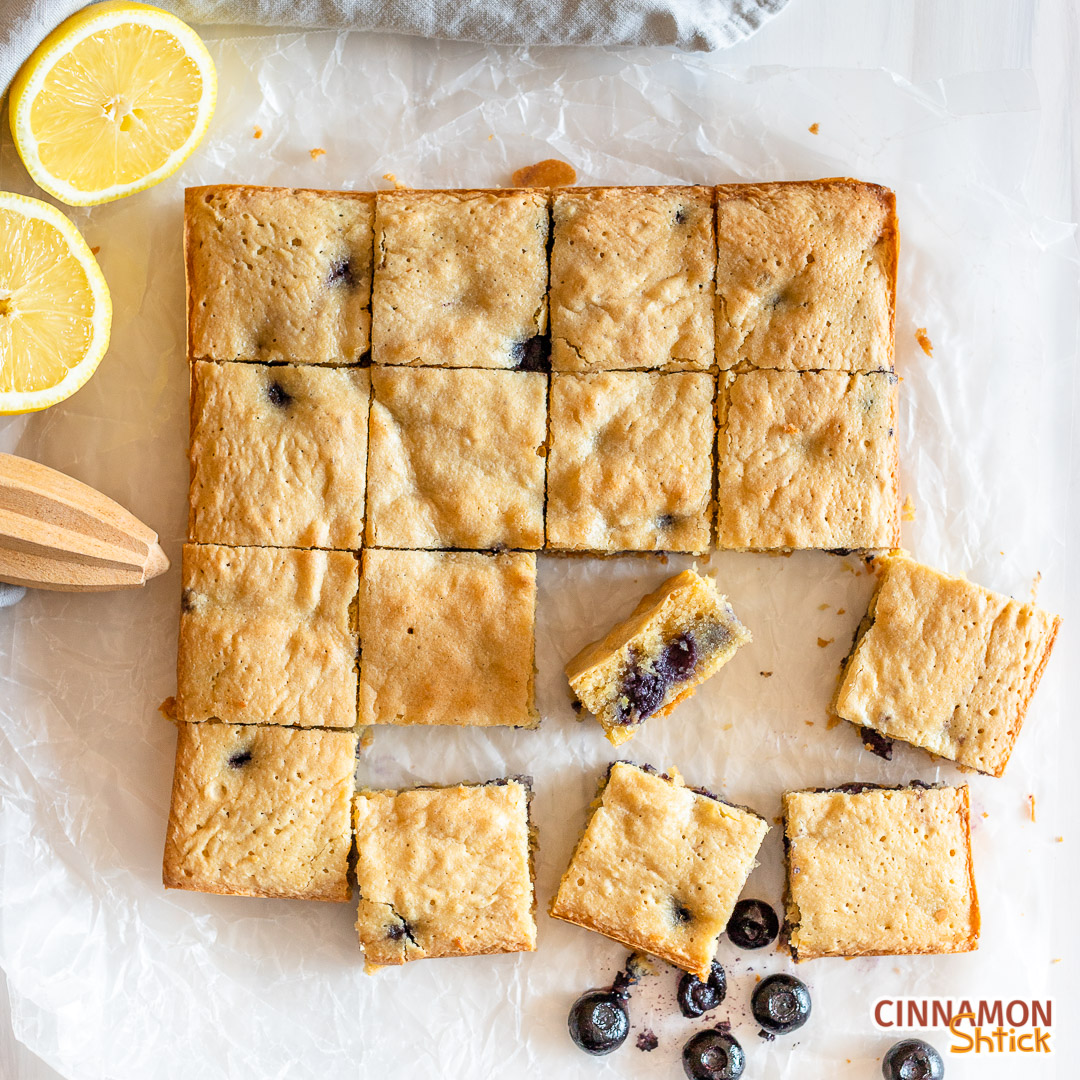 *As an Amazon Associate, I earn from qualifying purchases.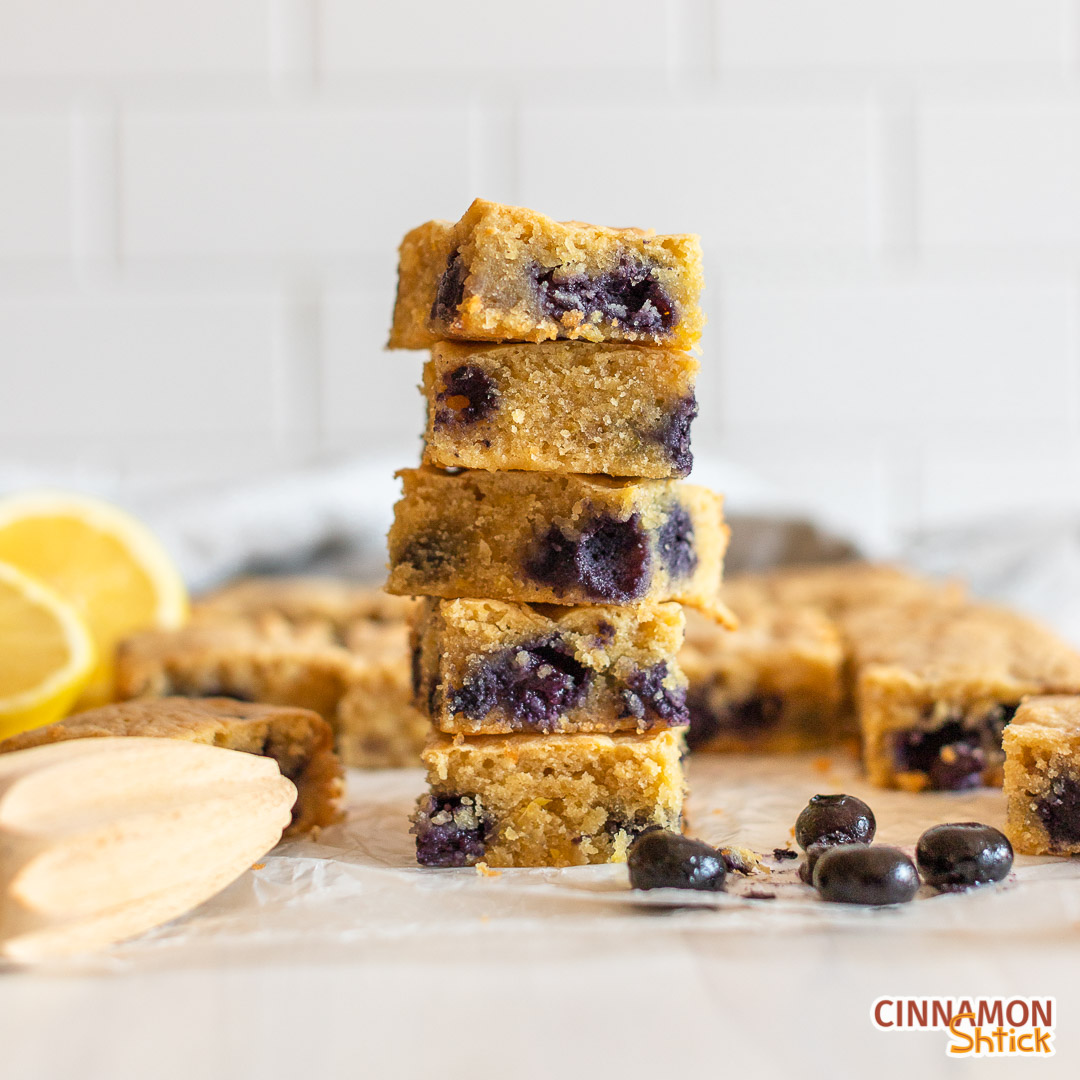 Lemon Blondies
Bursting with lemon flavor, these blondies are a cross between a brownie and a cake. They are also naturally gluten free, grain free, and dairy free.
Ingredients
2

large eggs

1

large egg white

150

grams

sugar

(¾ cup)

2

teaspoons

lemon zest

(1 small lemon)

168

grams

almond flour

(1¾ cups)

20

grams

potato starch

(2 Tablespoons)

½

teaspoon

fine sea salt

(or table salt)

60

grams

almond butter

(¼ cup)

39

grams

olive oil

(3 Tablespoons)

½

teaspoon

vanilla extract

2

teaspoons

lemon juice

85

grams

blueberries, frozen or fresh

(¾ cup)
Instructions 
Preheat oven to 350° F. Line an 8-inch square pan with parchment paper. Alternatively, grease the pan.

In the mixing bowl of an electric mixer, press the lemon zest into the sugar with your fingertips. Add eggs and the egg white and whisk 5-10 minutes at high speed. The mixture will be pale yellow and somewhat thick. (Alternatively, you can whisk by hand, which is a workout but doable.)

In a small bowl, whisk together the almond flour, potato starch and salt. (If either the almond flour or the potato starch are clumpy, sift them into the bowl before whisking together.)

In a small bowl, whisk together the almond butter, olive oil, vanilla, and lemon juice until smooth. With the electric mixer, whisk this mixture into the egg/sugar mixture until fully incorporated. You may have to stop the mixer to wipe down the sides with a rubber spatula.

Add the dry ingredients, mixing just until fully incorporated.

Fold in blueberries and spread into prepared pan.

Bake 40-45 minutes. The edges should be golden brown, the top should be lightly browned, and a toothpick inserted in the middle should come out clean. Cool completely in pan on wire rack.
Nutrition
Calories:
157
kcal
|
Carbohydrates:
14
g
|
Protein:
4
g
|
Fat:
10
g
|
Saturated Fat:
1
g
|
Trans Fat:
1
g
|
Cholesterol:
20
mg
|
Sodium:
72
mg
|
Potassium:
57
mg
|
Fiber:
2
g
|
Sugar:
11
g
|
Vitamin A:
33
IU
|
Vitamin C:
2
mg
|
Calcium:
40
mg
|
Iron:
1
mg