This post may contain affiliate links. As an Amazon Associate, I earn from qualifying purchases. For more information, please visit my Privacy Policy.
Homemade Vanilla Extract has been on my to-do list for at least a decade. It is preposterous — completely preposterous — that I have waited so long to tackle such an easy, satisfying, and cost-effective activity!
Everyone I know who has made their own Homemade Vanilla Extract says that their extract is better than what they buy in stores. Guess what! They are correct.
Where do Vanilla Beans Come From?
Vanilla beans originally came from Mexico. They require a warm, humid climate to grow, generally within 10-20 degrees of the equator.
More than 200 years ago, someone smuggled some vanilla beans from Mexico and ultimately harvested them in the Bourbon Islands, which is off the southern, east coast of Africa. When people refer to Madagascar or Bourbon vanilla, they are referring to this region which has nothing to do with bourbon the liquor.
A little more than 50 years after vanilla beans were brought to the Bourbon Islands, someone similarly smuggled some vanilla beans into Tahiti which has been harvesting them ever since.
Vanilla beans from each of Mexico, Madagascar, and Tahiti are cured differently and have slightly different taste, although they are all delicious!
Making Homemade Vanilla Extract is Cost Effective
Vanilla extract is expensive. Even common brands at the grocery store are expensive. Why is that?
As explained above, vanilla beans grow and are harvested within a limited geographical location on the planet. Vanilla is also one of the most common spices used by everyone on the planet. In recent years, weather has complicated the farming of vanilla beans. What it all boils down to is simple supply and demand.
Ideally, I prefer to create desserts using real vanilla beans. Nothing beats the flavor, although extract can do the job almost as well. Using whole beans though is expensive, which is why manufacturers sell vanilla extract. You can take a handful of vanilla beans, let them sit in some alcohol (vodka is ideal) for weeks to months, and have lots of vanilla extract. In the end, making vanilla extract is cheaper than buying it.
That said, when buying vanilla extract, I generally buy one of two brands, both of which I adore: Penzey's and Heilala. Although, I now I have not bought vanilla extract in more than two years because I just keep making my own, saving myself lots of money!
What Tools do I Need to Make Vanilla Extract?
You need only one tool to make Homemade Vanilla Extract: a proper vessel.
Any sealed glass container will work for this easy project. You do want to make sure that you can seal the top. You also want a vessel in which the vanilla beans will be completely submerged in the alcohol. Do not feel like you need a tall vessel because you can absolutely cut the vanilla beans in half or quarters to make them fit into your container. I would stick with a glass container of sorts. It is also best to keep it out of the light, so a tinted glass container will be great. (I am keeping my containers in a closed kitchen cabinet, so I did not seek out tinted containers.)
I have seen people use cute bottles with attached caps to make vanilla extract. (Like a glass soda bottle.) That's a great option, especially since those bottles are generally tall enough to house the length of most vanilla beans. Those bottles filled with vanilla extract also make great gifts. You can also use the actual bottle of alcohol that you will use to make your extract.
Because I want to have access to my beans to use the caviar from them as the mood strikes, I chose a vessel that will allow me to easily pull out a bean. I am therefore using a Mason jar with a ReCAP lid. This provides me with easy access to the vanilla beans throughout the extraction process, and once the extract is ready, I can easily pour out what I need from the flip cap. I use two 14-ounce Mason jars.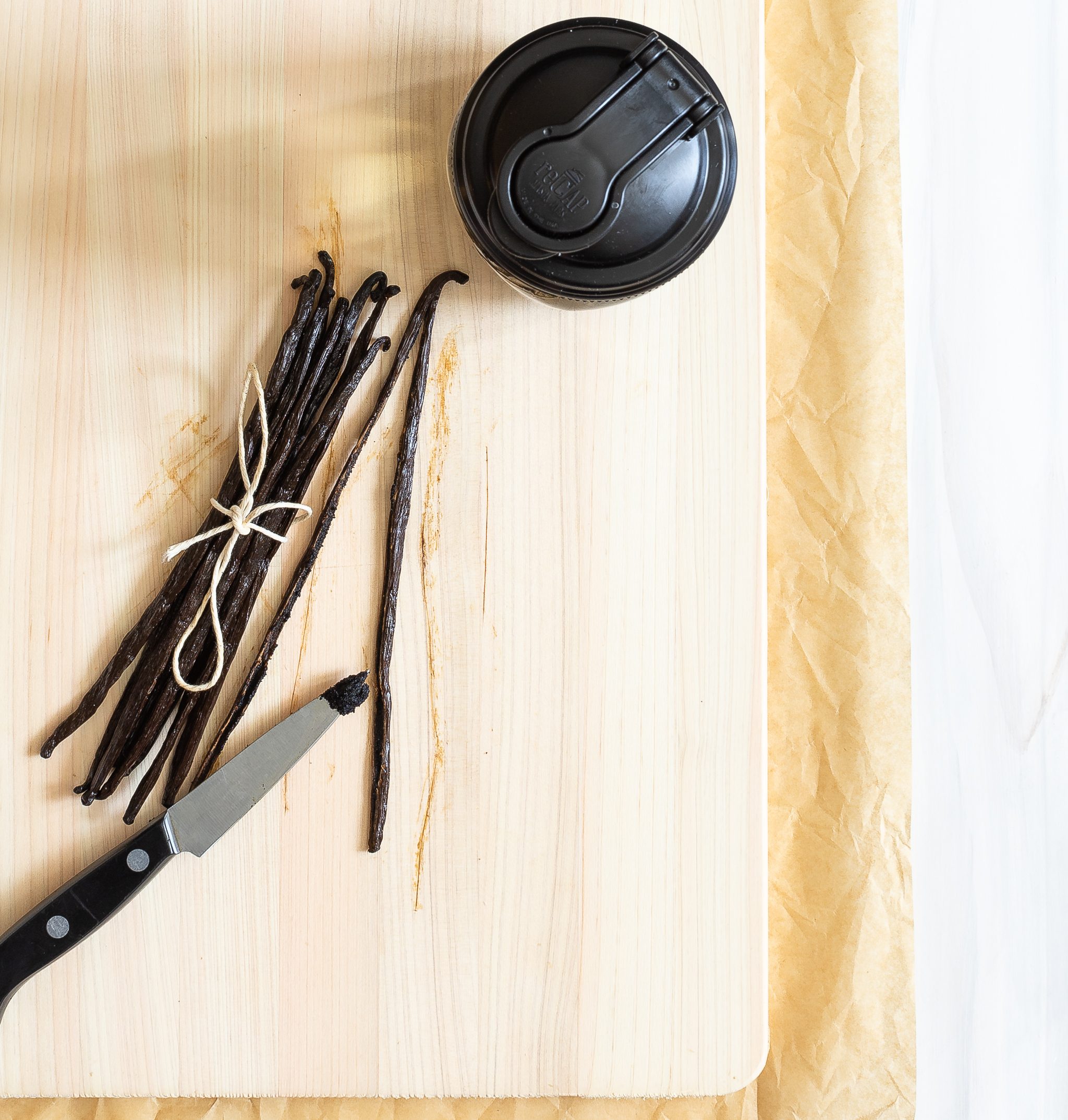 What are the Ingredients for Homemade Vanilla Extract?
There are literally two ingredients to make Homemade Vanilla Extract:
Vanilla Beans; and
Alcohol
See! Nothing remotely complicated.
1. Where do I buy vanilla beans?
Vanilla beans are sold in most grocery stores, but they tend to be more expensive there. Your best bet is to buy in bulk from places like Amazon. Vanilla beans generally come labeled as Grade A and Grade B. The grading system denotes longer beans with higher moisture content (Grade A) versus shorter, drier beans (Grade B). Grade B are therefore generally cheaper than Grade A and are fabulous for making Homemade Vanilla Extract — you will be able to extract the flavor from the beans regardless of whether there is lots of caviar held in the bean. Plus, once soaking in the alcohol, it will not matter if the beans were dried up, as they will plump right back up.
One of the best places to buy vanilla beans is Amazon. They sell quality beans for competitive prices. I bought these vanilla beans for my first Homemade Vanilla Extract. You'll note that I bought Grade A. Why would I do that after I just explained that Grade B is generally cheaper and makes just as good vanilla extract? Well, as I said earlier, I love to create desserts using the caviar from vanilla beans (rather than extract). When I need vanilla for a recipe (like Vanilla Ice Cream), I can take a vanilla bean (also called a vanilla pod) or two from my Mason jar with a ReCAP lid of extract-in-progress, slice the bean in half, scrape out the caviar for my recipe, and place the open pod back into the jar of alcohol for continued extraction. Win/win!!!
2. What kind of alcohol do I use to make vanilla extract?
All my research led to the same conclusion: To make Homemade Vanilla Extract, use 80-100 proof alcohol.  I generally use vodka (80 proof) because it has no flavor of its own. That said, people use all kinds of alcohol, including rum, brandy and bourbon. 
There is no need to spend money on decent alcohol. You are simply infusing vanilla into the alcohol which will basically act as a conduit to transfer the vanilla flavor into your baked good/dessert. Go as cheap as possible on the alcohol and put your money towards good vanilla beans instead. (Confession: For my first ever batch, I used a bottle of vodka that someone gifted to us years ago. It has been sitting in our cabinet all this time. We didn't drink it because it was not the best quality. It is ideal for extracting vanilla though!)
How to Make Homemade Vanilla Extract
Making vanilla extract can be as simple as pouring alcohol into a vessel, inserting a bunch of vanilla beans so that they are completely submerged and covered by the alcohol, closing the jar, and letting it sit for 4-12 months. How's that for no fuss?! 
I love seeing some of the caviar in my extract, so I decided to cut one vanilla bean open in each of my Mason jars.
How many vanilla beans do I need to make vanilla extract?
First, you should know that there is what is called Single Fold Vanilla and Double Fold Vanilla. Simply put, Double Fold uses double the number of vanilla beans, creating a darker, more robust (and more expensive!) extract. I usually go somewhere in between Single Fold and Double Fold.
The United Stated Food and Drug Administration requires 2.64 ounces of vanilla per 750 ml of alcohol for single Single Fold Vanilla. I wanted to go a little stronger than Single Fold, but I never want to spend too much money on this venture, so I use 3 ounces of vanilla beans for 750 ml of vodka. I divided both into two 14 ounce Mason jars with ReCAP lids.
Having sliced open one vanilla bean in each jar, the extraction process goeso slightly faster than using fully closed vanilla beans. Ideally, the extraction process will take anywhere from 4-12 months. I read that shaking the jars once per week should speed up the process as well. While I intend to give them a weekly shake, I want the end result to be a rich, flavorful vanilla, so I give it at least four months before I even try the extract.
Frequently Asked Questions About Making Vanilla Extract
What kind of alcohol is used to make vanilla extract?
For just a pure vanilla flavor, vodka works best since it has not flavor of its own. You can also infuse vanilla into other liquors such as brandy, bourbon or rum.
How long does it take to make vanilla extract?
You can simply fill up a jar with alcohol and vanilla beans and let it sit. That could take 6-12 months. If you want to speed it up a bit, cut open one or two vanilla beans before placing them into the alcohol, and shake the jar once a week. You could have quality, usable vanilla in a month or two that way.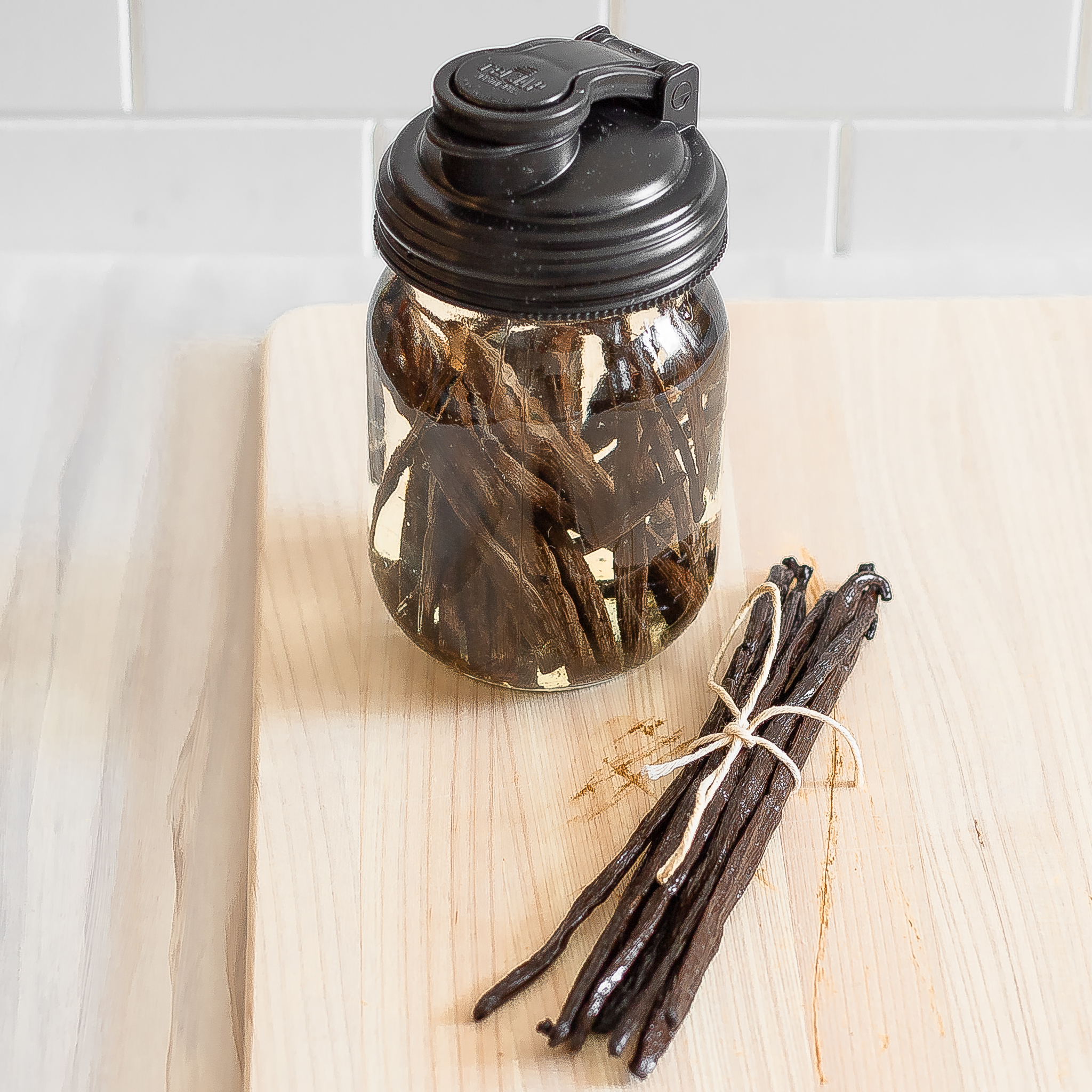 Homemade Vanilla Extract
Making vanilla extract at home is a cost-effective way to have superior vanilla extract for all your baked goods and desserts.
Ingredients
85

grams

vanilla beans

(3 ounces)

750

milliliters

alcohol (vodka, rum, brandy, or bourbon)

(750 grams)
Instructions 
Place vanilla beans into a glass, seal-proof vessel such as a Mason jar. (For vanilla seeds within your extract, cut open 1 or 2 of the vanilla beans.) If your beans are longer than your jar, cut the beans in half or in quarters to ensure that they are fully submerged in the alcohol.

Pour alcohol over the vanilla beans, ensuring that they are completely submerged and covered by the alcohol. (Exposed portions of the beans could mold over time.)

Allow the vanilla beans to infuse into the alcohol for at least 4 months and up to 12 months. Shaking the jar once per week will decrease the amount of time needed for a flavorful extract. The extract is done when it tastes like, well, vanilla!
Notes
If you are making a recipe that calls for real vanilla beans, remove one of the beans from your extract, slice it in half, scrape out the caviar (seeds) for your recipe, and place the vanilla bean back into the jar.
Once the extract is made, you can reuse the beans for more extract by using the same beans in half the amount of alcohol. After this second use, you have extracted all you can from the beans. Allow them to dry at room temperature for a few days and then toss them in a food processor with some sugar to make vanilla sugar.
Store the jars in a dark place (in a cabinet is ideal) at room temperature.
Nutrition
Calories:
13
kcal
|
Carbohydrates:
1
g
|
Fat:
1
g
|
Sodium:
1
mg
|
Potassium:
1
mg
|
Iron:
1
mg