This post may contain affiliate links. As an Amazon Associate, I earn from qualifying purchases. For more information, please visit my Privacy Policy.
Of all the ginger themed cookies out there, these Ginger Rye Molasses Cookies are my total fave. Admittedly, I'm not a big fan of a crisp gingersnap sort of cookie. (Although, I love using them in a cookie crust, like in my Cheesecake with Pecan Gingersnap Crust!)
What makes these Ginger Rye Molasses Cookies better than all others?
Rye Flour and Bread Flour
Well, first of all, I use a combination of rye flour and bread flour. I am soooo into rye flour.
I completely heart a rye bread, so that could be part of it. However, using rye flour in certain baked goods can completely amplify the taste and moistness. Wanna test this statement? Make both my Brown Butter Chocolate Chip Cookies and my Brown Butter Rye Chocolate Chip Cookies. Don't get me wrong — both these recipes render astoundingly delish cookies. The rye ones just have a depth of flavor that makes it a chocolate chip cookie unlike any other.
As for bread flour, use it. Yes, you can substitute all purpose flour if you're in a pinch. But don't let yourself be in a pinch. Bread flour is one of the keys to achieving the chewiness of this cookie. (Nerd alert: Bread flour contains more protein than all purpose flour. That extra protein adds to the chewiness.)
Brown Sugar
Many ginger molasses cookie recipes use white sugar only, which causes the cookie to spread a bit. I use a combination of brown sugar and white sugar to add even more molasses (brown sugar is white sugar with molasses in it) and to add a drop more moisture to the cookies.
Black Pepper
Adding black pepper to the spice mix of this cookie takes the flavor up a notch. Let's be clear — I am not a black pepper kinda guy. I use it sparingly when cooking savory dishes, and I have never been one to add pepper to anything I am eating. The said, a drop of black pepper in these cookies adds such an astounding contrast to the sweetness of the cookie. Trust me. Don't skip the black pepper.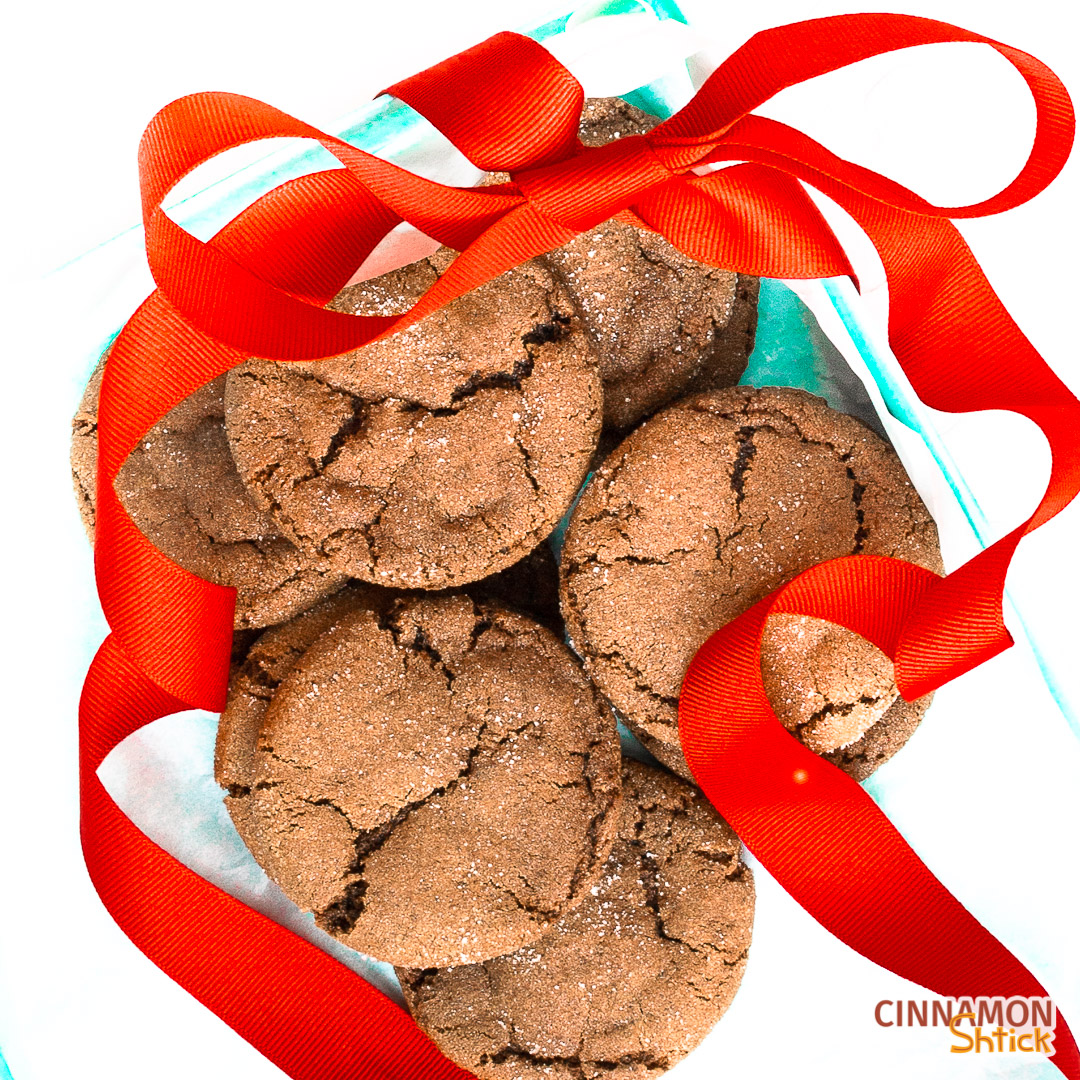 Ginger Rye Molasses Cookies
The depth and complexity of flavors in these cookies provide the perfect contrast to their soft, chewy nature. A welcome addition to any cookie platter, or to a scoop of ice cream!
Ingredients
164

grams

bread flour

(1⅓ cups)

106

grams

rye flour

(1 cup)

1½

teaspoon

baking soda

1½

teaspoon

ground ginger

¾

teaspoon

ground cinnamon

¼

teaspoon

ground cloves

¼

teaspoon

ground cardamom

¼

teaspoon

fresh ground black pepper

½

teaspoon

salt

113

grams

unsalted butter, at room temperature

(8 Tablespoons)

100

grams

sugar

(½ cup)

53

grams

dark brown sugar

(¼ cup)

1

large egg, at room temperature

95

grams

molasses

(¼ cup)

1

teaspoon

white vinegar

Sugar

(for dredging)
Instructions 
Sift together the flours, baking soda and spices into a small bowl. Whisk together and set aside.

In a stand mixer, cream together the butter, sugar, and brown sugar scraping sides of bowl as necessary.

Add egg and mix well.

Slowly, while the mixer is on a low speed, add the molasses and vinegar.

Add the dry ingredients just until combined.

Shape dough into a block, flatten, and wrap in plastic wrap. Place dough into refrigerator for at least 2 hours and up to 72 hours.

Preheat oven to 350°F. Line baking sheets with parchment paper.

Take 30 g. (1½ Tbsp.) worth of dough and roll into balls. Dredge them in sugar and place on prepared baking sheets at least 2 inches apart, as they tend to spread a lot while baking.

Bake 8-10 minutes. The tops should have cracks on the surface and be firm in the middle. When you remove the baking sheet from the oven, hold it approximately 4-6 inches over a cooling rack and drop the baking sheet onto the rack. This will help "unpuff" the cookies. Allow to cool on baking sheet.
Notes
Flour substitutions: If you do not have bread flour, you can use all purpose flour instead. (The cookies will be slightly less chewy.) If you do not have rye flour, use 106 g. of bread flour or all purpose flour or 1 cup. less 1 Tbsp.
The addition of black pepper adds complexity to this cookie.
My baking time sweet spot for these cookies is 9 minutes. Check them at 8 minutes though, as each oven runs differently.
Nutrition
Calories:
125
kcal
|
Carbohydrates:
20
g
|
Protein:
2
g
|
Fat:
5
g
|
Saturated Fat:
3
g
|
Trans Fat:
1
g
|
Cholesterol:
18
mg
|
Sodium:
142
mg
|
Potassium:
103
mg
|
Fiber:
1
g
|
Sugar:
10
g
|
Vitamin A:
140
IU
|
Vitamin C:
1
mg
|
Calcium:
18
mg
|
Iron:
1
mg