This post may contain affiliate links. As an Amazon Associate, I earn from qualifying purchases. For more information, please visit my Privacy Policy.
When it comes to oatmeal raisin cookies, they gotta be chewy. I have no interest in a crisp, dry oatmeal cookie. Does nothing for me. But, present me with a sensible plate of Chewy Oatmeal Raisin Cookies, I will be in my happy place.
I love these cookies. They are downright delish, perfectly chewy, and, best of all, incomprehensibly easy to make! Let's break it down to show you how quick these come together.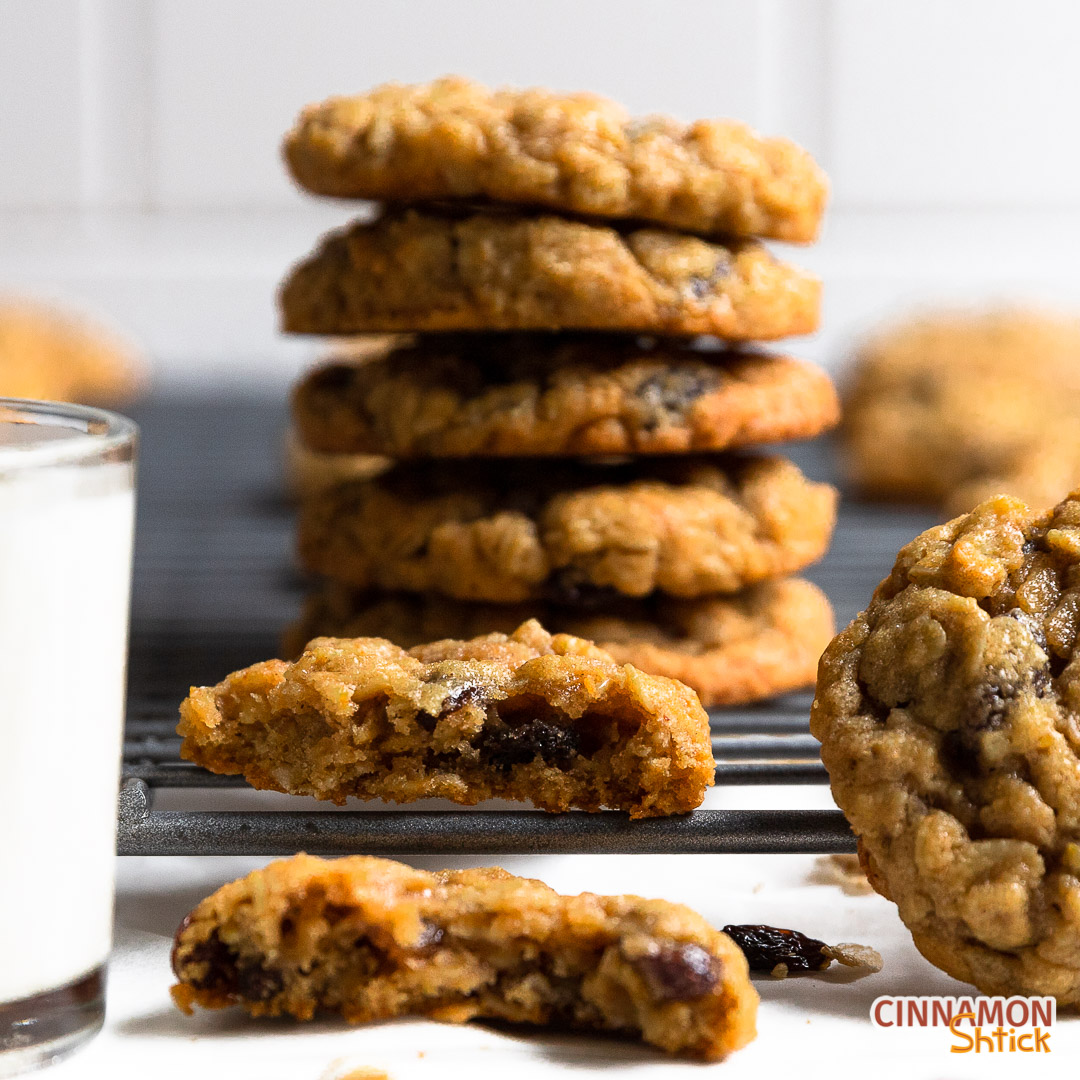 How to Make Chewy Oatmeal Raisin Cookies
Mix Dry Ingredients
Seriously. That's all you need to do for this step. You can use a fork or a whisk. Just make sure everything is interspersed.
Cream Butter and Sugars
With a stand mixer, hand mixer, or just by hand with a wood spoon, cream the butter with the sugars. What does "cream" mean? Generally, it means to mix the butter with the sugar until fully combined, pale yellow, fluffy and airy. For cakes, you want to really cream these ingredients together because the more you do so, the more air will become incorporated which will help make an airy cake. For cookies, however, we don't really want all that additional air, so there is no need to go overboard with creaming here. I do not own a hand mixer, and I'm too lazy to do this by hand, so I always use my stand mixer. Takes less than a minute!
Add Eggs and Vanilla
Literally, add the eggs and vanilla. You can do this at one time. Continue mixing until fully incorporated. Oh, and use a quality vanilla extract or vanilla bean paste! The flavor of these cookies come primarily from the cinnamon, vanilla and of course the oatmeal. Quality ingredients render a quality product!
Add Dry Ingredients
You can use the mixer, but I like to add the dry ingredients by hand to avoid over-mixing. If you over-mix, the gluten in the flour will develop and change the texture of your cookies. Once the dry ingredients are just incorporated, dump in the oatmeal and raisins and mix to combine.
Shape Cookies
When you shape the cookies, the dough will be sticky, but it should be manageable. If they are too sticky to shape, pop the dough in the refrigerator for 30 minutes. Once chilled, you will be able to shape them. I highly recommend making the dough and baking the same day rather than refrigerating the dough for a longer period. They just taste a teeny bit better when baked immediately.
For portioning, you can, for sure, use a cookie scoop. I weigh my cookies by taking a spoonful of dough and placing on my scale. I make almost all of my cookies 30 grams, regardless of the recipe I am making (such as my Brown Butter Rye Chocolate Chip Cookies and my Brown Butter Chocolate Chip Cookies). I have no idea why. I just do. 30 grams seems to give me the perfect size cookie — regardless of how many I eat!
Bake
Be careful not to overbake your Chewy Oatmeal Raisin Cookies! The edges should be browned and the middles should just barely be baked. They will finish baking as they start to cool down out of the oven.
Want to know how to make your cookies consistently round? Here's the secret: Right when you take the cookies out of the oven, use a circular cookie or dough cutter (or even a coffee mug turned upside down) and gently but quickly circle around each cookie so that the edges of the cookie hit the sides of the cutter or mug. You need to do this rather quickly before the cookies cool down. This trick works every time. I have had cookies that spread while baking and looked horrifying, but when they came out of the oven, I was able to salvage them with this trick.
Enjoy Your Chewy Oatmeal Raisin Cookies!
These cookies are ideal for dessert, snacking, tea time, midnight munchies… Whether with a glass of milk or a scoop of ice cream between two of them, they are delish! If you do not want to eat them all in one sitting (WHAT?!?!), I highly recommend freezing them after they are baked. They freeze beautifully and come to room temperature within 10 minutes. Although, I will confess that they are also enjoyable frozen.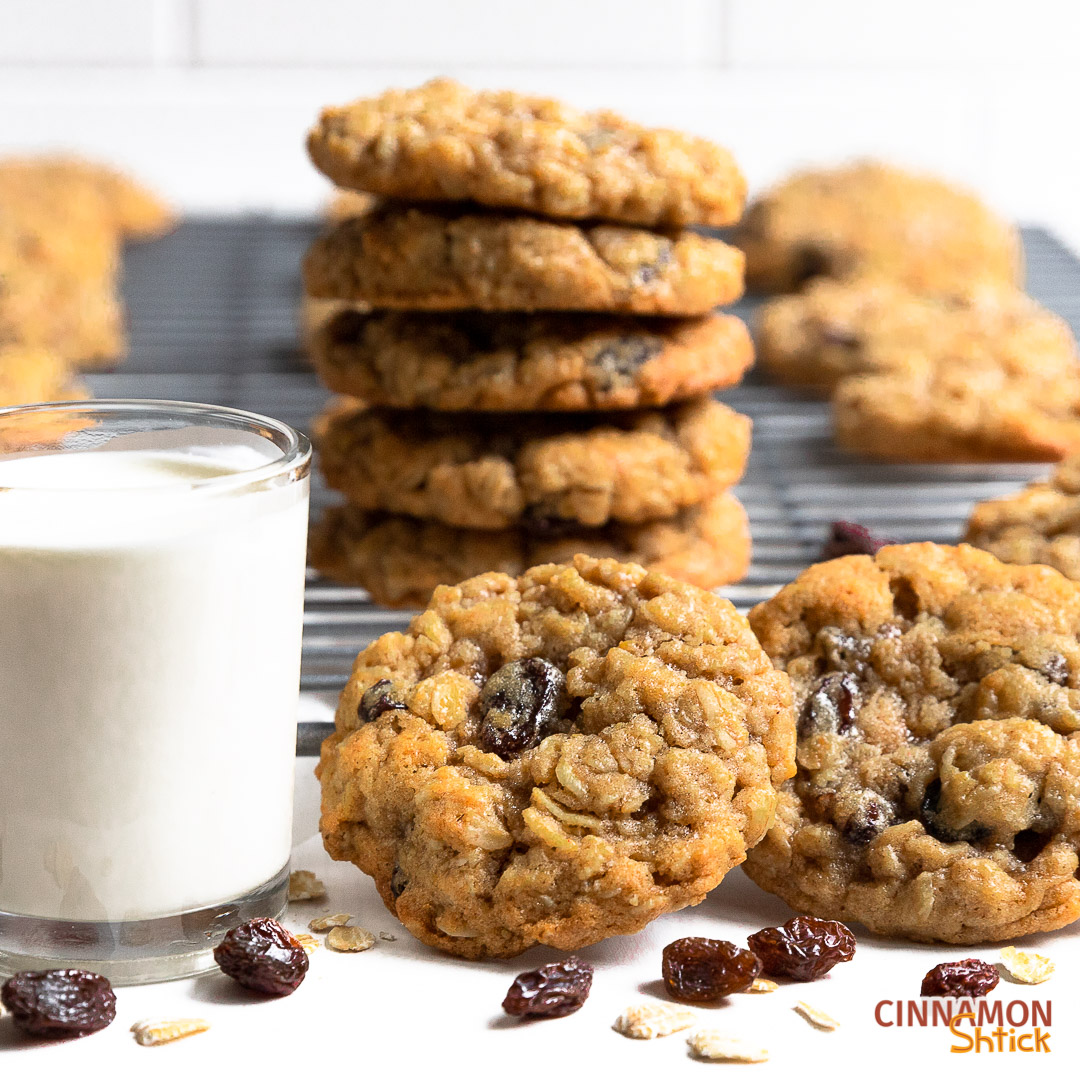 Chewy Oatmeal Raisin Cookies
Chewy, flavorful oatmeal raisin cookies are the epitome of home-baked cookies. These cookies will warm your heart.
Ingredients
240

g.

flour

(2 cups )

1

tsp.

baking soda

1

tsp.

baking powder

1½

tsp.

cinnamon

½

tsp.

salt

226

g.

unsalted butter, at room temperature

(1 cup or 2 sticks)

100

g.

white sugar

(½ cup)

210

g.

light brown sugar

(1 cup)

2

large eggs

2

tsp.

vanilla

266

g.

oatmeal

(2¾ cups)

160

g.

raisins

(1 cup )
Instructions 
In small mixing bowl, whisk together the flour, baking soda, baking powder, cinnamon, and salt. Set aside.

Cream together the butter and the sugars. Mix in eggs and vanilla until fully combined.

Mix in dry ingredients, just until almost combined. Mix in oatmeal and raisins.

Shape into cookies, each weighing 30 grams, or use a cookie scoop. If they are too sticky to handle, place the dough in the refrigerator for approximately 30 minutes.

Bake for 9-10 minutes, until the edges are golden brown.

Cool on pan for at least 5 minutes before moving to cooling rack to cool completely.
Notes
These cookies are best baked right away. However, you can make the dough in advance and store it in the refrigerator for up to two days. I prefer to shape the dough into 30 gram balls and store them on a sheet tray in the refrigerator. For best consistency, prior to baking, place the cookie balls on a baking sheet approximately 2 inches apart and allow them to come to room temperature before baking. If you're in a rush, you can bake them directly from the refrigerator, but the baking time will be approximately 10-11 minutes.
Nutrition
Calories:
108
kcal
|
Carbohydrates:
16
g
|
Protein:
1
g
|
Fat:
5
g
|
Saturated Fat:
3
g
|
Trans Fat:
1
g
|
Cholesterol:
19
mg
|
Sodium:
74
mg
|
Potassium:
54
mg
|
Fiber:
1
g
|
Sugar:
7
g
|
Vitamin A:
146
IU
|
Vitamin C:
1
mg
|
Calcium:
18
mg
|
Iron:
1
mg