This post may contain affiliate links. As an Amazon Associate, I earn from qualifying purchases. For more information, please visit my Privacy Policy.
I recently celebrated my birthday by having my niece come over to also celebrate her birthday. (Hers is two days before mine.) I made us each a cake — mine was a yellow cake with chocolate fudge frosting, hers was deep chocolate with vanilla buttercream. Two cakes not being enough for literally a handful of people, I had to have an ice cream to pair with our cakes. I mean … duh! So, I decided to go with Brown Butter Chocolate Chip Cookie Dough Ice Cream. It's literally a delicious mouthful!
Is Raw Cookie Dough Safe to Eat in Cookie Dough Ice Cream?
Yes, if made properly. And, guess what! It's easy to make it properly! WHOOHOO-HOO!
The brown butter cookie dough in this recipe is based on my Brown Butter Chocolate Chip Cookies. To make them safe for raw consumption, I simply removed the eggs. Since we are not baking cookies, I also removed the baking soda and vinegar. (The vinegar is in the original recipe because it creates a chemical reaction with the baking soda to cause the cookies to rise.)
The only other issue was the flour. Generally, raw flour is not safe to eat because there may be some bacteria in it. To play it safe, we just need to heat the flour up to 165° F. Spread it on a baking sheet and bake it for 10 minutes, and you're good to go! Easy. Now you can safely enjoy Brown Butter Chocolate Chip Cookie Dough Ice Cream! To make sure you get to the correct temperature, you really need to use a thermometer.  I highly recommend a Thermapen from ThermoWorks (pictured above). I literally use it to take the temperature of anything I make, from ice cream to breads to tempering chocolate. 
If you're new to browning butter, don't be scared! I got you covered. Check out my Brown Butter post where I talk you through this easy process.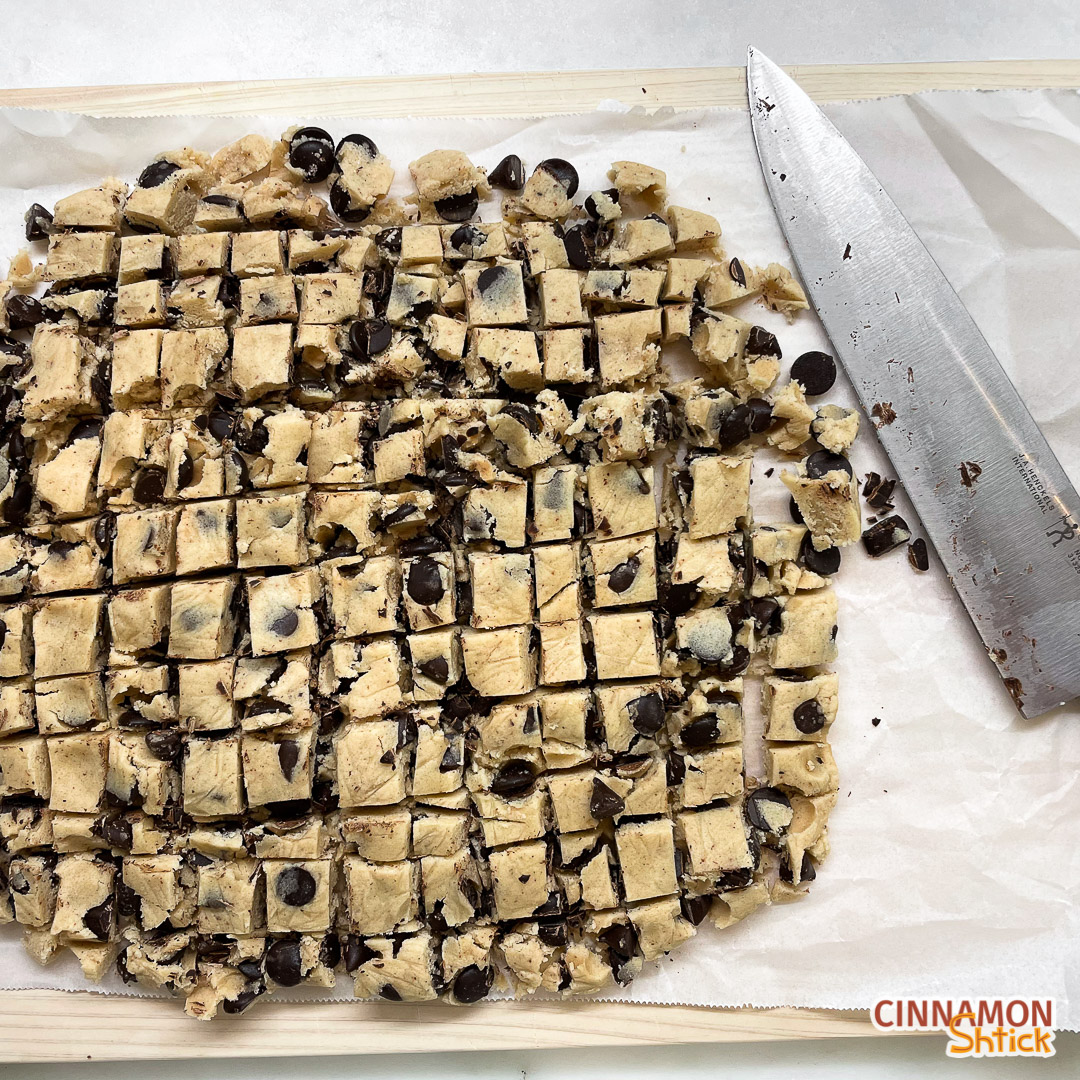 Check out my Cookies and Cream Ice Cream and my Cinnamon Stick Ice Cream posts if you need some guidance on making the ice cream base.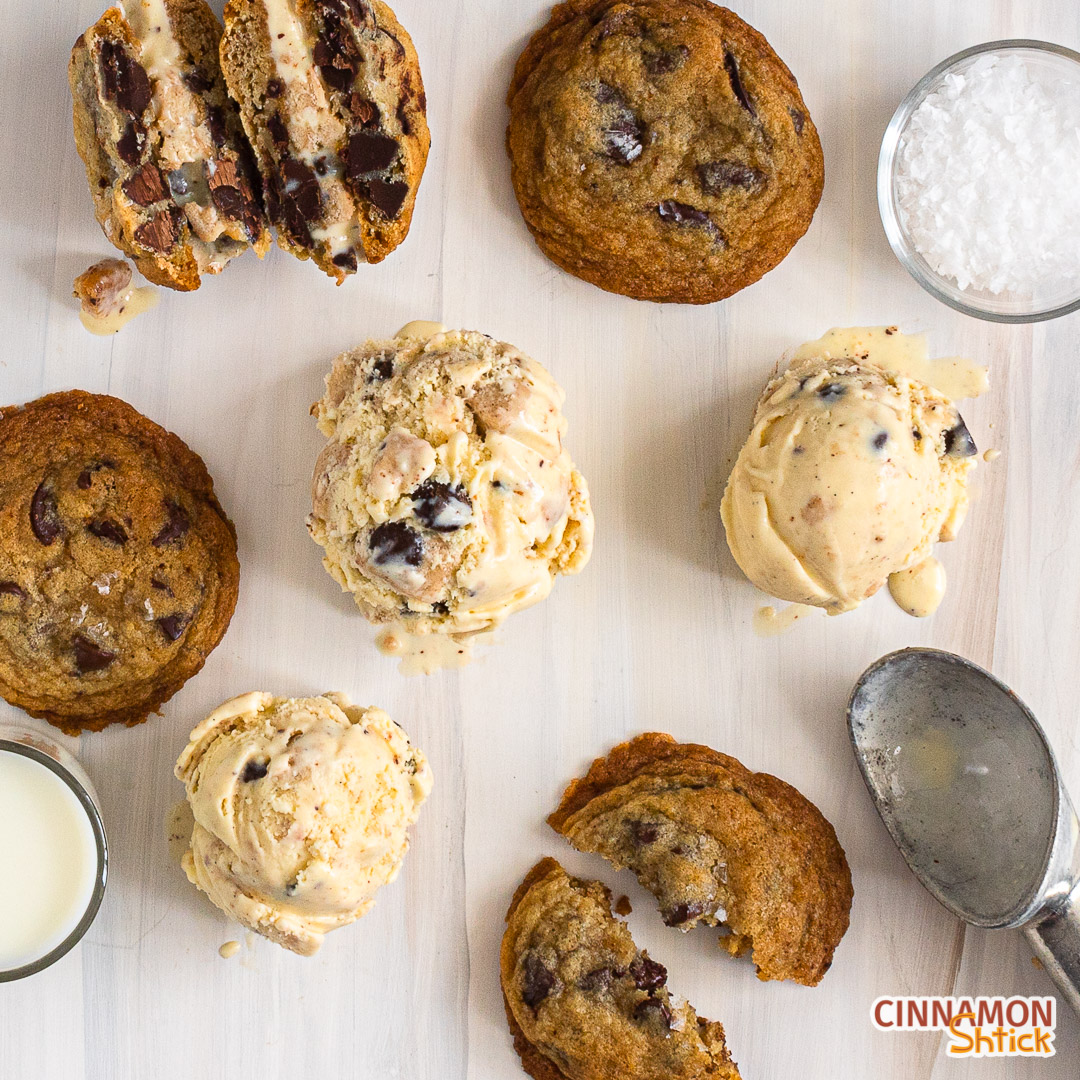 Looking to use up the leftover egg whites? Check out my Chocolate Egg White Cake.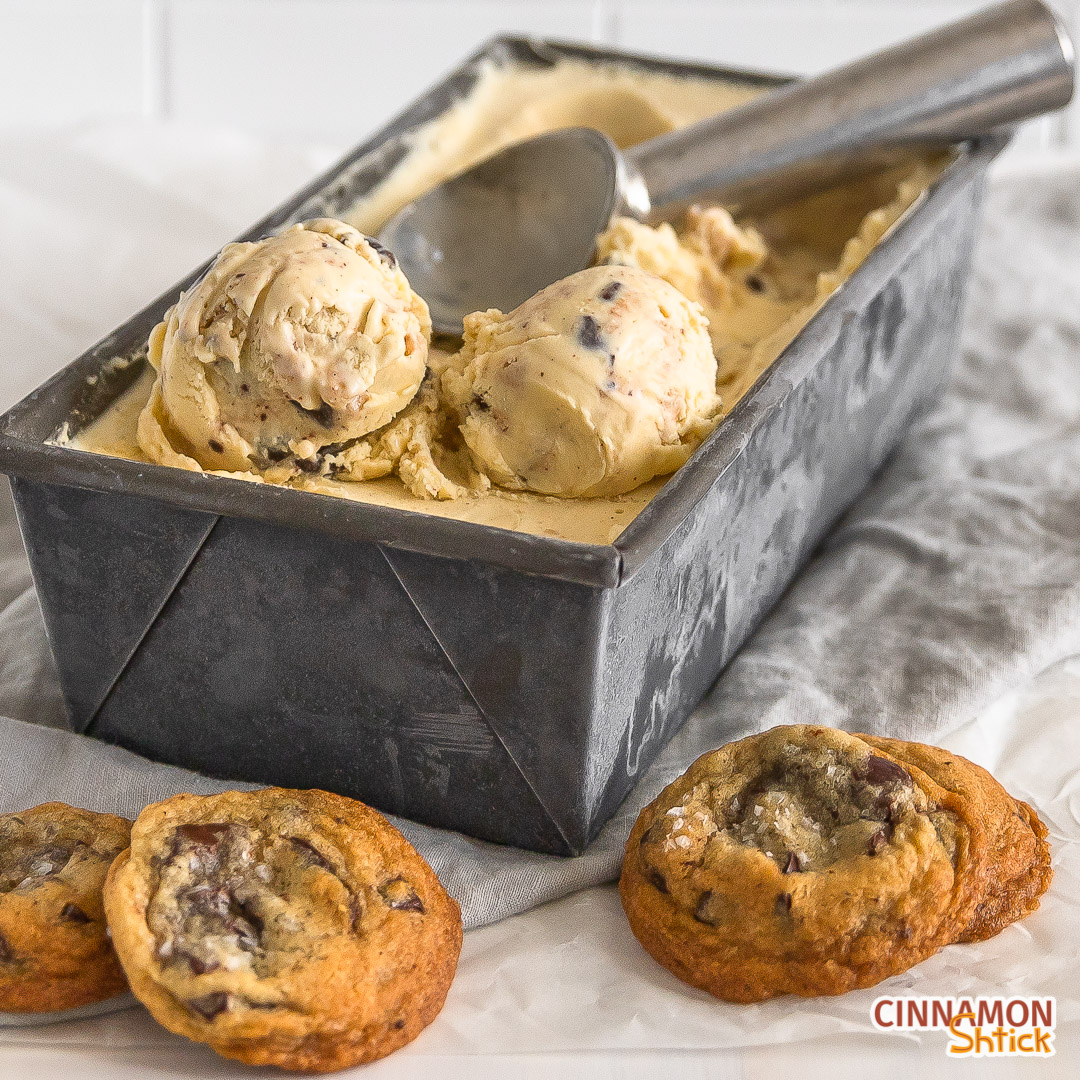 Brown Butter Chocolate Chip Cookie Dough Ice Cream
Cookie dough ice cream is better with brown butter chocolate chip cookie dough!
Ingredients
Ice Cream Base:
550

grams

whole milk

(2 cups plus 2 Tablespoons)

255

grams

heavy cream

(1 cup plus 1 Tablespoon)

2

teaspoons

vanilla bean paste

(or vanilla extract)

¼

teaspoon

fine sea salt

55

grams

light brown sugar

(¼ cup)

6

large egg yolks

125

grams

sugar

(½ cup plus 2 Tablespoons)
Cookie Dough:
113

grams

unsalted butter, cut into ¼ inch squares

(8 Tablespoons or 1 stick)

120

grams

all purpose flour

(1 cup)

66

grams

granulated sugar

(⅓ cup)

73

grams

light brown sugar

(⅓ cup, firmly packed)

1

Tablespoon

milk

1

teaspoon

vanilla

½

teaspoon

salt

170

grams

semisweet and/or bittersweet chocolate chips or chopped chocolate

(1 cup)
Instructions 
Cookie Dough:
Preheat oven to 350° F.

In a large saucepan, melt the butter over low heat. Once fully melted, increase the heat to low-medium to cook the butter, stirring frequently with a rubber spatula or wooden spoon. The butter will start popping and crackling and then start foaming. The part of the butter that will start browning is the milk solids which will be on the bottom of the pan. This is why you need to keep stirring and lifting the spatula or spoon out of the pan to see what stage it is at. Once you have nicely browned specks on the bottom of the pan, remove the pan from the heat and immediately pour the butter into a heatproof bowl to stop it from cooking any further. (Be careful not to overcook the butter. It can go from brown to burnt very quickly.) Allow the butter to cool to room temperature. Cover and refrigerate until hardened, at least two hours. (Brown butter can be made up to one week in advance and stored in the refrigerator.)

Place a piece of foil or parchment paper on a shallow baking sheet like a jelly roll pan. Spread the flour on it and bake for 10 minutes, stirring half way through. Allow to cool to room temperature.

In an electric mixer fitted with the paddle attachment, cream together the brown butter, sugar, brown sugar, milk, and vanilla. Add the flour and salt just until combined. Fold in chocolate or chocolate chips.

Spread cookie dough into a large rectangle and completely wrap in plastic wrap. Refrigerate at least 30 minutes before churning the ice cream base. While the ice cream is churning, cut the cookie dough into bite-size pieces (approximately ½ inch squares). Fold into churned ice cream.
Ice Cream Base:
Fill a large bowl half way with ice. Pour cold water over the ice so that the bowl is no more than ⅔ high. Place a clean bowl on top of the water bath. Place a strainer over the empty bowl. Set aside

Combine milk, cream, brown sugar, vanilla bean paste, and salt into a 2 or 3 quart saucepan. Bring to a simmer over medium heat, stirring the mixture occasionally to ensure the sugar dissolves.

While the liquid heats up, vigorously whisk the egg yolks with the sugar. You want to whisk it until the mixture turns pale yellow, becomes thick, and forms a ribbon when dripped on itself. (You can use an electric mixer with the whisk attachment if you are feeling lazy. It will take approximately 5 minutes of constant whisking by hand.)

Once the liquid mixture comes to a simmer, turn the heat off and let it sit for a minute or two. With the bowl containing the egg/sugar mixture secure on the counter (if no one is around to hold it, place it on a rubber mat (like a Silicone Hotpad) or wet a dishtowel and wrap it around the base of the bowl), slowly pour the heated liquid mixture into the eggs, whisking constantly. Once fully incorporated, pour the contents of the bowl back into the saucepan. Over a medium-low heat, stir the mixture constantly with a wooden spoon until it reaches 185°F or a line holds when you drag your finger across the back of the wooden spoon. (It should only take a minute or two to reach the correct temperature.)

Immediately remove the saucepan from the heat and pour the cooked mixture through the strainer into the empty bowl sitting in the ice water bath. Stir the mixture as it sits in the ice bath every 2 to 3 minutes until the mixture has completely cooled, about 10 minutes.

Pour into a container. Cover with plastic wrap directly over (touching) the mixture. Cover and place in refrigerator for 4-24 hours.

Follow your ice cream manufacturer's directions to churn the ice cream. Towards the end, add the chopped cookies or fold in the cookies by hand with a rubber spatula. Transfer the ice cream to a freezer container. Cover with a piece of parchment paper or plastic wrap directly on the surface. Cover container and freeze.
Notes
For the chocolate in the cookie dough, I recommend using mini-chips and/or cutting up good quality chocolate into small, mini-chip sized pieces. You can certainly use regular chips, but it's more enjoyable to eat frozen chocolate in small pieces.
Nutrition
Calories:
424
kcal
|
Carbohydrates:
45
g
|
Protein:
5
g
|
Fat:
25
g
|
Saturated Fat:
15
g
|
Trans Fat:
1
g
|
Cholesterol:
153
mg
|
Sodium:
158
mg
|
Potassium:
196
mg
|
Fiber:
1
g
|
Sugar:
34
g
|
Vitamin A:
761
IU
|
Vitamin C:
1
mg
|
Calcium:
100
mg
|
Iron:
2
mg