This post may contain affiliate links. As an Amazon Associate, I earn from qualifying purchases. For more information, please visit my Privacy Policy.
This Brown Butter Banana Bread is a slight elevation from my regular Banana Bread — a recipe I already adore. So why elevate it? Um, why not! Brown butter makes everything taste even better. Check out my Brown Butter post for more information about that and how to easy and quick it is to make it. This moist banana bread is easy to make and so delicious and flavorful!
Ingredients for Brown Butter Banana Bread
Just your staple banana bread ingredients are needed for this delicious quick bread:
Ripe Bananas. The most important ingredient here. Three to four bananas will do the trick. You want the bananas to be super ripened, to the point where you can easily smell them, the skins are thin, and the appearance is mostly black. I prefer to mash the bananas up in their own bowl before adding them to the batter to avoid chunks of bananas in the bread.
Butter. We will brown only 7 Tablespoons. I say "only" because most sticks come in 8 Tablespoons. Use the remaining Tablespoon to grease your baking pan. The butter on the edges of the banana bread will add additional flavor while it bakes.
Brown Sugar. Rather than use granulated sugar, the molasses in the brown sugar adds more flavor and more moisture.
Eggs. The binding element of all the ingredients.
Sour Cream. Adds additional moisture and tenderness and what really makes this a moist banana bread.
Flour. All purpose flour works best here.
Salt. Balances out all the flavors.
Baking Powder/Baking Soda. Causes the banana bread to rise while baking.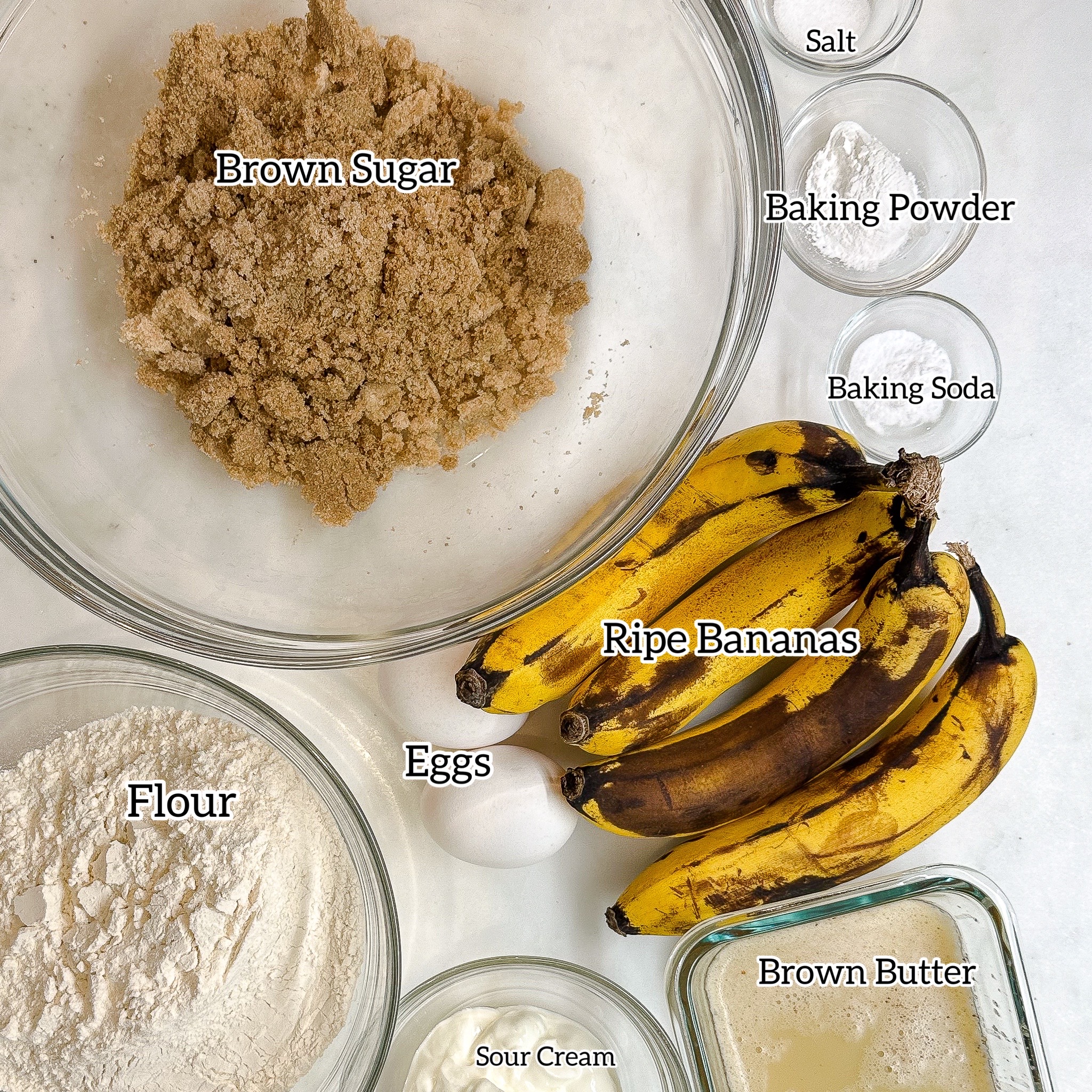 How to Make Brown Butter Banana Bread
Most banana breads are relatively simple to make. This recipe is no different.
1. Brown the Butter
The first step is to brown the butter. This entire process takes about 10 minutes. It is best to melt the butter on the lowest possible flame. Once it's fully melted, turn the heat up to medium-low. The butter will start to boil and crackle. Then it will foam. It is a good idea to use a heat proof spatula to mix it while it cooks to ensure the temperature of the butter is the same and to move around any pre-maturely browned bits on the side of the pan to prevent them from burning. For more information with process photos, check out my Brown Butter post.
Immediately pour the hot brown butter into a heat proof bowl or container. Allow it to cool to room temperature, which should not take more than a half hour. Then cover it and pop it in the refrigerator to harden a bit. It should only take 30-60 minutes. You can certainly brown the butter days in advance and store it in the refrigerator. When you are ready to make the banana bread, let it come to room temperature, approximately 30-60 minutes, before using it in the recipe.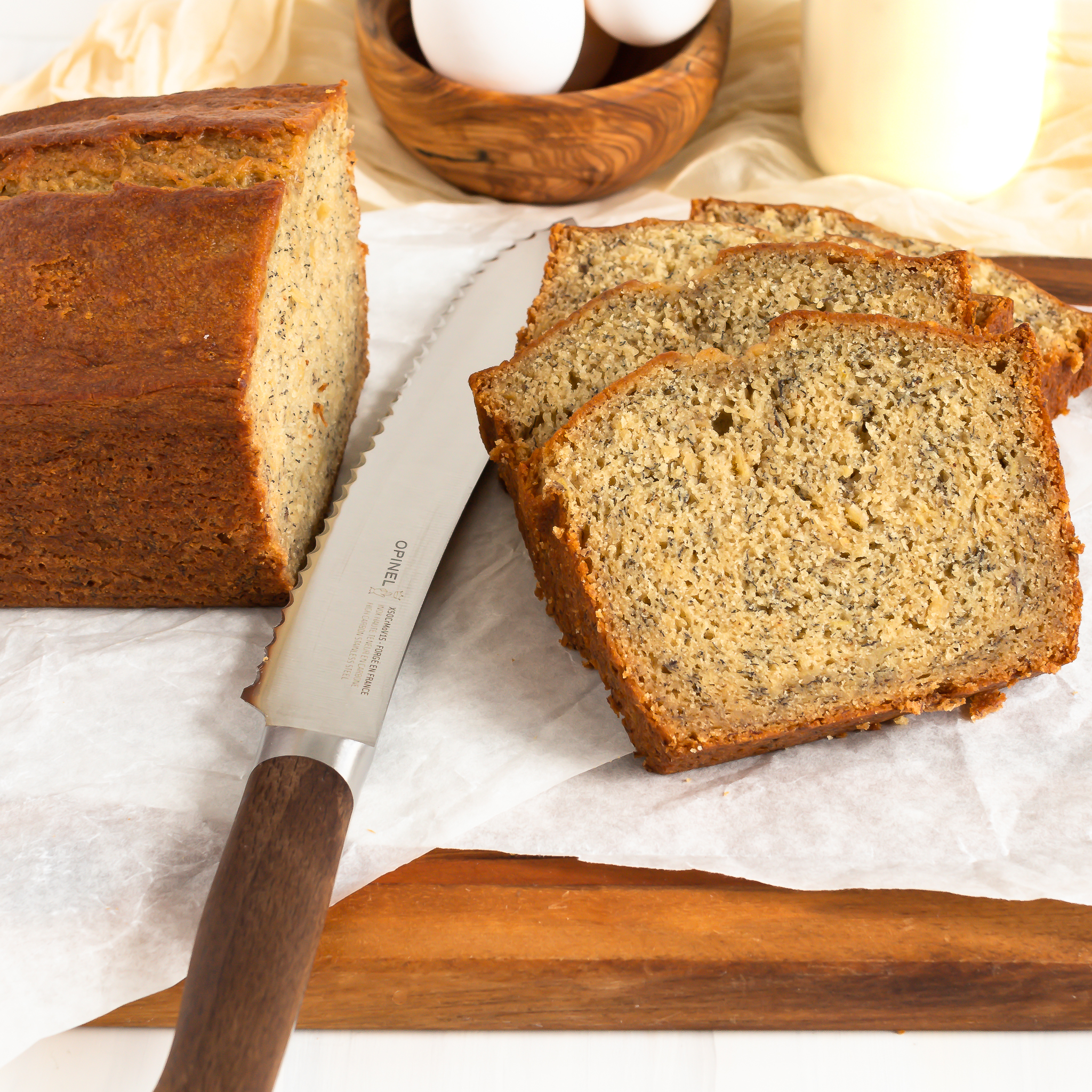 2. Whisk the Dry Ingredients
Add the flour, baking powder, baking soda, and salt to a small bowl and whisk them together.
3. Cream the Brown Butter with the Brown Sugar
Using an electric mixer or a hand mixer (or you can also do this by hand), cream the room temperature, solid brown butter with the brown sugar. Beat them together until they are well combined.
4. Beat in the Eggs and the Bananas
Beat in the eggs until well combined. Then add the mashed bananas, again mixing completely.
5. Add Dry Ingredients Alternatively with Sour Cream
Add about half of the dry ingredients, mixing just until the flour is almost absorbed. Then add all of the sour cream and mix until just about fully combined. Add the rest of the flour mixture, mixing just until the flour is fully absorbed. Do not over mix.
6. Bake, Cool, and Enjoy!
An 8-inch by 4-inch loaf pan is ideal for this recipe. My favorite one is from USA Pan. Just before putting it into the oven, use a metal spatula or the dull side of a knife, inserted just about an inch, and draw a line straight down the long side of batter. This will help create that iconic looking top.  In my oven, it takes 70 minutes to bake this banana bread. Once it is down, allow it to cool completely in the pan. It is best to cut it once it is cooled so you do not allow any moisture to escape.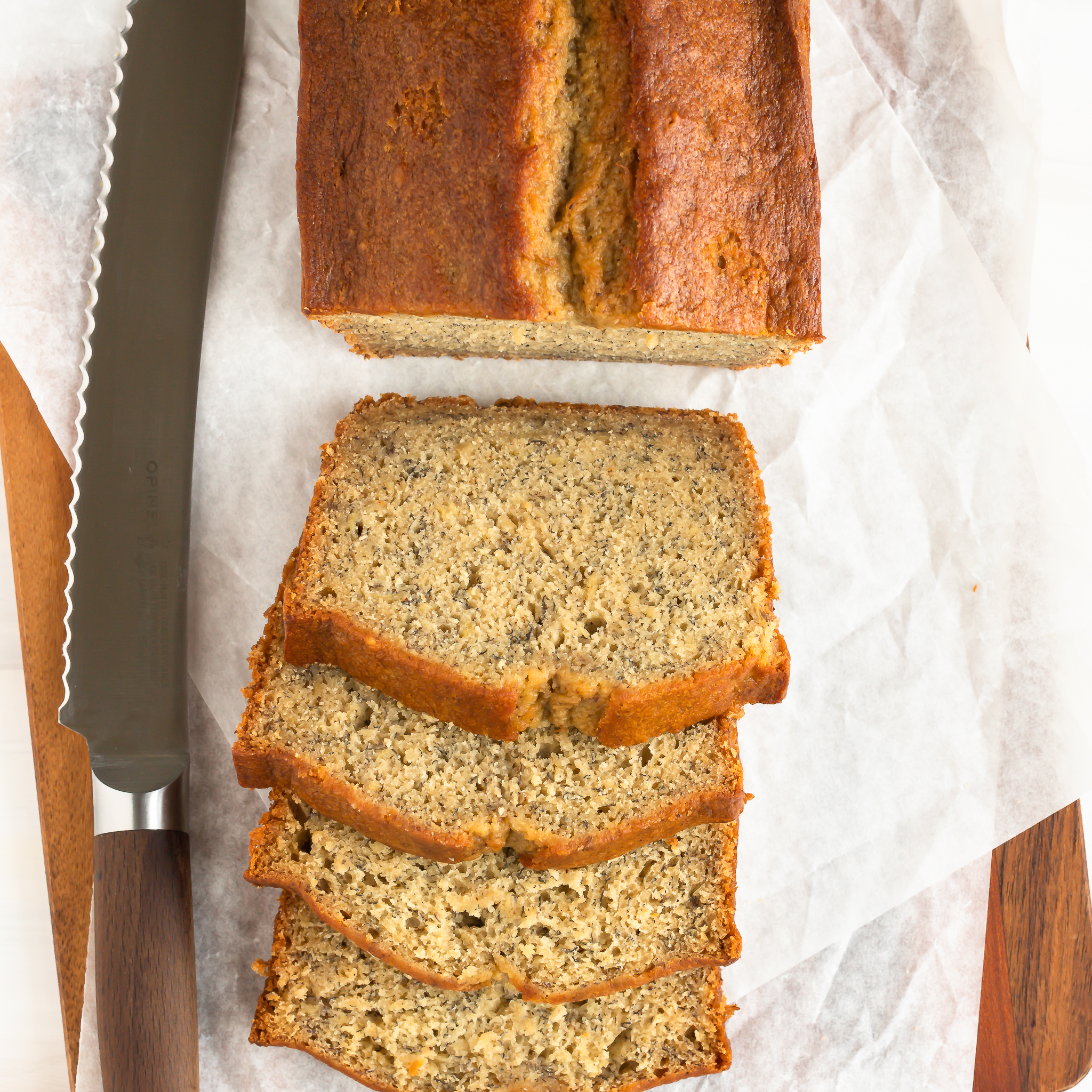 Frequently Asked Questions About Making Brown Butter Banana Bread
What type of pan is best for banana bread?
Most banana bread recipes are written for 8-inch by 4-inch (technically 8½-inch by 4½-inch) loaf pans. My personal favorite is from USA Pan. 
How long will brown butter last in the refrigerator?
You can store brown butter in the refrigerator up to 2 weeks, but it is probably best to use it before then.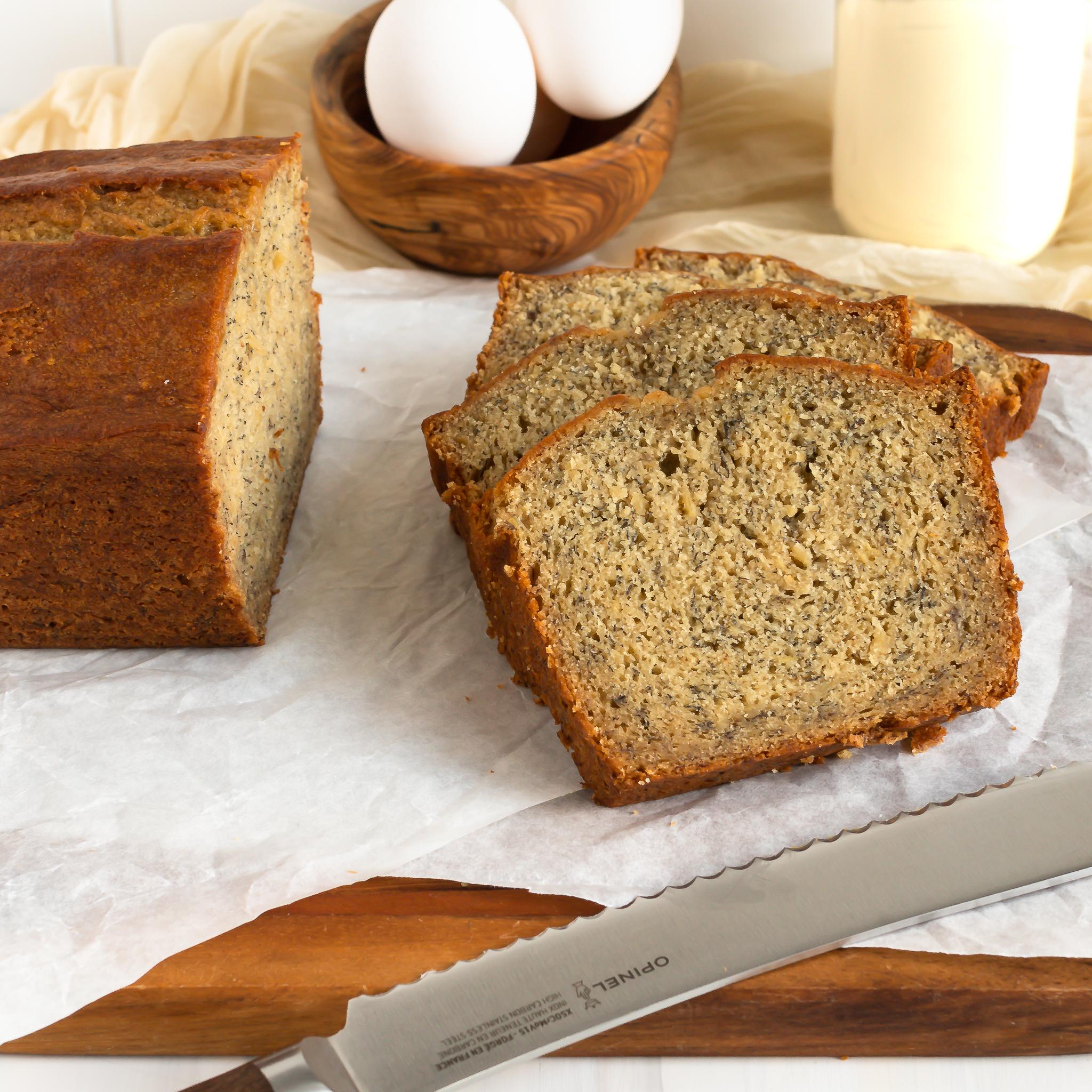 Brown Butter Banana Bread
Brown butter takes this banana bread up a notch, delivering a wonderful flavor to a moist bread.
Ingredients
260

grams

all purpose flour

(2 cups)

½

teaspoon

baking soda

2

teaspoons

baking powder

½

teaspoon

salt

99

grams

unsalted butter

(7 Tablespoons)

220

grams

packed light brown sugar

(1 cup)

2

large eggs, at room temperature

3-4

overripe bananas, mashed

80

grams

sour cream, at room temperature

(⅓ cup)
Instructions 
In a medium saucepan, melt the butter on the lowest flame. Once it is all melted, increase the heat to medium low and cook the butter, stirring it occasional with a heat proof spatula, being sure to sweep the sides of the pan. The butter will boil and crackle and start to foam. Keep an eye on it. It can go from brown to burnt quickly. Immediately pour the brown butter into a heat proof bowl or container. Once it comes to room temperature, refrigerate it at least 30 minutes until it has solidified If you refrigerate it longer, you may need to let it come to room temperate for approximately 30 minutes before you use it,.

Preheat oven to 350° F. Grease the bottom and sides of a 4½ inch x 8½ inch (1½ quart) loaf pan. I like to use the remaining 1 Tablespoon of butter to grease the pan.

In a small bowl, whisk together the flour, baking soda, baking powder and salt. Set aside.

With an electric mixer (or by hand), cream the brown butter and sugar until fully combined. Beat in the eggs. Mix in the bananas.

Mix in half of the flour mixture. Mix in the sour cream. Mix in the rest of the flour mixture, just until fully combined and no flour is visible.

Spread into prepared pan. Bake for 60-75 minutes. A toothpick inserted should come out clean.

Allow to cool on wire rack.
Notes
While warm banana bread is enjoyable, banana bread actually tastes better a day or two later. Once cooled, wrap it in plastic wrap and store it on the counter.
Banana bread also freezes wonderfully. Consider freezing separately wrapped (in plastic wrap) slices so you can grab a slice whenever the mood strikes. A frozen slice should thaw at room temperature in less than 15 minutes.
Nutrition
Calories:
258
kcal
|
Carbohydrates:
42
g
|
Protein:
4
g
|
Fat:
9
g
|
Saturated Fat:
5
g
|
Polyunsaturated Fat:
1
g
|
Monounsaturated Fat:
2
g
|
Trans Fat:
0.3
g
|
Cholesterol:
49
mg
|
Sodium:
232
mg
|
Potassium:
174
mg
|
Fiber:
1
g
|
Sugar:
22
g
|
Vitamin A:
306
IU
|
Vitamin C:
3
mg
|
Calcium:
72
mg
|
Iron:
1
mg