This post may contain affiliate links. As an Amazon Associate, I earn from qualifying purchases. For more information, please visit my Privacy Policy.
Banana bread is one of those staple baked goods that just about everyone loves. Most people have their go-to recipes, which is why I have been continuously surprised by the large number of banana bread recipe requests I have received since I started this blog. In the spirit of "give the people what they want", I'm here to share with you my go-to recipe.
In my opinion (which is always right), banana bread should be 100% about the bananas. They are the star of the show — none of the supporting actors should even be recognizable.
There are banana recipes out there that include spices and other flavorings, including vanilla. I have made many of them. While they are generally good, the full banana effect gets lost among all the competing actors.
This recipe is therefore as simple as can be. You can mix it by hand or a mixer within a matter of minutes.
A few tips for a successful banana bread:
Use Super Ripe Bananas
Nerd alert: As bananas ripen, their starches break down into sugar, making the bananas sweet and, frankly, delicious.
When I make this recipe, I use super, over-the-top ripe bananas. You know, the ones where the peels are almost entirely black. (Don't go too far to the point that they are moldy! GROSS!) I think the sweet spot for this recipe is 4 super ripe bananas, but you still get a great bread with just 3 bananas.
To that end, if you ever have one or two bananas that are at that super ripe stage but don't yet have enough for this recipe, peel them, wrap them in plastic wrap, and pop them in the freezer. They will stay for months. When you finally have enough super ripe bananas for a bread, allow the frozen ones to come to room temperature (while still fully wrapped in the plastic wrap). Then mash them up to use in this recipe.
Don't Over-Mix and Don't Panic!
When you cream the butter and sugar, do not go crazy. Just get them combined well, otherwise you incorporate too much air into the batter. Same holds true when you add the eggs. When you mix in the bananas, the batter may look curdled. Don't panic! That sometimes happens when the bananas are introduced to the eggs. When you add the first round of dry ingredients, it will all come together. That said, do not over-mix once you have added the dry ingredients. Just mix until the dry ingredients are fully incorporated and hydrated. (If you mix the full batter too much, you will overdevelop the gluten in the flour and not be happy with the consistency of your final product.)
Keep an Eye on the Clock
The baking time for this banana bread is 60-75 minutes. I give such a span of time because the baking time is dependent on how many bananas you use. If you use three bananas, it should be done closer to the 6o minute mark. If you use 4 bananas, it may take as long as 75 minutes. Regardless of how many bananas you use, start checking at the 60 minute mark.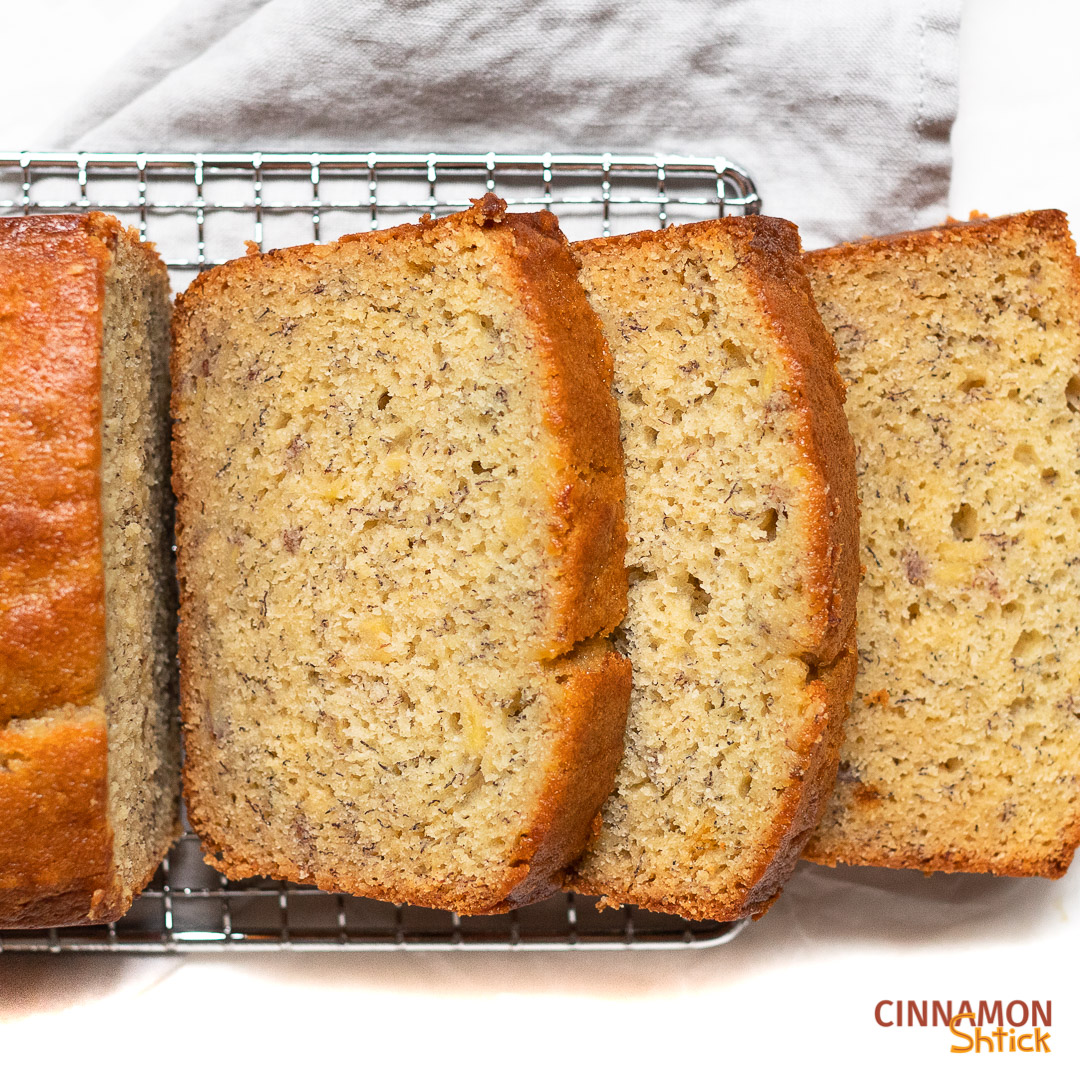 Remember, banana bread almost always tastes even better the next day. Wrap it in plastic wrap and store it on the counter.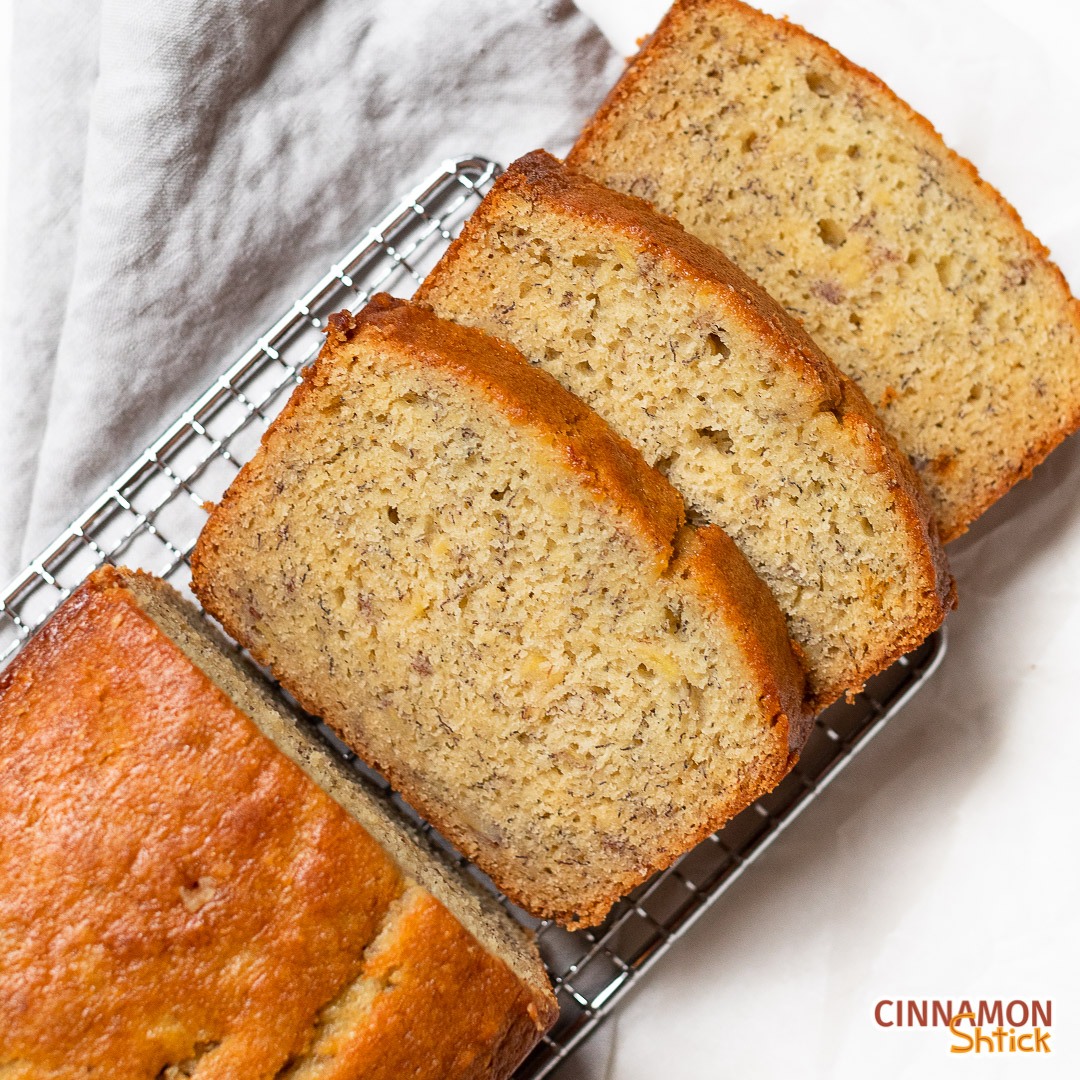 Banana Bread
Super easy to make and boasting in banana flavor, this is the banana bread recipe everyone should have in their arsenal.
Ingredients
260

grams

all purpose flour

(2 cups)

½

teaspoon

baking soda

2

teaspoons

baking powder

½

teaspoon

salt

85

grams

unsalted butter

(6 Tablespoons)

220

grams

packed light brown sugar

(1 cup)

2

large eggs, at room temperature

3-4

overripe bananas, mashed

80

grams

sour cream, at room temperature

(⅓ cup)
Instructions 
Preheat oven to 350° F. Grease the bottom and sides of a 4½ inch x 8½ inch (1½ quart) loaf pan.

In a small bowl, whisk together the flour, baking soda, baking powder and salt. Set aside.

With an electric mixer (or by hand), cream the butter and sugar until fully combined. Beat in the eggs. Mix in the bananas.

Mix in half of the flour mixture. Mix in the sour cream. Mix in the rest of the flour mixture, just until fully combined and no flour is visible.

Spread into prepared pan. Bake for 60-75 minutes. A toothpick inserted should come out clean.

Allow to cool on wire rack.
Notes
While warm banana bread is enjoyable, banana bread actually tastes better a day or two later. Once cooled, wrap it in plastic wrap and store it on the counter.
Banana bread also freezes wonderfully. Consider freezing separately wrapped (in plastic wrap) slices so you can grab a slice whenever the mood strikes. A frozen slice should thaw at room temperature in less than 15 minutes.
Nutrition
Calories:
249
kcal
|
Carbohydrates:
42
g
|
Protein:
4
g
|
Fat:
8
g
|
Saturated Fat:
5
g
|
Trans Fat:
1
g
|
Cholesterol:
46
mg
|
Sodium:
245
mg
|
Potassium:
175
mg
|
Fiber:
1
g
|
Sugar:
22
g
|
Vitamin A:
277
IU
|
Vitamin C:
3
mg
|
Calcium:
81
mg
|
Iron:
1
mg