This post may contain affiliate links. As an Amazon Associate, I earn from qualifying purchases. For more information, please visit my Privacy Policy.
Ganache is such an easy, decadent, and impressive filling or topping to any dessert. I'm going to show you how easy it is to make a White Chocolate Whipped Ganache.
What is Ganache?
Generally, ganache is simply a mixture of chocolate with cream. Heat cream, just to the point of bubbling. Pour over chocolate. Let it sit for a couple of minutes so the heat from the cream melts the chocolate. Whisk to combine. Simple! 
As with anything else, there are variations on the theme. You can use butter instead of, or in addition to, the cream. You can change the ratios of cream to sugar. You can add flavorings to the ganache. Many options!
Ganache is usually used in desserts and chocolates once made like this. However, if you refrigerate it to get it good and cold, it whips up to a beautiful consistency that is especially great for piping in a decorative fashion.
Whisk Properly!
When whisking the hot cream into the chocolate, start in the very center of the bowl, and whisk in concentric circles toward the edges of the bowl. It's more difficult to see with white chocolate, but the chocolate will combine with the cream, and the mixture will start grabbing the cream from the edges as the whisk heads to the edges.
Flavors?
You can keep the ganache flavored with just the white chocolate, or you can add other flavorings. In the ganache featured in the video on this post, I added a little peppermint extract for a white chocolate peppermint flavor. (Nerd alert: When flavoring chocolates, it is usually better to use oils, but since we are already adding cream, which is a liquid, to the chocolate, we can use extracts.)
Why is there Corn Syrup in this White Chocolate Whipped Ganache Recipe?
Well, why not? Just kiddin'. 🙂
Corn Syrup adds a drop of sweetness (which I like), and it helps the ganache keep a bit of its shine after it is whipped.
How to Whip the Ganache
I highly recommend making the ganache the night before you plan to use it. It can sit in the refrigerator for at least a few days. Once made, immediately cover the top with a piece of plastic wrap directly on the surface of the ganache to prevent a skin from forming.
Approximately a half hour or so before you plan to whip the ganache, place your bowl and whisk in the freezer to get them very cold. The ganache will whip up a bit better that way.
You can whisk with a mixer or by hand. I prefer doing it by hand just because I have more control over it. Plus, it's a great arm workout! But you can totally use the whisk attachment on your mixer. Whisk until you get stiff peaks.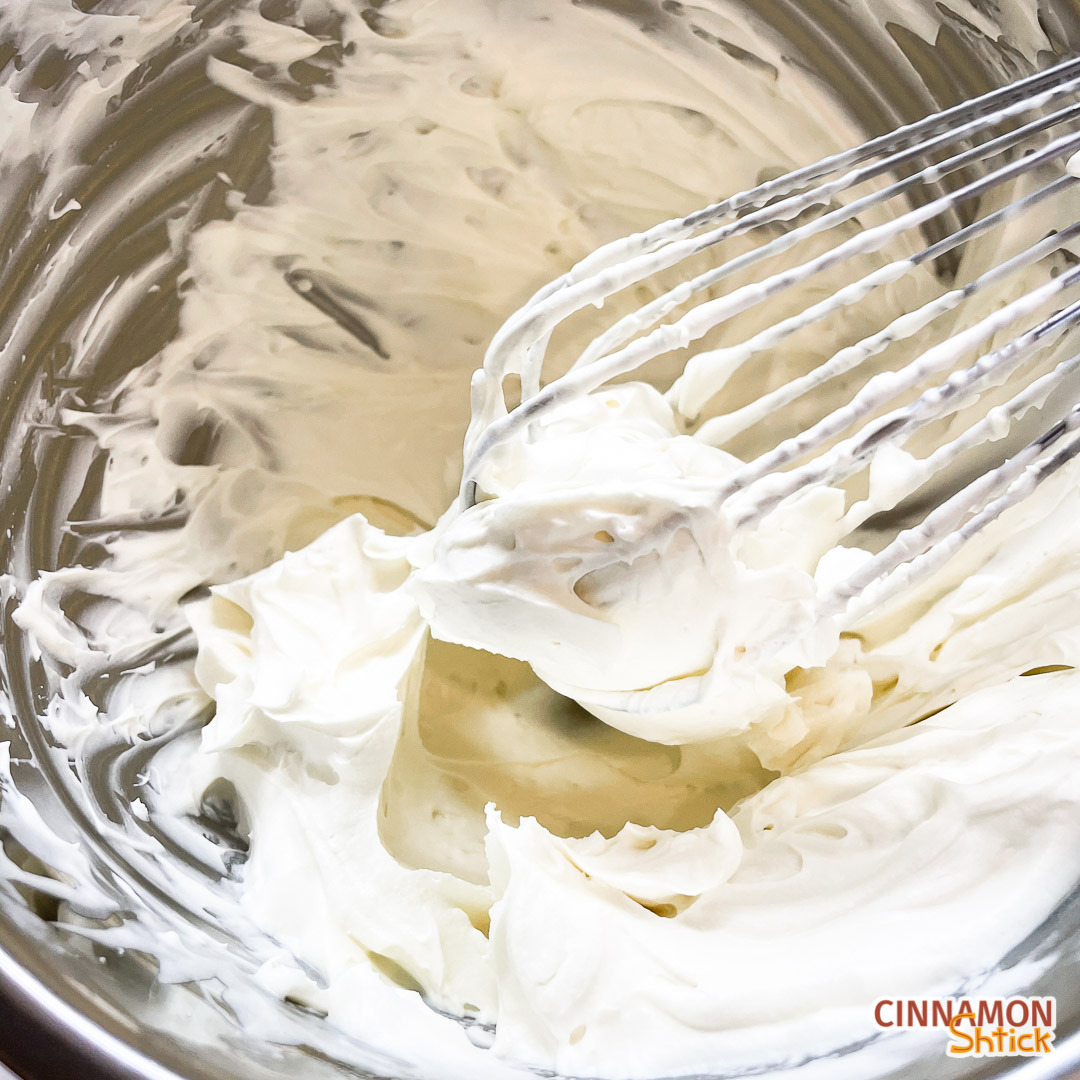 How to Use White Chocolate Whipped Ganache
White Chocolate Whipped Ganache can be used with just about any dessert, whether for decorative purposes, filling a cake, frosting a cake, cookie sandwiches, etc. I piped it on top of my Deep Dish Brownie Pie.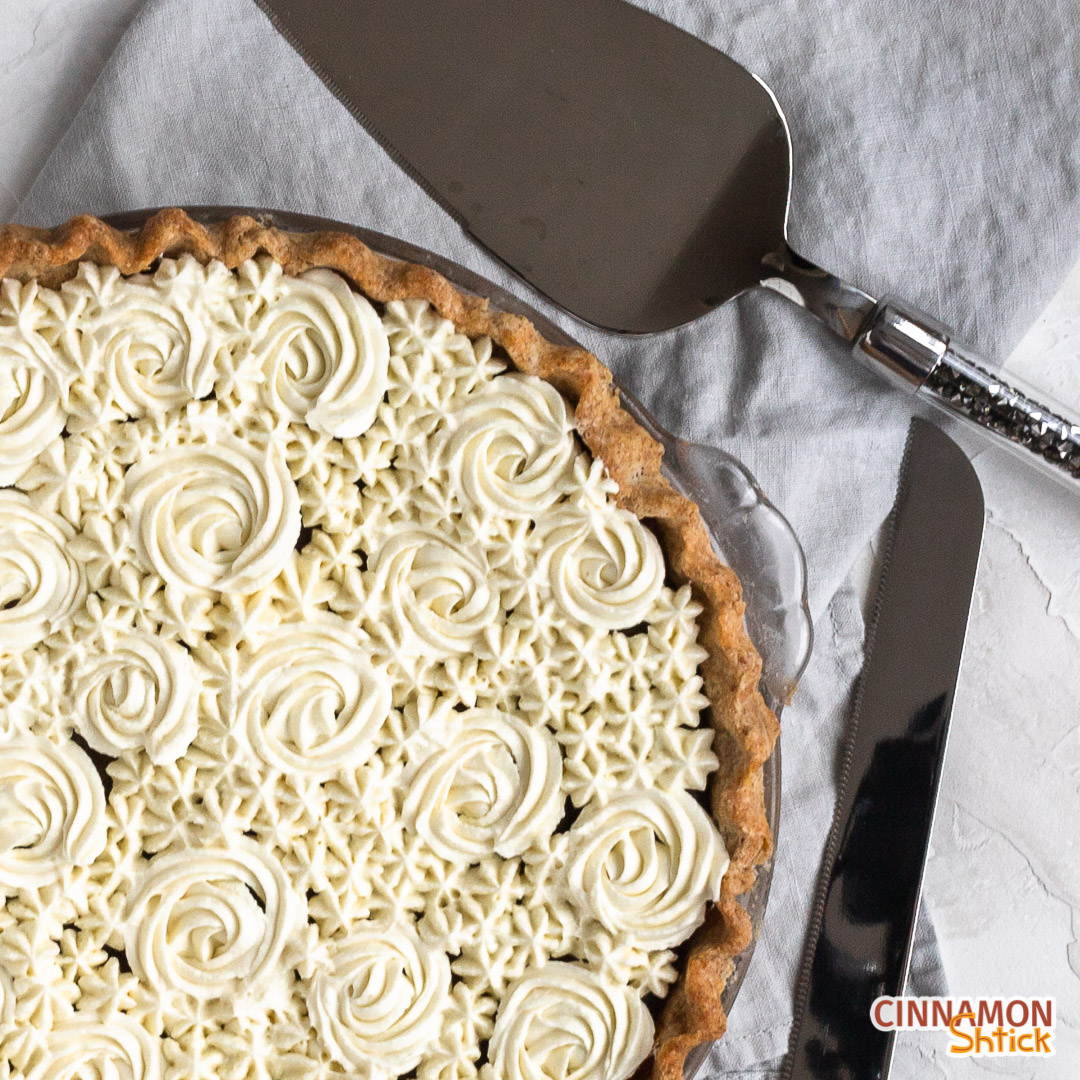 White Chocolate Whipped Ganache
Decadent, yet so easy to make. This White Chocolate Whipped Ganache is the perfect companion to any dessert, especially to Deep Dish Brownie Pie.
Ingredients
200

grams

heavy cream

150

grams

white chocolate, chopped

1

Tablespoon

light corn syrup

½

teaspoon

flavored extract, such as peppermint

(optional)
Instructions 
Heat cream, just to the point of bubbling before it boils.

While cream is heating, place chopped chocolate in bowl. Add corn syrup.

Pour heated cream over chocolate. Allow to sit for 2-5 minutes so the chocolate melts. Do not let it sit too long. Just before you start whisking, add any flavorings, if using. Starting from the center of bowl, whisk in concentric circles, working your way towards the edges of the bowl. Once the chocolate and cream are fully incorporated, cover the top with plastic wrap, directly on the surface of the ganache. Refergerate at least 4 hours and preferably over night.

Using a cold bowl and cold whisk, whisk the ganance until stiff peaks are formed. Spread direclty on your baked good or fill a piping bag to create a more decorative look.
Video
Nutrition
Calories:
97
kcal
|
Carbohydrates:
7
g
|
Protein:
1
g
|
Fat:
8
g
|
Saturated Fat:
5
g
|
Cholesterol:
19
mg
|
Sodium:
14
mg
|
Potassium:
36
mg
|
Fiber:
1
g
|
Sugar:
6
g
|
Vitamin A:
187
IU
|
Vitamin C:
1
mg
|
Calcium:
27
mg
|
Iron:
1
mg