This post may contain affiliate links. As an Amazon Associate, I earn from qualifying purchases. For more information, please visit my Privacy Policy.
Why make a brownie pie when you can go Deep Dish Brownie Pie!?!? I mean, if you're gonna do it, do it right, People!
If you remotely like chocolate, this Deep Dish Brownie Pie will rock your world. The brownie is incomprehensibly decadent — fudgy and rich in the best possible ways. When considering a pie dough to house this brownie, I used some rye flour which pairs really well with chocolate. I also went with Browned Butter to incorporate even more flavor. Topping this pie is a White Chocolate Whipped Ganache. You can dress up the White Chocolate Whipped Ganache with flavorings, such as peppermint.
One of the many great things about this Deep Dish Brownie Pie is that it is so versatile — make it for a birthday or anniversary celebration, an outdoor bbq, family holiday get togethers, or simply because you have a hankering…
OK, let's get down to business.
How to Make Deep Dish Brownie Pie
The base for this extraordinary brownie pie is a Brown Butter Rye Pie Dough. Do not be intimidated by any part of this! Brown butter is super easy to make. You literally melt down butter, turn the flame up a bit, and cook until the milk solids brown. The trick to it is that you cannot take your eyes off it once it starts to crackle and pop. The milk solids will go from brown to burnt quickly, and, if that happens, you need to start over. I have an entire post dedicated to Brown Butter. If you are new to browning butter, I highly suggest you take a look at that post before you start browning.
Once you have browned your butter, let it cool for a bit to room temperature. Then cover it and pop it in the refrigerator. You want the browned butter to be solid, just like a stick of butter stored in the refrigerator. (Although, it will be slightly softer because there will be no water in it.)
With the butter browned and solidified, you are ready to make your pie dough!
(OK, if you are in a pinch, feeling lazy, or whatever, yes, you can skip browning the butter and just use a stick of cold, unsalted butter. But don't be blaming me that your pie dough is not quite as flavorful as it could have been! If you do this, you may need just slightly less ice water.)
I dedicated a separate post to making the Brown Butter Rye Pie Dough which includes a video. If you are new to making pie dough, I highly suggest you check out that post and watch the video. This pie dough is actually easy to work with and therefore a great dough to use to practice crimping! Make sure you leave bits of butter in tact as seen in the photo below. Those butter bits help ensure a flaky dough.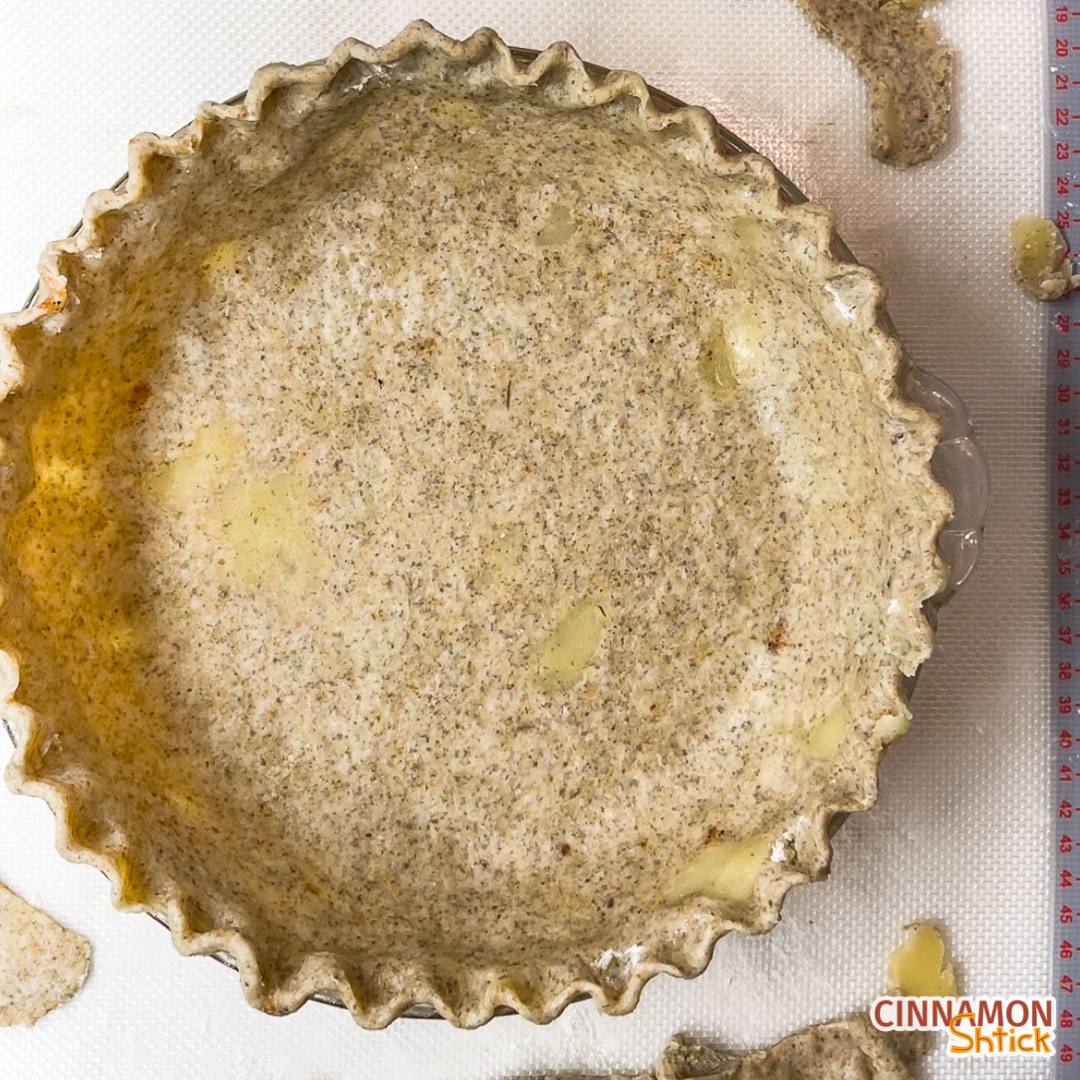 Make the dough, pop it in the refrigerator for at least 30 minutes, roll it out, crimp, and then store it, in the pie plate, in the freezer or the refrigerator until the brownie batter is ready to fill it. Putting the brownie pie in the oven while the pie dough is frozen or chilled will help prevent the pie dough from shrinking too much and help it keep its shape.
Make the Brownie Batter
The batter for this Deep Dish Brownie Pie is an enhancement of my Super Fudgy Brownies. The secret to success for this brownie batter is to beat the eggs with the white sugar for at least several minutes. Get the cold eggs with the sugar whisking/beating in the mixer while you get the rest of the ingredients together. You can't overwhisk/overbeat the eggs and white sugar, so just let the machine whisk away.
Just follow these easy steps to make the brownie pie batter:
In a medium saucepan on the lowest flame possible, melt down most of the marshmallows. Add the butter and chocolate. Stir occasionally until all three are fully melted. (If some marshmallows do not melt down, don't sweat it.)
While the marshmallows, butter and chocolate are melting, beat the heck out of the eggs and white sugar for 5-10 minutes with an electric mixer. (Nerd alert: Beating the eggs aerates them, adding a beautiful texture to the brownies. The sugar helps build the protein structure to hold the air bubbles.) You can use the paddle attachment or the whisk attachment. I prefer to use the whisk attachment.
Stir the brown sugar, cocoa powder and espresso powder into the melted chocolate mixture, which will help smooth out any unmelted marshmallows. (Again, if the marshmallows do not totally melt, don't sweat it!) Allow to cool for a few minutes. Transfer to a large mixing bowl. Stir in the vanilla.
GENTLY: (1) fold the whipped eggs into the chocolate mixture, then; (2) fold in the rye flour and salt, and then; (3) pour the batter into the prepared, chilled pie dough. Using rye flour in the brownie batter further brings out the chocolate flavor and complements the rye flour in the pie dough.
Bake and allow to cool completely before topping with White Chocolate Whipped Ganache.
Ganache is one of the easiest things to make. It's also one of the most delicious. In its simplest form, ganache is just chocolate and cream. Recipes use varying ratios of those two main ingredients depending on how you use ganache — as a filling, a frosting, a glaze…
I created a separate post on how to make this White Chocolate Whipped Ganache, which also includes a video. I highly recommend making the ganache the night before you intend to use it on top of the Deep Dish Brownie Pie. In order to whip the ganache, you want it to get really cold. Leaving it in the refrigerator overnight will make whipping much easier.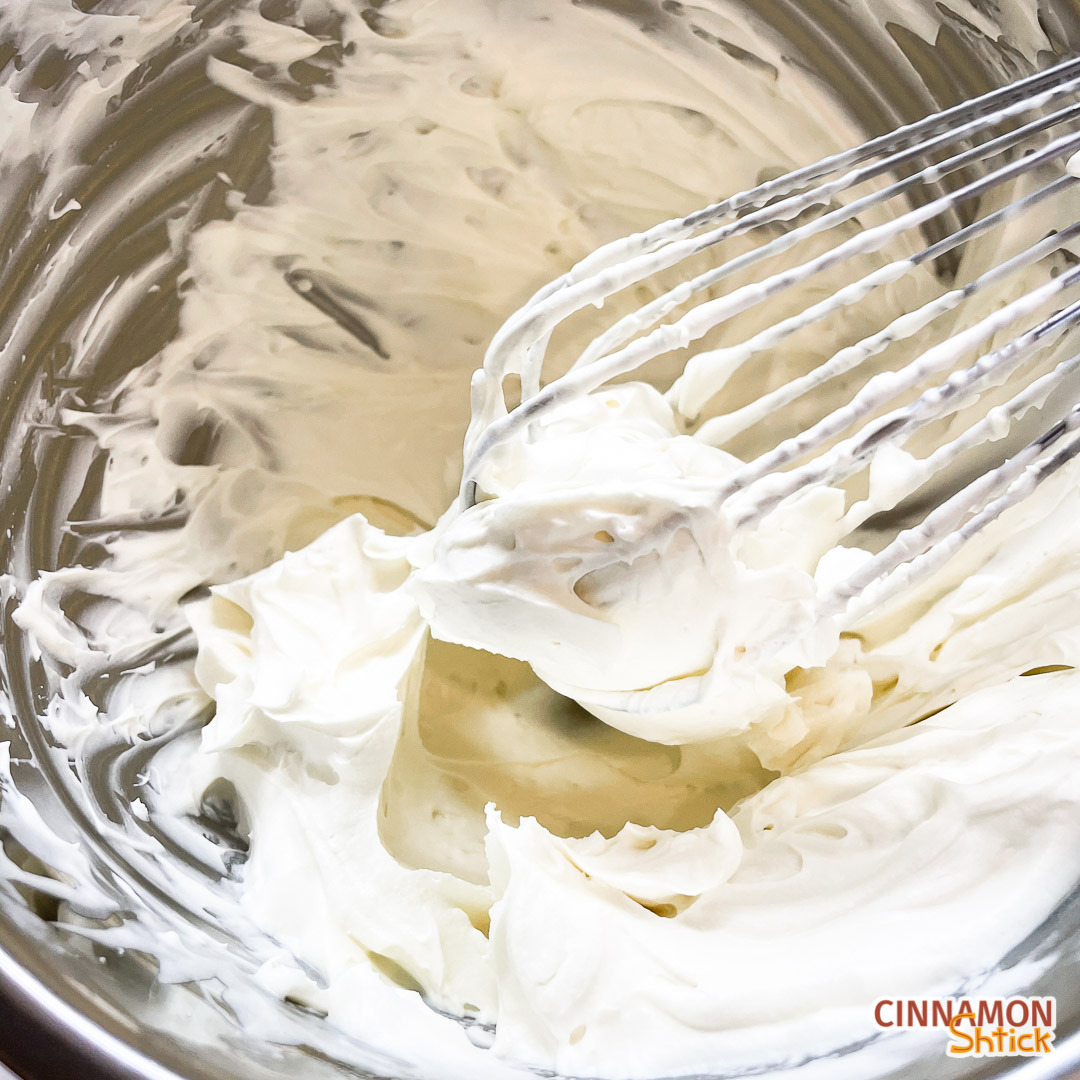 Now, here's the really fun part about the White Chocolate Whipped Ganache. You can leave it as is so that the taste is more like white chocolate (which pairs beautifully with this Deep Dish Brownie Pie), or you can flavor it. To bring this Deep Dish Brownie Pie into the holiday spirit, I added a little peppermint extract to it and crumbled some candy canes on top, giving it a fun crunch.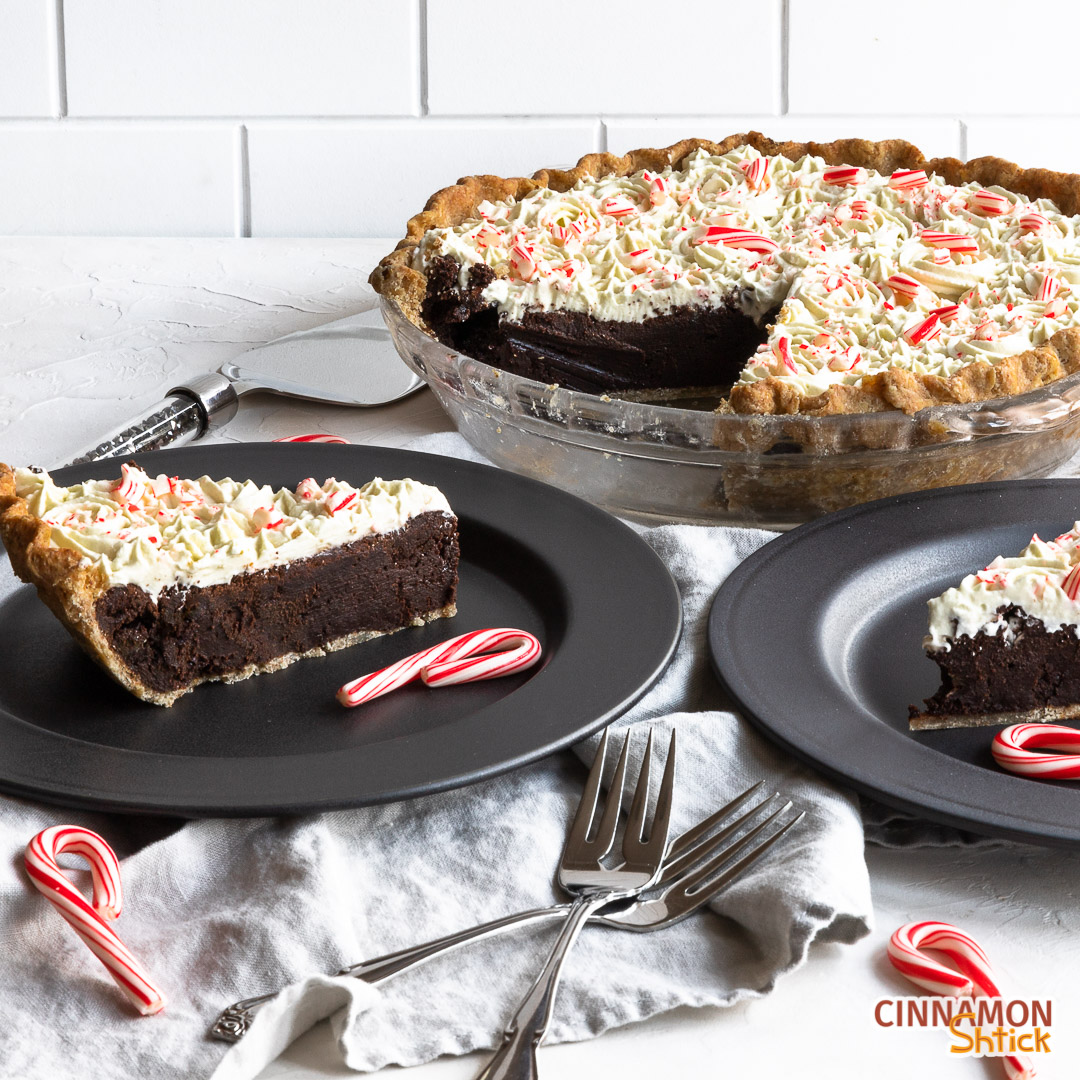 Deep Dish Brownie Pie
Take your brownie game to the next level with not just a brownie pie, but a deep dish, super fudgy, deep chocolately pie, housed in a brown butter rye pie crust, and topped with an elegant white chocolate whipped ganache.
Ingredients
Pie Dough:
Brownie Filling:
3

eggs

(refrigerator cold)

150

grams

sugar

(¾ cup)

68

grams

miniature marshmallows

(1 heaping cup)

170

grams

unsalted butter

(12 Tablespoons)

170

grams

unsweetened chocolate

(6 oz.)

165

grams

light brown sugar, packed

(¾ cup)

40

grams

cocoa powder

(⅓ cup )

1

teaspoon

espresso powder

(optional)

1½

teaspoon

vanilla

45

grams

rye flour

(½ cup less 1 Tablespoon)

½

teaspoon

salt
Topping:
Instructions 
Pie Dough. Remove pie dough from the refrigerator and let it rest at room temperature for approximately 5 minutes. On a lightly floured surface, roll out the dough so that there is approximately a 1 inch overhang over the sides of the pie dish. Trim and crimp the edges. Place pie dish with the prepared pie dough in it into the refrigerator or freezer while you make the brownie filling.

Brownie Filling. Preheat oven to 350°F.

In an electric mixer with either the whisk or paddle attachment, whisk/beat eggs on a medium-high speed. Once the eggs start to get foamy, increase the mixer to high and add the white sugar (not the brown sugar) slowly, a little bit at a time. Once all the sugar has been added, allow the eggs and sugar to continue whisking/beating for approximately 5-10 minutes until it is thick, pale yellow, airy, and forms a ribbon when dropped on itself.

Meanwhile, place the marshmallows in a medium saucepan over the lowest heat. As they start to melt, stir them. They will clump into a sticky ball. Add the butter and chocolate. Stir occasionally until all ingredients are fully melted. (Don't sweat it if there are few unmelted marshmallows.) Remove from heat. Stir in the brown sugar, cocoa powder, espresso powder, and vanilla. Transfer to a large mixing bowl and set aside for a couple of minutes to make sure the mixture cools completely.

In a small bowl, whisk together the rye flour and salt.

With a spatula, gently fold in the beaten eggs to the chocolate mixture. Fold (do not mix) the batter until the eggs are fully incorporated.

Gently fold in the flour and salt just until all the flour is fully absorbed.

Pour batter into cold pie dough. Bake for 45-50 minutes, just until a toothpick inserted in the middle comes out clean. Cool completely on a wire rack.

Topping. Place the refrigerator cold ganache in a cold mixing bowl. With an electric mixer or by hand with a whisk, whisk the ganache until stiff peaks are formed. Spread on top of cooled brownie pie, or pipe it decoratively on top.
Notes
Roll the pie dough out on a lightly floured countertop or silpat. Using a silpat makes for easier counter clean up and makes it slightly easier to lift the rolled out dough to place into the pie dish.
Once the dough is in the pie dish, keep it cold. Freezer is ideal, but refrigerator works great too.
Use quality chocolate in your brownie batter! I highly recommend Scharffen Berger or Guittard. For the cocoa powder, you can natural or Dutch process. I prefer Dutch process because it renders a deeper chocolate flavor. For the best chocolate flavor, I recommend a combination (half and half is great) of Dutch process and black cocoa. For simplicity, I just use Double Dutch Dark Cocoa from King Arthur Baking Company because it is a pre-made blend of Dutch process and black cocoas.
When whipping the ganache, it is best to refrigerate or freeze the mixing bowl and whisk beforehand. 
The finished Deep Dish Brownie Pie should be stored in an airtight container in the refrigerator for up to one week. Let it sit at room temperature for 15-30 minutes before serving, just so the pie crust will not be too hard.
You can also bake the pie, store it in the refrigerator, and whip the ganache and decorate just prior to serving. 
Nutritional information does not include the Brown Butter Rye Pie Dough or the White Chocolate Whipped Ganache, both of which can found on their respective recipes.
Nutrition
Calories:
248
kcal
|
Carbohydrates:
30
g
|
Protein:
3
g
|
Fat:
15
g
|
Saturated Fat:
9
g
|
Trans Fat:
1
g
|
Cholesterol:
54
mg
|
Sodium:
82
mg
|
Potassium:
176
mg
|
Fiber:
3
g
|
Sugar:
22
g
|
Vitamin A:
310
IU
|
Calcium:
31
mg
|
Iron:
3
mg