This post may contain affiliate links. As an Amazon Associate, I earn from qualifying purchases. For more information, please visit my Privacy Policy.
Did someone say peanut butter and chocolate? Even better — peanut butter brownie! Um, HELLO! These Peanut Butter Cheesecake Brownies have it all!
These Peanut Butter Swirled Brownies are Easy to Make!
I have been making some version of these Peanut Butter Cheesecake Swirled Brownies for about 20 years. While I am offering you two methods to make the brownie batter, as I did in my Super Fudgy Brownies post, these really are easy to make. You could conceivably be stuffing your face with them within an hour.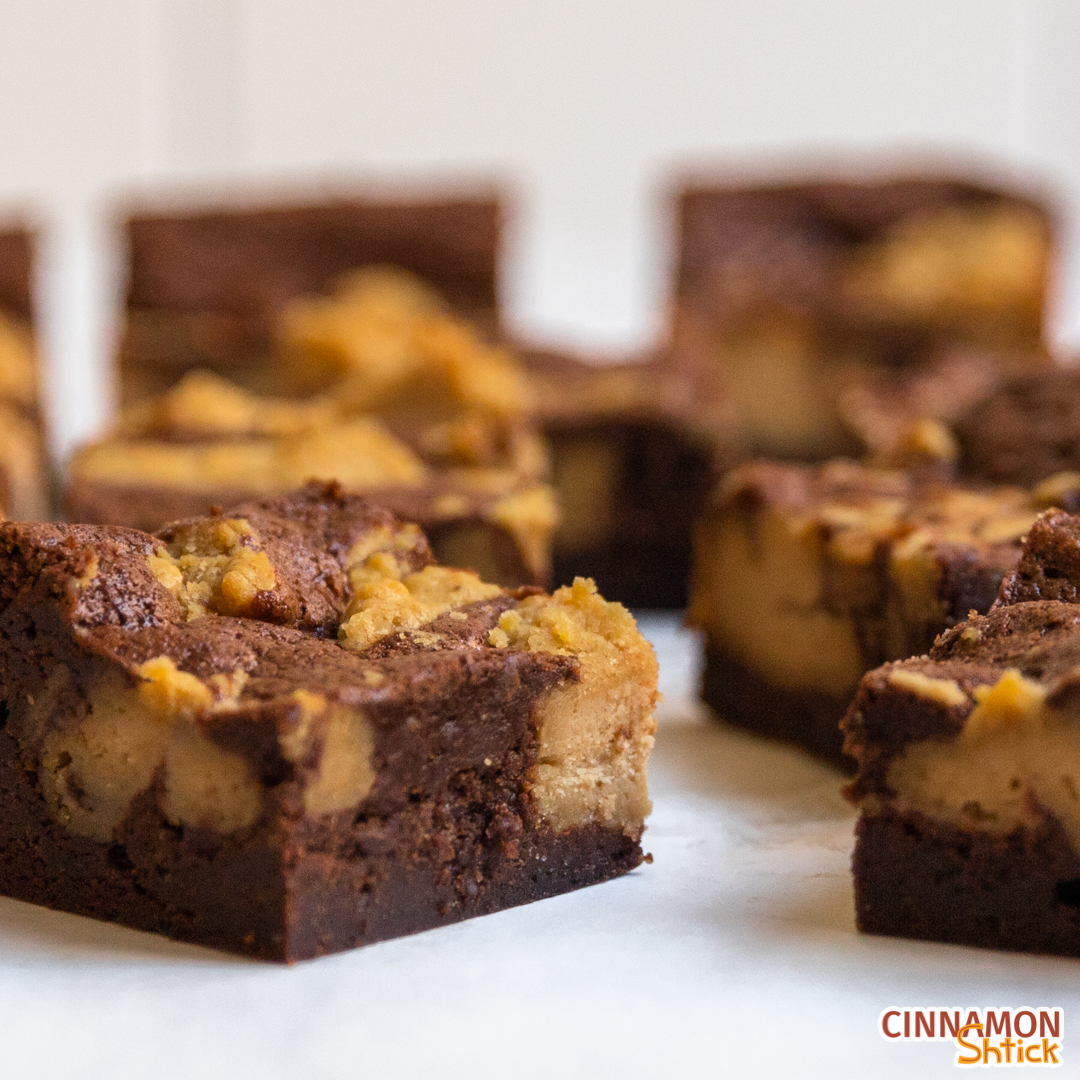 Does it matter what type of peanut butter or chocolate I use?
Let's first talk ingredients. For the peanut butter, you want to use regular, store bought peanut butter (not natural). I'm a Skippy* fan. (No one is paying me to say that. I just love Skippy peanut butter whenever I make a peanut butter dessert.) The reason is that it is a smooth texture and will give you the best results. The oils do not separate as much as when baking with natural peanut butter.
For chocolate, you can certainly get away with using a "common" brand you will find in the grocery store. However, if you want to up your brownie experience, splurge on a higher-end unsweetened chocolate. My go-tos are Scharffen Berger and Guittard*.
Two methods for making the brownies
As for the two brownie methods, making the brownie batter as directed in my recipe results in a more aerated, fluffier brownie. In the Notes below the recipe, I provide you with directions on making the brownie batter without a mixer, which results in a denser brownie. Either way, you will enjoy the same taste. The difference is just in the texture and mouthfeel.
The only difference between this brownie batter and my Super Fudgy Brownies is that I do not include my secret ingredient here – miniature marshmallows. I find that the combination of the melted marshmallows with the peanut butter cheesecake to be a drop over the top for my taste buds. It's just how I feel.
Before you bake, get organized!
As with any recipe, I highly recommend that you weigh (or measure) out all your ingredients before you get started. It really makes it much easier. If you are following the recipe as written, having everything ready to go will result in a better product at the end. After having let the eggs and sugar beat/whisk for 10 minutes, you will have beautifully aerated them. If you start futzing around after the eggs are beaten to gather the rest of your ingredients or to make the peanut butter cheesecake batter, you will be allowing all those precious air bubbles to disappear.
Oh, and I'd be lying if I said these peanut butter brownies did not taste as good (or even better) directly from the refrigerator or freezer. You're welcome.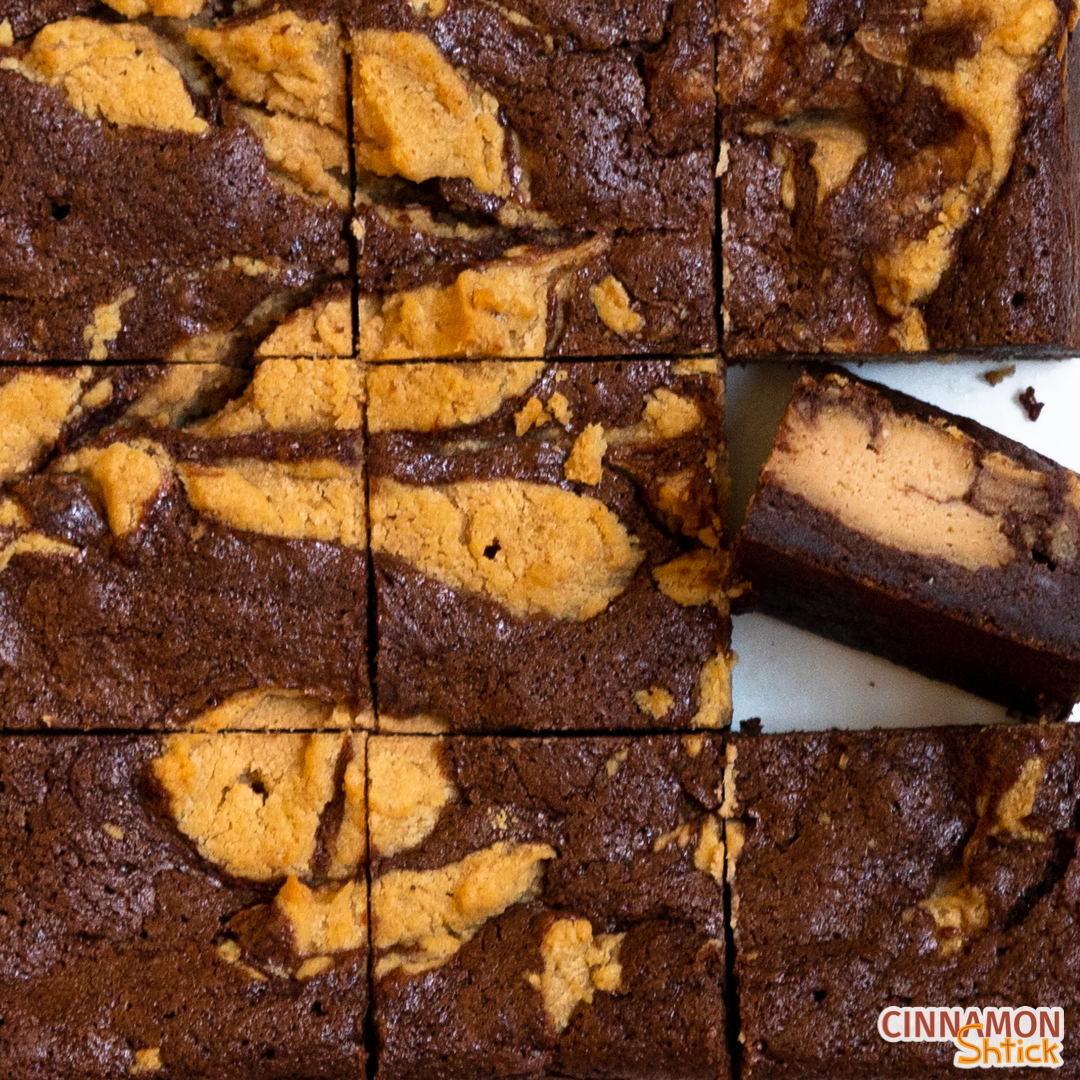 *As an Amazon Associate, I earn from qualifying purchases.
Peanut Butter Cheesecake Brownies
The best of all worlds collide, bringing peanut butter, cheesecake and brownies into one bite!
Ingredients
Peanut Butter Cheesecake Batter
225

g.

cream cheese

(8 oz.)

67

g.

sugar

(1/3 cup)

1

large egg yolk

130

g.

peanut butter

(½ cup)

¼

tsp.

vanilla

⅛

tsp.

salt
Brownie Batter
113

g.

unsalted butter

(8 tbsp.)

113

g.

unsweetened chocolate

(4 oz.)

110

g.

light brown sugar

(½ cup)

2

large eggs, refrigerator cold

100

g.

sugar

(½ cup)

1

tsp.

vanilla

40

g.

all purpose flour

(⅓ cup)

¼

tsp.

salt
Instructions 
Preheat oven to 350°F. Line the bottom and side of an 8 inch by 8 inch baking pan with parchment paper. Alternatively, grease and flour the pan.

Place the butter and chocolate in a 2 quart saucepan over low heat, stirring frequently until all ingredients are fully melted. Remove from heat. Stir in the brown sugar and vanilla. Set aside.

In an electric mixer with either the paddle or whisk attachment, beat eggs on a medium speed. Once the eggs start to get foamy, increase the mixer to high and add the sugar (just the white sugar) slowly, a little bit at a time. Once all the sugar has been added, allow the eggs and sugar to continue beating for about 10 minutes until it is thick, pale yellow, and forms a ribbon when dropped on itself.

Meanwhile, in a large bowl, whisk together all of the ingredients for the peanut butter cheesecake. Set aside.

During the last minute of the eggs and sugar beating, mix in the flour and salt to the chocolate mixture, just until combined.

With a spatula, gently fold in the beaten eggs to the chocolate mixture. Fold (do not mix) the batter until fully incorporated. Pour the brownie batter into prepared pan.

Dollop the peanut butter cheesecake in 9 clumps over the brownie batter. With a metal spatula or a knife inserted half way into the batter, swirl the peanut butter cheesecake into the brownie batter. Turn the pan 90° and do another set of swirls. One or two swirls per side should suffice. Do not be tempted to over swirl. You want to do this quickly to avoid losing air bubbles in the brownie batter.

Bake for 35-40 minutes. A toothpick inserted should come out clean and there should not be any jiggling in the center of the pan. Cool completely in pan on wire rack.
Notes
You can pull a stick of butter directly from the freezer or refrigerator. There is no need to spend time waiting for the butter to get to room temperature. Likewise, it is best to use refrigerator cold eggs.
When you gently add the eggs into the chocolate mixture, hold the mixer bowl with the beaten eggs as close as possible to the pot with the chocolate mixture. Likewise, when you pour the batter into the prepared pan, hold the pot with the batter as close as possible to the prepared pan. Taking these steps will reduce the risk of popping too many of the air bubbles you created in the egg mixture.
If you do not have a mixer, in a large bowl, mix together the peanut butter cheesecake batter. Set aside. For the brownie batter, melt the chocolate and butter, as directed. Stir in both sugars. Allow to cool. Beat in eggs and vanilla. Stir in flour and salt just until combined. Continue with Step 7.
These brownies freeze magnificently. Place them in the freezer already cut so you can take out a couple whenever the mood strikes. They defrost in about 10 minutes. Oh, and they are also delicious frozen.
Nutrition
Calories:
270
kcal
|
Carbohydrates:
23
g
|
Protein:
5
g
|
Fat:
19
g
|
Saturated Fat:
10
g
|
Trans Fat:
1
g
|
Cholesterol:
63
mg
|
Sodium:
140
mg
|
Potassium:
154
mg
|
Fiber:
2
g
|
Sugar:
18
g
|
Vitamin A:
411
IU
|
Calcium:
37
mg
|
Iron:
2
mg