This post may contain affiliate links. As an Amazon Associate, I earn from qualifying purchases. For more information, please visit my Privacy Policy.
Ever get home from work, a long day, a visit with the in-laws, a vacation…and have a random hankering for a peanut butter cookie? It's not often that I do, but when I do, I MUST satisfy that urge ASAP. The best way I know how to do that, assuming I have no peanut butter cookies in the freezer, is to make Peanut Butter Blondies.
Rather than take the time to shape each cookie and deal with alternating batches in the oven, I much prefer to whip up a batch of these Peanut Butter Blondies for the simple reason that, within one hour, I can have the ingredients scaled, mixed together, and baked. Added bonus: when it's time to take them out of the oven, I have cleaned everything up, so I can sit and relax on the sofa for the rest of the evening with a plate of Peanut Butter Blondies on my lap. They are super easy to make, downright delish, and mix-in options are endless!
Tips for Making Peanut Butter Blondies
Salt
I love sprinkling Maldon Sea Salt Flakes on top within moments after taking the pan out of the oven. The heat from the blondies causes the salt to stick to the top, which makes them look pretty. The salt adds a wonderful contrast to the subtle sweetness of the blondie.
Mix-Ins
Get creative on the mix-ins. I used Reese's pieces when I made the batch pictured, but chocolate lovers should for sure add in chocolate chips (milk, semi-sweet, bittersweet, or even white), or a chopped up high-end chocolate bar, or M&Ms (any flavor!), or peanuts (honey roasted?), or anything else you fancy with your peanut butter.
Don't Over-Bake 
Be sure to take them out of the oven just as they are fully set. If you insert a toothpick, it should come out clean. Overbaking them will lose the slightly gooey texture that I think makes these special.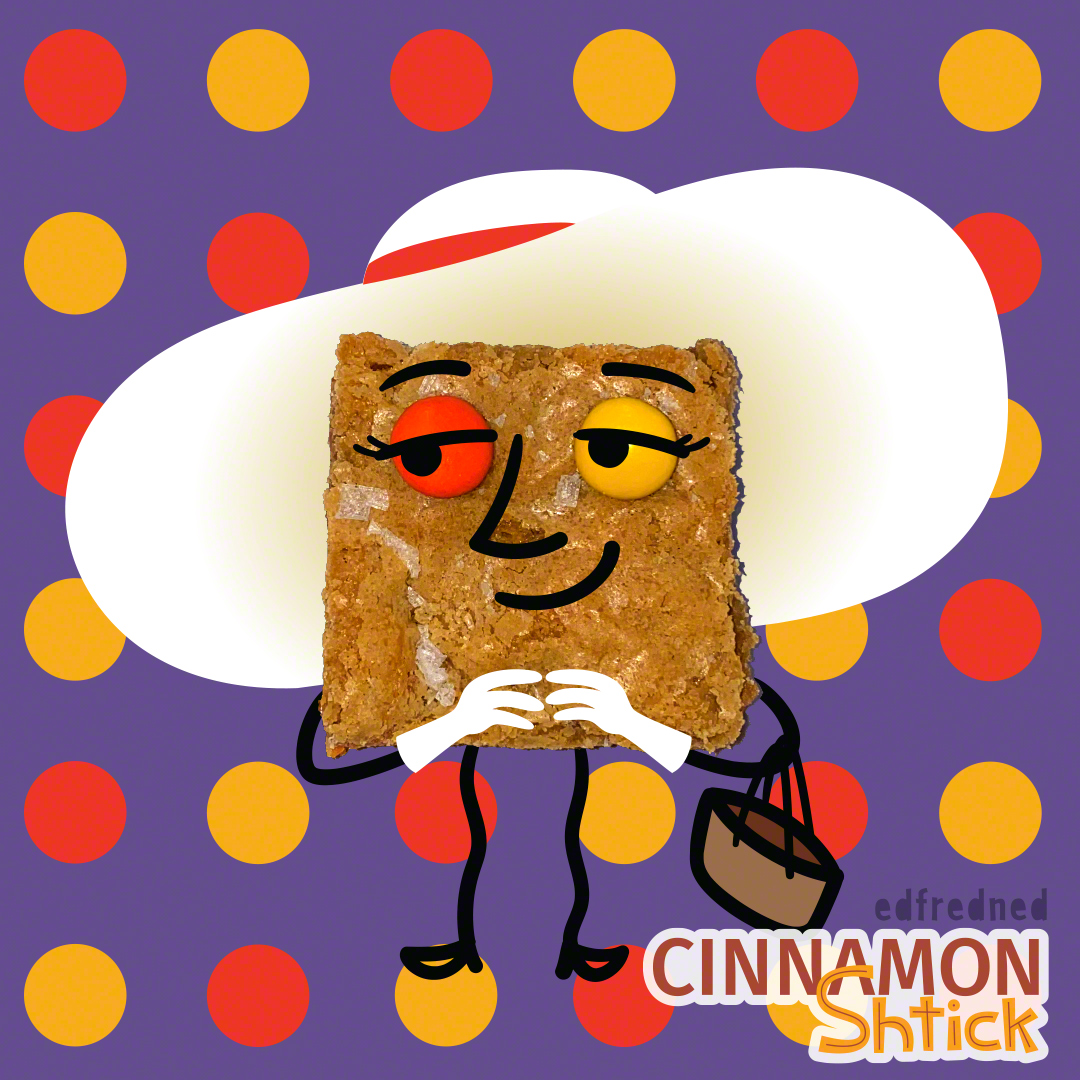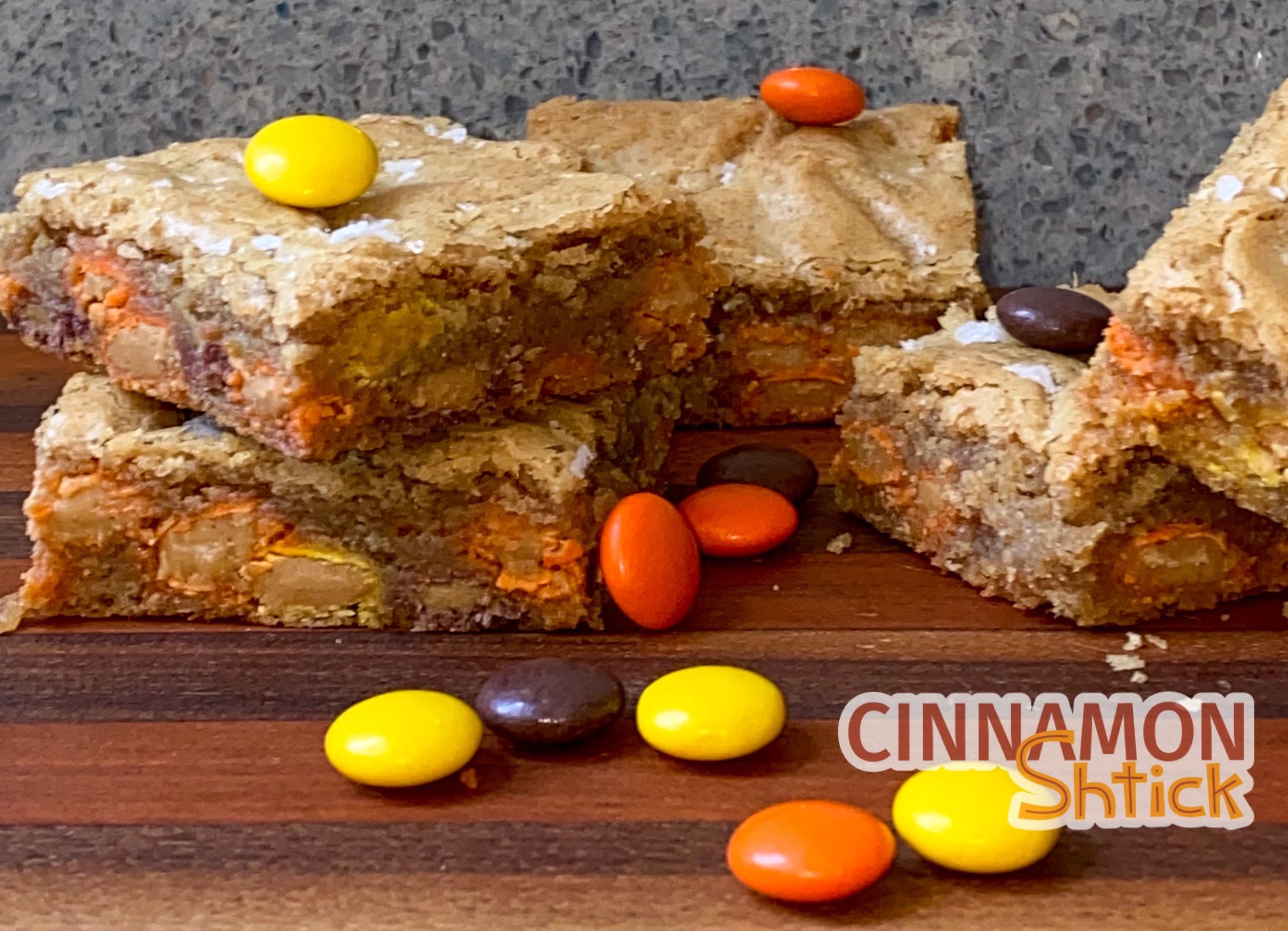 Peanut Butter Blondies
Rich in peanut butter flavor, these blondies can be made in under an hour.
Ingredients
85

g.

unsalted butter

(6 tbsp.)

147

g.

light brown sugar

(⅔ cup)

133

g.

sugar

(⅔ cup)

2

eggs, refrigerator cold, beaten

128

g.

peanut butter

(½ cup)

1

tsp.

vanilla

90

g.

all purpose flour

(¾ cup)

⅛

tsp.

baking soda

¼

tsp.

baking powder

226

g.

Reese's Pieces, Peanut Butter M&Ms, chocolate chips, peanut butter chips, or any combination of them (all optional, of course)

(1 cup)

Sea salt flakes

(optional)
Instructions 
Preheat oven to 350° F. Line an 8 inch by 8 inch square baking pan with parchment paper.

In a 2 quart saucepan, melt the butter over low heat. Remove from heat and allow to cool to room temperature.

Mix in sugar and brown sugar. Stir in beaten eggs.

Mix in peanut butter and vanilla.

Mix in flour, baking soda and baking powder, just until fully incorporated and no flour is visible.

Stir in any mix-ins just until incorporated. Spread batter into prepared pan.

Bake for 30-35 minutes. Blondies are done with the edges are browned and a toothpick inserted in the middle comes out clean.

Fully optional, just after removing the pan from the oven, sprinkle lightly with sea salt flakes (such as Maldon Sea Salt Flakes). Cool completely in pan before cutting.
Nutrition
Calories:
252
kcal
|
Carbohydrates:
33
g
|
Protein:
4
g
|
Fat:
12
g
|
Saturated Fat:
6
g
|
Trans Fat:
1
g
|
Cholesterol:
34
mg
|
Sodium:
76
mg
|
Potassium:
80
mg
|
Fiber:
1
g
|
Sugar:
27
g
|
Vitamin A:
194
IU
|
Vitamin C:
1
mg
|
Calcium:
37
mg
|
Iron:
1
mg