This post may contain affiliate links. As an Amazon Associate, I earn from qualifying purchases. For more information, please visit my Privacy Policy.
I am no artist. I can bake delicious pastry and breads, and sort of make it look appetizing, but I have never been able to make something that looks artistically show-stopping. Sadly, that kind of artwork is just not one of my strengths. Such is life. While I am not great at decorating a fancy cake, I can make a pie look somewhat pretty. You know why? Because a pie should look rustic, homemade. A pie is like a snowflake — no two should be identical. There's really no special trick to making a Lattice Pie Crust. You just need a tiny bit of patience to place the strips where you want them.
This post will talk you through making a Lattice Pie Crust. I am including a video which I hope will be even more helpful.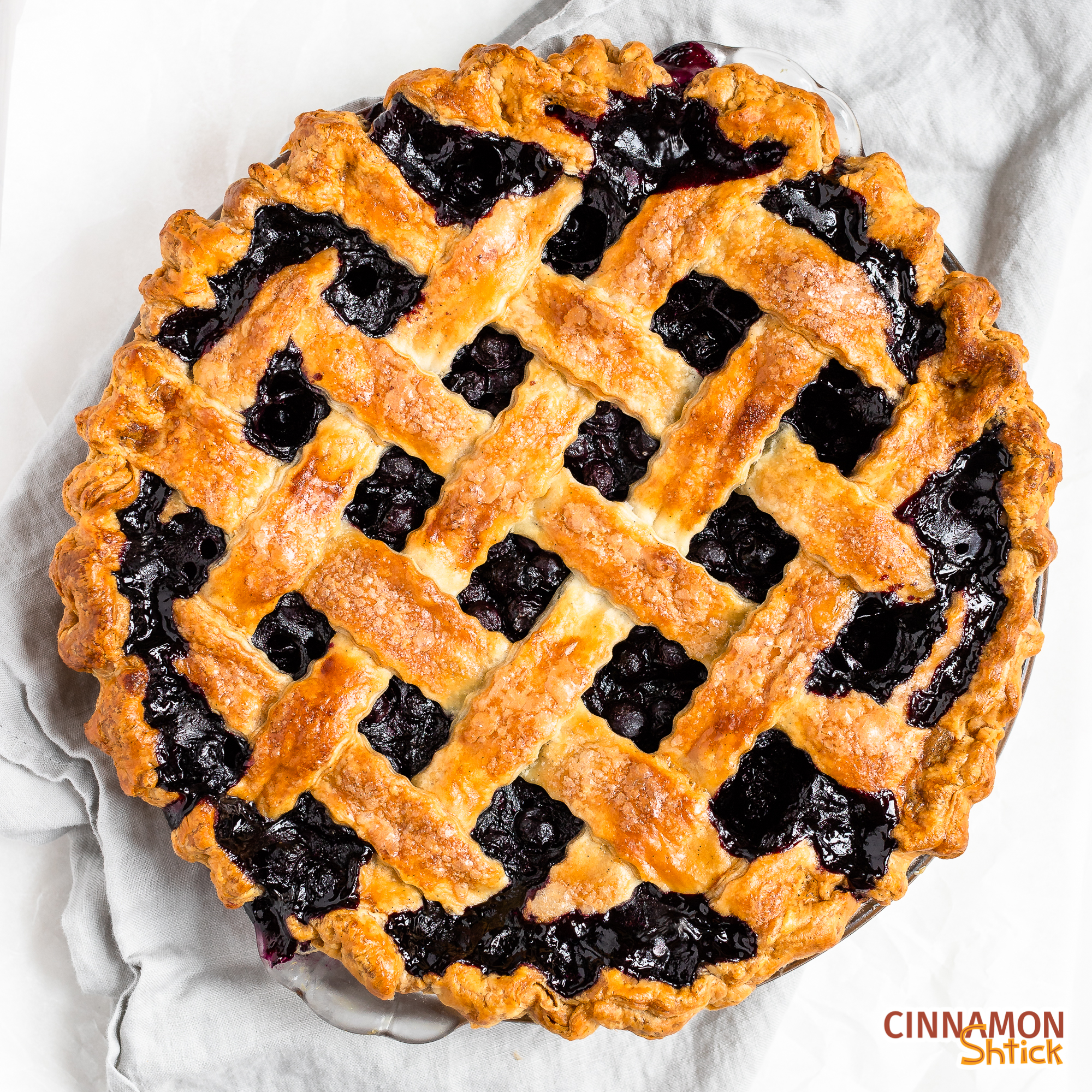 You can use a Lattice Pie Crust on just about any type of pie. I don't do it often for two reasons: First, I like pie crust, so using the entire top dough without gaps gives me more pastry to eat on my piece of pie. Second, I'm lazy! It's much easier to roll out the dough, cover the pie, crimp and bake. That said, I should make a Lattice Pie Crust more often because it really only takes a few more minutes and the result is really, really pretty and always a show stopper! It is so rustic and lovely to see the fruit filling having imploded onto the the sides of the lattice work. YUM!!!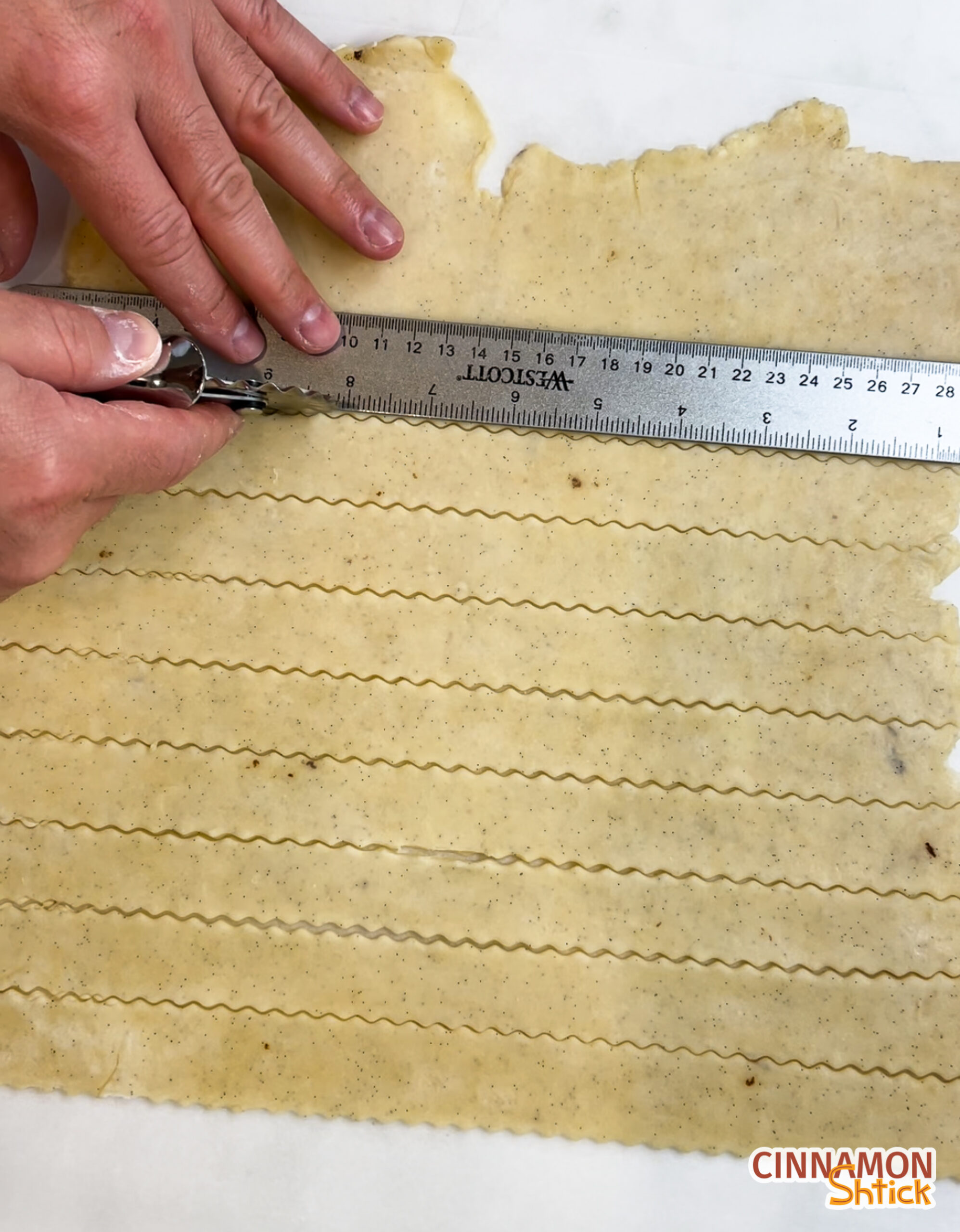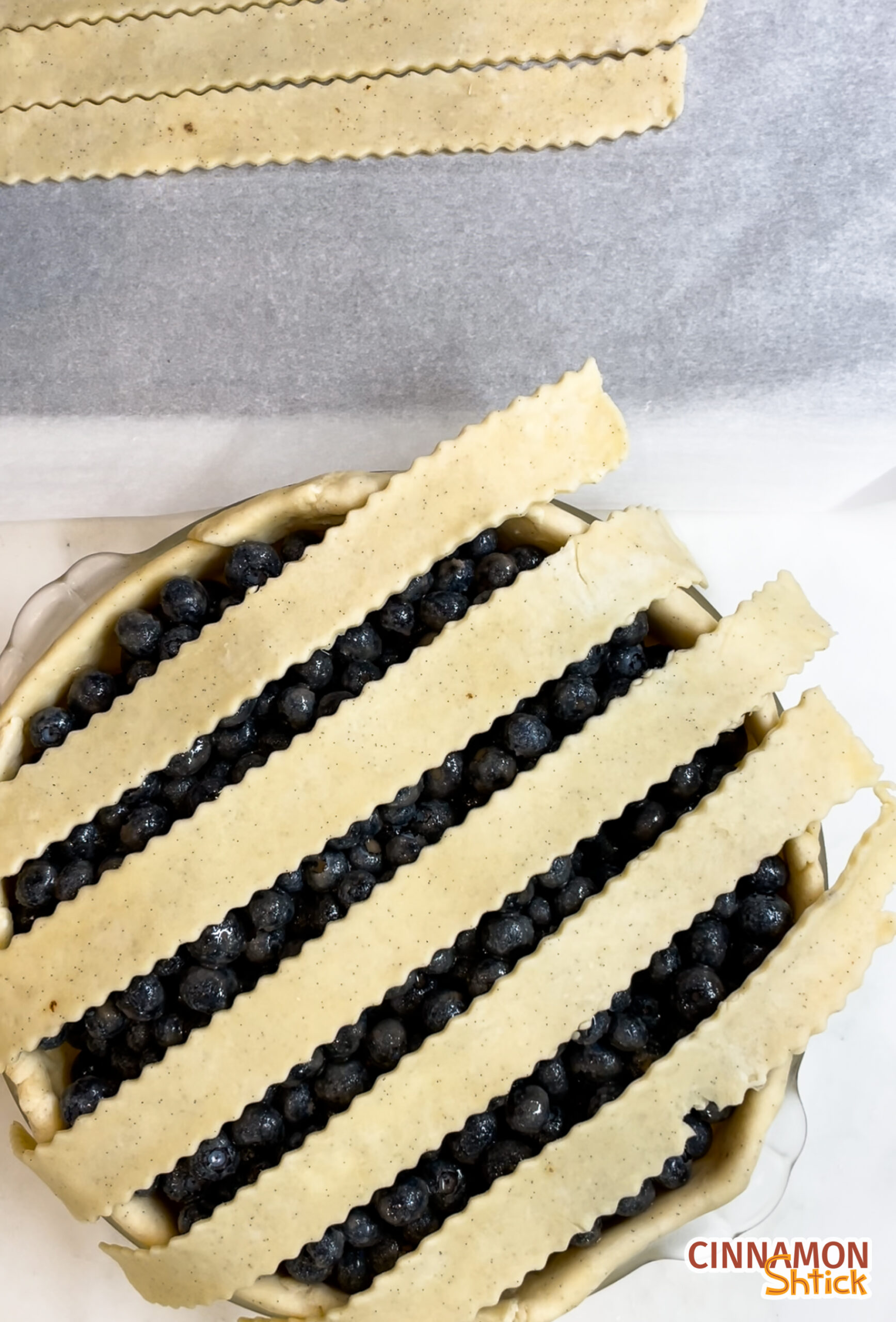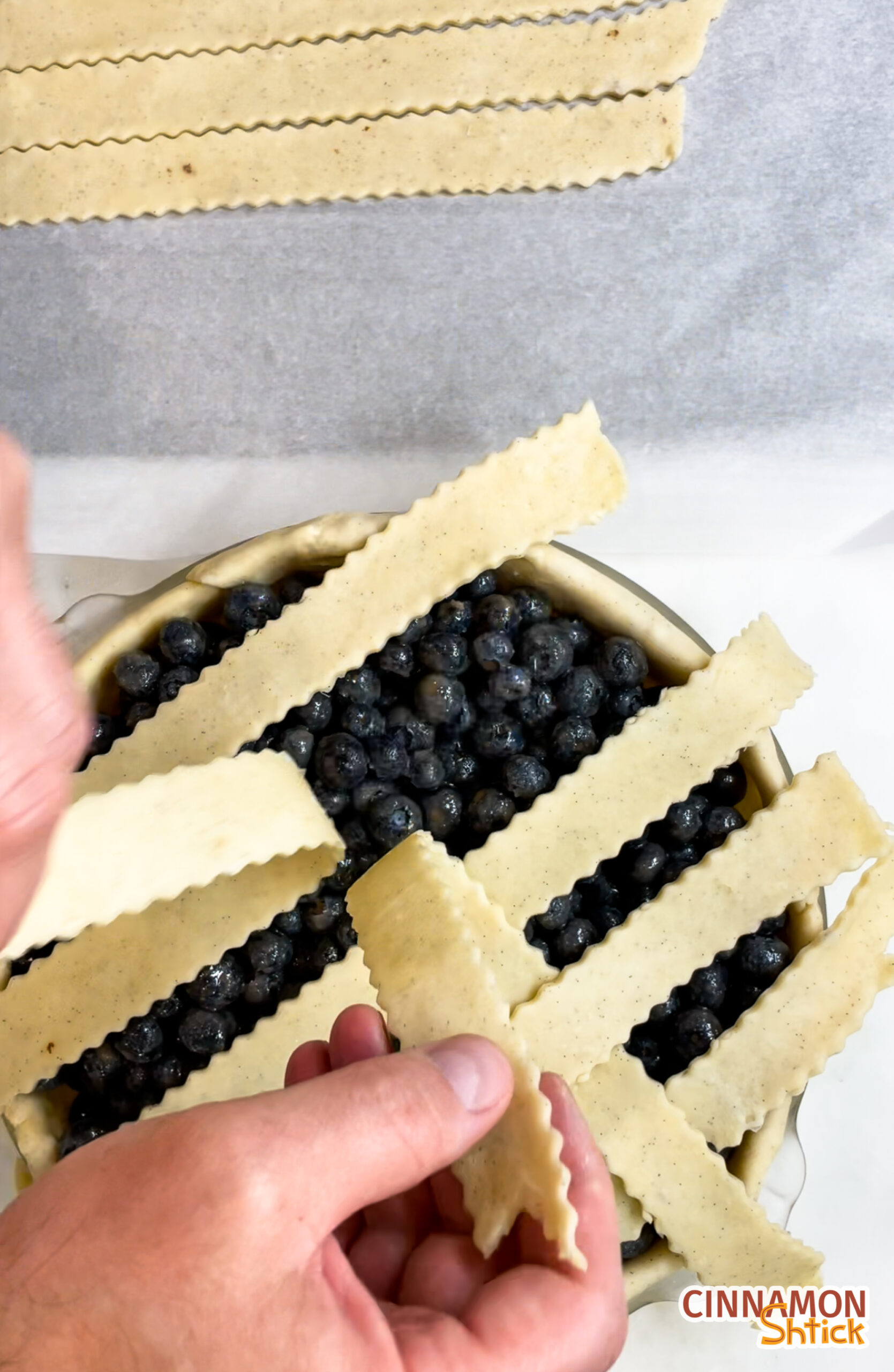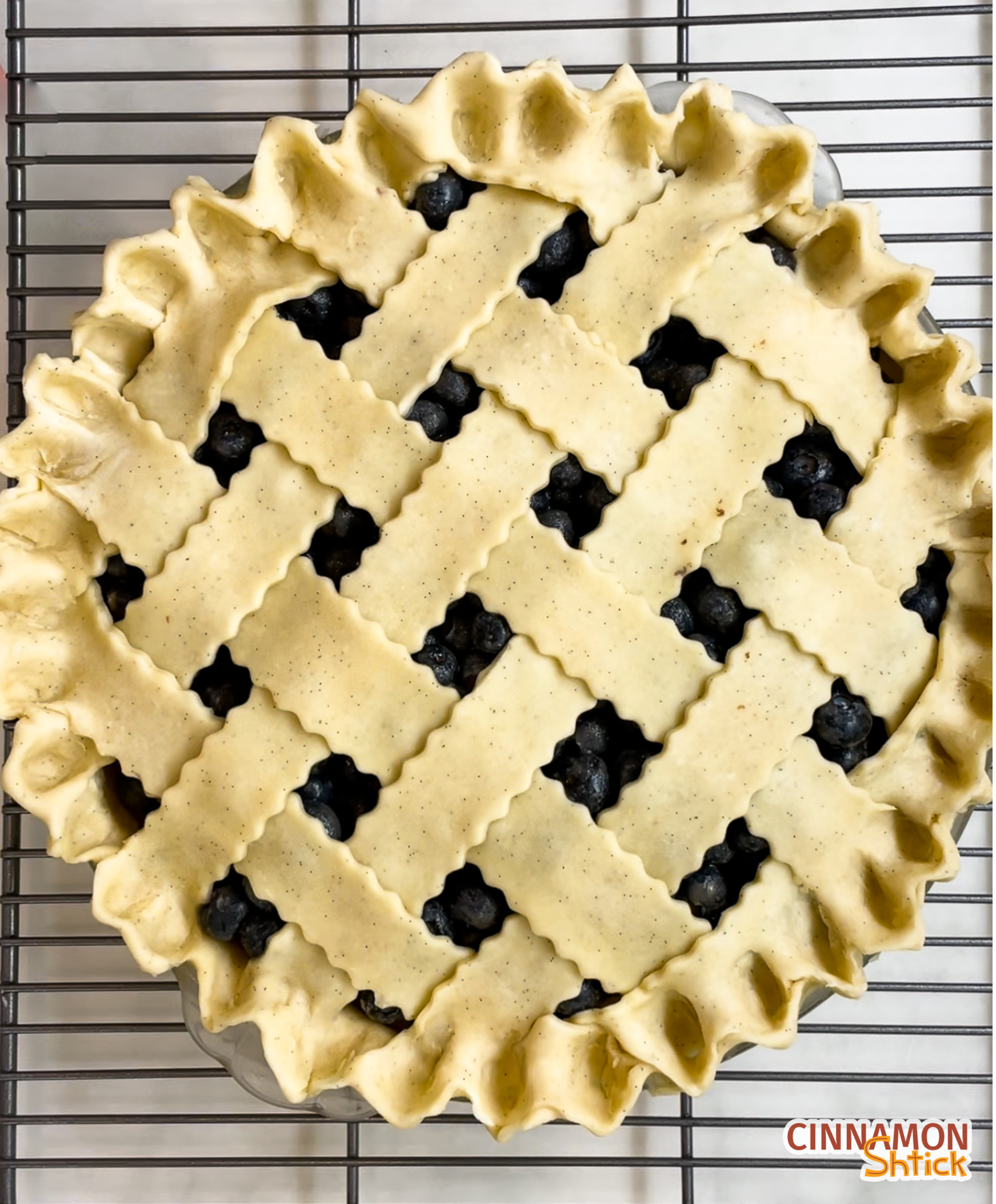 Frequently Asked Questions
What should I use to cut the strips of dough?
The easiest thing to use is a pizza wheel. To be super precise, use a ruler as well to measure out the strips and to cut against it. For a fluted look, use a pastry or ravioli cutter. You can also just a sharp knife, like a chef's knife.
Why is my pie dough sticking?
If the pie dough gets sticky or difficult to work with, it likely just means that it has gotten too warm. Stop what you are doing and put it in the refrigerator for 15-30 minutes so it it can firm back up. Only worth with the dough when it is cold.
Do pie dough strips need to be the same width to form a lattice?
Absolutely not. I like using 1-inch wide strips. You can use any width you want. Go thick with 2 or 3 inch wide strips, or go narrow with 1/4 inch strips. Or use strips of varying widths to shape the lattice. You can also thinly cut three strips and braid them to form one strip in the lattice.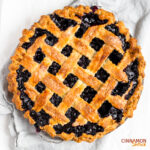 Print
How to Make a Lattice Top
Learn how to make a lattice top for any pie recipe.
Instructions
Roll the pie dough out to approximately ⅛ inch thick. For a 9-inch pie plate, try for a diameter of 12-inches. Transfer the dough to a piece of parchment paper.

Using a pastry cutter, pizza cutter or a sharp knife, cut the dough into strips. If the dough is sticking to the cutter, dip the cutter in flour. (If the dough is still too sticky, place it in the refrigerator for at least 15 minutes.) One-inch strips look great. You can make them as wide or narrow as you wish. You can also do a combination of sizes. Play with the widths of the strips. There is no correct width, so just have fun with it! Once cut, transfer the parchment paper with the dough onto a baking sheet and chill in the refrigerator for 15-30 minutes.

Starting in the middle of the strips, use the longest one to lay across the middle of the pie. Continue using strips that decrease in size as you work towards the edeges of the circle. Make sure to only use half the strips. As you lay the strips, leave a small gap (anywhere from ¼-1 inch) between them.

Turn the pie dish approximately 15°. Starting in the middle, lay one of the remaining longer strips over the pie. Lift up the bottom strips as necessary to create an "over/under" flow. Continue towards the right side with the next largest remaining strip, then the left side. Keep alternating until the pie is covered as desired. (Some people find it helpful to fold up every other strip to make an opening to place the cross-strip, and then fold the bottom strips back down.)

Trim any overhang that is too long. It is a good idea to keep approximatley an inch or so of overhang to tuck in behind the bottom dough, against the pie dish. Refrigerate the pie for 15-30 minutes.

Once chilled, use a fork to press down on the edges, or crimp using the index finger of your non-dominant hand to push dough into a small space (approximately ½ an inch) between the index finger and thumb of your dominant hand.

Chill the entire pie in the freezer for 15 minutes or in the refrigerator for 30 minutes. Once chilled, egg wash and bake as instructed.
Notes
If the dough at any time becomes sticky or difficult to work with, place it in the refrigerator for 15-30 minutes to firm back up.