This post may contain affiliate links. As an Amazon Associate, I earn from qualifying purchases. For more information, please visit my Privacy Policy.
What is Cookies Cook'n?
I grew up in Framingham, Massachusetts, which was home to either the original or one of the locations of the BEST chocolate chip cookies that has ever passed these lips: Cookies Cook'n (which was not surprisingly voted the Best of Boston in 1981). It was located in the Framingham Mall, which, conveniently, was about a seven minute walk from our house. Those cookies were divine — flat, slightly crispy on the edges while gooey and melty in the middle. They were loaded with butter, as I fondly remember the grease on my hands. Cookies Cook'n made small cookies, which were super enjoyable. However, it was their Big Chippers that won my heart — large, flat, round chocolate chip cookies with a Hershey Kiss in the middle. Pure heaven. I have dreamt of these cookies for decades, as Cookies Cook'n went out of business in the early 1990s. I have asked everyone I know from the greater Boston area if they have any connection to the original owners or their families in an effort to get the recipe or even just some input into the recipe. No luck. So, I decided it was time for me to come up with a Copycat Cookies Cook'n Big Chipper recipe.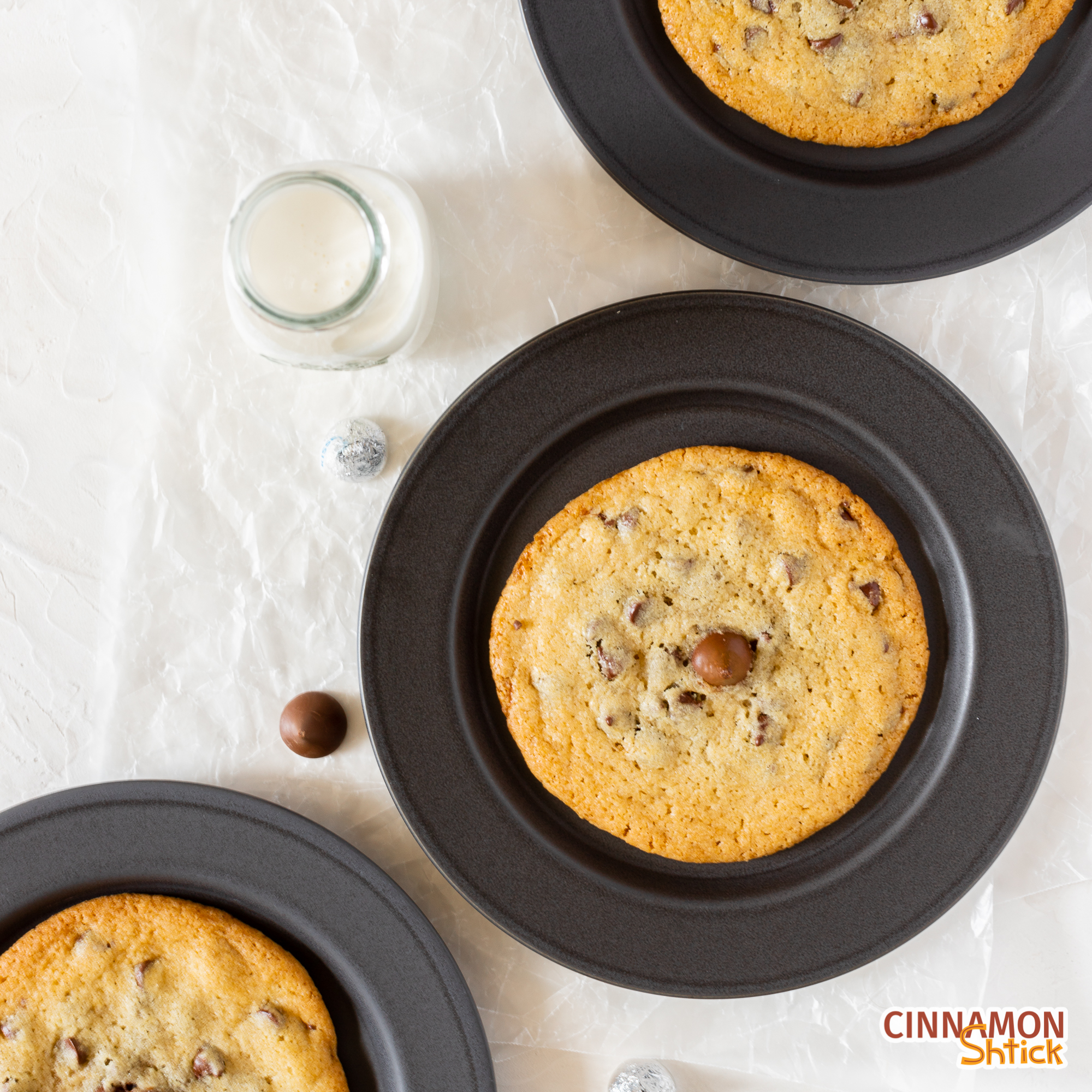 Copycat Cookies from 30 Year Old Memories
I'll be honest with you (as I always am). These Copycat Cookies Cook'n Big Chipper cookies are delish, but I have no idea if this recipe even resembles anything near the original recipe. After more than a dozen tests, this is as close as I could get to my memories of the original cookie. See, that's the problem. I don't even have a cookie in front of me to try to replicate. Instead, I'm working from 30 year old memories, and I have no idea how accurate those memories even are!
What I can tell you is that when I hold these cookies, smell them and taste them, I have flashbacks to the shear joy I experienced in my childhood and high school years of getting Cookies Cook'n Big Chipper cookies.
At minimum, I can say that these delicious cookies are 100% inspired by my very fond (and old!) memories of Cookies Cook'n Big Chipper chocolate chip cookies. And you know what? While they may not be the exact same, they bring me great joy. I hope they will for you too!
How to Make Copycat Cookies Cook'n Big Chipper Cookies
These cookies are super easy to make. Seriously!
1. Mix the dough
Cream the butter and sugars together. (I like to use a hand mixer for this. You can certainly use a stand mixer or just mix by hand with a wood spoon.) Beat in the egg and vanilla. Dump in the dry ingredients. Stir in the chocolate chips. BOOM!
2. Chill the dough
Because the butter to flour ratio is high in this recipe, it is important to bake these cookies while they are cold to help control how much they spread. I therefore suggest that you shape the cookies immediately after mixing. I weigh mine out at 100 grams each, roll them into balls and then press down on them to shape them into hockey pucks, and use my thumb to make an indentation in the middle where the Hershey Kiss will sit. Place the "pucks" onto parchment paper and chill them. You can pop them in the freezer for 15 minutes (or longer), or pop them in the refrigerator for at least two hours and as long as a few days. (I opt for the fridge overnight.)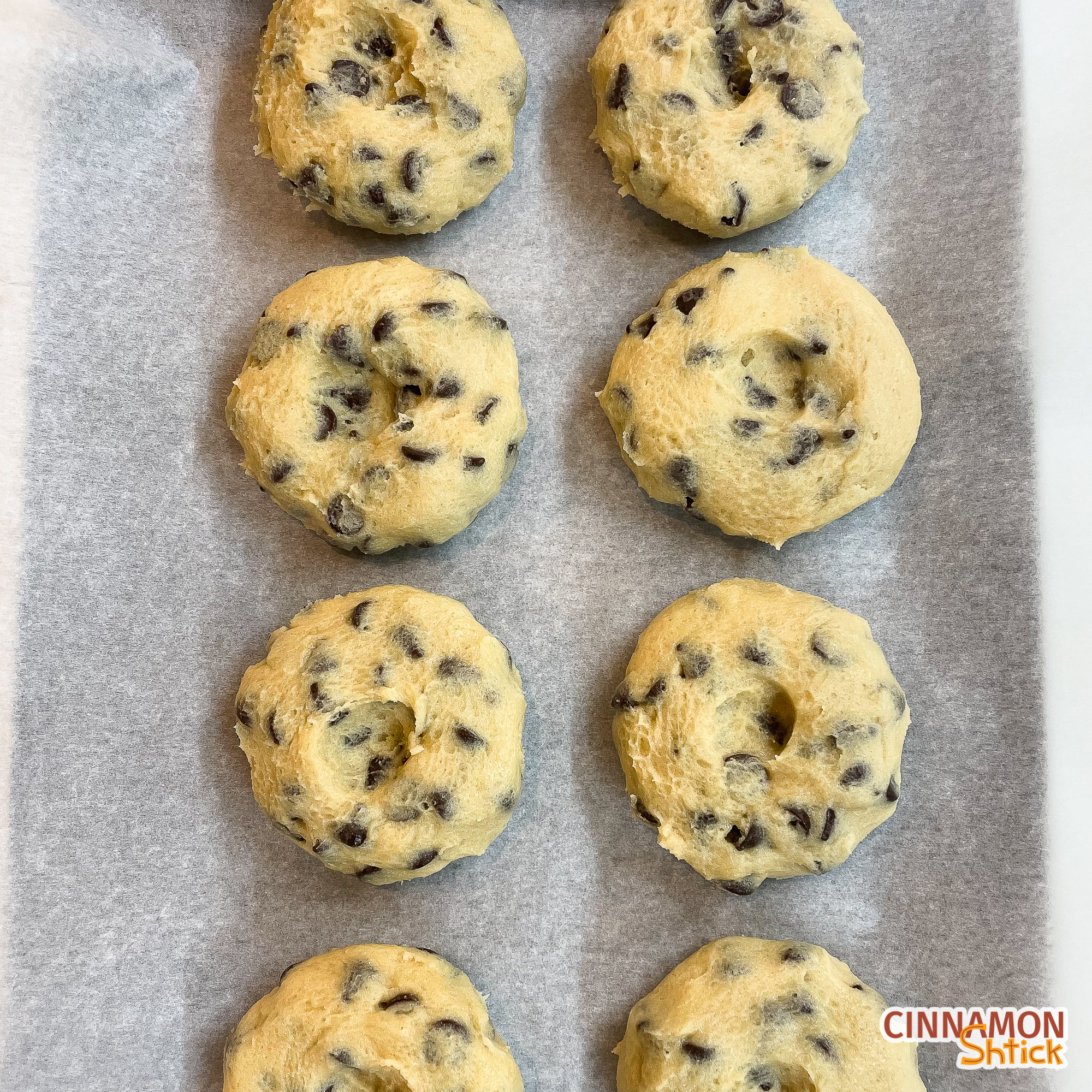 3. Bake
These cookies spread lots. I recommend baking only three at a time on a large baking sheet. Leave plenty of room between them so that they have the space to spread and grow. Just before placing them into the oven, place a Hershey Kiss in the center of each cookie.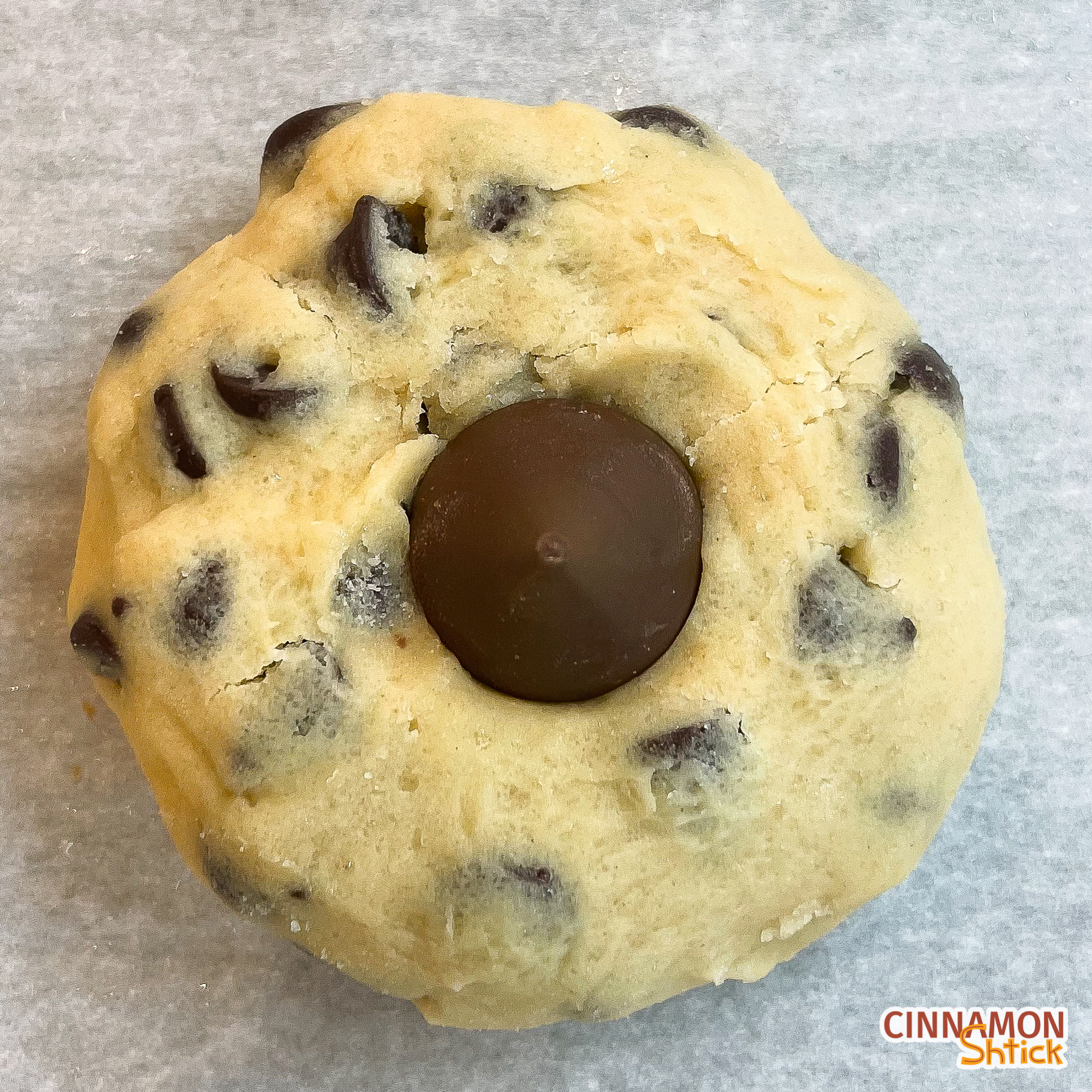 In my research for this recipe, I spoke with a couple of friends who worked at Cookies Cook'n through high school. (Why I did not work there is beyond me! I worked at a clothing store. BORING! Although, I think I knew that if I had worked at Cookies Cook'n, I would have never stopped eating cookies!) They told me that none of the employees ever made the dough — it came to each store location already mixed and refrigerated. They also said that they would bake the cookies for several minutes, then rotate the pans and bang them once to help deflate them.
It's always a good idea to rotate the pans in the middle of the bake, but there's no real need to bang them down during the baking time. When you remove the pan from the oven, you can bang the pan once onto the cooling rack. (Just hold it approximately four inches above the cooling rack and drop the pan on the cooling rack.) That will help deflate them a bit which they will continue to do as they cool.
Let the cookies cool on the pan before transferring them to a cooling rack.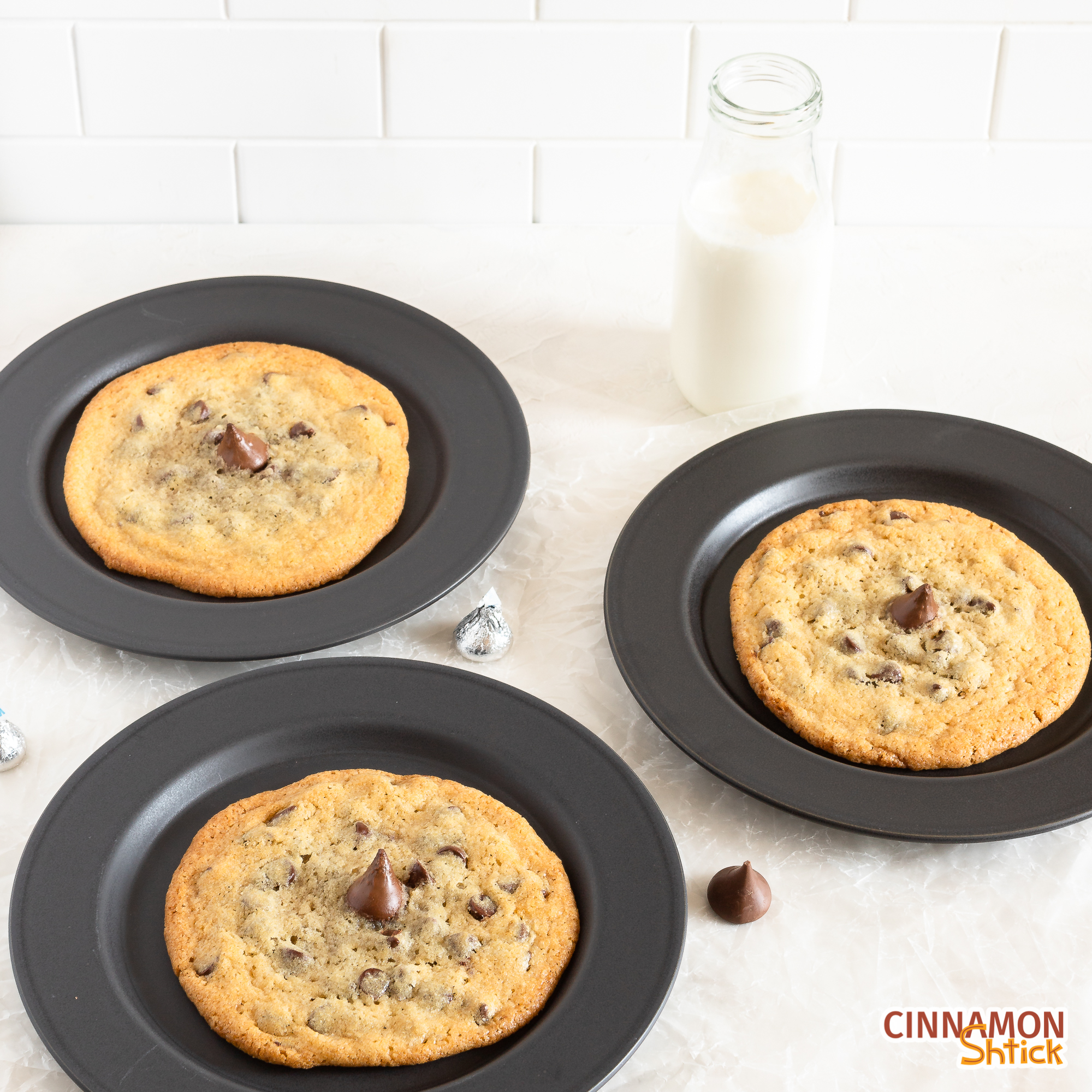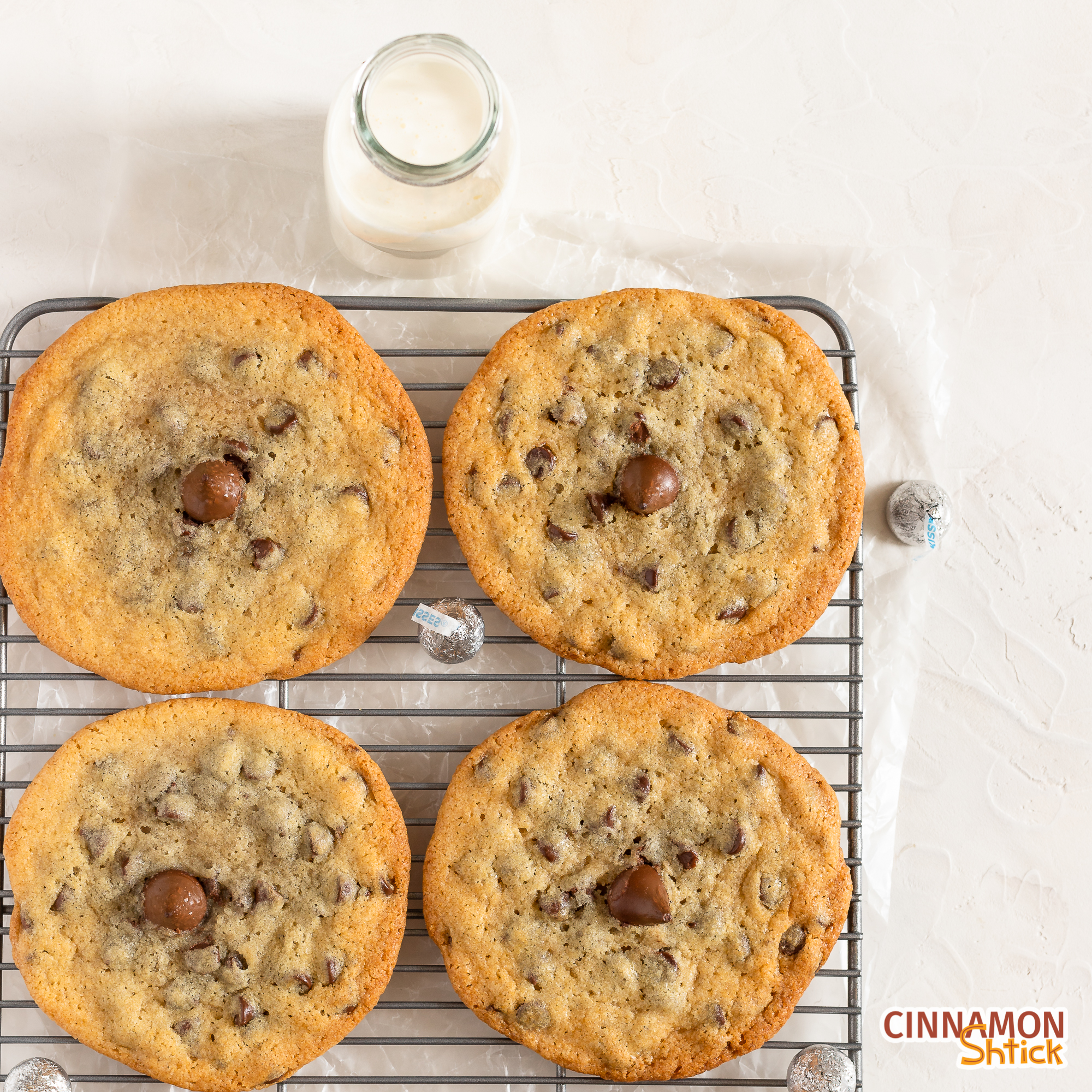 Copycat Cookies Cook'n Big Chipper Chocolate Chip Cookies
Reminisent of the famous 1980's Boston-based Cookies Cook'n, these Big Chipper Chocolate Chip Cookies are easy to make and downright delicioius.
Ingredients
240

grams

all purpose flour

(2 cups)

2

teaspoons

corn starch

½

teaspoon

baking soda

½

teaspoon

baking powder

¾

teaspoon

fine sea salt

226

grams

unsalted butter at room temperature

(2 sticks or 16 Tablespoons)

150

grams

white sugar

(¾ cup)

106

grams

light brown sugar

(½ cup)

1

egg

2

teaspoons

vanilla

340

grams

chocolate chips or good quality chocolate, chopped

(12 ounces or 2 cups)
Instructions 
In a small bowl, whisk together the flour, corn starch, baking soda, baking powder, and salt. Set aside.

In a mixing bowl, cream together the butter and the sugars. (You can use a hand mixer, stand mixer, or a wooden spoon.) Add the egg and vanilla, beating until fully combined.

Mix in the dry ingredients just until fully combined. Stir in the chocolate chips.

Line a baking sheet with parchment paper. Weigh the dough into 100 gram balls. Press down on each ball to form a puck. Use your thumb to make an indentation in the middle. Please each puck onto the prepared pan. Cover with plastic wrap and freeze for 15 minutes or refrigerate for at least two hours and up to several days.

Preheat oven to 350° F. Line baking sheets with parchment paper.

Place no more than 3 cookies onto the baking sheet, spaced several inches from each other. Bake 17-19 minutes, rotating the pan at the 10 minute mark. (If you oven bakes very evenly, there's no need to rotate the pan.) The edges should be lightly browned and the middle should look almost uncooked.

Cool on pan for 10 minutes before moving to wire rack.
Notes
Instead of chocolate chips, feel free to chop up good quality chocolate (semi-sweet and/or bittersweet) for a gooier chocolate experience.
You can store the refrigerated dough balls for at least three days before baking.
Frozen dough balls will keep several months in an airtight container or plastic wrap. If baking directly from the freezer, you may need to add an additional minute or two to the baking time.
Don't want such big cookies? No sweat. Portion the dough into 30 gram balls. If not  adding Hershey Kisses to the centers, there is no need to flatten the balls. They will flatten on their own as they bake.
Nutrition
Calories:
507
kcal
|
Carbohydrates:
57
g
|
Protein:
5
g
|
Fat:
29
g
|
Saturated Fat:
18
g
|
Trans Fat:
1
g
|
Cholesterol:
61
mg
|
Sodium:
230
mg
|
Potassium:
224
mg
|
Fiber:
3
g
|
Sugar:
35
g
|
Vitamin A:
550
IU
|
Calcium:
51
mg
|
Iron:
3
mg