This post may contain affiliate links. As an Amazon Associate, I earn from qualifying purchases. For more information, please visit my Privacy Policy.
Diamant cookies were one of the first cookies we made in culinary school. With minimal ingredients, these French cookies rely on quality butter and vanilla for flavor. Their name comes from the look of the cookies. The coarse sugar around the edges are like diamonds. I decided to play with the flavor profile for these Black Cocoa Diamants. Think fancier Oreos without the cream filling. I do recommend a glass of milk for dunking!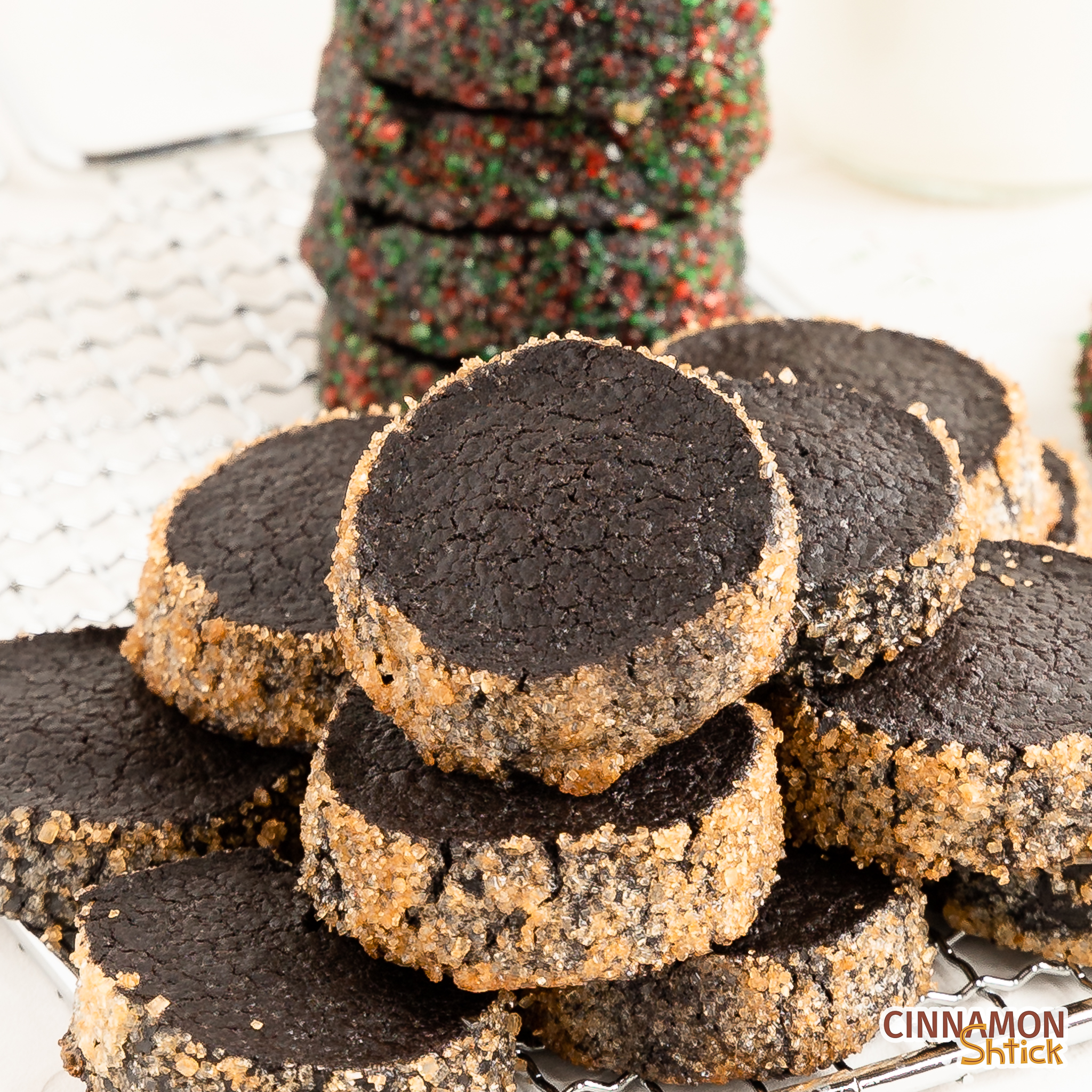 Ingredients for Black Cocoa Diamant Cookies
These cookies are so simple to whip up. Let's first talk ingredients:
Flour: All purpose flour is perfect here.
Black Cocoa: A form of Dutch process cocoa, which means the acids have been removed from the cocoa. The result is a deep, dark chocolate. We recognize the flavor from Oreos. I have been buying Modern Mountain brand black cocoa and really love it. I also love King Arthur's black cocoa. If you want a deep chocolate that is not all black cocoa, try King Arthur's double dark cocoa powder which is what I like to use in my Chocolate Peanut Butter Chip Cookies.
Salt: To balance the sweetness and bring all the flavors together.
Butter: Use a good quality butter for these cookies and make sure the butter is at room temperature before mixing the cookie dough.
Brown Sugar: Traditional diamants are made with confectioner's sugar. Cocoa tends to absorb liquid, so we use brown sugar here instead which adds a drop of moisture instead of drying out the cookies further with confectioner's sugar. I like the hint of molasses from the brown sugar with the deep chocolate.
Vanilla Extract: Vanilla is always a wonderful flavor to add, and it enhances the chocolate.
Milk: Just one Tablespoon is all we need here to help bring the dough together and add just a drop more moisture to the finished dough. I recommend whole milk, but a lower percentage fat of milk could be used in a pinch.
Coarse Sugar: To coat the chocolate diamants for that diamond effect.
Egg: One egg beaten to egg wash the dough logs so the coarse sugar has something to stick to.
While I include measurements for the ingredients, I strongly urge you to weigh the ingredients for these cookies, especially since people measure out cocoa and flour differently. For all the reasons why I make this recommendation, check out my post on Weighing vs. Measuring.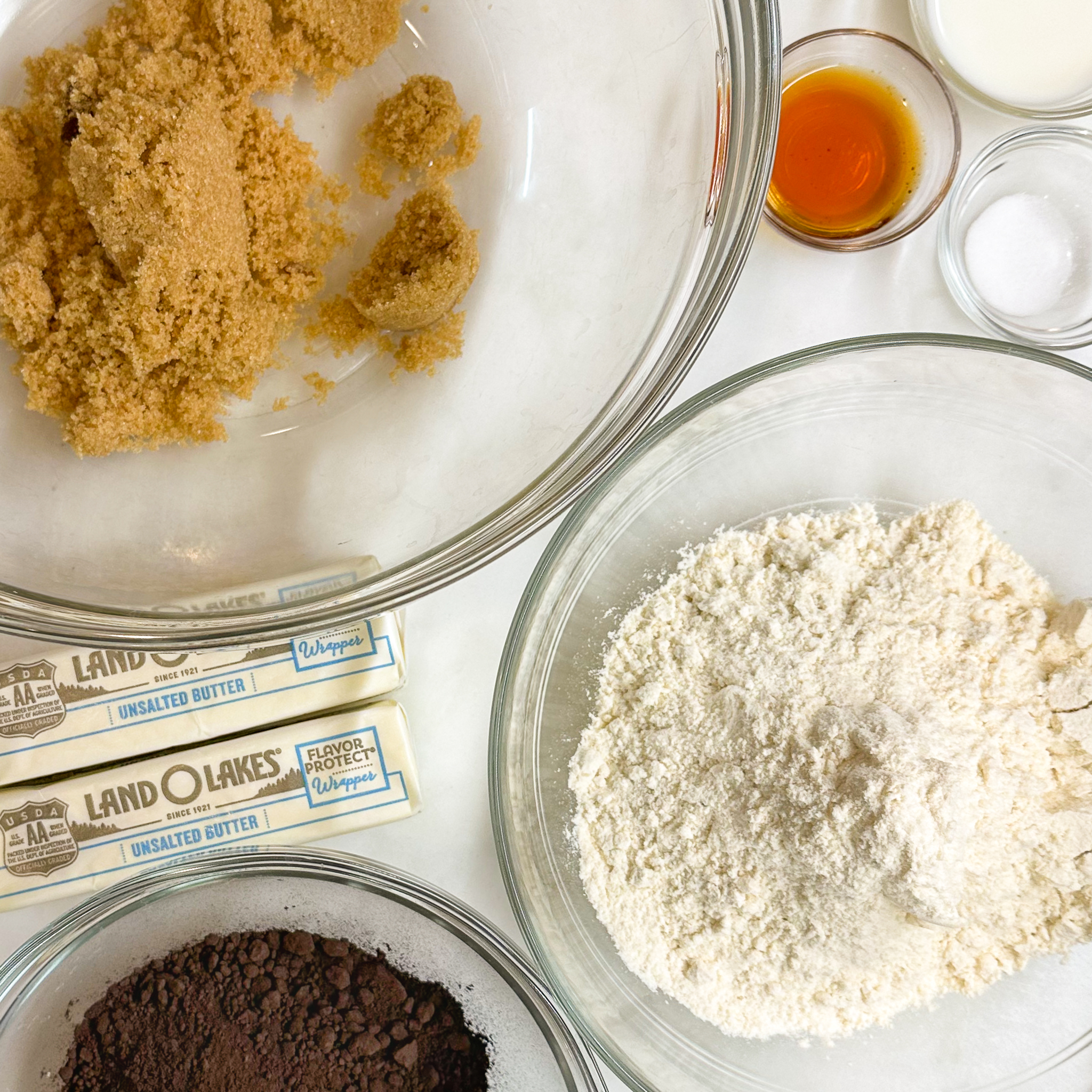 How to Shape Chocolate Diamants
Here's the secret to shaping diamants: Think of them as snowflakes — no two should be identical. Once I accepted that, it became so much simpler for me to shape diamant cookies.
Bakers seem to develop their own methods for shaping these cookies. Some shape them into a square log to end up with square shaped cookies (which, frankly, looks more diamond-like to me) and others shape them into round logs, which is how I was taught in culinary school. I am showing you here how to roll them out into rounded logs. However, if you prefer a square, just gently push down the rounded log against the countertop with a flat baking pan, rotate the log 45 degrees, and repeat. That will give you squares.
The other big tip is to make sure you really compact the dough once all the ingredients are mixed in. It may seem like the dough isn't coming together, but just push it into itself, compacting it, to make sure there are no air bubbles in the log.
We were taught to roll the log in plastic wrap. It works well. However, for me, I realized I am horrible at shaping in such a free-form manner. I find it easier to first roll the log in parchment paper because I find that easier to maintain a more uniform log. I pop the log into the refrigerator for at least an hour, then I remove it and place it into plastic wrap for a final rolling. Then I refrigerate again for at least another hour up to overnight.
Baking Chocolate Diamants
When it's time to bake, you can cut the logs into smaller logs if you are coating with different colored sugar. In the photos here, I used turbinado sugar. (I use Whole Foods' brand because I always have it in stock for use with my morning coffee.)  I also used food coloring to color turbinado sugar for green and red to make Christmas cookies. You can also buy all kinds of coarse, colored sugars. Crystal sugar works well.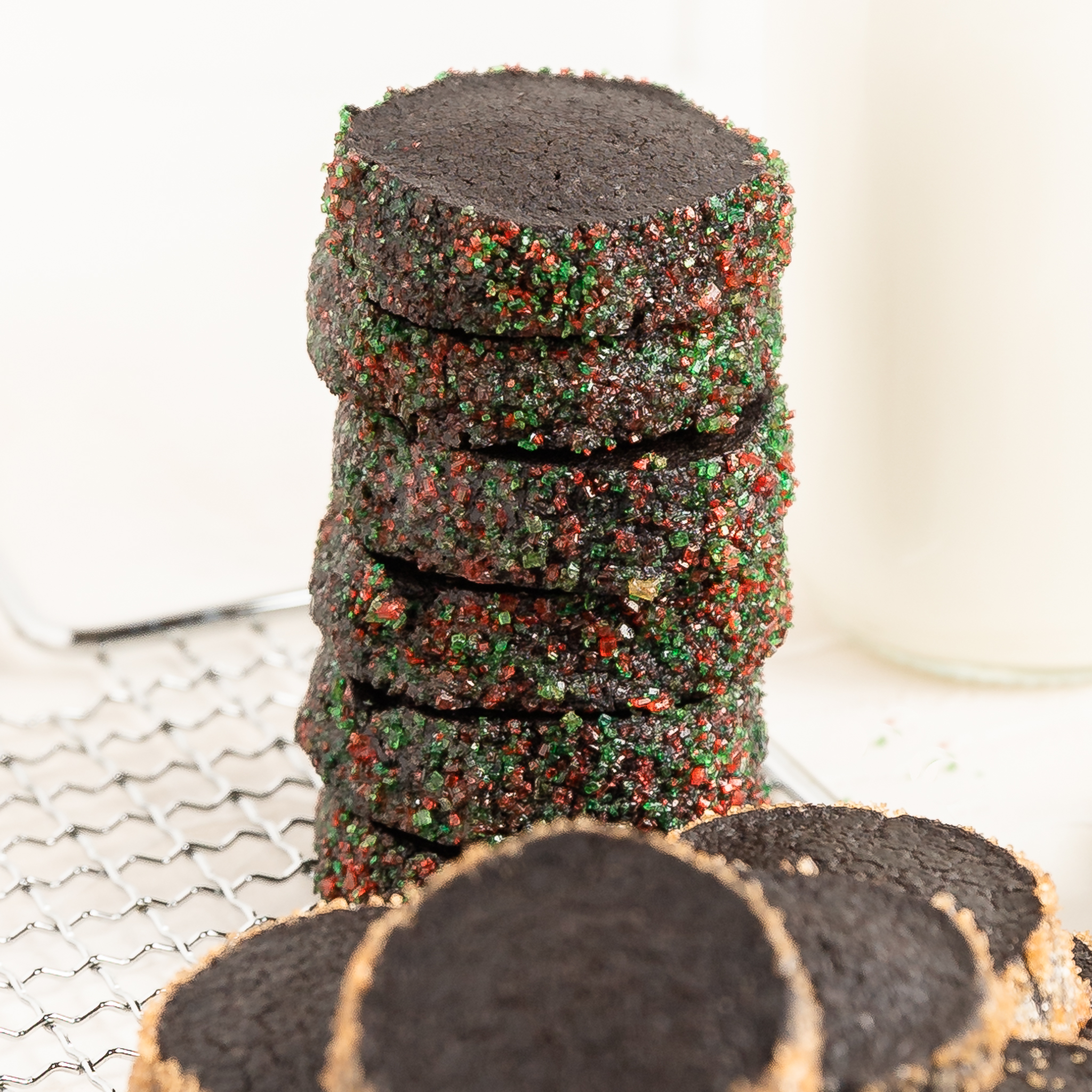 Be sure to apply egg wash all over the outside of the dough logs so the sugar has something to stick to. Don't go overboard — you just want a thin coat.
Use a sharp knife. I also strongly recommend using a ruler. You want to cut slices that are between 1/4 inch to 1/2 inch. It is important to be consistent with whatever size you go with so that the cookies bake evenly and for the same amount of time. (A 1/4 inch cookie will bake faster than a 1/2 inch cookie.)
When baking traditional diamants, it is easy to know when they are done because the underside of the cookies will be golden brown. Because these are chocolate, you cannot go by the look, except that top will look baked. Err on the side of baking a couple minutes longer.
Frequently Asked Questions About Making Black Cocoa Diamants
Can I substitute regular cocoa for black cocoa?
You can use Dutch process cocoa in place of the black cocoa. While you can also use natural cocoa, the chocolate flavor will not be as strong.
Can black cocoa diamants be made vegan?
Yes. Use a vegan butter in place of the butter and a plant based milk in place of the milk and the egg wash.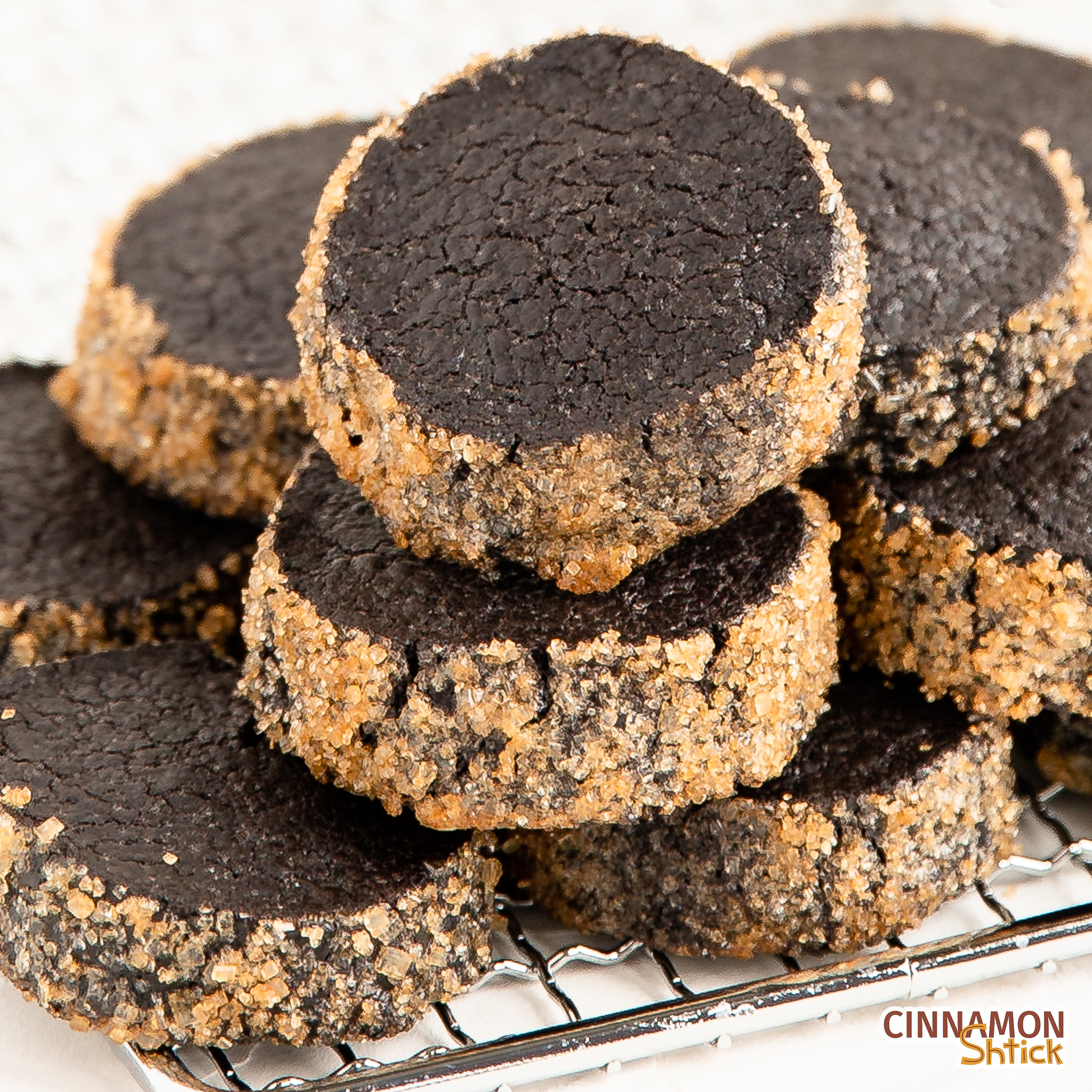 Black Cocoa Diamants
Rich, and delicious, these chocolate diamant cookies are super easy to make.
Ingredients
240

grams

all purpose flour

(2 cups)

80

grams

black cocoa

(⅔ cup)

¼

teaspoon

salt

(table or fine sea salt)

227

grams

unsalted butter, at room temperature

(1 cup)

110

grams

light brown sugar

(½ cup)

1

teaspoon

vanilla extract

1

Tablespoon

milk

1

egg, at room temperature

(for egg wash)

½

cup

coarse sugar like turbinado or crystal sugar
Instructions 
In a small bowl, sift together the flour, black cocoa powder and salt. Set aside.

In mixing bowl, cream together the butter and the sugar. (Electric or hand mixer is great here.)

Mix in the vanilla and milk until fully combined.

Mix in the dry ingredients, just until fully absorbed.

Press the dough into itself and shape into a log, approximately 1½ inches in diameter. Best to roll the log in parchment paper. Refrigerate 30-60 minutes, then move the log into plastic wrap and roll the log to get it as round as possible. Refrigerate at least another hour.

Beat the egg. Egg wash the log of cookie dough. Roll in sugar to coat well. Cut slices at least ¼ inch thick and no thicker than ½ inch. Place on a parchment lined baking sheet 2 inches apart. Bake 17-20 minutes. Cool completely.
Notes
Be sure to press the dough together so there are no air pockets.
Cut each cookie so they are the same width.
You can substitute Dutch process cocoa for the black cocoa. 
To make vegan cookies, use a vegan butter and replace the milk and the egg wash with a plant based milk.
Nutrition
Calories:
105
kcal
|
Carbohydrates:
13
g
|
Protein:
1
g
|
Fat:
6
g
|
Saturated Fat:
4
g
|
Polyunsaturated Fat:
0.3
g
|
Monounsaturated Fat:
2
g
|
Trans Fat:
0.2
g
|
Cholesterol:
19
mg
|
Sodium:
21
mg
|
Potassium:
53
mg
|
Fiber:
1
g
|
Sugar:
6
g
|
Vitamin A:
175
IU
|
Calcium:
10
mg
|
Iron:
1
mg