This post may contain affiliate links. As an Amazon Associate, I earn from qualifying purchases. For more information, please visit my Privacy Policy.
This Banana Chocolate Chip Cake is a slight variation of my Banana Snack Cake with Brown Sugar Cream Cheese Frosting. This version is just as good, so I decided it deserved its own, separate post. Banana and chocolate is not a new combination. The two pair together beautifully! This banana cake is so moist and delicious, and the chocolate in both the chocolate chips and the frosting just takes it all next level.
If you're not into a banana cake, try my Banana Bread recipe. Super moist and boasting in fresh, sweet banana flavor!
Like my original version, this Banana Chocolate Chip Cake is also a banana snack cake.
What's a Snack Cake?
Honestly, a snack cake is whatever you want it to be! For me, a snack cake is an easy, one-layer cake, with a slab of frosting on it. No fancy decorating needed. Just squares of cake topped with frosting. I think of a snack cake being baked in a square 8-inch pan. Just enough dessert for a family with some leftovers for tomorrow's cake emergency.
The key to success for this cake? Very ripe bananas. And the best part is that, since this is sort of "small batch", you only need two average sized bananas.
How to Make Banana Cake
Whisk together the dry ingredients. It's a good idea to whisk them together so that the baking soda and salt spread out more evenly amongst the flour.
Blend the bananas with the wet ingredients. Using the blender for this is so great! It makes life much easier because you don't have to mush the bananas. It also makes for a more ideal cake without clumps of bananas. I believe this step helps ensure full banana flavor in every bite.
Cream the butter and sugars. Nothing extraordinary about this step! But be sure to do more than just mix the butter and sugars together. Run the mixer on high for a couple minutes, stopping to scrape down the sides of the bowl with a rubber spatula, to help aerate the mixture. You'll have a fluffier cake in the end. A hand mixer is great for this step, if you have one. I have and love this KitchenAid 9-speed hand mixer which is perfect for a small batch like this cake.
Mix and bake. Add the liquid and dry ingredients in thirds, alternating between the two. When adding the flour the first two times, there's no need to fully mix the flour in. It's best to add the wet ingredients just before all the flour is absorbed. When you end with the last round of flour, be sure it is fully mixed in (disappeared), being careful not to over-mix. Pour into your prepared pan, and bake! Make sure the center is fully baked before you remove it from the oven.
How to Make Milk Chocolate Buttercream
The Milk Chocolate Buttercream is also super easy to make.
Make sure to use room temperature butter.
For the chocolate, either melt it in the microwave or create a double boiler situation. (I don't have a microwave, so I cannot tell you the best way to melt, but I would start with 10 seconds, give a stir, then add 5 seconds as necessary.) Fill a small or medium pot with about an inch or two of water. Bring to a boil. Once the water comes to a full boil, turn the heat off and place a metal bowl with the chocolate in it over the pot. Let it sit for a couple of minutes, then stir. If the chocolate is not fully melting, put the heat on the lowest possible flame and stir until it is all melted. Once melted, remove the bowl from the top of the pan, dry the bottom of it, and set it aside to cool slightly.
While the chocolate is cooling, use an electric mixer (or hand mixer) to beat the remaining frosting ingredients together. Once the mixture is smooth, beat in the melted, cooled chocolate. Frost your cake, and you're good to go!
Frequently Asked Questions About Making Banana Chocolate Chip Cake
Can I use regular size chocolate chips in the cake?
I honestly haven't tried it because I love the mini-chips in this snack cake. The cake batter is thick enough that regular chips should not fall to the bottom as the cake bakes, but that is a possibility. If you try it, please let me know how it turns out!
Can I use different chocolate in the frosting?
Absolutely. I love the sweetness and creaminess of milk chocolate in this frosting, but it would certainly be great if you use semi-sweet or bittersweet chocolate. No matter what chocolate you use, be sure to use good quality chocolate. My go-to brands are Callebaut, Scharffen Berger, and Guittard.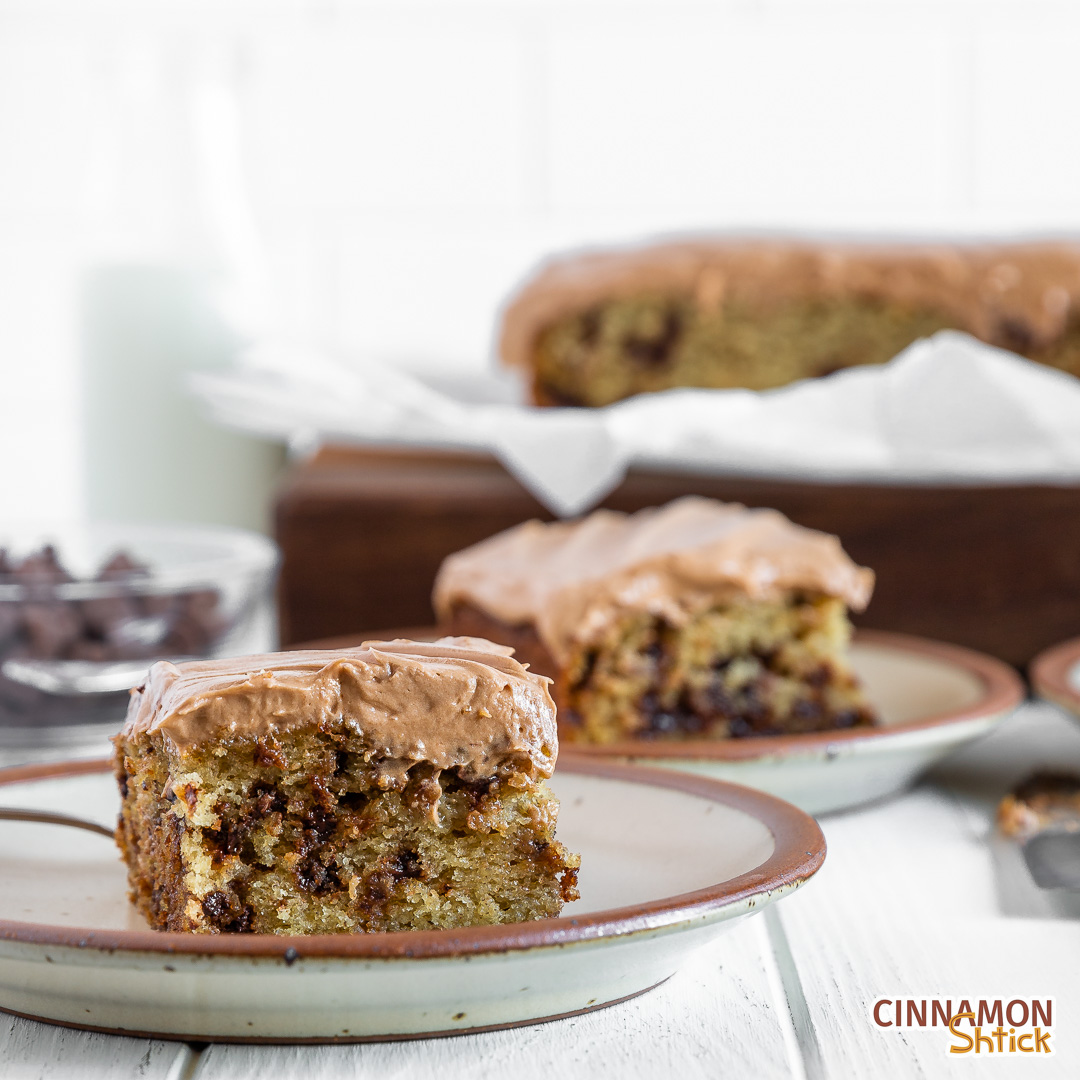 Banana Chocolate Chip Cake with Milk Chocolate Frosting
Banana and chocolate is a very winning combination! The chocolate chips and milk chocolate frosting complement the sweet, ripe bananas in this cake, making each bite a true party!
Ingredients
Banana Cake:
180

grams

all purpose flour

(1½ cups)

1

teaspoon

baking soda

½

teaspoon

fine sea salt

227

grams

bananas

(about 2 average sized bananas, weighed after being peeled)

60

grams

sour cream, at room temperature

(¼ cup)

2

large eggs, at room temperature

30

grams

vegetable oil

(2 Tablespoons)

½

teaspoon

vinegar

1

teaspoon

vanilla

113

grams

unsalted butter, at room temperature

(8 Tablespoons)

105

grams

light brown sugar

(½ cup)

75

grams

sugar

(¼ cup plus 2 Tablespoons)

168

grams

mini chocolate chips (semi-sweet)

(1 cup)
Milk Chocolate Frosting:
85

grams

good quality milk chocolate, chopped

(3 ounces)

113

grams

unsalted butter, at room temperature

(8 Tablespoons)

160

grams

confectioner's sugar

(1⅓ cups)

⅛

teaspoon

salt

½

teaspoon

vanilla extract

22

grams

heavy cream or milk

(1 Tablespoon plus 2 teaspoons)
Instructions 
Banana Cake:
Preheat oven to 350° F. Line an 8 inch x 8 inch baking pan with parchment paper or grease the pan with non-stick spray or butter. Lightly grease the top of the parchment paper.

In small bowl, whisk together the flour, baking soda and salt. Set aside.

In a blender, puree the bananas, sour cream, eggs, oil, vinegar and vanilla until smooth.

In the bowl of an electric mixer (or in a bowl with a hand mixer), cream the butter and sugars.

Add ⅓ of the liquid mixture to the butter/sugar mixer, beating until combined. Add ⅓ of the flour mixture and then ⅓ of the liquid mixture before the flour is fully aborbed. Repeat, ending with the flour mixture, mixing just until the flour mixture is fully absorbed. Be careful not to overmix.

Mix in the chocolate chips, being careful not to over-mix

Pour the batter into the prepared pan and bake 35-40 minutes. A toothpick should come out clean.
Frosting:
Melt the chocolate in a microwave or over a double boiler. Set aside to allow it to cool. In the meantime, cream together the rest of the ingredients until light and fluffy. Add in the melted, cooled chocolate, beating until fully combined. Frost the cake as desired.
Notes
Instead of vinegar in the cake, you can use 1 teaspoon of  lemon juice.
For the frosting, you can certainly use a darker chocolate. Use the same amount of semi-sweet or bittersweet. Whatever type of chocolate you use, be sure to use a quality brand.
To make this snack cake last even longer, freeze individually wrapped slices. It will come to room temperature in about a half hour, and no one will know it was ever frozen.
Nutrition
Calories:
346
kcal
|
Carbohydrates:
42
g
|
Protein:
3
g
|
Fat:
19
g
|
Saturated Fat:
12
g
|
Polyunsaturated Fat:
1
g
|
Monounsaturated Fat:
5
g
|
Trans Fat:
0.5
g
|
Cholesterol:
55
mg
|
Sodium:
175
mg
|
Potassium:
164
mg
|
Fiber:
2
g
|
Sugar:
29
g
|
Vitamin A:
441
IU
|
Vitamin C:
1
mg
|
Calcium:
27
mg
|
Iron:
2
mg