This post may contain affiliate links. As an Amazon Associate, I earn from qualifying purchases. For more information, please visit my Privacy Policy.
Vegan Pudding is Delicious!
New York Times Cooking recently promoted on Instagram its recipe for Oat Milk Chocolate Pudding which, I believe, was published approximately one year ago. One of my besties and compatriot dessert/carb obsessed foodies (Hi Jonah!!!!) made it and ate the entire serving, claiming that it was excellent. I readily admit that I was doubtful because I could not believe that a vegan pudding could be so good. Two days later, he did it again, and, instead of adding bittersweet chocolate at the end, he added milk chocolate (making the pudding no longer vegan, of course). Jonah claims it was even better, as if that was somehow possible.
Since the recipe was Jonah-approved, I sent it to my sister (Hi Mrs. S!!!!) to make because my niece (Hi Illy!!!!) is seriously allergic to dairy and eggs. The very next day, my sister made it and said that my niece's eyes nearly popped out of her head from the excitement and satisfaction. So, I ran out to get oat milk to make it myself. I, too, was blown away.
The "problem" for me is that, I'm the only one in our household who likes chocolate. That means I end up eating the entire batch. OK, I guess that's not really a problem. But I want my boyfriend to experience a good pudding too.
Don't Like Chocolate? Make Cinnamon Vegan Pudding!
With the oat milk background, I thought cinnamon would be an ideal complement in this non-chocolate pudding. Plus, I am cinnamon obsessed. Um, have you seen my blog name?
If you like chocolate, I strongly urge you to make the New York Times Cooking recipe. It is seriously outrageously delish. You could certainly play with it further and add 1 tsp. of cinnamon with the dry ingredients in the beginning or mix in some nuts or chocolate chips.
If you're looking for a non-chocolate vegan pudding (or just an amazingly delish and super easy to make pudding), this cinnamon one is spicy-perfect. It's also even easier to make than the chocolate version.
Once you have the ingredients together, all you need is, at most, 10 minutes, and you have pudding. You'll want it to chill, but the real labor is less than 10 minutes. Couldn't be easier! And if you want more pudding, just double the recipe. Want less (really?!?), halve the recipe. Easy!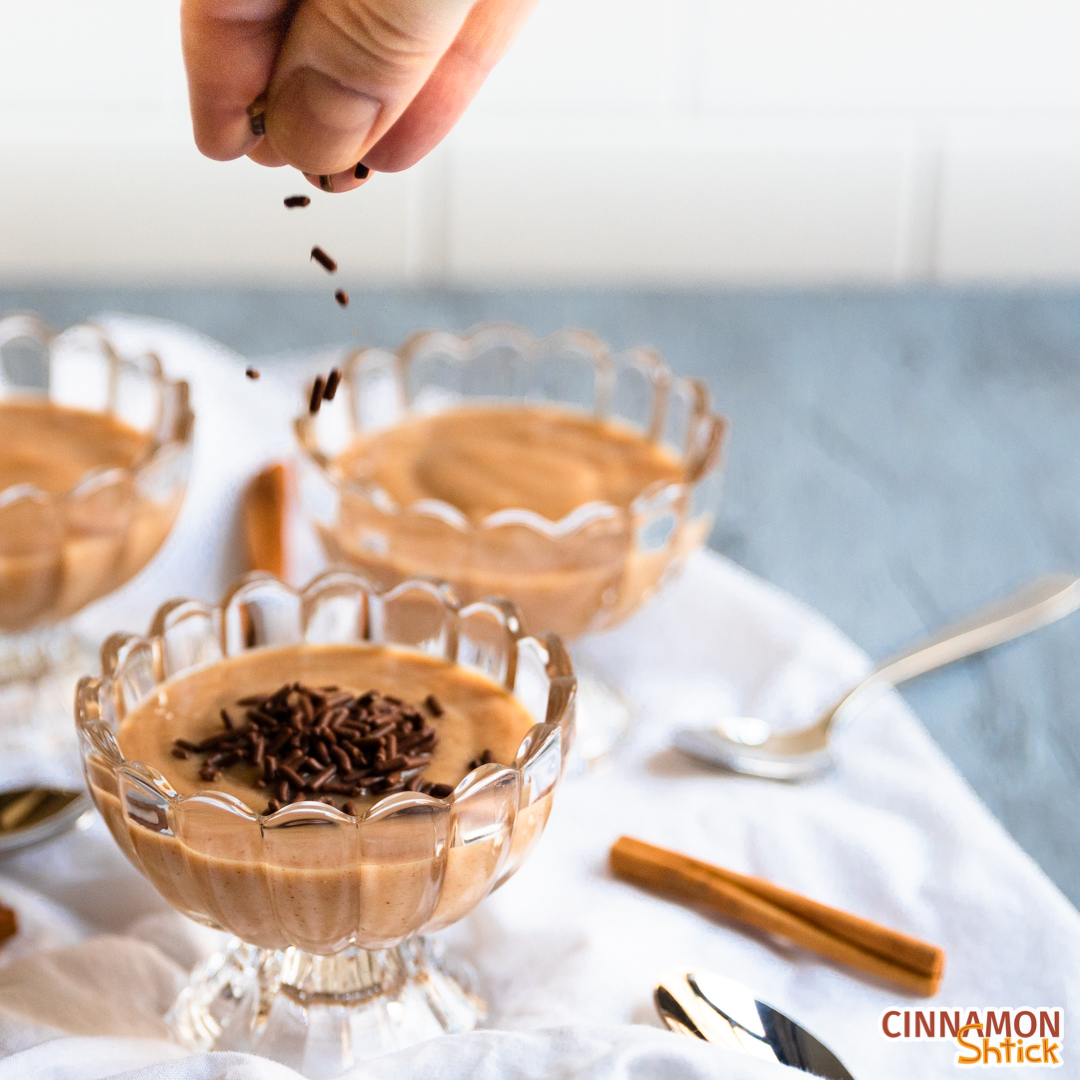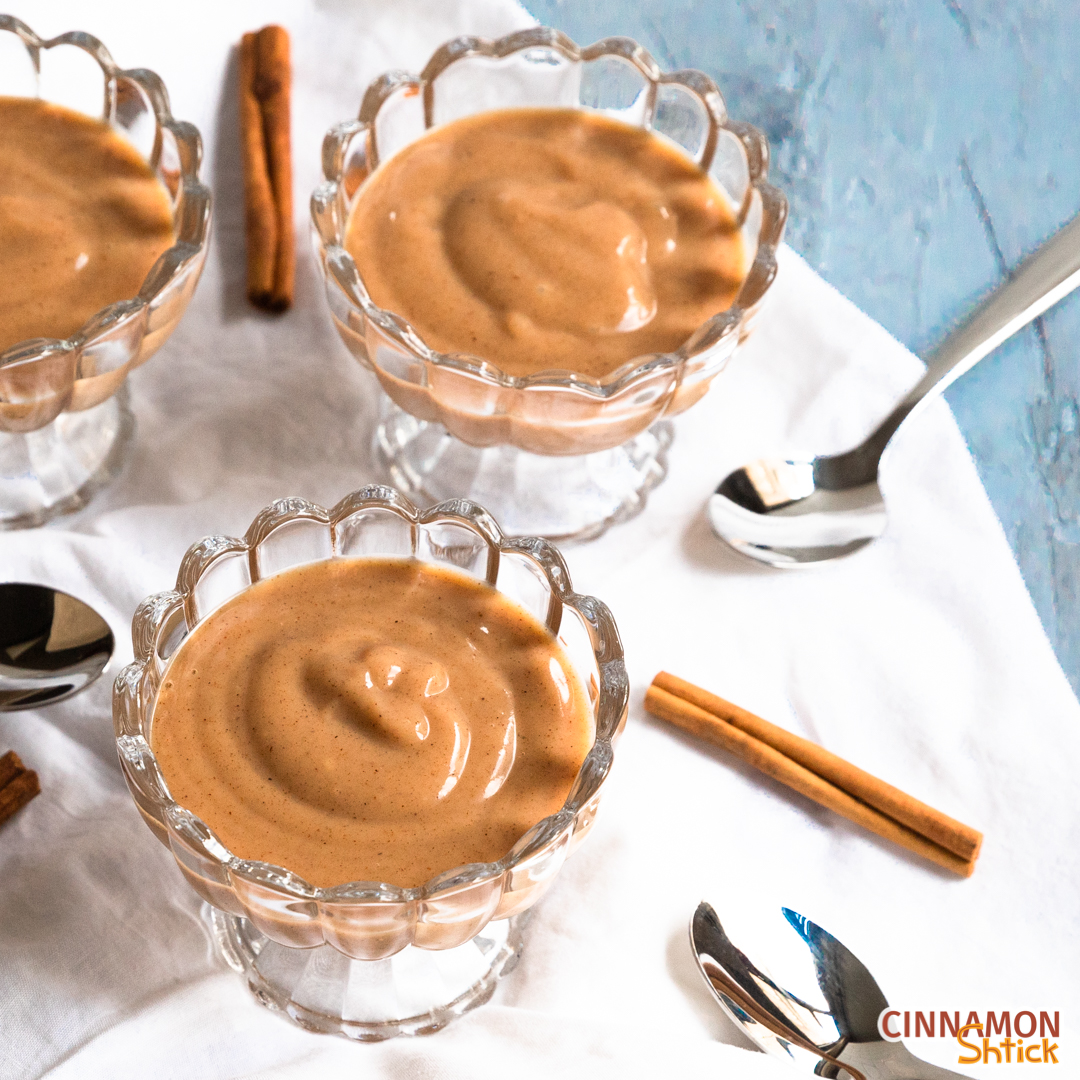 Super Easy Cinnamon Pudding
Ingredients
67

g.

sugar

(⅓ cup)

28

g.

cornstarch*

(3½ tbsp.)

⅛

tsp.

salt

1-2

tsp.

cinnamon**

482

g.

oat milk***

(2 cups)

1

tsp.

vanilla
Instructions 
In a medium saucepan, mix together the sugar, cornstarch, salt and cinnamon. Add the oat milk and stir until combined. Bring the mixture to a boil over medium-low heat, stirring frequently at the beginning and constantly after the first few minutes. The cinnamon may clump and not disperse at first, but it will as the mixture heats up and you continue stirring. Once the mixture thickens and starts to boil (approximately 10 minutes), remove the saucepan from the heat and stir in the vanilla.

Immediately pour into individual heatproof dishes or a large heatproof bowl. Cover the top with plastic wrap, directly on the surface of the pudding. This will prevent a skin from forming. Once cooled to room temperature, refrigerate at least two hours before serving.
Notes
*For a thicker consistency, add an additional 4g. (½ tbsp.) cornstarch.
**For a reasonable cinnamon taste, start with 1 tsp. If you like a strong cinnamon flavor, go for 2 tsps. If you want to make a more autumn flavored pudding, mix in 1 tsp. cinnamon, ¼ tsp. ginger, ¼ tsp. allspice, a small pinch of nutmeg, and a small pinch of ground cloves.
***Oat milk works great for this recipe, but there is no reason why you cannot use soy milk, almond milk, or even regular milk (if you have no issue with dairy), although you may have to adjust the amount of cornstarch. The oat milk serves as a wonderful backdrop to the cinnamon/spice tones in this pudding.
Nutrition
Calories:
163
kcal
|
Carbohydrates:
36
g
|
Protein:
2
g
|
Fat:
1
g
|
Saturated Fat:
1
g
|
Sodium:
118
mg
|
Potassium:
68
mg
|
Fiber:
2
g
|
Sugar:
26
g
|
Vitamin A:
254
IU
|
Vitamin C:
1
mg
|
Calcium:
189
mg
|
Iron:
1
mg