This post may contain affiliate links. As an Amazon Associate, I earn from qualifying purchases. For more information, please visit my Privacy Policy.
This Spice Cake is what Autumn (or Fall, whatever you want to call this season!) is all about! After roasting pears in maple syrup, this moist spice cake gets drenched in the leftover pear/maple juices, making the cake super moist and incomprehensibly flavorful. The maple kissed pears are slightly tender but still a tad crunchy, making them the perfect contrast to the cake. And, bringing the whole shebang together is a sensible maple cream cheese frosting. Seriously, this is my new favorite cake.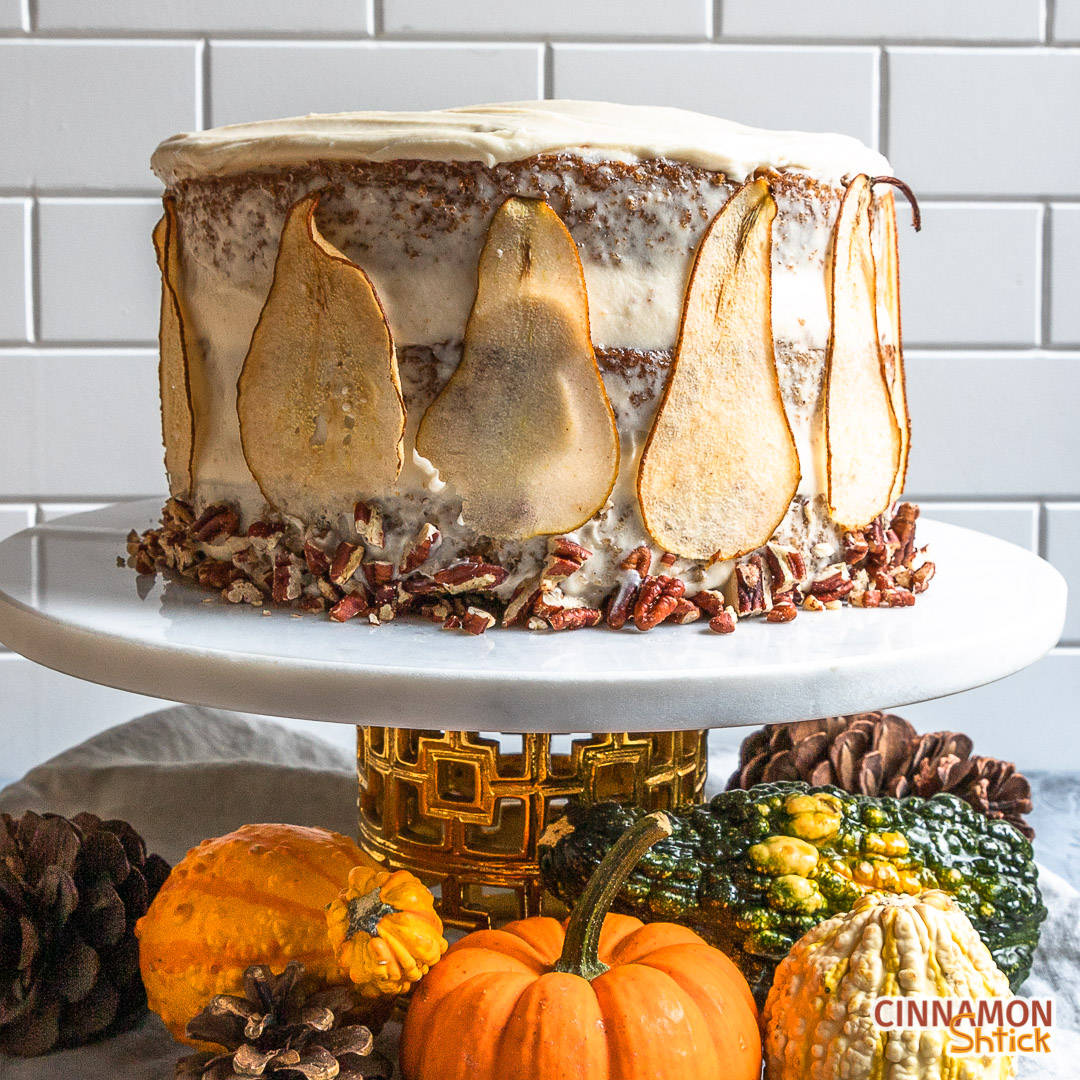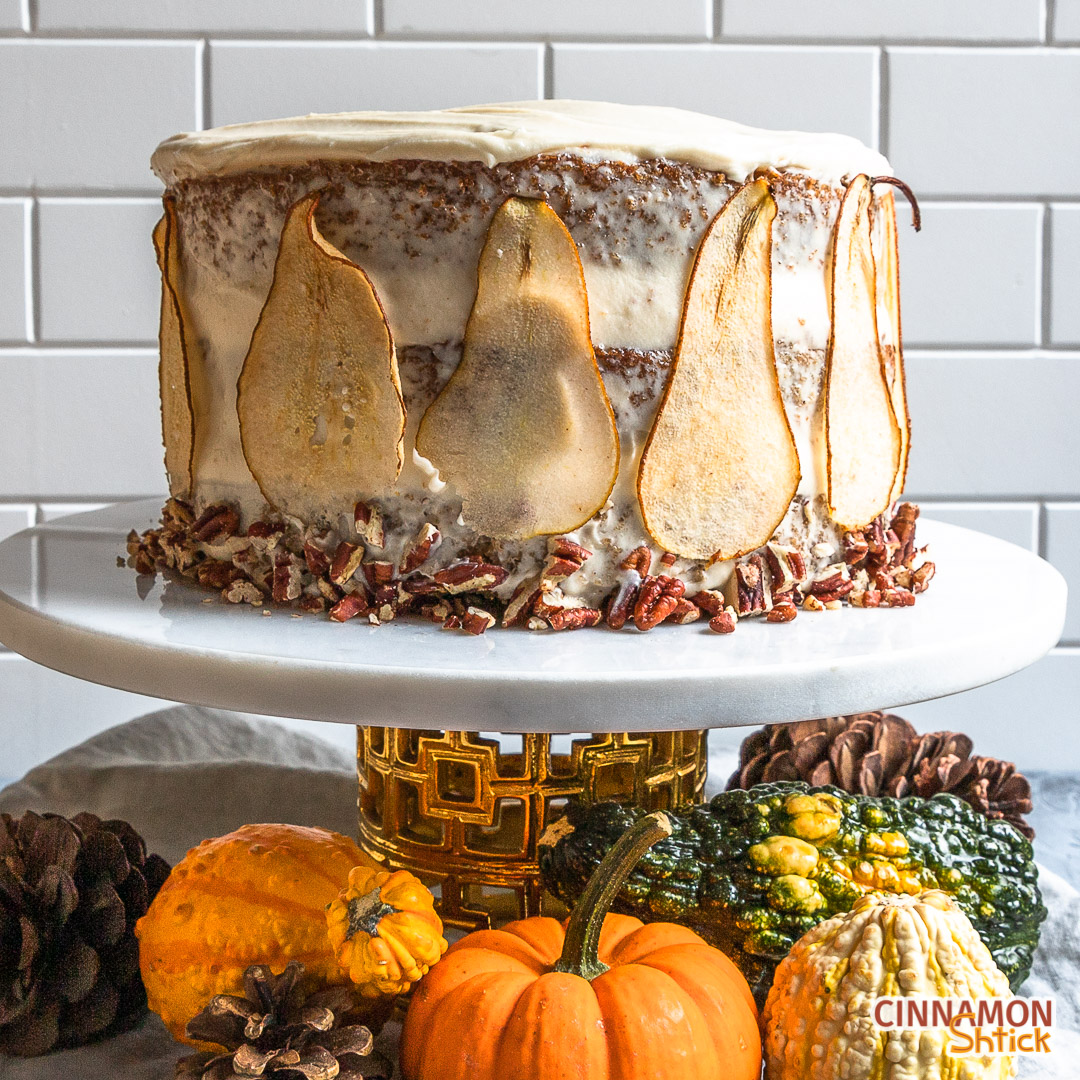 What is fabulous about this recipe is that it is actually quite easy. You can mix the cake batter all in one bowl with a whisk. Doesn't get much simpler than that!
And as for decorating, I am not and never will be a cake decorator. I can bake the crap out of anything and make it taste darn good. Unfortunately, I am just no artist. But you know what? Who cares!?! I'm not making this cake for the Queen Mother! Although she'd be quite lucky if I did! It's for my family or my friends, and everyone's expectations is that this homemade cake will look, well, homemade! So, when I assemble this cake, I leave the sides half naked with just a crumb coat for a "rustic" look, and I shmear frosting on the top before running over it side to side with a metal spatula. Simple, homemade, and downright delish!
Let's break this down so you can see just how easy this cake is to make.
Roast the Pears
I find roasting the pears to be the easiest way of cooking them. You could certainly poach them or cook them like a compote. All that requires slightly more work. To roast the pears, you simply peal them, cut them in half, core them, and cut them into small pieces (¼ of an inch). Toss them with the maple syrup, cinnamon and vanilla, and pop them into the oven. SO EASY! Once they are done roasting and cooled, put a strainer over an empty bowl and dump the pears into the strainer. Reserve the maple/pear juice to brush onto the cakes. Trust me!
Make the Spice Cake
This is one of the easiest cakes to make. Whisk all the dry ingredients in a large bowl. Whisk in the oil, eggs and vanilla. Then add the milk and sour cream until blended. Fill your cake pans and bake!
For this cake recipe, I went all in on the spices. I really had Autumn on my mind when working on this recipe. If you are less or more into any spices, subtract or add as you desire. For me, the spice blend in this cake is nothing short of perfection.
Maple Cream Cheese Frosting
Yeah, that's right. This puppy is not just getting a cream cheese frosting. It's getting a maple cream cheese frosting. I tried making this frosting using maple syrup, cooking it down to concentrate it. While I got a decent maple flavor in the frosting, it just wasn't enough. So, I went the extract route. Using maple extract gave the perfect, strong maple flavor I wanted in this frosting. It also is a great time saver since there is no need to cook down maple syrup.
Assemble the Spice Cake
While I am no cake decorator, even I think assembling this cake is super fun. Here's how to assemble it:
Even the Cakes Out
If the cakes domed while baking or are otherwise uneven, you can use a serrated knife to cut the tops off so that they are each level. I honestly do not bother doing that with this cake, although I do put cake strips* around my cake pans before I put them into the oven. I kind of like the slanted, homey look for this cake, but if you are a perfectionist, by all means level out your layers!
Brush the Cakes with the Pear/Maple Juice
This is actually one of the "secrets" of some great cakes. Often, bakers will brush cakes with simple syrup (equal parts sugar and water) or simple syrup with some liquor or other flavorings added in. Brushing the cakes with these liquids helps maintain moisture in the cakes and enhances the flavors in the cakes.
Pipe a Layer of Frosting on the Bottom Layer
I like filling up a pastry bag and drawing an endless round rope, starting from the center working outwards to apply a coat of frosting to the top of the cake. I then use a metal spatula to even it out. Piping the frosting helps me put a similar amount into the two middle layers without weighing out portions or eye balling (which I am bad at).
Add a Layer of Maple Roasted Pears
Don't pile on the pears. Instead, just "sprinkle" them over the frosting to create one layer of pears. Do not use more than half the pears. In fact, I tend to use less than half. I like having some pears leftover for plating pieces of cake or just to munch on.
Put the Second Layer on Top and Repeat
Place the second layer over the pears. Then pipe a layer of frosting and sprinkle the pears on.
Add the Top Layer and Decorate
Pop the top layer on. Then pipe some frosting on top and all over the sides of the cake. Do not go overboard here. Just use the bare minimum. Then use a metal spatula to spread the frosting all over. Crumbs will likely be visible. No problem! They will be stuck to the very thin layer of frosting. Put the cake in the refrigerator for 20-30 minutes. When you take it out, you can add more crumb-free frosting on. Because that first layer of frosting is hardened from the cold refrigerator, it will not pick up any of the crumbs now "cemented" into that first crumb layer.
While there are no nuts in this recipe, toasted pecans pair extremely well with this cake. I like to stick some to the bottom of the cake both for decoration and for flavor. But, this is your cake to decorate. You do you!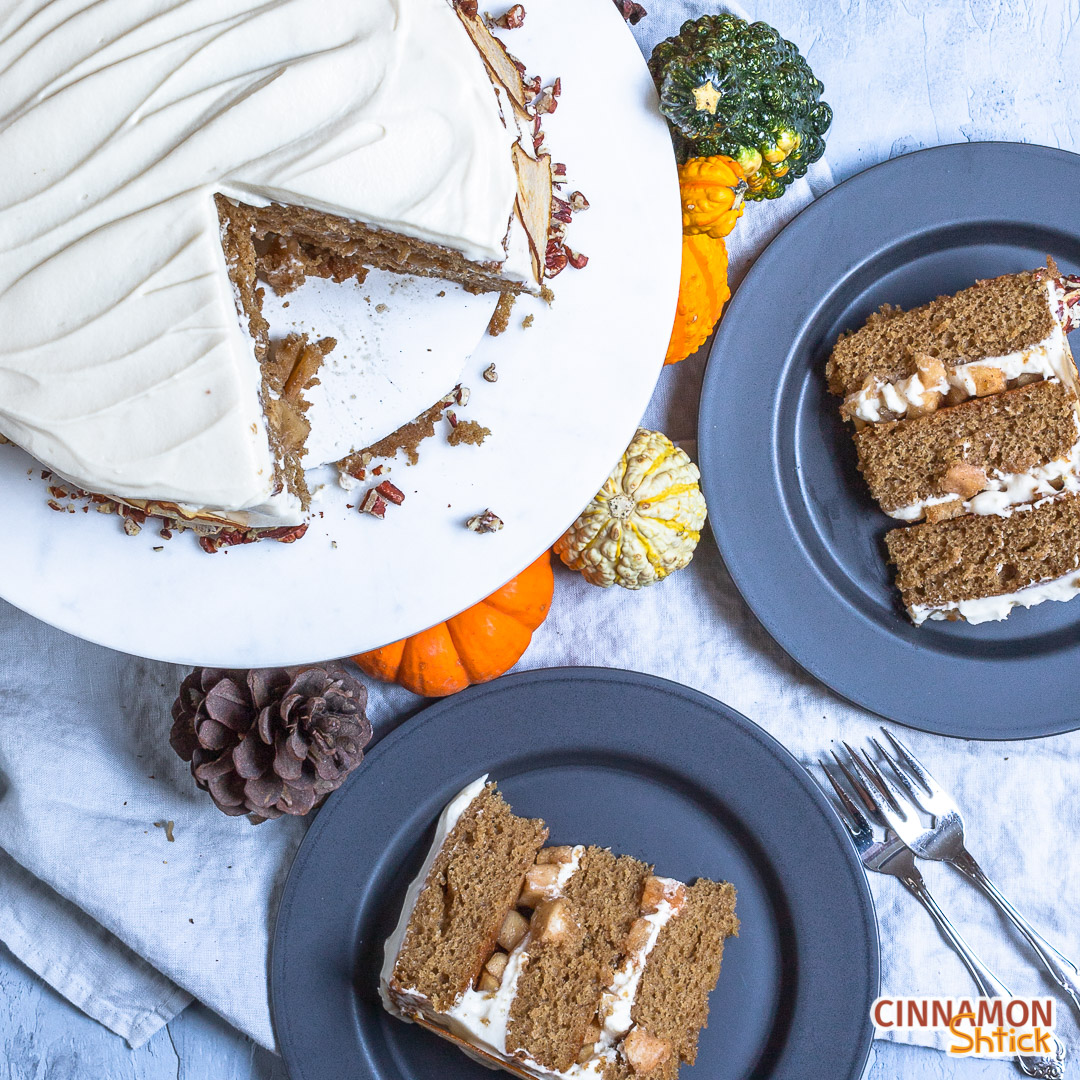 *As an Amazon Associate, I earn from qualifying purchases.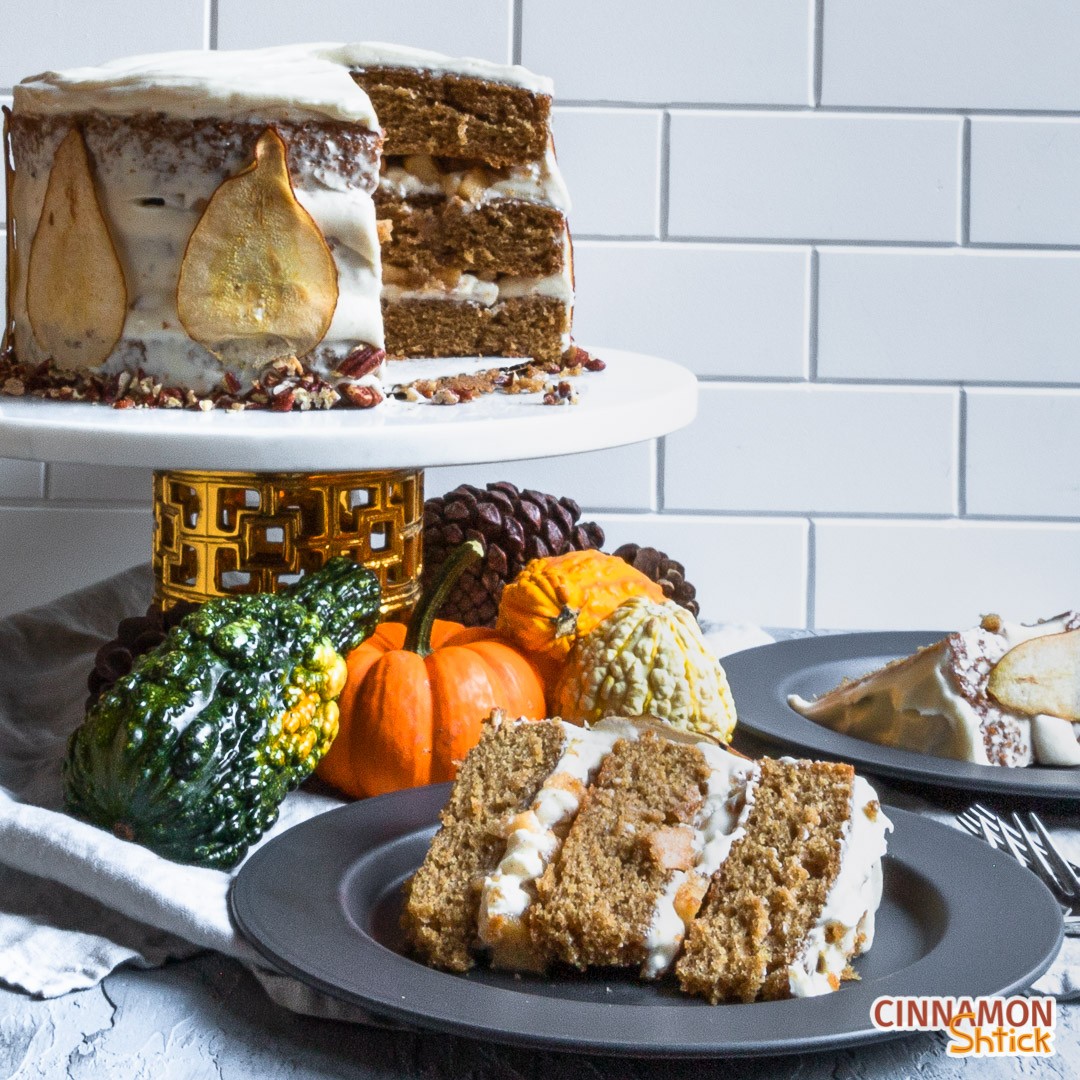 Spice Cake with Maple Roasted Pears and Maple Cream Cheese Frosting
This moist, flavorful spice cake takes Autumn to a new level with maple roasted pears encased in a maple cream cheese frosting.
Ingredients
Pears:
5

pears

(peeled, cored, cut to ¼ inch pieces)

150

g.

maple syrup

(½ cup plus 1½ tbsp.)

¼

tsp.

cinnamon

1

tsp.

vanilla bean paste or vanilla extract
Cake:
270

g.

all-purpose flour

(2¼ cup)

1

tsp.

baking soda

1

tsp.

baking powder

2½

tsp.

cinnamon

½

tsp.

nutmeg

1

tsp.

ground ginger

½

tsp.

allspice

¼

tsp.

ground cloves

1/8

tsp.

cardamom

½

tsp.

salt

330

g.

dark brown sugar

(1½ cup)

176

g.

neutral oil (vegetable, canola, safflower)

(¾ cup)

4

large eggs, at room temperature

1

tsp.

vanilla

123

g.

milk, at room temperature

(½ cup)

227

g.

sour cream, at room temperature

(1 cup or 8 ounces)
Cream Cheese Frosting:
16

oz.

blocks of cream cheese, at room temperature

227

g.

unsalted butter, at room temperature

(16 tbsp. or two sticks)

2

tsp.

maple extract

⅛

tsp.

salt

400

g.

confectioner's sugar

(3⅓ cups)
Instructions 
Pears. Preheat oven to 350°F. Line a jelly roll pan or 9 inch by 13 inch pan with parchment paper or non-stick foil. In a medium bowl, stir together the maple syrup, cinnamon and vanilla. Toss pears in maple mixture. Spread pears on the prepared pan so they are in a single layer and not piled on top of each other. Roast pears for 50-60 minutes, tossing them every 15-20 minutes. The pears are done when a fork can easily pierce through them. (For crunchier pears, roast for less time, approximately 30 minutes.) Allow to cool on pan. Once cooled to room temperature, strain pears from the juices, reserving the juices in a separate bowl. Pears can be prepared up to several days in advance. Store the pears and the juices in separate airtight containers in the refrigerator.

Cake. Preheat oven to 350°F. Lightly grease three 8-inch round pans, line each with circles of parchment on the bottom and grease the top of the parchment. In a large bowl, whisk together all the dry ingredients through the dark brown sugar. Whisk in the oil, eggs and vanilla until combined. Whisk in milk and sour cream until combined. Pour into prepared pans and bake 23-27 minutes, until a toothpick inserted comes out clean and the sides are just starting to pull away from the pans. Cool completely in pans.

Maple Cream Cheese Frosting. Using the paddle attachment of the mixer, beat the cream cheese and butter together for a minute or two until fully combined and the mixture is lightly aerated. Add the maple extract and the salt, beating until combined. Stop the mixer and pour in confectioner's sugar. Start with the mixer on the lowest speed, raising it as the confectioner's sugar gets incorporated into the mixture. Beat on high for a minute or two.

Assembly. Slide a metal spatula or knife around the edges of each cake pan and remove the cakes from the pans. If necessary, carefully cut the tops of the the cakes off to even them out. With a pastry brush, brush on the tops and bottoms of each cake the reserved juices from the roasted pears. Fill a pastry bag with frosting and pipe a continuous ring on top of one of the cakes, completely covering the top. With a metal spatula, spread the frosting evenly over the top. Spoon no more than half of roasted pears onto the frosting. The pears should be spread to create one layer on top of the frosting and not be piled up on each other. Place another cake on top and repeat with the piping and pear layer. Place the last layer on top and frost the top and sides as desired.

Store cake in refrigerator, allowing it to come to room temperature approximately 30 minutes before serving.
Notes
You can absolutely bake the cakes in 3 9-inch round pans. The baking time will be less, so be sure to check on the cakes starting at the 18 minute mark.
Which pears to use? You can really use any that you like, but Anjou and Bosc hold their shape well.
Do not cut the pears bigger than ¼ inch squares. You want them bite sized to be enjoyed with a forkful of cake.
For more evenly baked cake layers, use cake strips. I cannot recommend these enough! You just wet the strips and wrap them around each pan just before putting the pans in the oven. The wet strips prevent the edges of the cakes from baking faster than the center of the cakes, for a more even bake.
For the frosting, you should be able to find maple extract in the baking aisle of your grocery store. I get my maple extract from Amazon. If you cannot get your hands on any, you can always just use vanilla. Either way, it's all delish.
There is enough frosting to fully frost the sides of the cake, if that is your preference. You can also chop up some toasted pecans to decorate the cake.
Nutrition
Calories:
637
kcal
|
Carbohydrates:
103
g
|
Protein:
11
g
|
Fat:
36
g
|
Saturated Fat:
25
g
|
Trans Fat:
1
g
|
Cholesterol:
111
mg
|
Sodium:
574
mg
|
Potassium:
361
mg
|
Fiber:
4
g
|
Sugar:
45
g
|
Vitamin A:
730
IU
|
Vitamin C:
4
mg
|
Calcium:
263
mg
|
Iron:
2
mg