This post may contain affiliate links. As an Amazon Associate, I earn from qualifying purchases. For more information, please visit my Privacy Policy.
This is the Peanut Butter Ice Cream of my dreams. Perfectly creamy and rich in peanut butter flavor. When I last made this Peanut Butter Ice Cream, I happened to have a bag of Oreos. Because I like junk in my ice cream, it was like second nature to chop them up and toss them in. So glad I did!
That said, I'm not promoting this recipe as a Peanut Butter Cookies and Cream ice cream because you should do you! I'm giving you here the base for the ice cream. If you want to toss in Oreos, Newman Os, or some other sandwich cookie, DO IT! If you want to toss in chopped up peanut butter cups, chocolate chips, peanut butter chips, peanuts, nuts, chocolate chip cookies, Salted Caramel Sauce, etc., DO IT!
How to Make Peanut Butter Ice Cream
Melt the peanut butter with the liquids
Heat up the milk and cream, together with the peanut butter, half the sugar and the salt, just until it reaches a simmer. Stir occasionally to make sure the peanut butter melts into the mixture. As for the peanut butter, I recommend a standard, reputable brand, such as Skippy or Jif. I have not tried making this ice cream with natural peanut butter, so I cannot say whether it will work. However, I can tell you that I tried it with an inferior, generic store brand. Let's just say, um, it was gross.
Whisk yolks
While the liquids are heating up with the peanut butter, whisk your yolks with the rest of the sugar. I don't just mean whisk. I mean, whisk the yolks. The mixture will become light, pale yellow and it will thicken up. It should hold a ribbon for several seconds when dropped on itself.
Temper the yolks
Once your yolks are whisked — and I mean, whisked, slowly add about half of the peanut butter/milk/cream mixture into the yolks while constantly whisking the yolks. If you just pour the hot liquid into the yolks without whisking, you will end up with scrambled eggs. Then pour the tempered egg mixture back into the pot with the rest of the peanut butter/milk/cream mixture, and, stirring constantly, cook until it reaches 185° F. It should not take more than a minute or two to get there.  I highly recommend this thermometer from ThermoWorks (pictured above). I literally use it to take the temperature of anything I make, from ice cream to breads to tempering chocolate. 
Chill
Pour the mixture through a strainer into a clean bowl over an ice water bath. (Straining it will ensure smooth ice cream, as it will pick up any unintended scrambled pieces of egg and any unmelted or unincorporated peanut butter.) Stir every few minutes. It should be at room temperature in about 10 minutes. Place plastic wrap directly on the surface of the ice cream base and refrigerate at least four hours and up to twenty-four hours before churning. (I prefer letting it sit in the refrigerator overnight and churning the next day.)
Churn
Follow the manufacturer's instructions of your ice cream maker. Depending on your ice cream maker, when it comes out of the machine, it will likely be in soft-serve stage. Freeze for at least 4 hours before serving. For extra caramel delight, serve with Salted Caramel Sauce!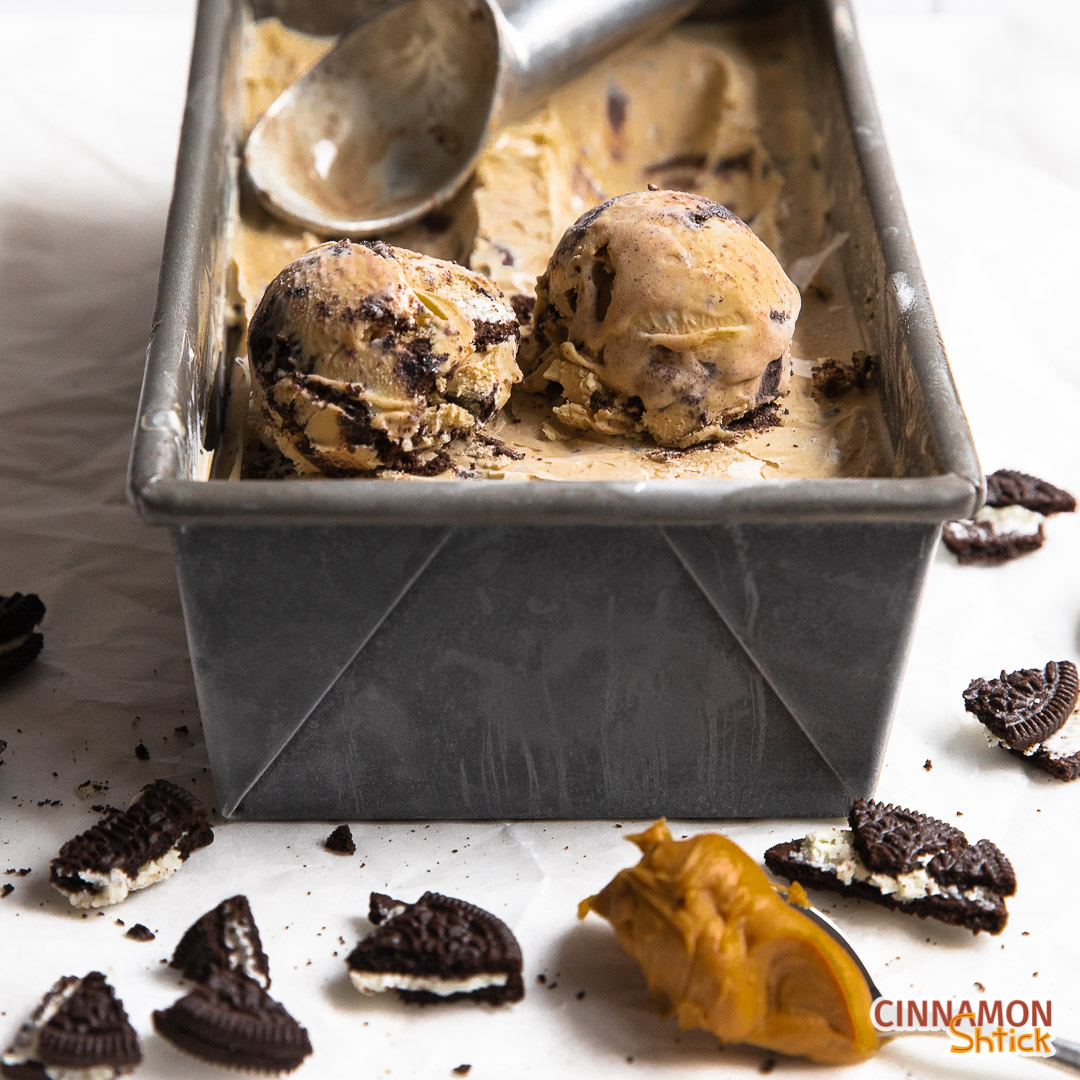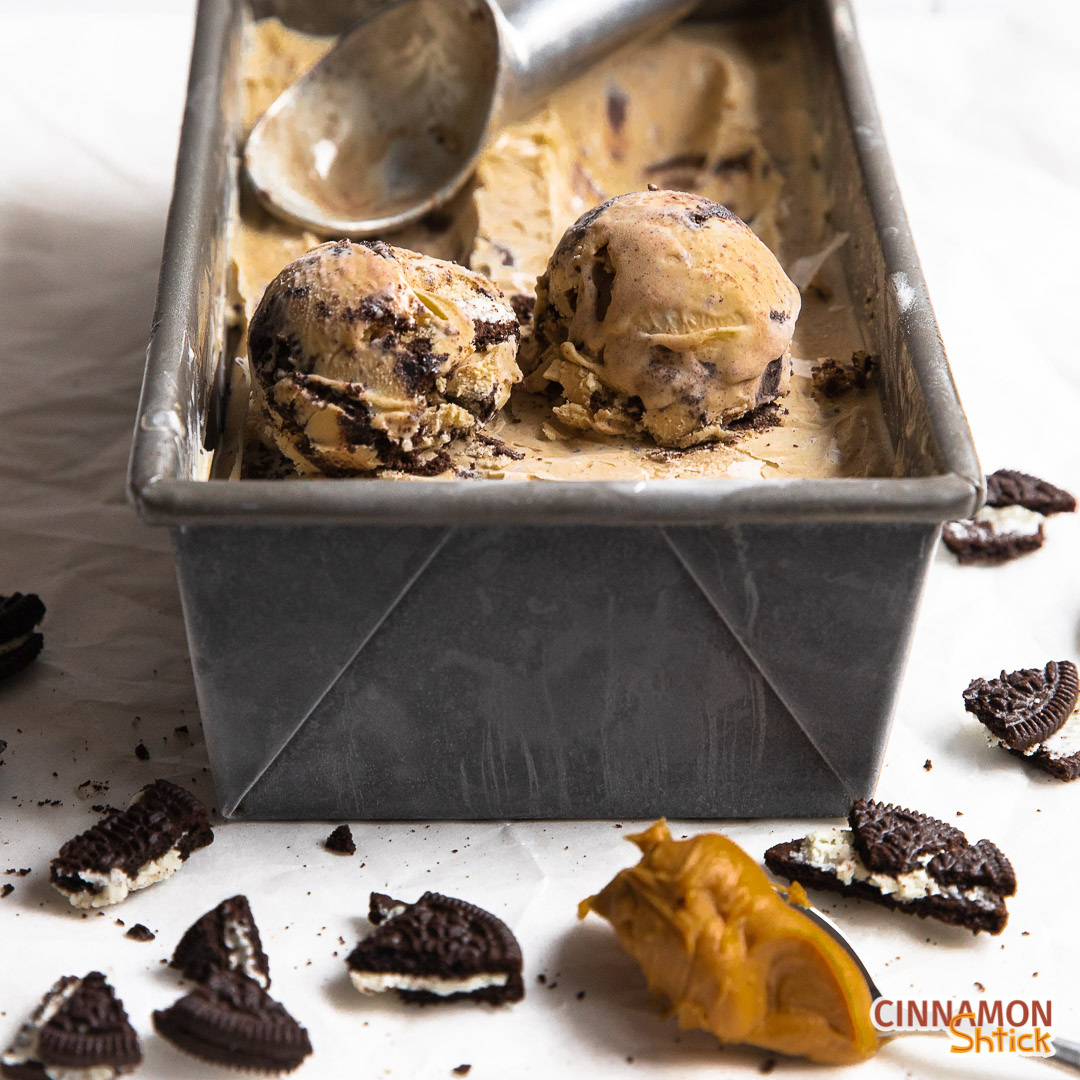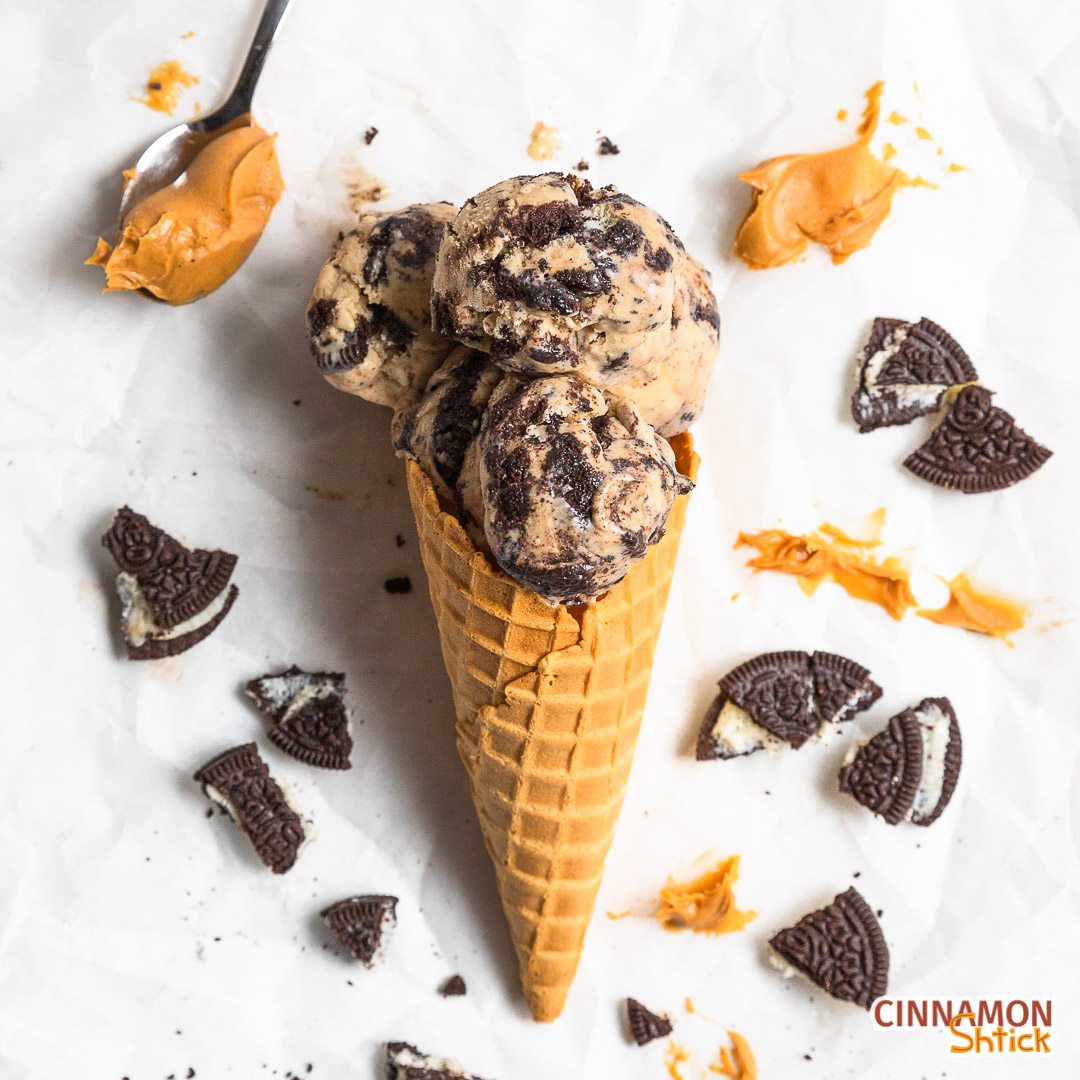 Peanut Butter Ice Cream
Super creamy, peanut butter dreamy ice cream. (This recipe makes 1½ quarts.)
Ingredients
550

g.

whole milk

(2 cups plus 2 tbsp.)

255

g.

heavy cream

(1 cup plus 1 tbsp.)

173

g.

peanut butter

(⅔ cup)

⅛

tsp.

salt

200

g.

sugar, divided

(1 cup, divided)

6

egg yolks

2

tsp.

vanilla

20-25 Oreos, chopped

(Optional*)
Instructions 
Fill a large bowl half way with ice. Pour cold water over the ice so that the bowl is no more than ⅔ high. Place a clean bowl on top of the water bath. Place a strainer over the empty bowl.

Mix the milk, heavy cream, peanut butter, salt and half the sugar in a 2 or 3 quart saucepan, heating over a low to medium heat just until the mixture comes to a simmer. Stir occasionally to make sure the sugar and the peanut butter dissolve.

While the liquid heats up, whisk the egg yolks with the remaining sugar. You want to whisk it until the mixture turns pale yellow, becomes thick, and forms a ribbon when dripped on itself. (You can use an electric mixer with the whisk attachment if you are feeling lazy.)

Once the liquid mixture comes to a simmer, turn the heat off and let it sit for a minute or two. With the bowl holding the egg/sugar mixture secure on the counter (if no one is around to hold it, place it on a rubber mat or wet a dishtowel and wrap it around the base of the bowl), slowly pour the heated liquid mixture into the eggs, whisking constantly. Once fully incorporated, pour the contents of the bowl back into the saucepan. Over a medium-low heat, stir the mixture constantly with a wooden spoon until it reaches 185°F or a line holds when you drag your finger across the back of the wooden spoon. (It should only take a minute or two reach the correct temperature.)

Immediately remove the saucepan from the heat and pour the cooked mixture through the strainer into the empty bowl sitting in the ice water bath. Lift strainer and discard the cinnamon sticks. (You can rinse off the vanilla bean in cold water and let it air dry completely for 24 hours. Save it for later use, such as to make vanilla sugar.) Stir in the ground cinnamon. It will not fully incorporate, but you want to mix it in enough to hydrate it. Stir the mixture as it sits in the ice bath every 2 to 3 minutes until the mixture has completely cooled. This usually takes about 10 minutes.

Pour into a container. Cover with plastic wrap directly over (touching) the mixture. Cover and place in refrigerator for 4-24 hours.

Follow your ice cream manufacturer's directions to churn the ice cream. After it is churned, add any mix-ins by hand with a spatula or wooden spoon. Transfer the ice cream to a freezer container. Cover with a piece of parchment paper or plastic wrap directly on the surface. Cover container and freeze.
Notes
*Other mix-in ideas: 
Chopped up peanut butter cups or other candy
Peanut butter chips
Chocolate Chips
Peanuts and/or other nuts
Salted Caramel Sauce (swirl it in)
I suggest starting with 1 cup of any of these and add more if desired.
Nutrition
Calories:
282
kcal
|
Carbohydrates:
23
g
|
Protein:
7
g
|
Fat:
19
g
|
Saturated Fat:
8
g
|
Cholesterol:
131
mg
|
Sodium:
118
mg
|
Potassium:
181
mg
|
Fiber:
1
g
|
Sugar:
20
g
|
Vitamin A:
516
IU
|
Vitamin C:
1
mg
|
Calcium:
84
mg
|
Iron:
1
mg