This post may contain affiliate links. As an Amazon Associate, I earn from qualifying purchases. For more information, please visit my Privacy Policy.
I love chocolate. But, I generally do not love it in the morning. Don't ask me why. It just is. But then I made this Bakery-Style Chocolate Muffin recipe, which is one of many fabulous recipes included in the new Best of Kosher cookbook. And guess what! I very much enjoyed these chocolate muffins for breakfast! Although, truth be told, they are great any time of day.
Best of Kosher Cookbook
Before we talk chocolate muffins, let's talk cookbook. The Best of Kosher cookbook is truly wonderful. It is a compilation of favorite recipes from some of the best kosher recipe authors out there. Best of all, there are recipes for all meal courses. I think this book is a wonderful gift for new cooks or newlyweds, as the recipes are not overly complicated. Yet, they are all flavorful.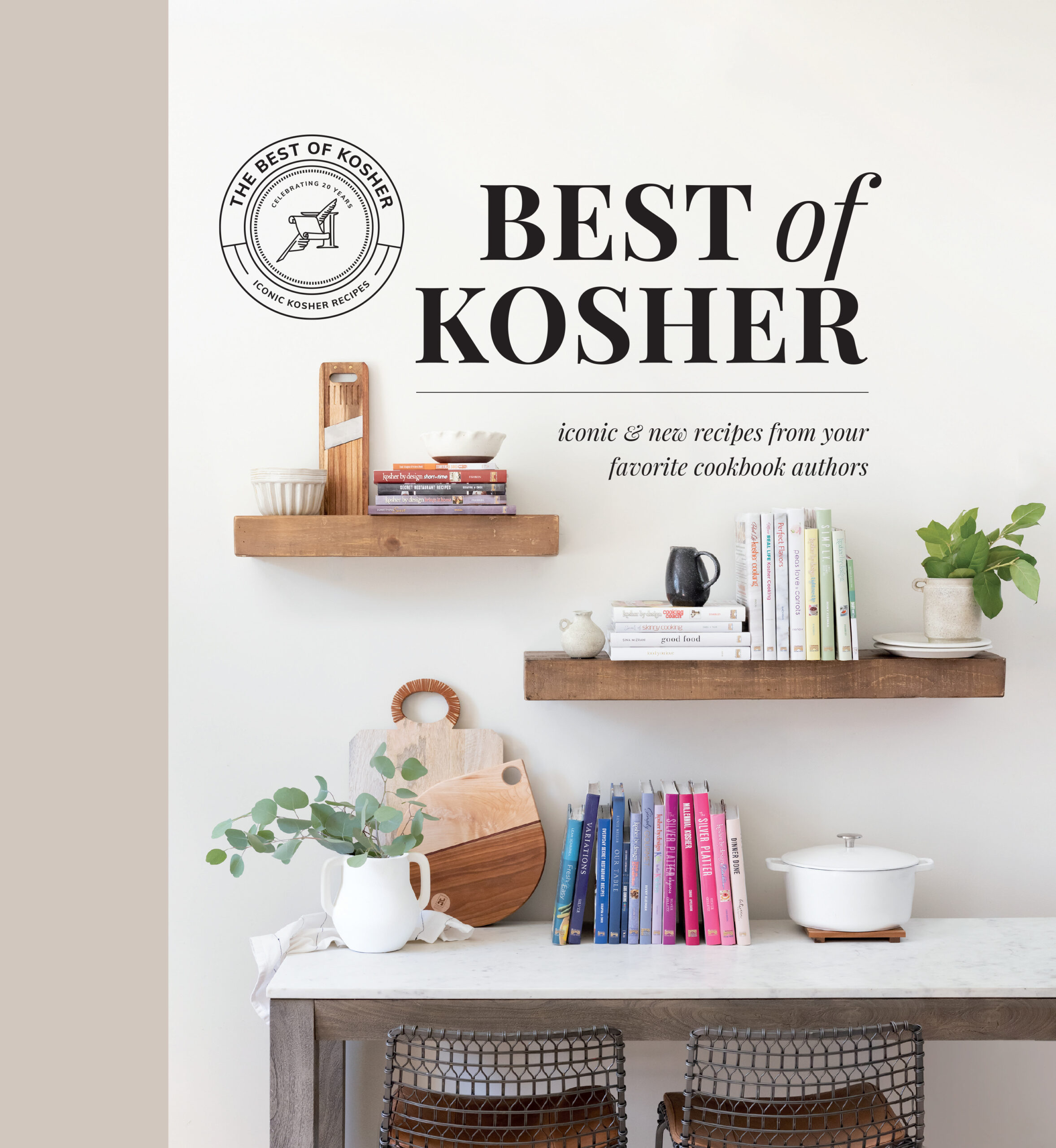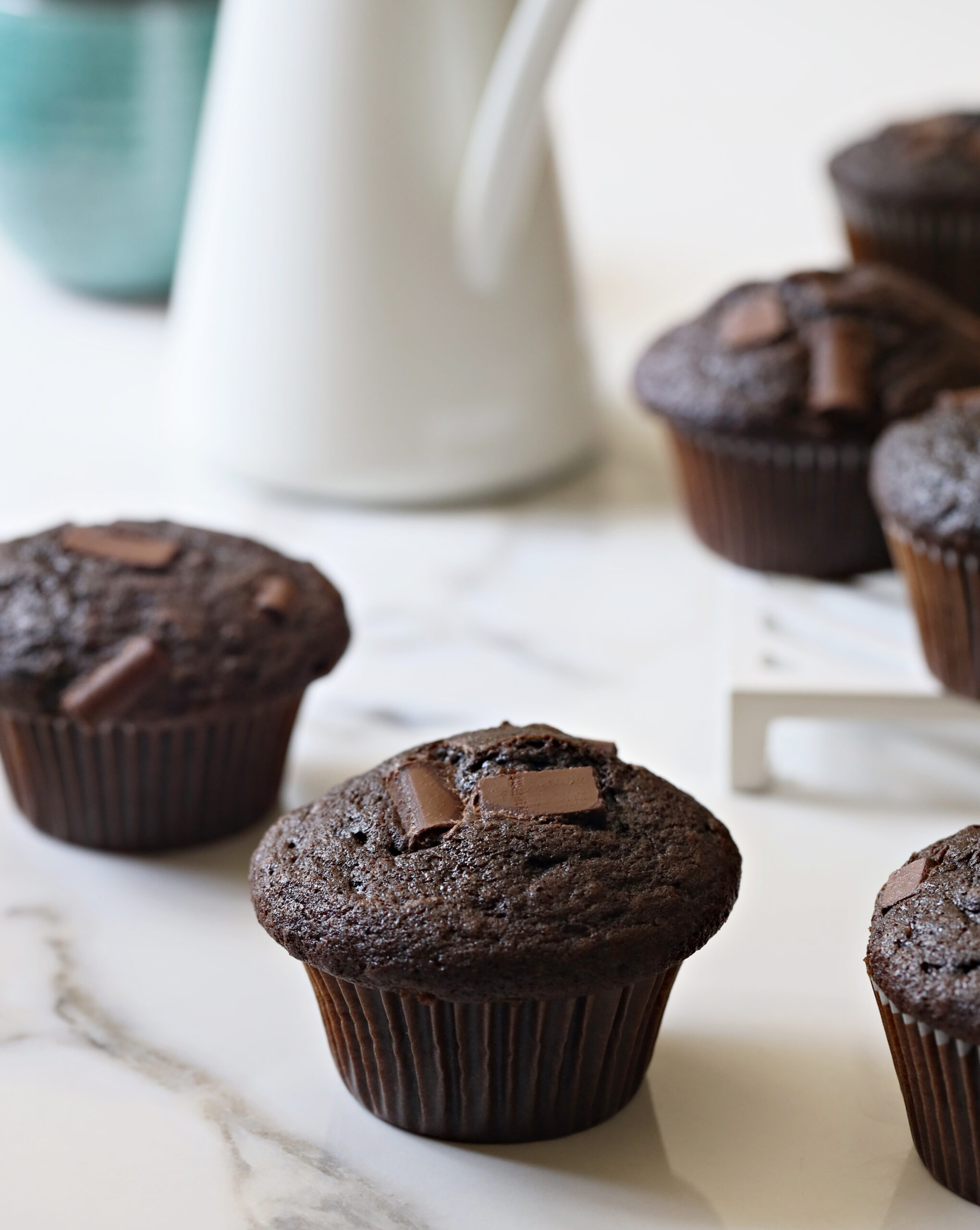 Let's Talk Chocolate Muffins
There's actually little to say about this recipe because it is super straightforward! You could whip these muffins up in one bowl in less than 5 minutes and bake them off right away. That means you could be eating chocolate muffins in under an hour after you wake up! Could you imagine!!??
That said, I am going to share this chocolate muffin recipe from the Best of Kosher cookbook with a couple optional adaptations.
Optional Adaptations to Bakery-Style Chocolate Muffins
I like making three slight modifications to the recipe:
For the cocoa, you can use natural cocoa. However, I prefer to use Dutch process cocoa. I find that using Dutch process gives the muffins a richer, deeper chocolate flavor. And because I like to gild the lily, I usually use mostly Dutch process with a drop of black cocoa. What's black cocoa? Well, it is also a Dutch process cocoa, but even deeper, richer flavor. Oh, and black cocoa is what Oreos are made with, so that should give you good context. I use 56 grams of Dutch process cocoa and 10 grams of black cocoa. (If measuring, I would measure out 2/3 cup, remove 1 teaspoon, then add 1 teaspoon of black cocoa.)
While the buttermilk helps the muffins retain moisture, I also add in

½

cup of sour cream. For me, a muffin is not a muffin unless sour cream is in it. It's just how I feel. 
The original recipe calls for 9 ounces of chocolate chunks or chips. If you are a true choco-holic, that might work for you. For me, it was a bit too much, so I decrease it to 6 ounces. Regardless, use a quality chocolate.
Listen, all that being said, the recipe as written is quite good too! Play with the recipe and have fun with it!
Not into chocolate? Try my Sourdough Blueberry Muffins and my Strawberry Muffins.
Frequently Asked Questions About Making Bakery-Style Chocolate Muffins
What kind of cocoa should I use in chocolate muffins?
You can use natural cocoa. For a deeper, richer flavor, use Dutch process. For this recipe, I love using 55 grams of Dutch process plus 10 grams of black cocoa.
Do chocolate muffins need sour cream?
No. The original recipe does not include sour cream. Adding sour cream adds moisture and a more "muffin-like" texture.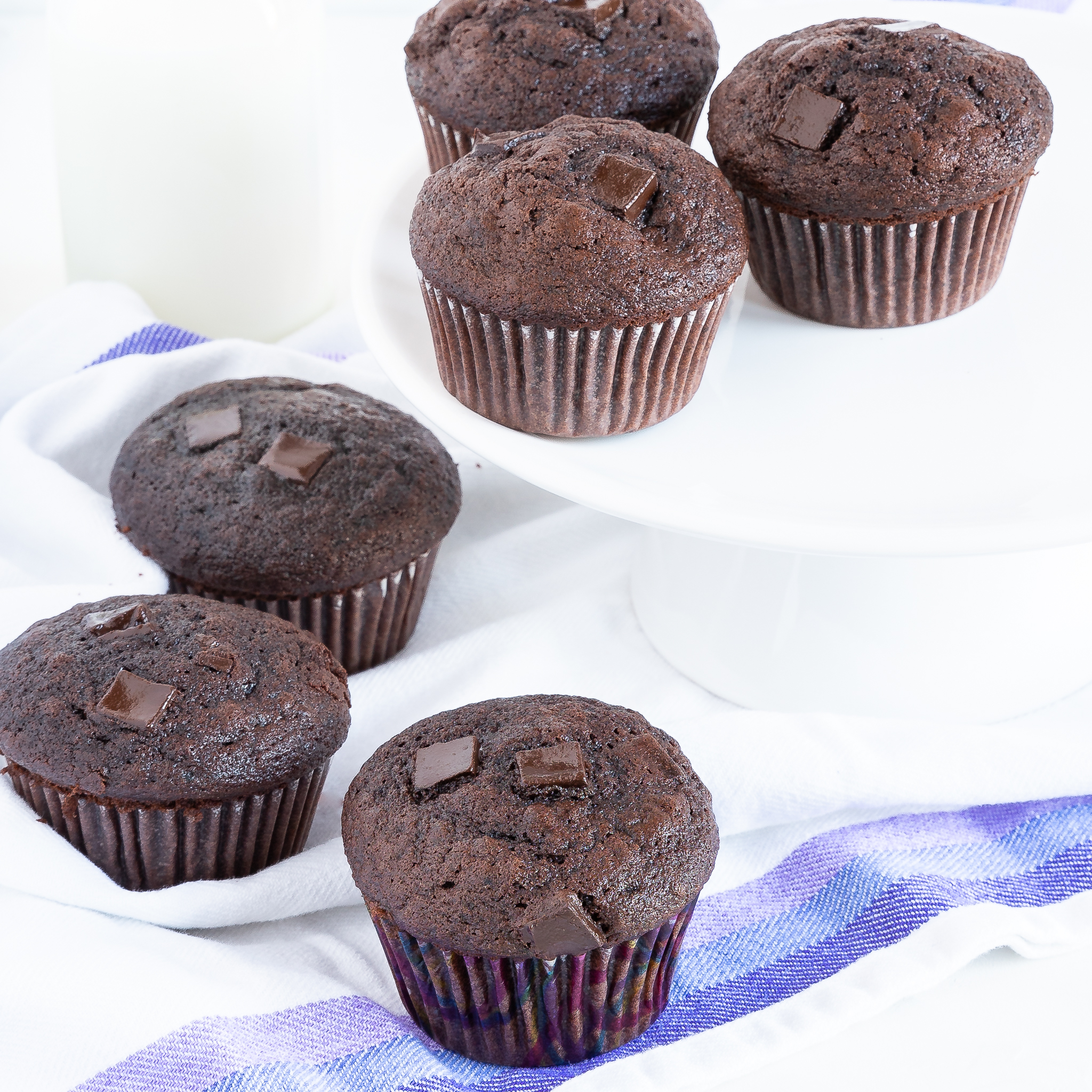 Bakery-Style Chocolate Muffins
From the Best of Kosher cookbook, these muffins are an acceptable way to eat cupcakes for breakfast! The instructions are slightly adapted from the cookbook.
Ingredients
140

grams

all purpose flour

(2 cups)

1

teaspoon

baking powder

1

teaspoon

baking soda

½

teaspoon

sea salt

3

large eggs

164

grams

oil

(¾ cup)

300

grams

sugar

(1½ cups)

1

teaspoon

vanilla extract

66

grams

cocoa powder

(⅔ cup)

240

grams

buttermilk

(1 cup)

120

grams

sour cream

(½ cup, optional)

255

grams

chocolate chunks or chips

(9 ounces)
Instructions 
Preheat oven to 350°F. Line muffin pans with paper liners; set aside.

In a small mixing bowl, whisk together the flour, cocoa powder, baking powder, baking soda, and salt. Set aside.

In a large mixing bowl, whisk together eggs, oil, sugar, vanilla, buttermilk and sour cream, if using.

Add most of the chocolate chunks to the batter, stirring to combine.

Fill muffin pans until almost full. Sprinkle reserved chocolate chunks over the top.

Bake for about 20 minutes, until the top feels set.
Notes
Use natural or Dutch process cocoa. For deeper flavor, use 56 grams Dutch process plus 10 grams black cocoa.
Sour cream is optional in this recipe.
Don't skip the chocolate chunks/chips/chopped up chocolate bar, but you can reduce the amount to 6 ounces if you prefer less.
Nutrition
Calories:
296
kcal
|
Carbohydrates:
33
g
|
Protein:
4
g
|
Fat:
18
g
|
Saturated Fat:
5
g
|
Polyunsaturated Fat:
3
g
|
Monounsaturated Fat:
8
g
|
Trans Fat:
0.1
g
|
Cholesterol:
34
mg
|
Sodium:
178
mg
|
Potassium:
182
mg
|
Fiber:
3
g
|
Sugar:
23
g
|
Vitamin A:
110
IU
|
Vitamin C:
0.1
mg
|
Calcium:
54
mg
|
Iron:
2
mg